On Super Bowl Sunday 2019, my family went down to the French Quarter. We set up on Decatur Street and joined a party. The crowd of New Orleanians in black and gold flowed toward Canal Street, its chant continuous: "We got robbed!"
Everyone was smiling.
That should not surprise anyone: Tens of thousands of us who gathered for an ostensible protest instead sang, danced and embraced. That's what we do. The anti-Super Bowl parade we threw turned shared public anger over a dumb sports thing into a communal celebration.
The NFL stole our chance to have a Super Bowl party. So we threw an anti-Super Bowl party — and it was good.
New Orleans threw a Super Bowl boycott party. It was a hit. 
New Orleans made a bad situation better by turning it into fun. But that doesn't mean we've forgiven and forgotten. It doesn't even mean that all of us are ready to do this football thing again. I know I wasn't, not until the preseason was well underway.
I talked to some other Saints fans to see how they felt.
"I don't think I'm over it and I know the fan base isn't," said Alan Wheat. "It sits in my head, and when I see GIFs of it or whatever, it's worth a head shake or an audible ugh."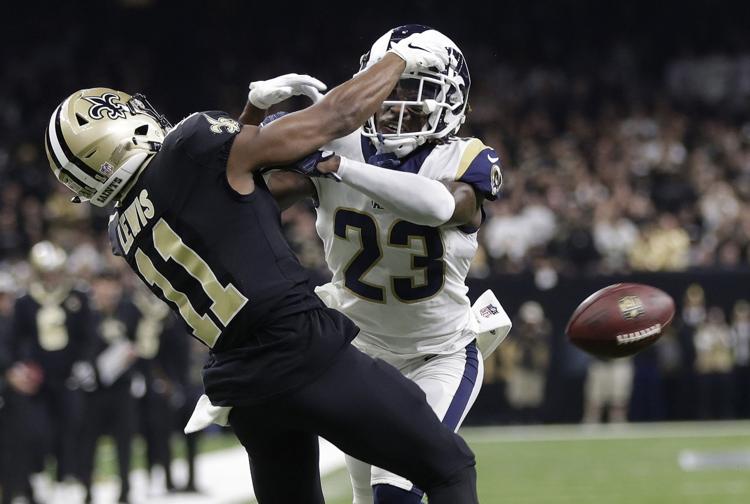 "I'm not one to let myself fester in sports grudges," said Danielle Jeffcoat Wilson. "I let myself be angry for a bit, but at the end of the day, I can't change it. It's one of those things as a Saints fan you just kind of expect to happen. We are going to get screwed whether we do it to ourselves or someone else does it for us."
There's a lot of that type of sentiment among the fans. The idea that the NFL has it out for us dates back years now, at least to the 2012 Bountygate scandal, which the league mishandled so badly that Saints fans' relationship to the sport has never recovered. When the no-call happened, we were primed to be angry, but also to understand the event as more of the same from a league we long since have known is not deserving of our trust.
Even so, Wilson's ready for another go. As a lifelong Saints fan and native Louisianan, she has seen worse. "The Super Bowl didn't spoil me," she said. " I understand the franchise I'm dealing with here."
"I'd be lying if I said I didn't scream 'Challenge it!' on literally every flag this preseason," said Ryan Chauvin, my Black and Gold Review co-blogger-in-chief. He was referring to the new rule, implemented as a response to the no-call, allowing pass interference calls (or the lack thereof) to be challenged. "Not because I thought they were wrong, but because I wanted chaos," he added.
I asked an old friend for his take and he summed it up with a little poem he found on Reddit:
"ROSES ARE RED
VIOLETS ARE BLUE
GOODELL FUCKED US
NOW HE'LL FUCK YOU"
Of course, nothing would help to heal the wounds of the no-call more than a whole bunch more wins, and the 2019 Saints seem positioned to win a lot. The core of young players they constructed with the 2016 and 2017 drafts, including wide receiver Michael Thomas, running back Alvin Kamara, cornerback Marshon Lattimore, and many others returns. Leaders like defensive end Cam Jordan and linebacker Demario Davis headline a defense that has a chance to be among the best the team has put on the field in years. New acquisition Jared Cook, an explosive tight end, offers the Saints' offense even more weapons than it had last year.
But two things have held me back from going all-in on another Super Bowl run. The first is the thing I referenced earlier, the thing that, until well into the preseason, kept me from fully engaging my football emotions.
The second is Drew Brees.
From opening week through Thanksgiving last year, Brees was having the best season of his career, and one of the greatest seasons by a quarterback in the history of the sport. His efficiency numbers were off-the-charts great, he was setting records by the week, he was the leading candidate for the Most Valuable Player award and the Saints were dispatching their opponents with remarkable ease.
Then, after the Saints' 31-17 Turkey Day win over the Atlanta Falcons, things changed. The offense bogged down, and Brees' numbers suffered. After scoring 44 points per game in four contests between Nov. 4 and Nov. 22, the Saints scored only 20 points per game over the next four.
Through Thanksgiving, Brees had produced a 127.3 passer rating, completing over 76% of his passes with 29 touchdowns and just two interceptions. In three regular season games after Thanksgiving, he produced a 77 passer rating, completing 69 percent of his passes with two touchdowns and three interceptions.
Rumors flew, then and during the off-season, that this was it — Brees was done. The long-dreaded decline had arrived, and soon the Saints would have to turn to backup quarterback and potential successor Teddy Bridgewater, or even to all-everything utility player Taysom Hill. Maybe, some fans whispered in hushed tones, this even could be for the best. The Saints could make a smooth transition.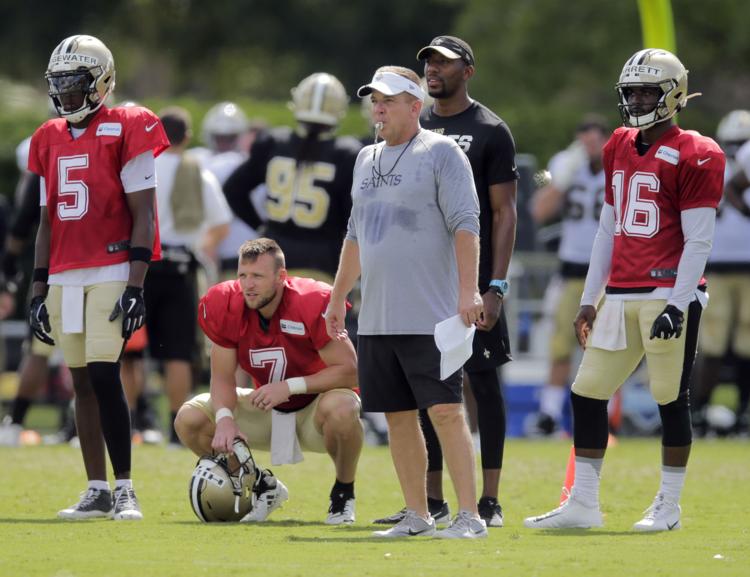 Bridgewater struggled some during the preseason, and some of us, including me, started to wonder if Brees was done and Bridgewater might not be up to the task of replacing him. The dark times loomed.
Then, in the third preseason game, against the New York Jets, Brees took the field. He threw six passes. The last one was the sort of sports art you don't fully appreciate until you worry it might be gone, a perfect loft into the end zone, caught by Thomas for a touchdown. I laughed. It was a laugh of relief.
Brees is fine. He's better than fine. As we enter the 2019 season, he's still throwing with the impossible precision to which we've become inured.
That leaves me with only one other major concern, and it's a simple one based on history. The 2018 Saints won 13 games. It is very difficult to win 13 games in the NFL, and it's almost impossible to win 13 games in back-to-back seasons.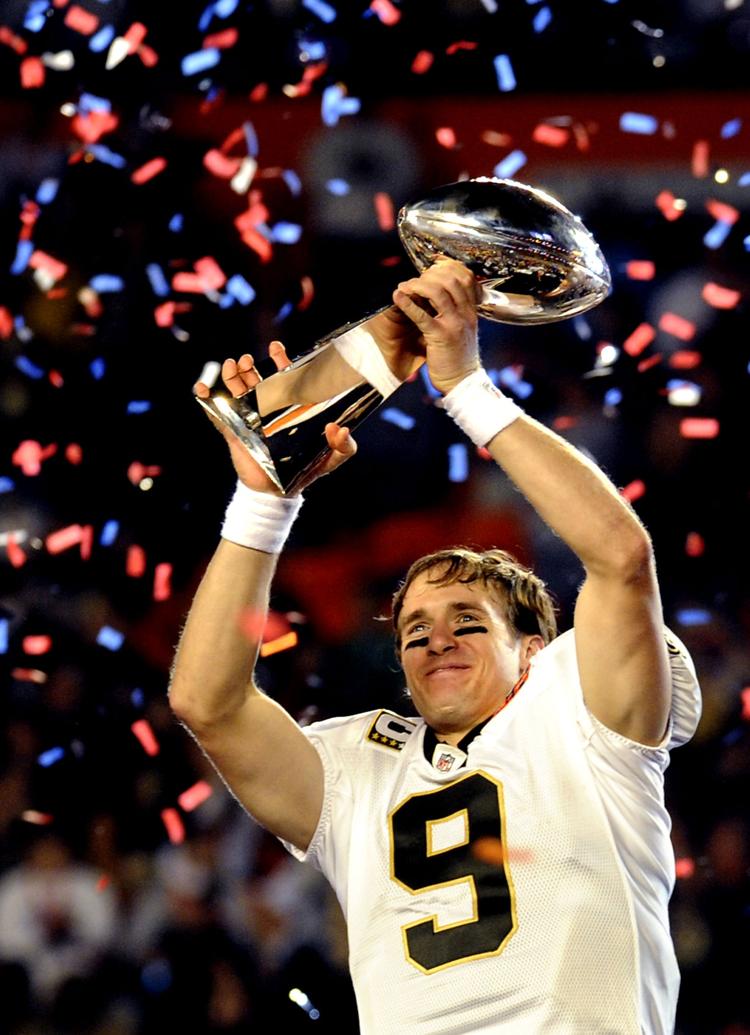 Since 1978, when the NFL's regular season expanded to 16 games, teams have won 13 or more games in consecutive seasons only nine times. Of those nine, three of them are the achievement of the New England Patriots, who did it in 2003/2004, 2010/2011 and 2016/2017. The other six examples are by a smattering of teams over the years, including the Chicago Bears, Buffalo Bills, and San Francisco 49ers, who did it in 1989 and 1990.
The 49ers are an interesting case, because, while they did win the Super Bowl in 1989, they didn't even make the Super Bowl in 1990. They did win back-to-back titles around this time, though — it's just that one of those titles came in 1988, when they won only 10 games during the regular season.
History does not determine the future, and these Saints may well replicate or exceed their regular season win total from last year. But if, as I expect, they don't — if the 2019 Saints win fewer games than the 2018 ones — that doesn't mean this year's team will fail to advance as far, or farther, than last year's squad.
These Saints may "only" win 11 games this year. Don't be alarmed. When it's time for them to make a run for their now-overdue second Super Bowl berth, they'll be ready for the attempt. The goal for these Saints is to give New Orleans a very different, and even better, reason to throw a party on Super Bowl Sunday.
If we get that chance, I'll see you there.
The Bottom Line: 11-5
New Orleans Saints fans likely had two goals in mind on Super Bowl Sunday:
If 2019 ended today, we would already have plenty enough material to fill up one of those year-in-review highlight reels.
While two other teams prepared to contend for the Lombardi Trophy in Atlanta, Saints faithful spent Super Bowl Sunday turning New Orleans into…