LAKE CHARLES – For Keith Bell, this has been a year to forget. First his house was severely damaged by Hurricane Laura, then a winter storm in February burst a pipe. In May, with some repairs finally done, the house took on water in flooding.
"It's been a ride, brother," the 55-year-old pastor said.
But there he was earlier this week, taking a circular saw to plywood outside another house he owns and rents out, in a neighborhood where rows of homes remain damaged and empty. Asked about his thoughts on the region's rebuild, he had one word -- "horrible" – before going on to say that unlike in previous storms, the Lake Charles area has not received sufficient help from the federal government to cope with Laura's destruction.
"We don't have the resources governmentally to deal with this," said Bell.
Friday marks a year since Laura tore through southwest Louisiana, leaving behind a trail of wreckage so severe that even now it can seem fresh. It was one of the strongest storms in state history, a Category 4 monster with 150-mph winds that left behind an estimated $17.5 billion in damage in Louisiana.
Thousands remain displaced, houses and apartment complexes sit in ruins, Lake Charles' main office tower is still boarded up and empty, and the federal government has not delivered anything close to the level of aid the region says it desperately needs. And as anyone in the Lake Charles area will tell you, Laura was only the beginning.
Six weeks later, Category 2 Hurricane Delta swept through, dumping water into homes and buildings with already damaged roofs. In February, an unusually severe winter storm hit the region, bursting pipes in recently repaired homes. Then in May, a historic downpour swamped drainage systems and again flooded houses, with some people having to be rescued by boat.
It all occurred in the midst of the pandemic, which drove up costs for rebuilding materials and limited the arrival of volunteers, among a litany of other complications.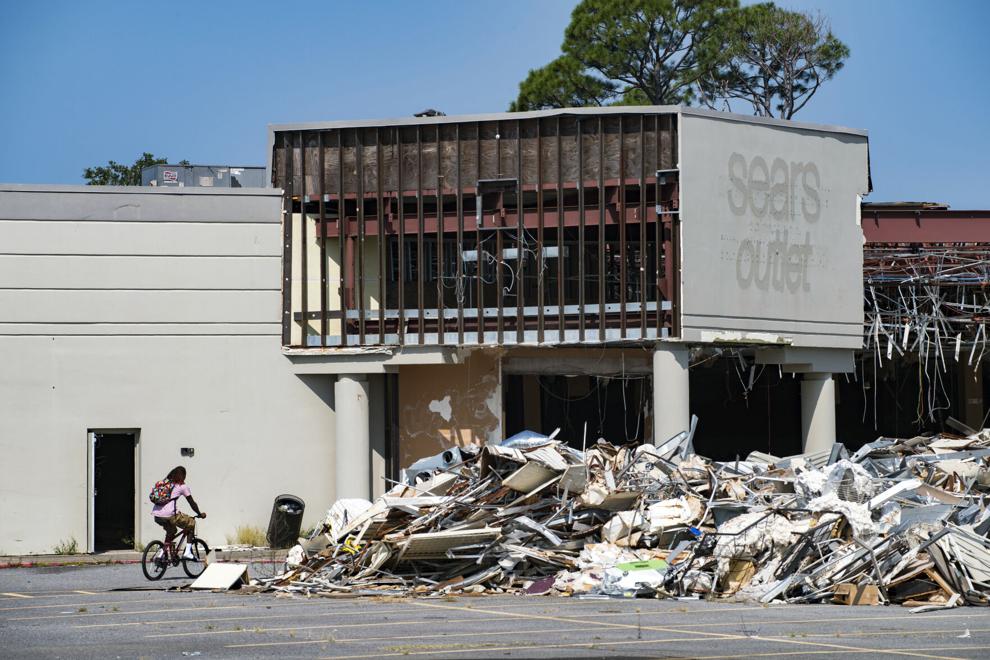 All the while, residents have battled insurers and often lost. They have sought in vain for contractors. They have moved in with family or friends or rented temporary apartments. They have taken up residence in trailers supplied by FEMA or bought on their own. An untold number have left and may not make it back.
Local officials have expressed shock, exasperation and anger that a common form of federal assistance after major catastrophes -- one that would likely inject hundreds of millions of dollars into the region's rebuilding effort -- has not been formally proposed beyond quixotic, doomed-to-fail efforts, let alone approved. They warn that they simply do not have the money to do it alone.
Some point to the region's role as a hub of the energy and petrochemical industries, noting that Lake Charles has taken on the burden of producing what many other parts of the country happily use, but don't want manufactured in their backyards. There is an obvious paradox here, too: The very plants that underpin the region's economy are also contributing to the climate changes that scientists say are making severe hurricanes more common.
"We're sort of being viewed as expendable, even though this is the part of the state that is taking all the chances," said Adley Cormier, author of a book on local history titled "Lost Lake Charles" and a longtime resident of the city. "We've taken all the hits for everybody."
Even as Lake Charles marks the anniversary, another storm may be approaching the Louisiana coast in the days ahead, its exact path still unclear. A visit by Gov. John Bel Edwards and FEMA administrator Deanne Criswell to Lake Charles on Thursday to mark the anniversary was overshadowed by new storm warnings.
'Something wrong with it'
Life is complicated in the Lake Charles area these days, from mundane concerns about finding a place to grab lunch to more serious challenges, such as a dearth of grocery stores and affordable housing. Two of the area's three casino resorts are open and doing solid business, however, their parking lots lined with cars with Texas plates, providing both welcome revenue and an odd juxtaposition to nearby damage.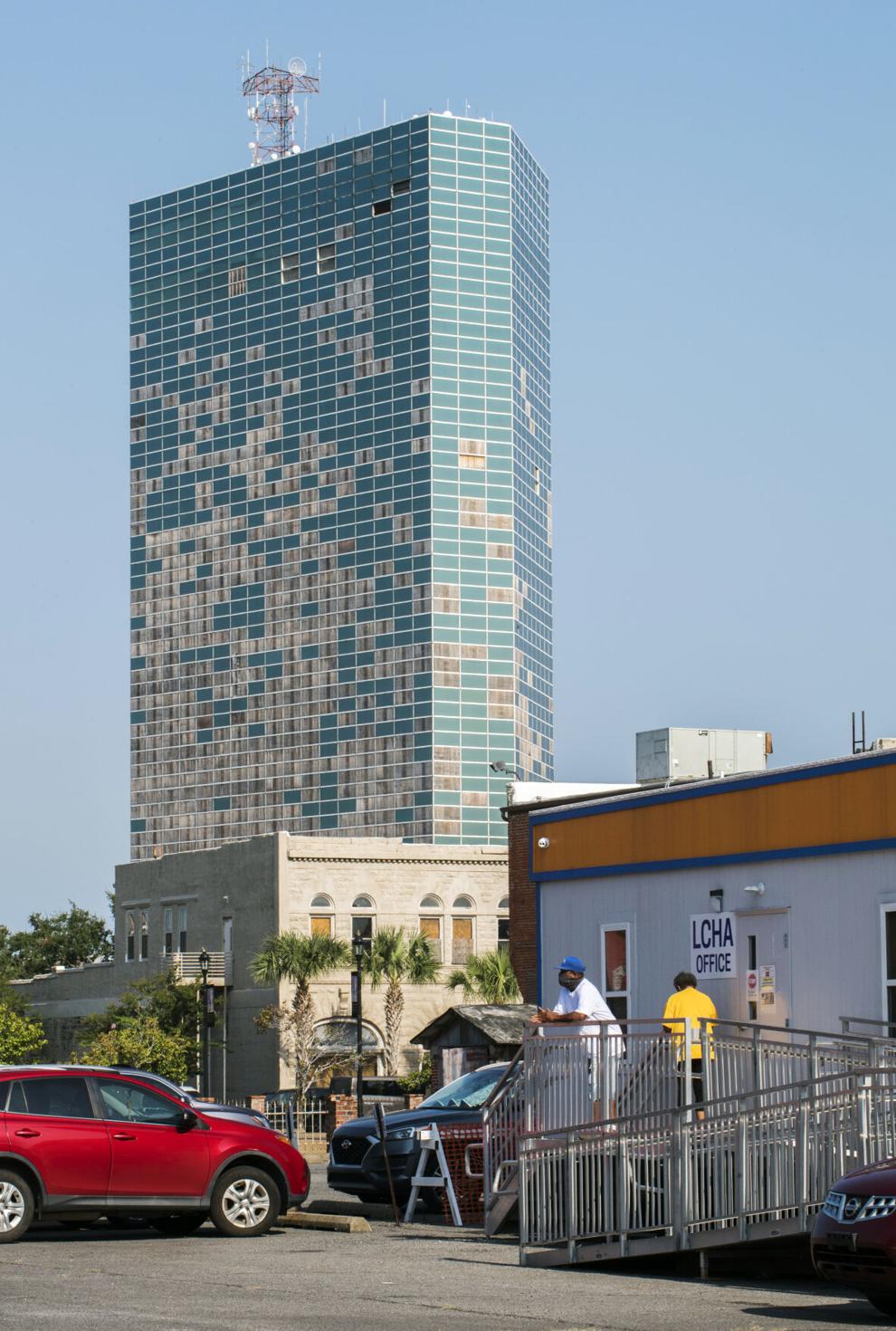 A common theme among residents who escape with their families for weekend trips is how nice it can be to not see blue tarps on roofs, or to wonder what will be open or closed. That is of course for those who can afford trips.
An estimated 44,000 homes in Calcasieu Parish – roughly half -- were damaged by Laura and Delta, a study by McKinsey and Co. on behalf of the Community Foundation of Southwest Louisiana showed. The parish's Black population particularly struggles with rent prices, according to the study, which also found Calcasieu was one of the most residentially segregated counties in the nation.
Before the storms, the region had seen rapid growth in plant construction projects, which brought temporary jobs and an economic boost, but also increased housing costs. Recently released census results showed strong population growth over the last decade for both Calcasieu and Lake Charles, Louisiana's fifth-largest city, but it gauged where people were living on April 1, 2020, before the run of disasters.
It's impossible to say what the true post-storm population is, but there have been ominous signs. Estimates of the number still displaced have varied, with Calcasieu Parish officials saying they are aware of around 4,700, but Lake Charles putting the number for the city alone at between 3,000 and 5,000 and possibly more. Roughly 2,000 households remain in FEMA-supplied travel trailers or mobile homes.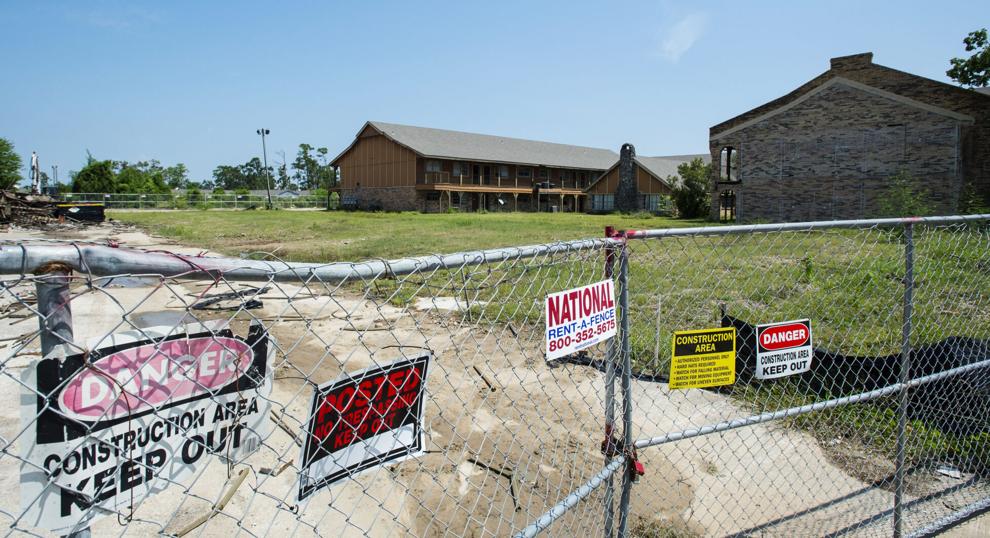 At the end of last year, Calcasieu schools were down around 4,000 students. Schools recently reopened after the summer break and the district is still trying to come up with an accurate count.
An analysis published in April in the New York Times using postal service data showed Lake Charles with the largest net population loss among more than 900 U.S. metro areas in 2020, with a 6.7% drop.
Dan Groft, director of the H.C. Drew Center for Business and Economic Analysis at McNeese State University, says the Lake Charles area has lost 1,300 private sector jobs since Laura. Much of the loss is due to retail businesses not reopening, he noted, with heavy industry having returned to a large degree. Government employment has also helped offset the loss.
Since the start of the pandemic, the Lake Charles area has lost 15% of its jobs, the highest percentage among Louisiana metropolitan areas, according to Groft.
Samuel Tolbert, pastor of the Greater St. Mary Missionary Baptist Church in Lake Charles and a former City Council member, said more needs to be done to spread the benefits of petrochemical and energy growth to lower-income communities. He singled out northern Lake Charles, a largely African-American area of the city.
"How do you have multi-billion-dollar ventures in your community and that community still looks the same and has no more economic balance than they had before those groups came in?" said Tolbert, whose church was hit with major damage in the storms. "There's just something wrong with it."
'A rough one' 
The great concern among many in the region is that it will be forgotten to an even further extent than it already has been. It is a macabre but true observation that Laura's low death toll – just four Louisiana deaths were attributed to the storm – likely limited national news media coverage.
It's also a small media market, and Lake Charles residents are well-aware that their city lacks the cultural cachet of a place like New Orleans. Part of the region was labelled a "neutral strip" for a time after the Louisiana Purchase in the early 19th century – in other words, a no man's land.
But as Mayor Nic Hunter has said repeatedly, Lake Charles is a proud American city that badly needs its country's help. There have been flashes of hope, including when President Joe Biden visited in May, but an actual federal aid package is still frustratingly out of reach.
Local officials point out that other regions have received such assistance far faster. More than $1 billion has been provided in immediate federal help, but they say it's not nearly enough, particularly when it comes to housing.
"I'm proud of the progress that has been made, but we still have a long road ahead of us," Hunter said in a video posted this week. "I ask the American public, as much as you can, please remember what has happened here in Lake Charles and, perhaps more importantly, what hasn't happened here in Lake Charles."
Edwards on Thursday expressed optimism that a deal could be reached in Washington to move forward on such legislation as soon as next month. Edwards has spelled out $3 billion in unmet needs statewide, and says he would expect the state to receive about half of that in a federal appropriation.
Bell's post-hurricane journey led him and his wife to Lafayette and then to a home they shared with other family members in Sulphur, outside Lake Charles. He finally made it back home before having to leave again because of water damage. He has since returned once again.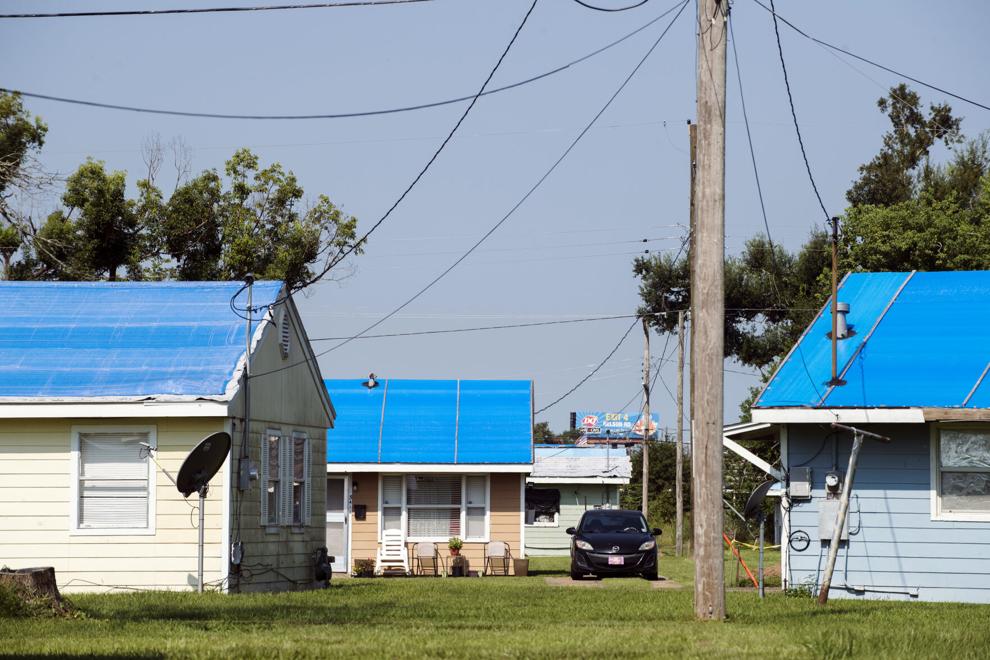 He said he believes around 50 families from the United Christian Fellowship church where he is assistant pastor have not returned since the storms. But he is at least providing a home for someone. He has begun renting out the house where he was doing air-conditioning work earlier this week, making it an outlier on a block where many homes still sit damaged and vacant.
"Like we always say in southwest Louisiana, we're strong. We bounce back," he said. But with a heaviness in his voice, he added: "This was a hard one. This was a rough one."