LAKE CHARLES – Census data released Thursday showed Lake Charles and Calcasieu Parish with strong population growth over the last decade – but because of last year's storm devastation, the numbers may prove a mirage of sorts.
Meanwhile, the data shows that even before the recent storms, rural Cameron Parish was continuing a sharp population decline that began around Hurricane Rita in 2005. The 18% drop -- to just 5,617 residents -- that Cameron saw over the last decade will surely be even steeper once the post-hurricane population figure is known.
The census gauged where residents were living on April 1, 2020, nearly five months before one of the strongest storms in state history, Hurricane Laura, barreled through, followed six weeks later by Hurricane Delta. Thousands remain displaced, and it is unclear how many have opted to leave the region for good.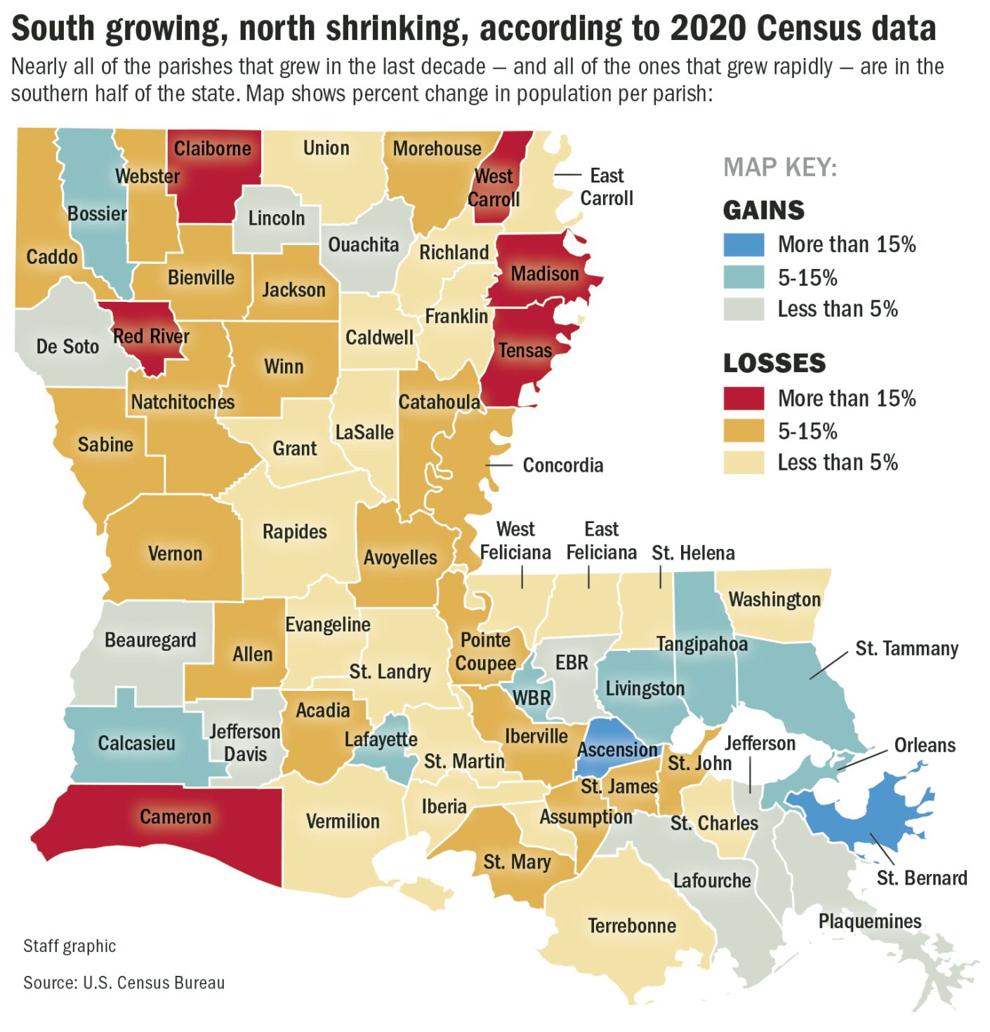 Prior to the storms, southwest Louisiana had seen a construction boom in the petrochemical and energy sectors, drawing more people to the region even if many of the jobs were temporary. The three casino resorts in the Lake Charles area – one of which has yet to reopen following the storms – also drew job-seekers.
The data shows Calcasieu Parish, which includes Lake Charles and five other municipalities, with growth of 12% from 2010 for a total population of 216,785. Lake Charles proper saw an 18% jump to 84,872.
Counting continued into October, and the robust numbers suggest that census workers were successful in reaching those displaced by the storms and having them report where they had been living. Local officials were concerned the count would be artificially low because of those complications.
Yet the problem may now be that the count is too high to reflect the current situation. The rows of damaged and empty houses, businesses and apartment buildings suggest a significant loss.
Lake Charles Mayor Nic Hunter called the numbers "bittersweet" and noted the other weather disasters that followed this year that further set back rebuilding, including a brutal winter storm in February and flooding in May.
"The number itself shows the growth and shows that Lake Charles was a thriving and successful city before the events of 2020 and early 2021," he said. "We just had the rug pulled out from under us with these natural disasters. And it would be one thing if it was just one hurricane, but it seems like every time we get our head above water, Mother Nature pushes us back down."
A year after Laura, he and other local officials have grown frustrated with the lack of supplemental disaster relief from the federal government, a common form of aid after catastrophes. A lack of affordable housing to draw residents back home remains a key issue, and Hunter would like to establish a program to cover the gap between what insurers are paying homeowners and landlords and the true costs of rebuilding.
Tom Hoefer, who headed a committee on census promotion for Calcasieu Parish, said local officials believe the figure is an accurate reflection of the pre-storm population, and they are pleased with the effort by census officials. But he also said the storms' toll on the population remains to be determined. Estimates of the current population have ranged widely for the region.
"We've heard almost 5,000 are currently displaced (in Calcasieu), and how many are displaced but living elsewhere in the parish or whether they're actually in Lafayette or Beaumont or Houston or New Orleans -- we don't really have a good sense of that," said Hoefer, also the parish's communications director. "But we do know that there has been at least a temporary population loss that's pretty significant."
The growth before the storms reflects the rapid industrial expansion in southwest Louisiana in the last decade, including billions of dollars invested in liquefied natural gas and petrochemical plants.
"I remember at one time we thought a $300 million expansion was a big deal," said Loren Scott, an emeritus economics professor at LSU who also runs a consulting firm. Recent plant expansions in the Lake Charles area were in the $10-$12 billion range, making it one of the fastest-growing regions of the state, he said.
"So I think the population growth makes sense," he said. But he noted that jobs in the area were down significantly since April 2020 -- the opposite of the state as a whole, which has recovered jobs lost to the pandemic since that time.
Dan Groft, director of the H.C. Drew Center for Business and Economic Analysis at McNeese State, said the population growth was "great economic news, but our unprecedented circumstances make this release almost impossible to fully analyze."
"Hurricanes Laura and Delta, as well as other disasters, took an exceptional toll on our citizens and economy that will not be fully captured by this data," he said.