LAKE CHARLES – Southwest Louisiana officials on Wednesday expressed frustration at the prospect of a further delay in disaster relief more than a year after Hurricane Laura due to a partisan fight over the debt limit in Washington, with even the region's congressman, Rep. Clay Higgins, having voted against a bill that included the long-sought assistance.
Despite the opposition from Higgins and the other four Republican members of Louisiana's House delegation, the bill passed the lower chamber, but it's unclear it will make it through the Senate. 
Lake Charles and Calcasieu Parish leaders urged the delegation to find a way to approve the money to allow long-term recovery to move forward. Another setback would pull the rug out from under the region after it had finally been given reason for hope in a long fight for funding after an unrelenting string of weather disasters, including one of the most powerful storms to ever hit the state.
Category 4 Hurricane Laura in August 2020 was followed by Category 2 Hurricane Delta around six weeks later, and then an unusually severe winter storm in February and heavy flooding in May. Laura rivals Hurricane Ida as the strongest storm to hit Louisiana since 1856, with 150 mph winds.
The region has received no supplemental disaster relief from the federal government, a common form of aid after catastrophes. Other regions have received relief dollars far faster - and, in fact, supplemental assistance is already being proposed for Ida. Local officials have repeatedly questioned why southwest Louisiana would be treated differently.
Lake Charles Mayor Nic Hunter and Calcasieu Parish Administrator Bryan Beam both said they were frustrated over the possibility of a further delay, though they were not surprised by the partisan fight in Washington.
"I think what we are witnessing right now is unfortunately all too familiar regarding the Washington political game," said Hunter, a Republican. "It is doubly unfortunate because here in southwest Louisiana, there are American citizens who are suffering and languishing. We're talking about Americans who are suffering for over a year in the aftermath of one of the greatest natural disasters in this country's history, and simply because it didn't affect the numbers that other disasters affected doesn't mean that we are less American here in southwest Louisiana."
Christina Stephens, a spokeswoman for Gov. John Bel Edwards, who is in Washington this week to advocate for federal relief, also said congressional action is overdue. 
"It's time for Congress to put aside politics and speed additional federal aid to our state," she said. "We have suffered through multiple major hurricanes, floods and a winter storm, and our people desperately need additional federal aid to rebuild and recover."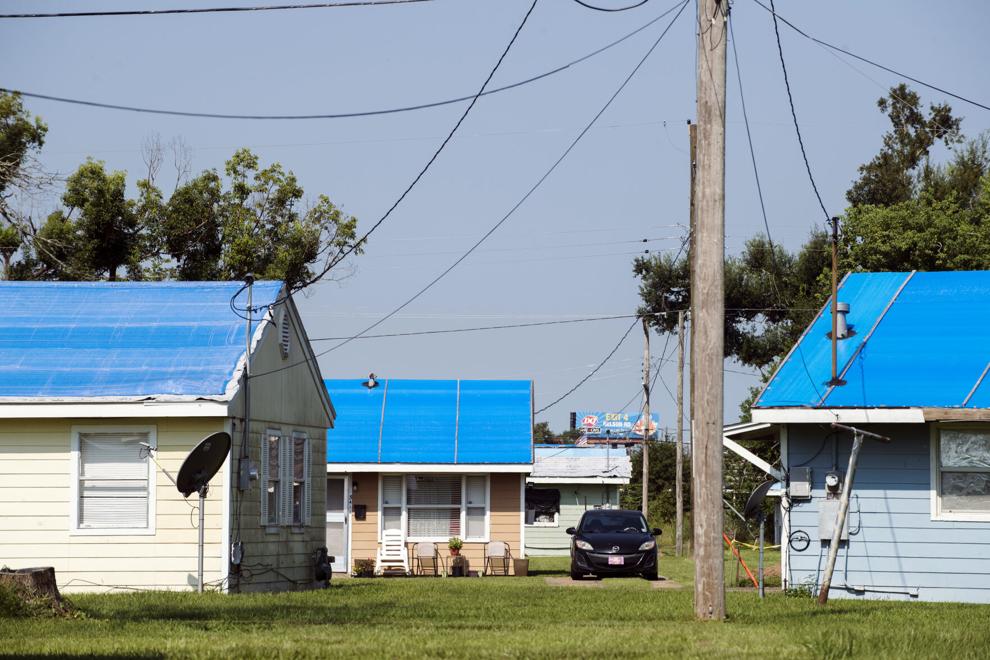 Hunter stressed that Ida victims should also receive help. But he doesn't want his region to be shortchanged when so much is at stake; he fears that if aid doesn't come soon, southwest Louisiana could see the opportunity to fully rebuild slip away. 
The region was given reason for hope earlier this month when the White House first proposed supplemental disaster relief for Laura and Delta. The relief was also included in a wider bill to finance the government beyond the end of the fiscal year on Sept. 30, and the House of Representatives approved the legislation Tuesday night.
But the bill may not have enough votes to pass in the Senate because Republicans are opposing a suspension of the debt limit linked to it, though the debt ceiling has been raised or suspended many times before, including under former President Donald Trump. Republicans argue that this time is different because Democrats have pursued major spending bills without GOP support, including the possibility of a $3.5 trillion social safety net plan.
Republican Senate Minority Leader Mitch McConnell has made clear that the debt ceiling must be raised to avoid a default, but says the Democrats must do it on their own.
The partisan bickering led to no Republicans voting in favor of the bill on Tuesday night – including Higgins, who represents southwest Louisiana in Congress. Higgins issued a statement saying raising the debt ceiling would pave the way for the $3.5 trillion plan Republicans oppose. He argued that the bill will delay disaster assistance because it won't pass the Senate in its current form.
"Our hurricane recovery needs should not be held hostage," he said, adding he favors a "clean bill" with disaster relief.
Hunter said "understanding that there wasn't a single Republican member of Congress that voted for it, I don't think it's anything striking or surprising that Congressman Higgins did not vote for it."
Beam said it was frustrating being "a bit at the mercy of a lot of other outcomes of bills not really technically related" and urged Louisiana's delegation to search for an alternative strategy if necessary.
"This should not get held up because of larger budgetary issues for the federal government overall. Anybody affected by these disasters should not have to get hung up in that process," Beam said. "Find another way is what we would urge our delegation to pursue if this doesn't pass."
The bill includes $28.6 billion in disaster funding, though the category the Lake Charles area is pursuing for long-term recovery amounts to $5 billion. Some of that money is likely to act as an initial allocation for Ida recovery, but a breakdown has not yet been issued.
Hunter in particular says he is "very concerned" about how the money will be divvied up.
Longtime Louisiana political analyst Ron Faucheux said political posturing in Washington is growing worse, putting at risk vital legislation such as disaster relief. He said much of the fault lies with the practice of combining unrelated matters into a single omnibus bill. He also blames the increasingly populist nature of the country's politics.
"People always like to quote the old maxim 'all politics is local'," said Faucheux. "But I think what's happened is all politics has become national now, and people are putting their national political concerns and partisan concerns over and above the interests of their states and districts sometimes ... On the other hand, you have to also criticize the system that is forcing these kinds of decisions to be made."