LAKE CHARLES — They look like ghost towns, though with blue tarps covering their roofs. Rows of public housing apartments, several hundred in total, sit damaged and vacant in this storm-battered city.
"We've been this way for a year now and there has been no progress," said Jessica Templeton, 42, who with her husband is among the few tenants remaining in a public housing complex for the disabled that was damaged in Hurricane Laura more than a year ago. "They've had multiple inspectors and people come out and there's been nothing."
The hollowing out of vast tracts of public housing in Lake Charles has severely worsened an already tight affordable housing market, leaving former residents scrambling for accommodation. The city's cash-strapped housing authority says it is working to bring back the apartments knocked out of commission by the past year's storms, but some are questioning the delay and the uncertainty it has produced.
None of the public housing left unlivable by the storms has been permanently repaired yet, though the authority says it is finalizing plans for such work in three neighborhoods with the help of insurance money. Still, it will only be a first step for two of them, with further repairs required, and Housing Authority Director Ben Taylor says it's unclear when residents will be able to move back.
He says the delay is understandable, given that the city has experienced four natural disasters since August 2020 while also grappling with the pandemic. Laura was followed by Hurricane Delta six weeks later, a severe winter storm in February and heavy flooding in May.
While Laura and its 150 mph winds left a number of apartments unlivable, others were swamped by the May floods. In total, the housing authority says it has been hit with around $8.6 million in damage for the roughly 600 units it manages.
Section 8 homes -- that is, private rental properties occupied by low-income tenants whose rent is partly paid by the U.S. Department of Housing and Urban Development -- were also hit hard. The loss of such a large amount of affordable housing has raised questions over how much of the population will be lost permanently, and what kinds of demographic changes will be in store for a city that had been roughly half White and half Black.
Those concerns will resonate in New Orleans, which saw a dramatic demographic reshuffling after Hurricane Katrina that was accelerated by the loss of public housing and affordable private rental units.
One recent study has shown that Calcasieu Parish's African-American population has been particularly burdened by rent.
"It would be happier if the process didn't take so long," Taylor said. "But insurance and FEMA have rules that they have to follow, and it's just going through and grinding through the process."
'As soon as she can'
The demand for housing was evident last week, when Calcasieu Parish began accepting applications for its Section 8 program for the first time since the storms. The process started Monday at a church in the small city of DeQuincy, about 30 minutes northwest of Lake Charles, and officials said more than 50 people were in line outside at 8 a.m.
Applications opened the following day in Lake Charles, and a few hundred people were lined up outside the building.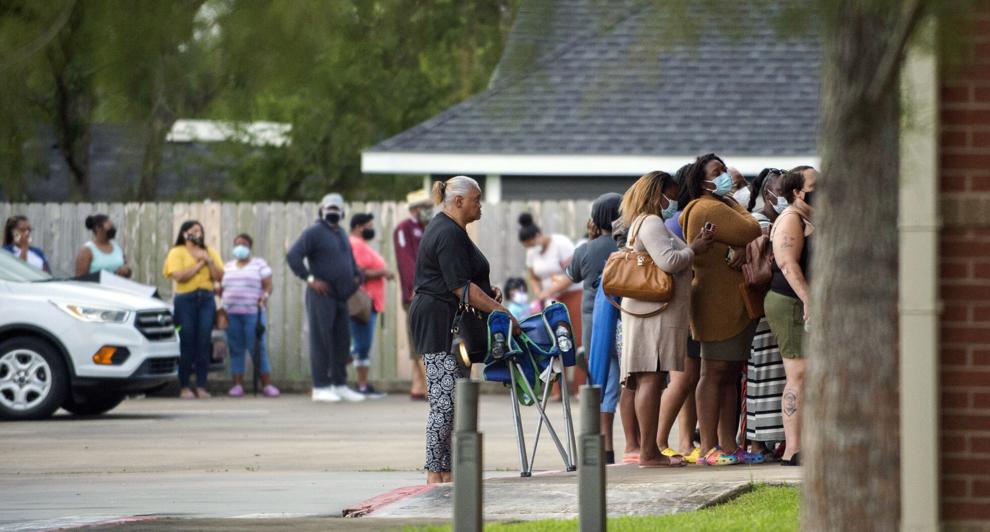 One Lake Charles woman drove to DeQuincy to beat the crowds she accurately predicted would be in much larger Lake Charles the following day. Another Lake Charles native now living in Lafayette employed the same gambit.
The woman, Megan Benjamin, 27, was forced out by damage to her Lake Charles apartment by Laura. She now lives in a FEMA trailer in Lake Charles with her 2-year-old son, her mother and two of her mother's grandchildren, while working part-time at a daycare.
"They're going to be in Lake Charles tomorrow, but we're here so she can get one as soon as she can," said her mother, Valencia King, 57, who doesn't expect repairs to be complete on her badly damaged house until the middle of next year.
Calcasieu Parish Human Services Director Tarek Polite said reopening the program to new applicants did not mean housing was found for all those previously on the list. It could be that some left the area, could not be contacted or found somewhere else to live.
The parish oversees Section 8 apartments in unincorporated areas and does not directly manage public housing units. Because of a shortage of available apartments, Polite says the program is down to around 300 households though it can provide up to 574 vouchers.
Before the storms, many area landlords were already pulling out of Section 8 because they could charge higher rents on the open market, due in part to a construction boom in the petrochemical industry. The same problem exists now, but because of the storms, Polite said.
"Before it was due to the economic expansion that the higher prices were in place," Polite said. "Now, I would suggest that the high prices are in place because of the scarcity, the lack of units."
The numbers are particularly telling for the Lake Charles Housing Authority. Only about a third of the roughly 600 units it manages are occupied. Its Section 8 program is down around 40 percent to more than 700 homes, with over 100 units having been brought back since the storms, said Taylor.
More than 100 tenants have used their vouchers, which are portable, to find housing elsewhere, including as far away as Alaska, he said.
The authority, which is itself working out of a temporary modular building, has scraped together enough money to carry out mitigation work, such as tarping, but it has been waiting for sufficient insurance and FEMA dollars for permanent repairs. Taylor says roughly $1.5 million in insurance settlements has now come through, allowing for work at three complexes, including complete repairs at one and roofing at two others. It is still waiting on FEMA dollars.
But actual hammering remains weeks if not months away since contract wording continues to be negotiated, said Taylor. Beyond that, internal repairs will still need to be done at the two complexes where roofing will occur.
'Nowhere to go'
The complete repairs will occur at Willow Manor, where Templeton lives with her husband Robert, 40, and their 15-year-old Chiweenie, Mickey Boo. They were lucky to avoid major damage to their apartment, unlike most of the others at the 20-unit complex.
Both are dependent on wheelchairs, and they're concerned they will be forced to leave to allow for repairs to the complex.
"Are they just going to show up one day and say, 'Hey, y'all got to get out'?" said Templeton. "We have nowhere to go."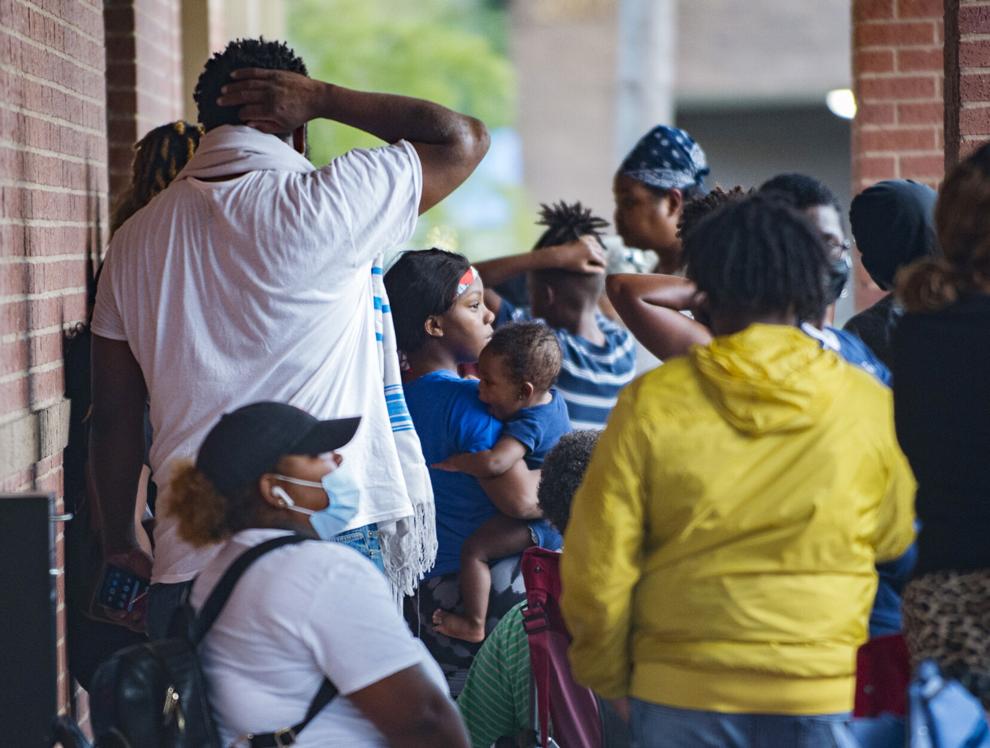 Taylor says the authority intends to work with tenants in such situations.
Not far away, in a bigger and largely empty subdivision, Lisa Johns, 63, echoed the concerns of other remaining residents. She was moved to another public housing apartment due to storm damage.
"They're not even trying to do anything," she said, pointing. "Look at those houses."
The rows of empty houses topped by tattered tarps can give the neighborhoods a surreal feel, though they are also testament to the amount of destruction the city has seen since August 2020.
In the Woodway Park complex, which was damaged by Laura and also flooded badly in May, so many homes are empty that seeing a person there can seem like bumping into someone in the desert. But those who remain are glad to still have a place to live.
"It's so expensive," Deborah Trent, 57, said of the housing market as she sat on her porch listening to music, looking out on a street of empty duplexes. "If I could've found a place until they finish, I'd have been gone."