LAKE CHARLES – A year after Hurricane Laura pummeled southwest Louisiana, residents and community leaders are determined to rebuild, but concerned that sufficient help hasn't arrived. The Times-Picayune | The Advocate asked six prominent members of the community to share their views.
'Can't live through this'
Adley Cormier is a longtime Lake Charles resident and author of a book on local history titled "Lost Lake Charles." He believes many with the means to do so are deciding to leave the city, fed up with repeated rebuilding efforts.
"We live on the coastal South. Everybody from Brownsville (Texas) to Chesapeake Bay deals with hurricanes and to some extent fires and so forth," he said. "But ordinarily, between the individual disasters, you have a little bit of a breathing period where you can recharge batteries and you can get something done. And that's what has been so missing here.
"We're getting 25 years' worth of disaster in one, which means that it puts into perspective a lot of things that are hard to think about. In our particular case, and for a lot of people our age who are retired, it's 'Why do I want to live through this?' and 'I can't live through this and I'm getting out.'"
He fears the city could be hollowed out.
"I just don't want to see a situation where Lake Charles essentially becomes the largest Port Fourchon or Venice in the world, where you have people who are here just to work," Cormier said. "And as soon as they are done with their assignment at Sasol or their work at the hospital or their tenure at the university, they're out of here. Because that creates an artificial sort of community that is focused on the wrong sorts of things."
Cormier said the region's indistinct identity -- at least in the view of outsiders -- contributes to its neglect nationally. He referenced part of the region's classification as a no man's land in the years after the Louisiana Purchase.
"Unfortunately to some extent, it is that historical concern," he said. "It's that you're not quite Texas, you're not quite Louisiana, you're not quite French, you're not quite American. What are you?"
LAKE CHARLES – For Keith Bell, this has been a year to forget. First his house was severely damaged by Hurricane Laura, then a winter storm in…
'Takes my breath away'
In 1993, Willie Mount became the first woman mayor of Lake Charles; she went on to become a state senator. She remains active in the community through various initiatives and organizations. She spoke of the "unbelievable challenge" of the past year and raised concerns over housing needs.
"Southwest Louisiana is a very strong community," she said. "With that said, this area has faced an unbelievable challenge with COVID, Laura, Delta, an ice storm and major flood event, all within really a year to a year and a half. And that takes my breath away."
Mount said "our businesses desperately need employees and the employees need safe and sustainable housing." She questioned why the federal government hasn't responded.
"We desperately need assistance with supplemental disaster relief funds," she said. "It's obvious that for other storms, our federal government has responded so much quicker. I don't have the answer. I don't know why that it's almost taken a year or so for us to get that assistance. But we do know from past storms all over the country that the response was much quicker."
Her house was damaged, but she was able to live there as repairs were carried out.
"I just feel blessed that I didn't -- like so many people did -- lose everything," said Mount. "It was just a horrible year of bizarre storms that really affected a huge number of people all over. We're a caring community and we are all trying to reach out and help one another, and particularly people who don't have a place to stay."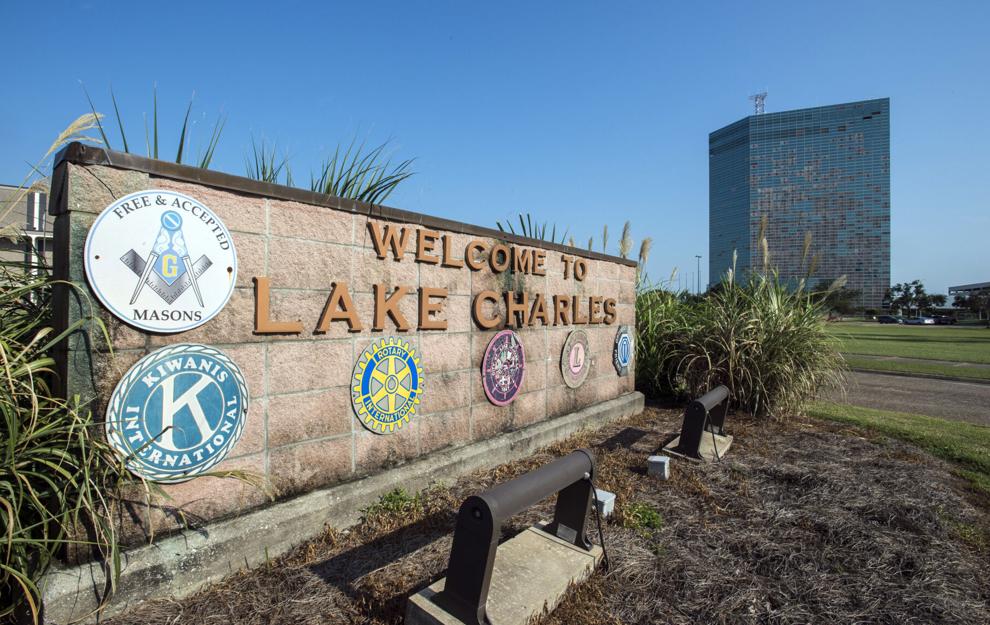 'What is the problem?'
Samuel Tolbert is pastor at Greater St. Mary Missionary Baptist Church in northern Lake Charles and a former City Council member. His church was badly damaged, but it managed to continue food and clothes distributions.
Tolbert called for urgent housing assistance. He also wants state Insurance Commissioner Jim Donelon's office to take action against insurers refusing to fairly settle claims.
"We know that our area still has not seen the federal money that we need for recovery," he said. "I think it's coming, but the problem is it's so slow coming.... We live in one of the richest countries in the world, if not the richest country in the world, so what is the problem that we don't have a Road Home-type federal program in place now in southwest Louisiana?"
Tolbert said "the basic thing that a community needs to sustain itself is decent and affordable housing."
He also called on the energy and petrochemical industries in the region to partner with faith-based organizations in lower-income neighborhoods to come up with "a great, not donation to the community, but a great investment in the community."
"If you want to know how to help people in underserved communities, you ought to work with those groups that are working with underserved individuals every day," he said. "If there can be some discussions started, some apparatus put in place whereby industry gels with faith-based groups on how we can help them or how they can help the community or even to help themselves, I think it would be awesome."
'What does it take?'
Daryl Burckel is president of McNeese State University, which was hit with an estimated $200 million in damage and a 10% drop in enrollment. Nevertheless, the school has rebuilt quickly and welcomed students for in-person classes for the fall semester, though work remains to be done.
He said that "what we're most concerned with is the community coming back." McNeese has developed plans to increase student housing, a lesson learned from Laura.
"It's very difficult for a student who is coming to McNeese if they can't find housing on campus," said Burckel. "It's very difficult to find housing and the cost of housing is quite expensive. So we need to get as much housing back online as possible in our community. A lot of our apartment complexes and homes and other places where our students were living were destroyed or damaged."
Asked what advice he could offer on rebuilding given his experience in bringing the university back, Burckel said it was difficult to make comparisons.
"We're a public entity, so we worked very closely with the state to take control of our campus and the rebuild of our campus," said Burckel. "For those folks whose homes are damaged or properties are damaged, it's a much different story because many of them are dealing with their insurance companies ... We had commercial contractors that came in for multiple million-dollar contracts. We had $77 million, $80 million of work (initially), so that attracts a lot of people, rather than a person going in and doing an individual's home for $30, $40, $50,000."
He said he was confident the region would rebuild, but added: "I do worry that the federal government has not responded to four federally declared natural disasters in one year. What does it take for them to respond to what's happened down here? I think the federal government not reacting has delayed the recovery ... I'm confident that this area is going to make it back. But it would sure be nice if we can get the government response that we need and get it now so we can start that process of coming back on a larger scale, especially when you talk about community housing."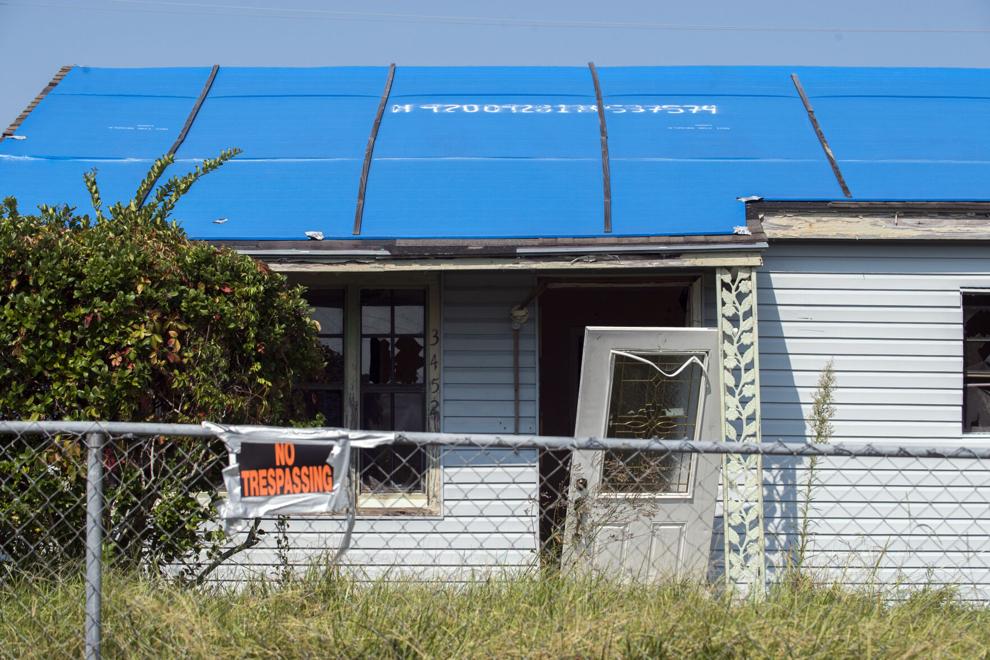 'Higher-paying jobs'
Jim Rock is executive director of the Lake Area Industry Alliance, which represents the region's large energy and petrochemical companies. He has served on various community organization boards.
He says the strength of Laura taught companies lessons on how to prepare better for future storms. A chlorine plant in the Lake Charles area caught fire during Laura, triggering a shelter-in-place order and contributing to a nationwide shortage of pool chlorine.
While there are serious concerns about the plants' carbon emissions, Rock highlights the economic benefits they bring to the area beyond high-paying jobs. The alliance cites figures that local industries employ around 11,000 directly, in addition to around 20,000 indirect jobs, for a total of around $2.7 billion in annual labor income.
"Every business in town has a 'Help Wanted' sign," Rock said. "The plants, I'm proud to say, are the exception to that. And they're the exception because the plants have higher-paying jobs with benefits and long-term retirements and paid vacations. So I don't know that any of the plants lost any full-time employees."
He also spoke of the region's advantages for industry, including its deepwater port in Lake Charles, interstate access, pipeline network and training programs at McNeese State and Sowela Technical Community College.
The region has seen major investments in liquefied natural gas plants in recent years, and Rock said he believes that will continue. But he also imagines carbon capture and sequestration technology being used in the area.
"We have a lot of saline formations, and those saline formations are under many hundreds, if not thousands of feet of bedrock," he said. "And that is the ideal storage for carbon. And along the Gulf Coast with the industries, you've got a lot of sources of carbon, as everybody will tell you. So we're really set up to be successful as far as being a leader in the nation in carbon capture and sequestration."
'Where's the money?'
Fitzgerald Darbone is president of the African-American Chamber of Commerce of Lake Charles, which recently hosted a town hall meeting with U.S. Rep. Clay Higgins. He spoke of making it easier for temporary housing such as trailers to be allowed into the city after hurricanes.
"This is a disaster situation," he said. Restrictions should be lifted "so that people can bring trailers into the community to at least house some of these people. Because they can't build these homes quick enough for people to get back into, or even repair them."
He said his organization was trying to appeal to investors to build or repair homes. 
"That's part of our goal of the African American Chamber of Commerce, to reach out to investors and pull them back into the city, and we are doing that," said Darbone. "We are spearheading a program, especially with adjudicated properties, to get people back there."
Darbone also said his organization planned to ask questions about how disaster dollars are spent.
"One of the reasons that we had that town hall meeting is to find out where's the money," he said.