In August 2016, historic floods devastated parts of south Louisiana after a slow-moving system dumped more than 20 inches of rain in parts of East Baton Rouge and nearby parishes in a three-day span. 
After the unprecedented rainfall, all of that water began its journey south, swelling rivers and flooding thousands of homes. 
What happened to cause the catastrophic flood, which has been referred to as a 500-year event? And could it happen again in this lifetime? 
How did it happen?
The flooding was largely the product of extremely warm, moist air in the Gulf of Mexico colliding with a slow-moving storm system. The system spun over the area for several days, dumping between 20 and 30 inches of rain in some areas, according to the National Weather Service.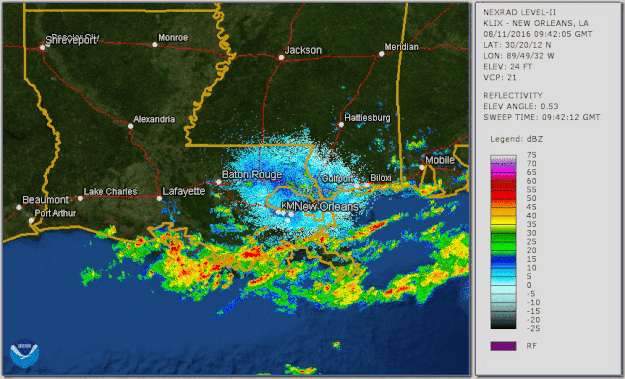 The heavy rainfall totals led to widespread flash flooding and record river flooding across multiple parishes. 
Not only did the river levels rise in the Comite and Amite rivers, but all the creeks and waterways that feed into those rivers filled up as well. Like rush hour traffic, numerous creeks and bayous all trying to flow in the same direction led to a traffic jam, and the water kept heading south. High water in the rivers had nowhere to go but over the banks. Local tributaries had little room to accept more water, leading to localized flooding.
East Baton Rouge, Ascension, Livingston and Tangipahoa parishes saw the most widespread flooding. In all, it's estimated that 50,000 to 75,000 structures flooded, according to the National Weather Service, and 13 people died in the flood. 
Rainfall amounts and river crests
Because of circulation in the storm, it was able to keep drawing on the moisture from the Gulf, replenishing itself to dump more rain on the state.
Three of the heaviest two-day rainfalls arrived at Watson with 31.39 inches, Brownfields in north Baton Rouge at 26.83 and Denham Springs with 25.5 inches. Livingston took on nearly 22 inches of water, and Baker recorded more than 21 inches.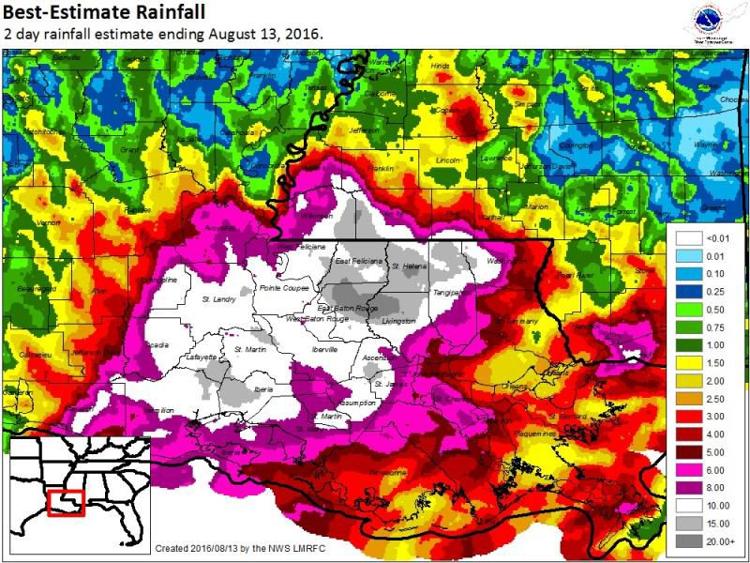 Louisiana's previous record rain total over a 48-hour period was a storm in Abita Springs in 1995, when almost 25 inches of rain fell.
After the rainfall, Baton Rouge area rivers hit record levels. The Amite River at Denham Springs got to 46.20 feet, beating the previous record in 1983 by almost five feet. Farther downstream, the Amite River at Port Vincent got to nearly 17.50 feet, beating the 1983 record by almost three feet.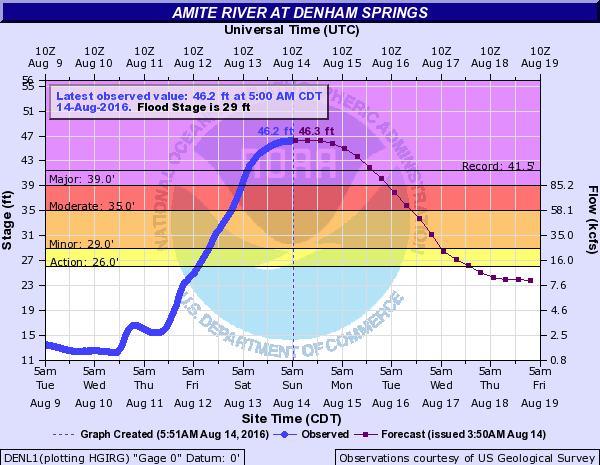 To see total rainfall amounts for your neighborhood on a specific day, click here. 
Could it happen again in our lifetime?
So what are the odds of another historic flood happening again?
According to the National Weather Service, two-day rainfall amounts in parts of East Baton Rouge and Livingston parishes had a 0.1 percent chance of occurring, or 1 in 1,000 odds. Other areas saw rainfall amounts that had a 0.2 percent chance of occurring, or 1 in 500 odds.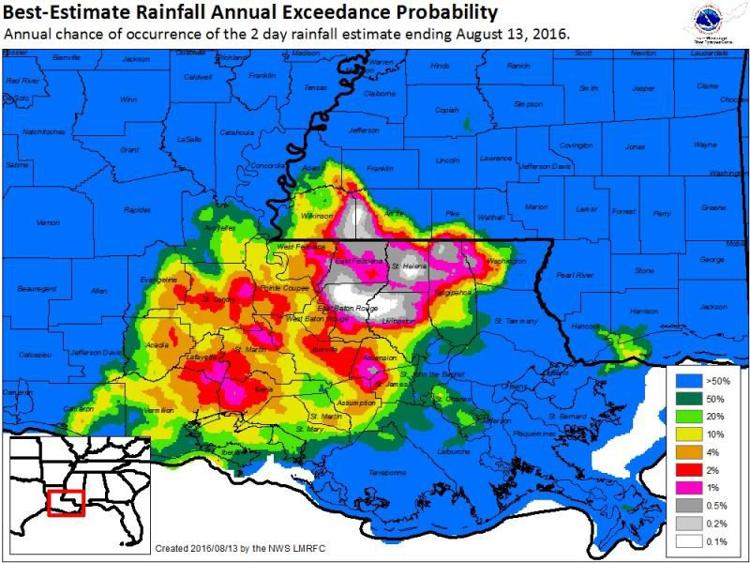 For perspective, there is a better chance of:
Being audited by the IRS (1 in 175). Dating a millionaire (1 in 215). Writing a best-selling novel (1 in 220). 
Recently published research suggests that the flood of 2016 was likely stronger than a 500-year event (though scientists have argued against using that language because the government does not have that many years of data for comparison).  
However, that does not mean that a similar weather event won't occur in south Louisiana for another 500 years. 
Experts caution that it's too early to directly link the storms with climate change, but rising temperatures and a warmer Gulf could mean more moisture in the air and more weather systems like the one in August 2016.
Others say the flood of 2016 may be part of a larger weather pattern, similar to major rainfall events in the 1930s and 1950s.
"These are huge, catastrophic events, most of them," Barry Keim, a state climatologist, told The Advocate shortly after the flood. "The big question is what's going on."
Advocate staff writers Steve Hardy, Jeff Adelson and Amy Wold contributed to this report.