The Pair-A-Dice Tumblers band can be disorganized, bawdy, even beer-soaked. So leader John Birdsong was surprised to get a phone call asking if a kindergartner could hang out with his band.
It's not that the Tumblers are an exclusive group. "We stumble and tumble and play music," Birdsong said, noting that the band has for 40 years accepted musicians of any talent level as long as they adhere to a rule: "If you can't play well, don't play loud."
Still, Birdsong had never been asked about letting a child join the band.
Then, last year, Rebecca Garside, a friend of a friend, contacted Birdsong to ask if her son Iggy could play trombone with the band at rehearsal. In her message, she explained that Iggy has a remarkable affinity for music that stems from a rare genetic condition called Williams syndrome.
Birdsong was a little wary. Still, in the end, he agreed to let Iggy, accompanied by a parent, stop by a rehearsal. He even promised to curtail some of the cursing and drinking.
During that first visit, Iggy pulled out his trombone and played his version of "When the Saints Go Marching in." Birdsong deemed it both "recognizable" and "ambitious."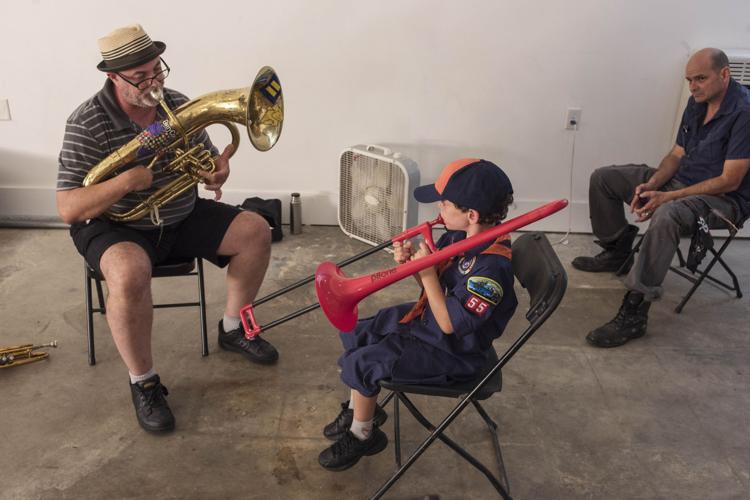 Then Iggy sat down next to his dad. But when Birdsong stood up to address the band, Iggy walked over and held his hand. The bandleader's heart melted. "Oh my gosh, you can't be unhappy around Iggy," Birdsong said.
Now, at age 7, the skinny, curly-haired trombonist is a full-fledged member of the Tumblers. Iggy and his red trombone have marched with the sometimes-chaotic band at a few parades, including the Krewe of Chewbacchus.
Of course, Iggy's parents worry about him, because the world can be unkind to people seen as different. "We've got an atypical world, and we're trying to get him to exist in a typical world," said Rebecca Garside, who is a counselor.
At least his strengths are valued in his hometown, said his father, Phillip Garside, a religion teacher. "Iggy is fond of company at a party; he's musical. So I don't worry about Iggy in New Orleans. Here, he can just be himself."
One of Iggy's first moments in the public spotlight came on St. Patrick's Day in front of Lafitte's Blacksmith Shop. A bandmate, a trumpet player, asked Iggy what he wanted to play. Iggy chose his favorite, "The Saints." Soon, the two were leading drunken revelers dressed in green, some of whom began throwing money at Iggy.
Yet Iggy seemed to barely notice the crowd's adoration or the sea of cellphones pointed his way. The next day, he told his parents that the best part of the evening was the ice cream they bought him afterward.
Birdsong feels a special bond with his youngest band member. He plays trumpet with his left hand because he was born with a webbed, short-fingered right hand. "So I know how people want to baby you and not let you experience things," he said. "And I see how Iggy's parents are doing everything they can to help him live a full life."
"Give Iggy a few more years and he's going to blossom on his horn," Birdsong predicted. "Because there's nobody in the band who loves and enjoys it more. Iggy is on a different level when it comes to music."
Alarming news
When Ignatius Joseph Garside was born in 2010, doctors pronounced him healthy. But at his six-month appointment, doctors noticed that he had a heart murmur. 
Later, at the cardiology clinic, the staff prepared him for an echocardiogram, putting cold gel on his chest and placing the metal probe on top to give a view of his heart. It seemed routine. But the cardiologist kept moving the probe and leaning in, peering at the screen. Then three more doctors came in to look at the screen.
Afterward, Phillip Garside walked up and down the clinic hallway, carrying Iggy. He saw the doctors looking through a massive medical tome. "This is not a good sign," he told Rebecca.
When the cardiologist returned, he sent them upstairs to a geneticist. "We said, 'This isn't good,' " said Rebecca, remembering how they both went mum at that point.
The geneticist walked in, took a picture of Iggy and left without explanation. Then he came back with a printout about Williams syndrome and said, "I think this is what it is."
Nearly a month later, they got the official diagnosis: Williams syndrome, a genetic condition that occurs in about 1 out of every 7,500 to 1 out of 20,000 births and was first identified about a half-century ago. As the egg and sperm develop, something happens that deletes a set of about 20 genes in one copy of the baby's chromosome 7.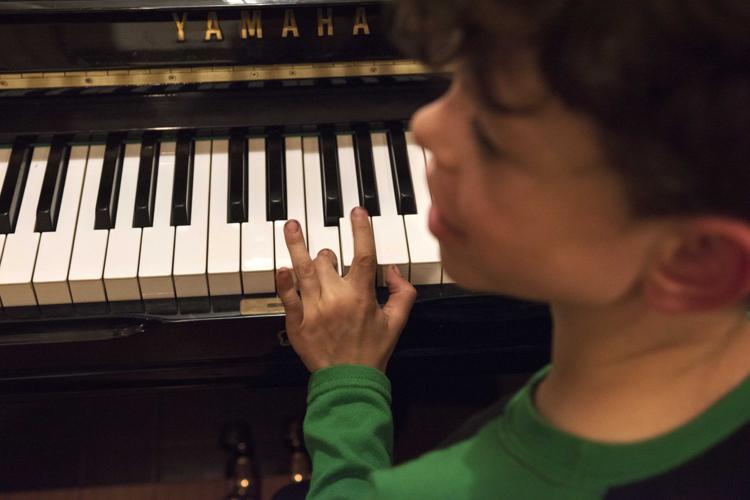 The family's most immediate worry was Iggy's frail heart: Children with Williams syndrome commonly have problems with narrowed blood vessels and reduced capacity in the aorta, making the heart pump harder. 
Rebecca feared that he might have a heart attack by the time he was 3. Doctors began testing his other vital organs to see what else they might have to address. The Garsides were also advised that children born with Williams syndrome can struggle with anxiety. Some have intellectual deficits.
But the couple now know that the diagnosis that seemed so ominous is also responsible for Iggy's unusual charm and talents. For instance, children with Williams syndrome are gregarious and friendly, to the point where Iggy routinely walks up to strangers to say hello or give them a hug.
At Thanksgiving time, it's easy to think of reasons to give thanks for their little 7-year-old extrovert, who exudes such joy in life that his parents have also begun to show affection more easily.
"We're much more likely to give hugs now or to say, 'I love you,' " Rebecca said. "We're much more comfortable showing love. It's a beautiful thing, this life with Iggy."
'One more song' 
More than anything else, people with Williams syndrome are known for their attraction to music. Scientists who study the brain are trying to figure out what parts of Iggy's version of chromosome 7 are responsible for his musical talent.
Williams Syndrome is even thought to be the root of elfin folklore, because people diagnosed with it are typically kind-hearted, slight people with pronounced ears who have a love of music, dance and mirth.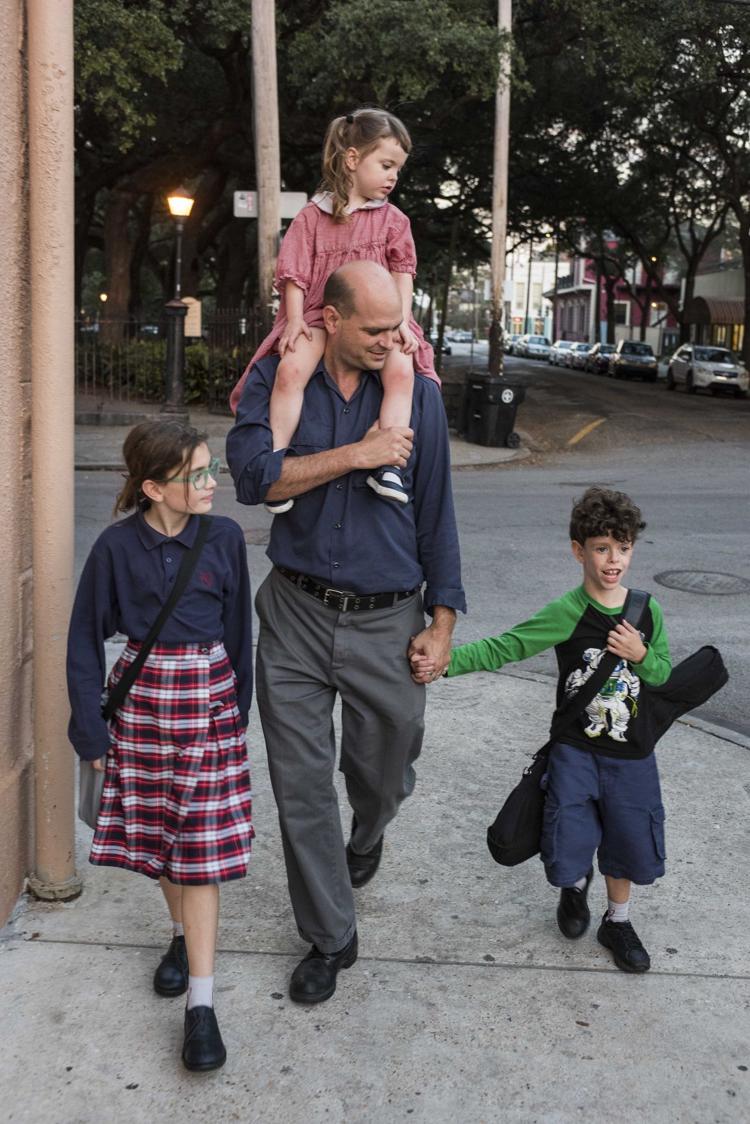 Iggy hummed before he talked. Even now, when he swings on the swingset or runs across a park with his two sisters, he is constantly making noises, ranging from musical notes to high-pitched squeaks.
He also thrives on his iPod, which his dad has loaded with a broad range of music. Right now, he's in a Beatles phase. He's got a longtime fascination with Tibetan Buddhist monks' throat chanting.
When he was 5, Iggy fell in love with the trombone after seeing Troy "Trombone Shorty" Andrews close out the New Orleans Jazz & Heritage Festival.
Later that year, the family went to see Andrews perform at the Saenger Theatre. Iggy was entranced. Then, as the night wore on, he curled up in his mother's arms. She told him it was time to go home. "But he was listening intently, despite how tired he was. And he kept saying, 'One more song,' " she said.
As he turned 6, he asked for a trombone birthday. His mom made a trombone-shaped cake and he got a red pBone, a plastic trombone that is lightweight and popular with young players.
He now takes lessons in piano and trombone. But when he plays a song, he doesn't necessarily hear the melody or rhythms that other kids might. "Jazz is his language," said his dad. "I might hear a bunch of disconnected notes. But he's playing the song the way he'd play it with a band."
Catherine de Mers, a certified music therapist, has been working with Iggy since he was 3. Because of the rarity of Williams syndrome, she had never worked with anyone like Iggy before. So she did research and talked with colleagues to determine what would work best. She made regular visits to Holy Name of Jesus School, where Iggy is a student.
De Mers sees a parallel between Iggy's gregariousness and the magnetic pull he feels toward music. "Iggy has a beautiful openness," she said. "Like he's drawn to music, he's drawn to people and their emotions."
Iggy is also expressive, she said, with poetic word choices and dramatic gestures that may look theatrical to others but seem instinctual to him. That's consistent with his diagnosis too, though Iggy brings it to life in a way that seems so quirky and charming that it's hard to attribute it simply to his chromosomal structure.
Saying hello to everyone
Weekly sessions with de Mers help Iggy learn counting, spelling and everyday behavior through song. Because he can be socially awkward with peers, de Mers teaches him songs about getting another child to play with him. "When you see a friend, say hi," she'll sing.
She also helps him tell others how he's feeling. "We all know that music helps us express emotion," de Mers said. "I teach him how to express himself with music if his words aren't available."
Many children with Williams syndrome do not speak until age 5 or later, if at all. But Iggy is very verbal, because of de Mers, Rebecca said: "She's like a miracle worker. He's reached so many milestones because of her."
During a recent therapy session, Iggy told de Mers he was feeling sad. He mistakenly thought he'd missed his Cub Scouts meeting that week. Long sad notes on a xylophone illustrated how he was feeling.
As she launched into their usual goodbye song on the piano, he told her the song wasn't sad enough. She added some minor chords and he listened, looking a million miles away. But as the song neared its end, he placed the drum sticks in his hand onto the snare drum and quietly rolled them, creating a sadly gorgeous finale.
De Mers looked at Iggy in amazement. "He blows me away all the time," she said.
His parents feel the same way. "Phillip and I are both super-introverts," Rebecca said. "But Iggy changed that for us. He has really pushed us."
Rebecca remembers the time they went to Ship Island and he wouldn't relax with her at the beach. "I was in my bathing suit and he made me say hello to everyone at the beach before he would sit down. One at a time, all strangers."
Nearly every day, Rebecca Garside reprises some version of that scene as her curly-haired son pushes her and her husband far beyond their comfort zones. "Thanks to Iggy, we've become as outgoing as a couple of introverts can be," she said.