Marlene Cayou and Jonnay Bakewell grew up together in New Orleans. "Like family," said the women while snapping selfies at Atlanta's Hartsfield-Jackson International Airport on Thursday morning.
In the same spirit, they were catching a connecting flight to what amounts to a gigantic family gathering – the Thursday Night Football Saints/Cowboys game in Dallas.
Both women live in New Orleans' Mid-City neighborhood. They're both major football fans and each was decked in team colors head to toe to prove it.
But that's where they diverge.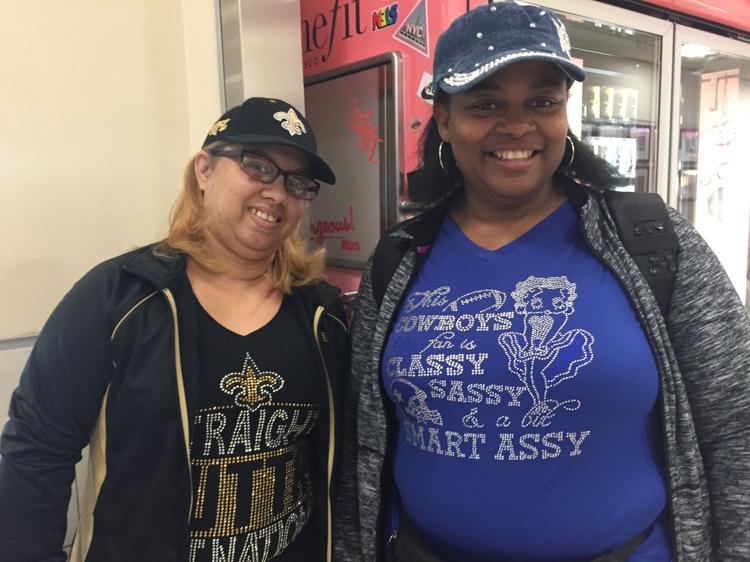 Bakewell is a diehard fan of the New Orleans Saints. Cayou, despite coming from an entire family of Saints fans, cheers for the Dallas Cowboys.
Who Dats were everywhere around Atlanta's airport on Thursday morning, heading to the Dallas game. They were easy to spot, showing their allegiance with team jerseys and jackets, fleur de lis socks, Saints scarves, black and gold manicures and a general happy New Orleans vibe.
Wearing a Saints shirt, Leo Sepulveda was flying from Florida to meet his father, who he described as an open-minded Seattle fan.
"He supports my team, I support his," Sepulveda said.
Although Florida has three NFL teams, in Sepulveda's mind, none rates.
"The Saints are so good," he said.
What if your only son turns out to be a disappointment?
Terrell Robertson of Baton Rouge used to go to all the Saints games, but two years ago, the area's floods left him with nothing but his dog and his truck. At the airport, he pulled out a phone to show a photo of himself lifting an elderly woman into a canoe in waist-high water.
"Our resources aren't what they used to be," Robertson said.
Now he attends only a few games a year. The Saints-Cowboys game is one of them, and on Thursday he was flying to meet family who had driven an RV to Dallas from Ascension Parish.
"They're cooking right now," he said, listing a menu of fried turkey wings, jambalaya and gumbo.
"Going to the game is part of rebuilding," he announced to sympathetic fellow travelers decked out in Saints jerseys nearby. "Mentally."
The Saints stand atop the league at 10-1 and the roster is mostly healthy, making for an optimistic crowd.
"There is no doubt about it," Robertson said. "New Orleans is bringing it back home."
He dismissed some high-profile trash-talking from a certain Dallas player as beneath the dignity of the black and gold.
"We are going to let the scoreboard do the talking," he said.
Sounds like Dallas Cowboys standout defensive end DeMarcus Lawrence is pretty damn excited about Thursday night's game vs. the New Orleans Sai…
Meanwhile, Bakewell and Cayou are fierce fans in different camps, but they never let sports get in the way of their lifelong friendship. Bakewell smiled at her Cowboys-loving girlfriend.
"We're going to win," she sweetly assured Cayou.
As their flight was called and the pair started for the gate, the Dallas fan remained unswayed.
"No, we are," she insisted. "They're coming to OUR land."
A 10-game winning streak, a few new NFL records, a commanding lead in the NFC South -- Saints quarterback Drew Brees has done it all this season. 
Turduckens, football and holidays go together like, well, a turkey stuffed with a chicken stuffed with a duck.