Culinary historian and memoirist Jessica Harris has a poetic sense of her connection to New Orleans. Why New Orleans?
"Because," she said in her deep, melodious voice, "my soul sings there."
That song began a long time ago. Harris' early visits seemed eerily prophetic. Her first visit to the city was to work on the annual college issue for Essence Magazine. The subject was Dillard University. Years later, Harris would return as the first scholar in residence in the Ray Charles Chair in African-American Material Culture there.
On another trip, she met Patrick Dunne, proprietor of Lucullus, the culinary antique shop in the French Quarter.
"He looked at my shoes and thought I passed muster and, in great big-brotherly fashion, told me about a house for sale behind his. He's the reason I have a home in New Orleans."
Then, when the New York native saw the "Purchased Lives" exhibition at the Historic New Orleans Collection, she said, "The penny dropped, as the Brits say. I was listening to the docent, and I remembered that my mother's great-grandmother had been sold South, so I may have a connection. That's my blood down there."
Soulful connection is the stuff of Harris' life and work. In her 12 cookbooks of the foods of the African diaspora, she gives the rich social context, the long history, behind culinary mores in works such as "High on the Hog: A Culinary Journey from Africa to America," "Beyond Gumbo: Creole Fusion Food from the Atlantic Rim" and "Iron Pots and Wooden Spoons."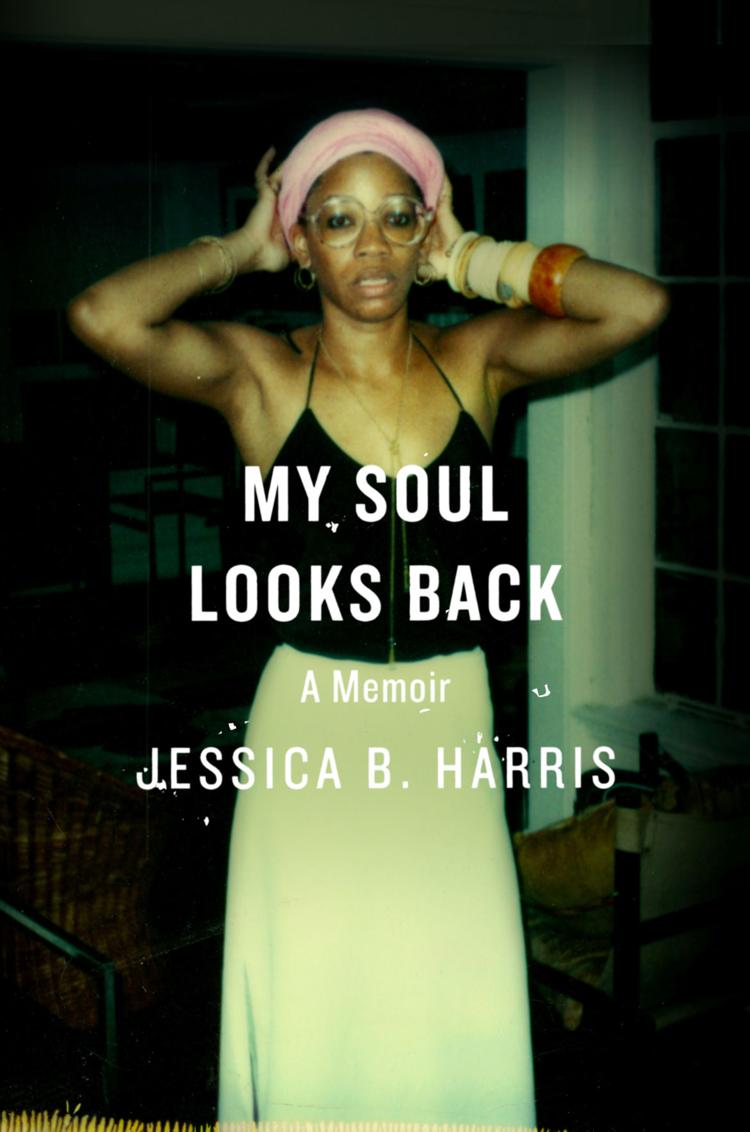 In her new memoir, "My Soul Looks Back," she turns that focus to her own life as a young woman in New York in the 1970s, when she fell in love with Sam Floyd, James Baldwin's best friend.
That relationship drew her into a circle of artistic luminaries — Baldwin, Nina Simone, Maya Angelou, Toni Morrison, Paule Marshall, Louise Meriwether, Rosa Guy, Vertamae Smart-Grosvenor. "I was there because of Sam," she said. "I wasn't always at the head table."
But she was noticeable — and noticed. When Simone saw her for the first time at a gathering, she demanded, "Who's the bitch in the red dress?"
Meanwhile, Harris was at the beginning of her own long career as a writer and culinary authority. This book grew out of an article Harris wrote after Angelou died, inspired by a magazine editor's question, "Did you ever cook with her?" So we have the memorable recipe for Maya Angelou's New Year's Kale.
She creates a fabulous tapestry of life of the period — weaving the struggles of African-American artists, the tragedies of the AIDS epidemic (which eventually claimed Floyd's life), with the excitement of living in New York, coming of age, finding a calling, traveling the world.
"My Soul Looks Back" is a catalog of delights, with recipes at the end of each chapter and a musical playlist at the book's end. Food, music, art, life — it is the stuff of joy, served up in abundance. Now she divides her time among New Orleans, Martha's Vineyard and New York.
While she's had her share of heartbreak, Harris knows her good fortune. "I like to say that I live my life somewhere between Edith Piaf — 'Non, je ne regrette rien' — and Frank Sinatra — 'Regrets, I've had a few … but then again, too few to mention.' "
***************************
Jessica Harris signs "My Soul Looks Back: A Memoir"
When: Thursday, June 1, 6 p.m.
Where: Garden District Book Shop 
2727 Prytania St., New Orleans
INFO: (504) 895-2266
*********************
Excerpted from "My Soul Looks Back: A Memoir by Jessica B. Harris." Copyright © 2017 by Jessica B. Harris. Published by Scribner, a Division of Simon & Schuster, Inc. Reprinted with permission."
Greens are traditional on African American New Year's tables. If Hoppin' John means luck, the greens are for folding money. The type of greens is not specified and different families have their own traditions. My family went with collards, so that's what I crave on January first. In her cookbook Hallelujah! The Welcome Table, Maya Angelou gave us her recipe for collard greens. It uses turkey wings. However, according to her personal assistant of many years, Lydia Stuckey, she preferred the taste of kale and usually served kale at her expansive table on New Year's Day — and she prepared it with a ham hock. It was not your healthy kale that is currently of the moment, but a down-home rendition of a holiday classic.
The non-swine-eating folks didn't mind in the least; there were so many other dishes in her lavish spread and plenty of delights for them to savor.
Maya Angelou's New Year's Kale
Serves four
1 meaty ham hock
4 pounds fresh kale, picked over and cleaned, with the tough center stem removed
2 medium onions, finely chopped
1/4 teaspoon minced hot red chiles, or to taste
Salt and freshly ground black pepper, to taste
Hot sauce, to taste
Vinegar, to taste
Place the ham hock in water to cover, bring to a boil, then lower the heat and simmer for 1 1/2 hours. Add the kale, half of the chopped onions, the chiles, salt, pepper, and more water, if needed and continue to cook until the ham hock is falling off the bone and the greens are done. Serve with the hot sauce, vinegar, and the remaining chopped onions.