POINT CLEAR, ALABAMA — The oak trees, azalea bushes, lagoon, even the blue and white "Duck Crossing 6 MPH" signs were here, as usual. It was comforting that all looked the same when I drove into the grounds of the Grand Hotel Golf Resort and Spa on a warm Sunday afternoon in October.
But I knew there had been $32 million in renovations and updates over the past three years in what many consider the favorite resort in the Southeast for generations of New Orleanians and Baton Rouge residents.
They've driven here for family gatherings, for honeymoons and anniversaries, for splurge visits after months of saving, and, often, just because.
Twenty-five miles southeast of Mobile, 20 miles from discount malls in Foley, and 30 from high-rise condos in Gulf Shores, The Grand Hotel has been a genteel refuge, a lovely place of civility, where, in our minds, things haven't changed much, although of course, they have.
Reveillon is an annual tradition for some New Orleanians. The holiday dinner series, held in restaurants across the city throughout December, …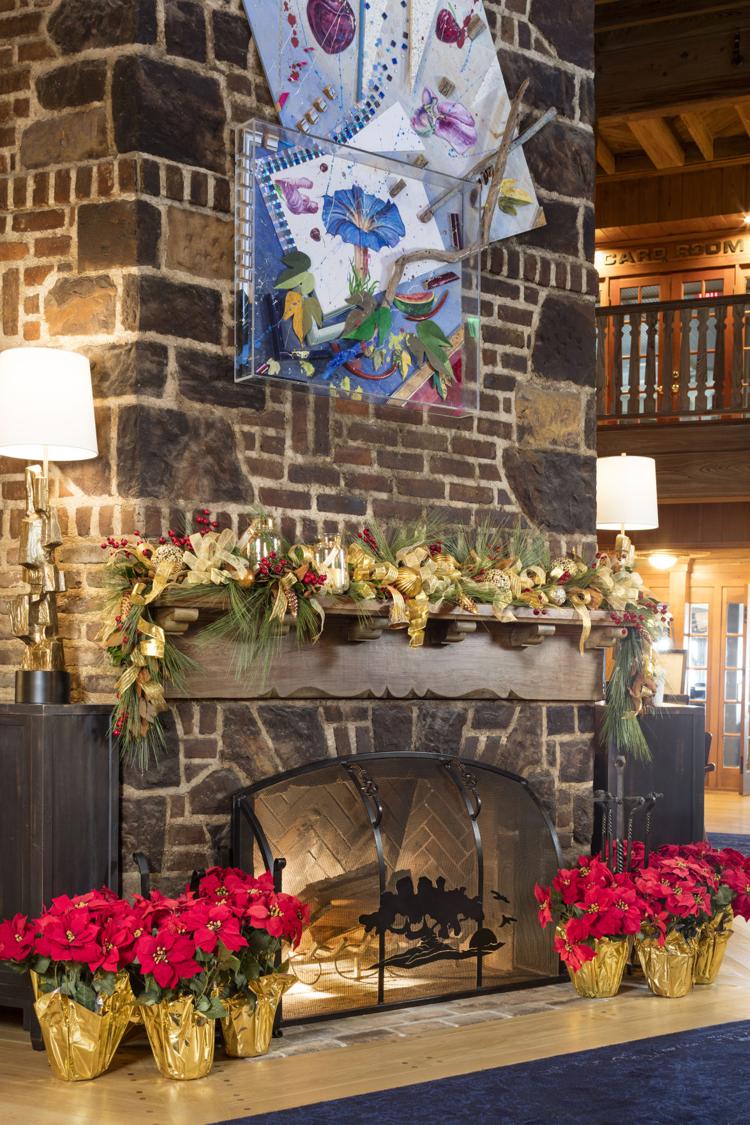 "Ever since I've been here, there have been changes made," said Susan Stein, the hotel's genial historian. "I'm here to help people understand we're preserving our past while we're moving forward and freshening things up."
On weekdays, she welcomes guests to chat and look at photos in her office off the main lobby. Hurricane Katrina's devastation in 2005 included a 12-foot storm surge. Damages were so extensive it took a year and $70 million for the resort to fully reopen.
Guests can read about the first hotel, 40 rooms built in 1847. Since then there have been numerous owners, incarnations, rebuilding and names. It was a Confederate hospital in the Civil War. The main building with three wings was erected in 1940 but became a military training center during World War II. It was in the 1950s and '60s that the hotel became an upmarket magnet for Southerners with vacation funds.
Although the Grand is one of eight Alabama hotels owned by the Retirement Systems of Alabama, which funds public pensions, it's long been affiliated with Marriott. But the red Marriott name and uniforms are no more, said Stein. On Aug. 29, the 405-room Grand Hotel Golf Resort & Spa became one of Marriott's Autograph collection of "unique" upscale hotels.
Change disturbs some guests who feel an emotional ownership. "The gift shop isn't across from the front desk anymore," a friend had said, her brows arched. It's now a coffee shop, the first time a grab-and-go option has been available until 9 p.m.
Among other changes are six new restaurants, three in the central Grand Hall/dining room.
The chances of a white Christmas are slight (hey, it has happened before), but the holidays are sure to be merry and bright with a sleigh-full…
The lavish breakfast buffet is smaller and sleeker, on the opposite side of the Grand Hall from the new gift shop. Buffet choices are plentiful, and the effervescent Kay Zalewski constantly replenishes homemade yogurts, sticky buns and such, while Twinetta George prepares omelets and Belgian waffles to sounds of "The Way We Were" from a grand piano.
The Bayside Grill is open for casual lunch and dinner. The dimly lit Southern Roots, with an enormous chandelier of gilded leaves, is the most posh. I ate delicious lamb croquette, and enjoyed joking with server Gerald Lawson, who's worked here five years. The new 1847 Bar specializes in fancy cocktails.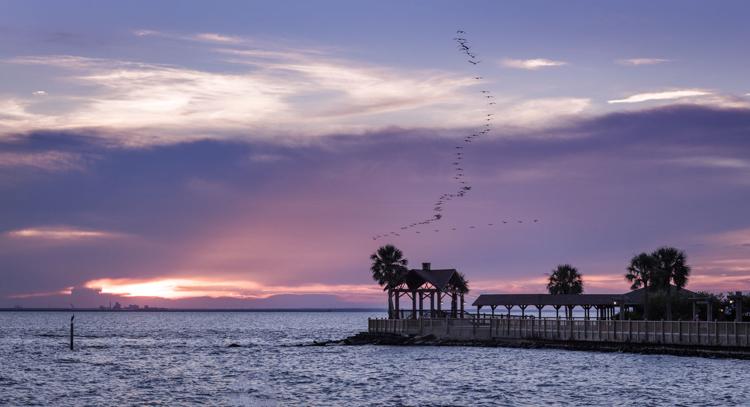 The upper lobby has been renamed The Hearth, though I never heard anyone call it that. Alterations have been handled gingerly in the two-story, wood-paneled, six-side lobby with three brick fireplaces; it's the heart of the resort. Floral and whimsical paintings by Alabama native, one-name artist Nall still hang over the fireplaces that are used in winter.
"We were relieved when we saw the lobby was almost the same,' said Jack Purser, a frequent guest from nearby Foley. He and his wife, Kathie Farnell, both retired attorneys, said they still prefer staying in the Spa Building above the renovated spa. "Room decor is softer and more feminine, and have views of the marina," said Farnell. Purser also likes the addition of more fireplaces and chairs outside.
Overall, "It's good," he said, smiling. "And we saw dolphins playing outside this morning."
Consulting decorators from out of state originally brought in furniture and accessories for the lobby this year. But those who know the hotel well found them too coolly contemporary.
The Audubon Zoo was deserted on a recent wintry afternoon, as temperatures hovered in the mid-40s. Yet something special was happening.
Jacqueline Hart was busy trying out different Oriental carpets and lamps one morning during my visit, while others were hanging historic photos on the paneled walls. An architect and designer with an Alabama architectural and engineering firm, Hart has worked for years with Beth Adams, longtime designer for the Grand's owners.
"So many generations of people love The Grand, so the idea is to give everyone something they can love," said Hart. "We wanted this room to have a classic, clubby feel. She pointed to a stark white lamp she thought didn't fit. "It's a spiritual and textual thing. Things can be contemporary, but they have to be warm."
Hart said guest rooms in the main building were designed to evoke the 1950s and '60s. "They're eclectic and inspired by the military," with vintage photos, blue campaign chests and black iron beds. While Jack Purser thought the beds looked "institutional," Kevin Hellmich, the resort's director of sales and marketing, said other guests give them high marks.
Hellmich, who has worked 16 years at The Grand, also touted the new afternoon tea Thursday, Friday and Saturday, with cakes, tea sandwiches and scones. Free cookies and tea no longer are a staple afternoons in the lobby, he said, but complimentary beverages will be served outside after the daily 3:45 p.m. cannon salute to the hotel's military past.
Golfers hang out across the road. Dogwood golf course was just renovated, and the Azalea recently closed and will reopen in a year.
Whatever may be new, tradition lives on at the 550-acre resort. A statue of the hotel's most popular bar waiter, the late Bucky Miller, stands outside Bucky's Birdcage Lounge off the lobby.
Personal touches and familiar associates are a major part of The Grand's appeal.
Thirty-nine of the almost 400 associates have worked at The Grand for 25 years or more, said historian Susan Stein. She's been an associate 32 years.
We were welcomed to the hotel by front desk assistant manager Vicki Lazzari.
"How long have you worked here?" I asked. "Eighteen years," she said.
Teresa Wood, front desk supervisor, was a server in the dining room when we first met her 36 years ago.
Aniese Harris, a restaurant manager, looked up from polishing a table after breakfast. "Thirty-one years."
Bellman Hilbert Locke wins the longest service ribbon. He pushed our luggage cart, and said he'd been here 61 years. "I still work on Sundays. Welcome back."
………………………………..
The Grand Hotel, Point Clear, AL; www.grand1847.com, (251) 928-9201. Low season weekday rates November through February normally begin at $239. In high season, June through August, typical weekday rates start at $299 to $399. A resort fee of 15 percent of the room rate plus tax, is added to the bill, covering such things as internet, putting green at hotel, tennis courts, fitness center.