On the second, third and fourth Sundays of the month, Wedding Inspirations will feature an element for a New Orleans wedding — such as a flowers, invitations, food and event space. If you have a suggestion, email sstrachan@theadvocate.com.
*******
For this first column, we take a look at a wedding cake from Beth Biundo Sweets.
What kind of wedding is this for?
It's a summer wedding with a reception at Brennan's — it is traditional with a twist.
Why a cake decorated with icing succulents?
The couple was open to something unique, so I suggested this. It also complemented the greenery they were using for the wedding and the setting at Brennan's. 
Succulents are very popular right now. I base the succulent cakes on a big variety of succulents and cacti. Every succulent cake is unique.
Describe the cake.
Sour cream berry cake with cream cheese buttercream icing; traditional vanilla almond wedding cake.
My wedding cakes are decorated with buttercream. I love doing textured design, especially all over texture and floral designs, and sometimes incorporating color. 
The designs are painterly and somewhat abstract. Couples these days are a lot more open to less traditional designs for their wedding.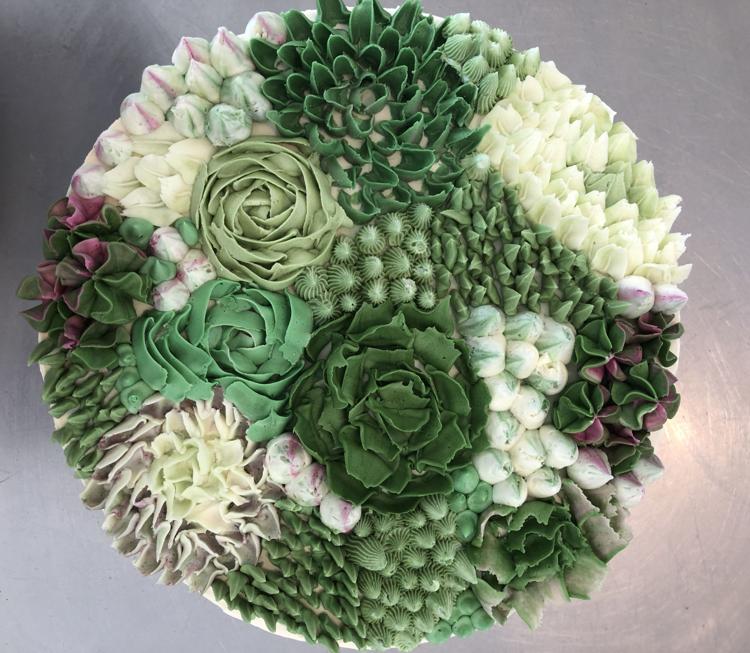 Advice for brides and grooms
What does a bride or groom need to have ready when they talk to you about a wedding cake?
They should already have a date chosen and venue booked before they inquire about cakes. It is always helpful if they have an idea of what they want, but are also open to suggestions for the best cake for their venue, season etc. Pictures are great because sometimes design concepts are hard to put into words.
What else do they need to take into consideration?
Weather, season and venue are all the practical considerations. 
What is the most unusual request?
I did a cake that looked like Vincent Van Gogh's "Starry Night" in buttercream. That was a lot of fun!
What is your favorite type of cake?
I have the world's biggest sweet tooth so that's hard to say. But I love our coconut rum cake, and I grew up here and still love traditional wedding cake if it's done well.
Your greatest fear?
Something happening to the cake after I set it up and leave. There are many venues in New Orleans that aren't temperature-controlled well, and I've set up many a cake on a crooked wobbly table. There are a lot of factors out of your control, so I'm always troubleshooting in advance.  
Biggest save:
Driving in New Orleans is always risky — I've had near-miss accidents during delivery. Slamming on the brakes with a wedding cake in the car is not an option!
********
Beth Biundo Sweets
3917 Baronne St., New Orleans
(Hours Tues. to Fri., 9 a.m. to 5 p.m.; Sat. 9 a.m. to 4 p.m. Closed Sunday and Monday.)
(504) 899-8059; www.bethbiundosweets.com