Bartenders don't have to work very long on Bourbon Street before they may confidently say they've seen it all. But a shift at the Old Absinthe House during Tales of the Cocktail can still throw some curveballs.
Last year, it was the sight of patrons gleefully shaking up Ramos gin fizzes at the bar, lending a hand for the staff during a rush. It was the order that came across the battered copper-top bar for 200 shots of Jameson Irish whiskey, all at once. And it was the midnight toast from fellow bartenders gathered from around the country — so many of them that they filled the street outside from curb to curb.
"Once it gets late, you look around and it's all industry people," said Jackaroe "Jackie" Arana, manager of the French Quarter bar at the corner of Bourbon and Bienville streets. "You see people who own bars around the world. You see the famous mixologists. A liquor rep throws down the corporate card, he's buying a round on his brand for everyone. It's very different."
For one hot week each summer, the drinks world pours into New Orleans for Tales of the Cocktail. The annual conference, now under way, draws an estimated 20,000 people. Most of them work in some facet of the liquor industry, from mixing drinks to marketing them.
They come to learn and network with the top names in their field. They come to promote brands and launch products. They also come to drink and, at some point, it seems most of them come through the doors of the Old Absinthe House.
The nearby Hotel Monteleone is the official headquarters of Tales of the Cocktail, and its myriad cocktail dinners, networking sessions and sponsored parties are held across the city. But after hours, the Tales of the Cocktail crowd has turned a number of bars into unofficial hubs, and Old Absinthe House tops the list.
"If you want to bump into somebody who's in for Tales and rub shoulders, that's the place you'll be able to do it," said Mark Schettler, bartender at Bar Tonique on North Rampart Street.
Schettler is also vice president of the local chapter of the U.S. Bartenders' Guild, the group that organizes a midnight toast outside Old Absinthe House on the Thursday night of the conference, which has grown into a Tales tradition with a wide draw.
"The one place you're guaranteed to see everyone you haven't seen for the entire year, maybe since the last Tales, is the midnight toast outside Old Absinthe House," said Jack Summer, founder of the liquor brand Jack from Brooklyn and maker of Sorel. "People I talk to through social media, people I consider friends but haven't seen in person for a year, you see all of them there."
Long on history, character
Set in the blaring hurly-burly of Bourbon Street, Old Absinthe House can feel very far from the craft cocktail dens, elegant hotel bars and hot new restaurants and lounges where the city's contemporary cocktail scene resides. And that, for some, is part of the appeal.
"After these seminars and the events, you see people just order a shot at the bar, and it's a reminder that 'Hey, we're all bartenders.' It brings it back down to Earth a little, which we can use in this business sometimes," said Steve Yamada, bartender at Beachbum Berry's Latitude 29.
While Old Absinthe House usually doesn't rank high on the city's craft cocktail circuit, it has a long history and is encrusted with the type of un-curated ambiance that distinguishes great New Orleans bars of a certain age.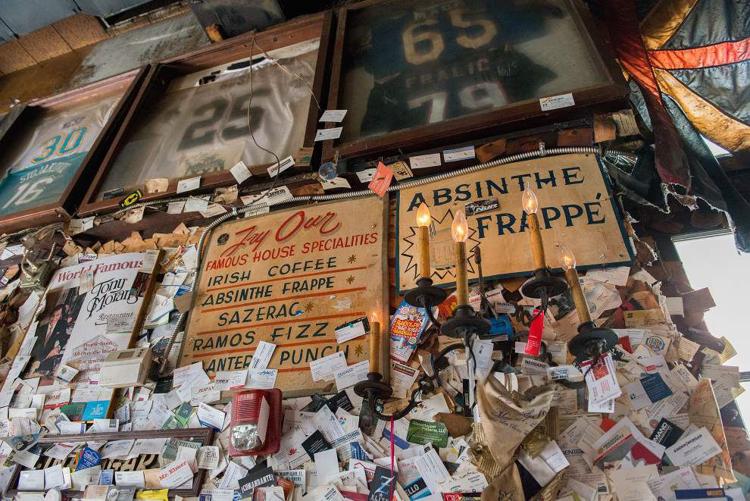 Vintage iron chandeliers are webbed with dust that looks pretty vintage, too, football helmets from the era of the 'Aints dangle from the ceiling beams and business cards spackle the walls like tree bark. One nook is reserved for memorials to customers long dead and buried. One had his flask bronzed and mounted to the wall.
Another still claims residency here, his ashes stored in a Crown Royal whiskey bottle kept on a ledge by the popcorn machine.
"That's Rob, our most loyal customer," Arana said dryly. "Once a year his friends take him down and have a drink with him at the bar."
Across the room, there's an absinthe fountain, which, while no longer functional, speaks to the bar's history. The corner building dates to 1806. Its ground floor was first used as a Spanish import firm, then as a grocery before becoming Aleix's Coffee House, which was a bar. A Spanish-born bartender named Cayetano Ferrer took over the business in 1874 and renamed it the Absinthe Room, after a drink he's credited with creating here, the absinthe frappe. His family eventually changed the name to the Old Absinthe House, and that name has stuck, even over the many decades when absinthe was prohibited.
Bartenders here serve plenty of absinthe now. During the week of Tales of the Cocktail, though, the managers have learned to stock up on Fernet-Branca, a bitter Italian tipple with a cult following in the bar business, along with cases and cases of Jägermeister and Jameson to fuel the endless rounds of shots ordered up by visiting bartenders and the brand reps eager to woo them.
A raffish remedy
Two blocks away, the Conti Street bar Erin Rose has developed a similar scene during Tales of the Cocktail, as visitors making the rounds duck in for a frozen Irish coffee or a sandwich from Killer PoBoys in the back room. Rhiannon Enlil, a bartender and manager here, said business surges to a level on par with Carnival or Halloween. She's not surprised by the following the small, no-nonsense pub has earned with the cocktail cognoscenti.
"Everyone wants to know where the bartenders go," she said. "Customers are always asking where the locals hang out, where we go after our shifts. It's the same thing for people in town for Tales."
In recent years, that quest has also brought many Tales of the Cocktail visitors to the Alibi, a 24-hour watering hole on Iberville Street with a local service industry clientele, a grill in back and Jello shots at the bar.
"Every year, you see the same people, and every year they bring new people with them, so it just snowballs," said Tiffany Morgan, an Alibi bartender, who says these visitors typically turn up between midnight and 8 a.m.
Old Absinthe House earned its Tales of the Cocktail following practically from the start. Arana started working here in 2003, when the event was only in its second year and still small. But even then, she remembered, the attendees made an impact.
"We didn't know what hit us," Arana said. "We didn't know who they were or where they came from, but we knew it was something different. They were so calm, so happy. They were bartenders on the other side of the bar."
As Tales of the Cocktail has grown in size and prominence, that dynamic hasn't changed.
"It's our favorite week of the year by far," said Erin Aubert, a bartender at Old Absinthe House. "Normally, when it's busy, you have people clicking their fingers, yelling, throwing money. But these people see you working, they know you're hustling, they're cool. It's an industry crowd."
Follow Ian McNulty on Twitter @IanMcNultyNOLA.