In Co'Bella Monroe's vision of her future, she's driving around in a big pink panel truck, bringing fresh hairstyles and manicures to those who need them.
Her customers will use a specially designed app to order bundles of hair extensions that Monroe can sew into place within the salon she'll create inside her pink truck, the Bundle Bus.
She can see it now: the bus with letters painted on its side, accented with colorful paint splats, and tires with black rims and white accents, driving out of town, headed for customers across the nation.
"I can go coast-to-coast and still keep a job," said Monroe, 19, as she grabbed a piece of scratch paper and sketched out her entrepreneurial vision: a stick person with hands ready to style hair, a cellphone with her app on it and a wall with bundles of hair.
Ambitious young people just out of high school specialize in big dreams. But only four years ago, Monroe's vision was much more limited.
Then, she was a freshman in high school who had spent a post-Hurricane Katrina childhood in Houston and did not see the appeal of New Orleans.
"I felt like an alien," she said. When she got into a little trouble and landed in juvenile court, a caseworker referred her to the LGBTQ youth advocacy group BreakOUT!
She walked into BreakOUT!'s black, silver and pink office and was blown away.
"I saw a beautiful trans woman working at a desk, doing all the things that a normal person does," she said. She was struck by a life-changing epiphany. " 'I can be a businesswoman,' " Monroe thought. "I thought I was going to have to hide."
Becoming a leader
Monroe soon became an active leader in BreakOUT!, which works with youth who are lesbian, gay, bisexual, transgender and questioning. She was a summer intern in the office, gave a speech at an Equality Louisiana march and spoke on a panel at a gathering of the National Coalition of Anti-Violence Programs.
An estimated 1.4 million Americans and nearly 21,000 people in Louisiana identify as transgender, according to research released earlier this year by the Williams Institute, a UCLA Law School think tank devoted to law and public policy regarding gender identity and sexual orientation. Today, the Williams Institute says trans people make up an estimated 0.6 percent of adults . 
After Hurricane Katrina, when her family lived in Texas, Monroe knew she was different. An active participant in young boys pageants, she loved playing with makeup and she liked Barbie dolls. Over time, she had a realization. "I wanted to be Barbie," she said.
By the time she started her sophomore year at KIPP Renaissance High School in the 9th Ward, it felt time to match her public identity with life at school.
So, after Christmas break, Monroe brought a letter to school, written by BreakOUT! co-director Wesley Ware to school Principal Joey LaRoche. Ware wrote that Monroe had "begun her transition from male to female in order to become a young woman." He requested that she be able to use the girls restroom or one designated for her by staff and asked that teachers refer to her using female pronouns and the name Co'Bella.
Monroe was asking to "be afforded the same treatment as any other young woman" at the school, the letter stated.
Monroe vividly remembers that day, when she officially became Co'Bella Monroe at school. "I felt so happy," she said. "I went to buy some hair. I started hormone treatment. I knew my happiness."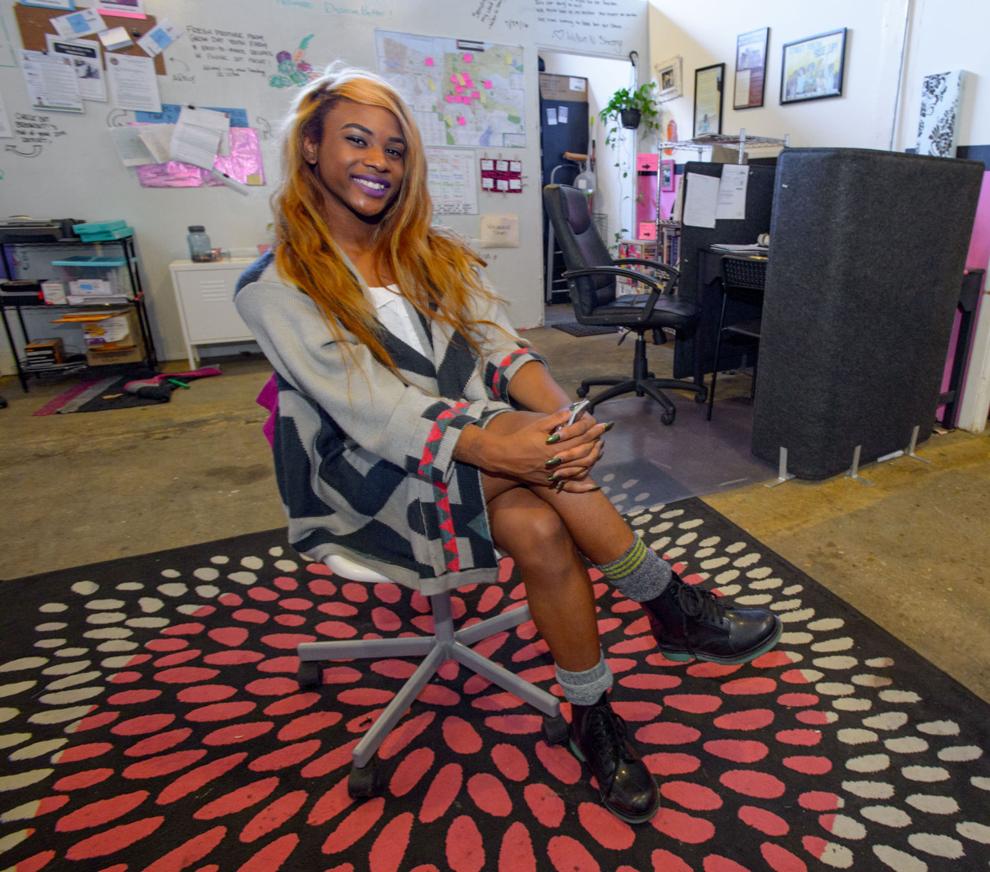 Visibility increases
A trusted doctor, whom she met through BreakOUT!, now oversees her hormone-replacement therapy, to match her body to her identity. It's a crucial step. Monroe knows other young women who died because they took dangerous shortcuts: self-administered hormones, injected silicon.
Transgender people have become increasingly visible. Last year, the Amazon television show "Transparent," about a trans dad, captured a Golden Globe for best comedy. In 2014, trans woman Laverne Cox nabbed an Emmy nomination for her depiction of Sophia Burset, an incarcerated trans woman in "Orange is the New Black." Recently, Whoopi Goldberg premiered a new reality TV show, "Strut," about Slay Model Management, the world's first transgender modeling agency.
In the hallways of KIPP Renaissance, Monroe stood out because of her sense of fashion, inspired by the 1940s, particularly Marilyn Monroe. When she chose what she calls her "spiritual name," she paired her favorite actress' surname with Co'Bella.
Once she became Co'Bella Monroe, she seems to have breezed through high school. By her senior year, she was captain of the school's cheerleading squad and had begun a Gay-Straight Alliance group, which continues to this day.
She credits workshops at BreakOUT! that helped her deal with bigotry and uncomfortable situations. She toughened up and learned to ignore questions from onlookers who thought it was their right to ask, "Why do you want to be a girl?" And when parents in the stands made confused faces, she turned the other way.
Psychologically, Monroe also was able to keep her critics at arm's length by imagining herself as a stage performer or model. "It was my showgirl mentality that got me through high school," she said. "I knew that it was about me."
Beneath it all, Monroe had one simple goal, she said. "My focus in high school was to be a normal girl."
Understanding comes slowly
It's safe to say public understanding of transgender people is still limited.
At the heart of the matter is a person's gender identity — how a person sees themselves, as male, female or a gender-nonconforming person who doesn't ascribe to typical gender designations.
Gender identity is separate from sexual orientation. For her part, Monroe identifies as a girl and is attracted to men.
(A person whose gender identity matches the sex they were assigned at birth is referred to as "cisgender" or simply "cis.")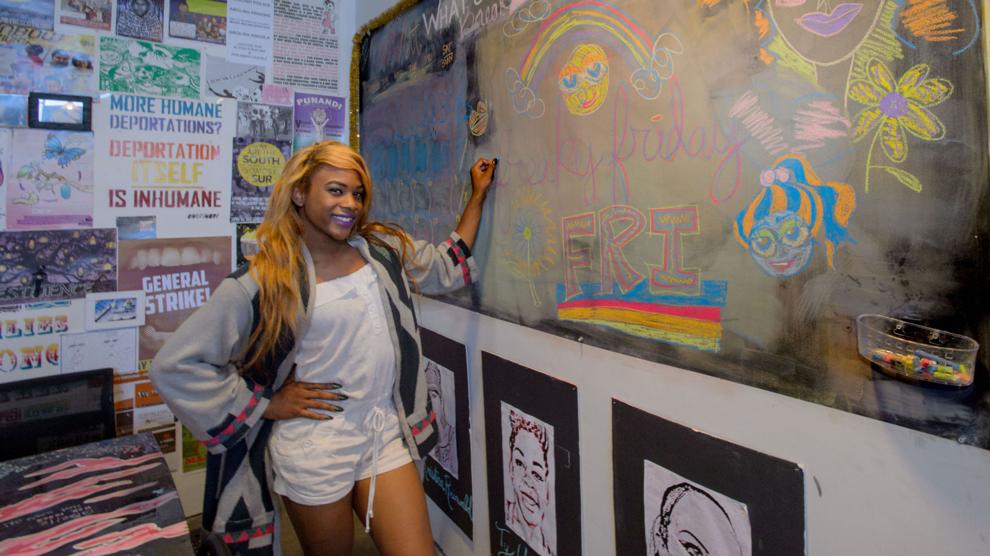 Monroe said she sees how some people are uncomfortable upon meeting her because they don't know what words to use. She suggests asking, "What are your pronouns?"
When people ask about her pronouns, Monroe says her appropriate gender pronouns are "she her hers." People who identify as men would reply, "he him his." And people who don't feel comfortable being described as either gender or those who want to embrace all gender identities might respond "they them theirs."
That can be confusing for those who grew up knowing only two genders, a perception BreakOUT! members sometimes refer to as "the binary."
To Monroe, that's OK. People who bother to ask about someone's pronouns — even if they stumble or don't know how to articulate their question — are signaling that they are open-minded, she said.
Legal name problems
For Monroe, job-hunting has been frustrating, because job applications require her legal name. So even if she shows up — in a dress, looking every bit a girl — her application is filed under a male name. That can prompt disdain, she said.
These everyday struggles can feel like setbacks.
Corinne Green, of Louisiana Trans Advocates, notes that plane tickets still must be printed with legal names and that doctors' offices sometimes aren't set up to handle any name other than a legal name. Trans people can have trouble claiming packages that are mailed to a preferred name but must be claimed showing a legal ID.
The Williams Institute published a report last month looking at barriers to voting in eight states where 30 percent of transgender people lack IDs or voting-registration records that accurately reflect gender.
Though Louisiana has a process that allows transgender people to officially change their gender, that isn't yet a top priority for Monroe.
She has other goals in her young life, like landing a job. Once she's accomplished that, she'll deal with the bureaucracy and fees required to file for a new driver's license.
"I'd like to put an F on my ID," she said. "But I have other things to do first."
*****************************
BreakOUT! and the Louisiana Trans Advocates offer local support and referrals for transgender people and their loved ones in New Orleans. Also listed below are a pair of national hotlines with trained counselors on call.
BreakOUT!
Organization dedicated to LGBT youth ages 13-24. Weekly membership meetings, trainings, leadership development and drop-in hours.
1001 S. Broad St., Suite No. 217, New Orleans
(Inside ArtEgg Studios)
(504) 522-5435 or (504) 473-2651
LOUISIANA TRANS ADVOCATES
Advocacy, education and support organization. Maintains five monthly support groups across the state and connects transgender people with health care resources. latransadvocates.org
TRANS LIFELINE
A national hotline offering support and crisis counseling to transgender people. (877) 565-8860 translifeline.org
THE TREVOR LIFELINE
National crisis intervention and suicide prevention services for LGBT youth. (866) 488-7386