When it came to planning her kids' summer break, Leah Nunn Engelhardt's most valuable resource was a calendar.
"If you need to fill in the summer, you're going to have to do more work than someone who's just looking to put a child in a camp for a week here, or a week there," said Engelhardt, a full-time New Orleans attorney, and the mother of twins Elizabeth and McCall, 13, and Wilson, 16.
"Get a calendar and have a discussion with your family about what your summer plans are," she said. "If you've planned a vacation, that goes on the calendar first." Then jot down the start and end dates for summer camps, registration dates and the dates required for making camp deposits and payments.
New Orleans-area summer camps run the gamut — from traditional outdoor camps with horseback riding and archery, to sports and arts camps, to cooking, drama and writing camps. Finding the right fit involves many decisions, taking into account family logistics, kids' interests and cost. 
Parents and directors advise families to set a budget and examine the price and location of camps — and any extra fees.
Some camps allow early drop-off without an extra charge, while others enforce strict rules about drop-off and pickup times and charge a fee. Meal plans also may affect the cost.
Freedom to explore
At Country Day Creative Arts, the annual five-week summer camp at Metairie Park Country Day School, camp director Susan Gisleson has been busy hiring this summer's staff of nearly 100 artists and interns.
The camp is staffed by working artists who are passionate about their craft. Interns are young people who have been through the program, which is in its 37th year.
"Summer is a time that kids look forward to all year," Gisleson said. "While they are in school being told what to do, they are dreaming of this time when they have the freedom to what they want to do."
Among the 120 classes offered to its campers ages 7-14 are visual arts, juggling, cooking, robotics, yoga, musical theater and creative writing.
In an increasingly digital world, where kids spend hours every day in the two-dimensional universe of computers and smartphones, camp is an opportunity to create with one's hands or master a new real-world skill, Gisleson said. It's also a time to slow the pace for children who tackle hours of homework every night during the school year.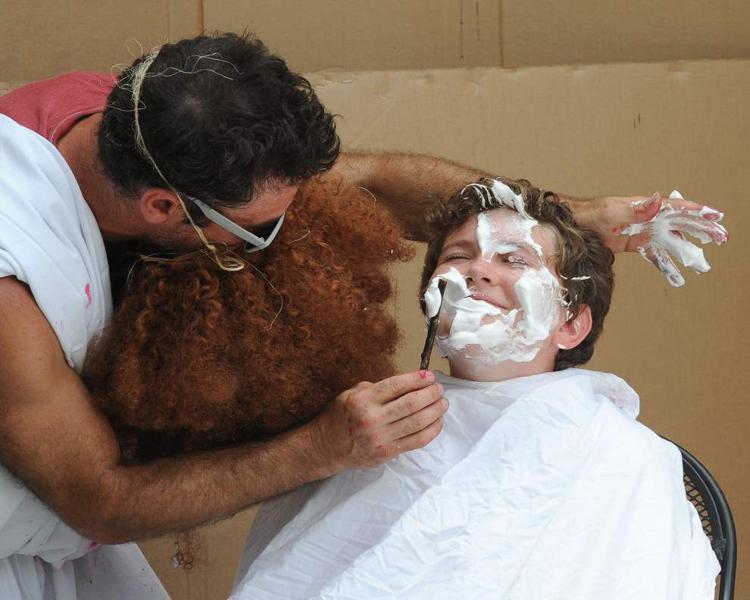 "This is a time for curiosity and exploration, which is what makes us grow," she said.
Family logistics
The New Orleans Recreation Department Commission offers 40 summer camps.
"We have summer camps that will offer school readiness, cooking, nutrition, academic enrichment, STEM, fitness, health and wellness, dance, theater and tennis," said Djuana B. Johnson, the youth program manager of the commission. "We also have a special needs camp."
Camps range from one to eight weeks.
Twenty-one of the camps are free. "The only cost that's associated with free camps may be a field trip fee, and that is a nominal fee," Johnson said, noting that before and after care also may cost extra.
How do families choose?
"There are many variables that parents have to consider when they are looking for camps," said Johnson. One, she said, is logistics — specifically, driving to and from the camp. Another is duration.
"Although a camp may be in close proximity to a parent's home or job, if that camp is only one to two weeks, that might not be a fit for the parent, if the parent needs a camp that's going to last longer than that length of time," she said.
Parents interested in the recreation department's summer programs should visit nordc.org for details.
Outdoor adventure
On the North Shore, the family-owned Camp Old Hickory in Covington has offered a traditional camp experience on about 20 acres of woods and fields for 44 years, said Phylis Scafidel, a retired coordinator with the St. Tammany Parish schools. 
In fact, all the staff managers — including Robert Scafidel, Tricia Stewart and Michael Messinger — work in local schools.
Six weekly sessions draw campers from across the area, as former campers who fondly remember their Old Hickory days enroll their own children, and, now, a third generation of grandchildren, Phylis Scafidel said.
With a pond, forest trails and meadows, campers are immersed in nature.
 "This is a day camp with traditional boarding camp activities," she said. "The kids move through an activity circuit: horseback riding, archery, swimming, ball field, game room."
Maximum participation is encouraged. "We make sure it's a busy, busy camp."
Half-day camps 
Over the past three years, Lillian Pang's daughter Shuyan, 9, has attended short horseback-riding and art camps, along with a theater camp in June. Pang and her family spend the rest of their summer visiting extended family in Germany and Singapore.
Because Pang no longer works, she was able to send Shuyan to nearby half-day camps in New Orleans.
"She can come home and relax, and spend time with me," she said.
Because each camp specialized in an activity, Shuyan was able to play and mingle with other campers but also learn something new. Attending theater camp, however, took a bit of convincing.
"When I suggested the theater camp, she rejected it," Pang said. "I tried to persuade her to go because I felt that it was good exposure for her. Finally, she agreed, and surprisingly that turned out to be the most enjoyable camp for her.
"Summer camps can be interesting when you let your child explore uncharted territory," Pang said.
Long and short of it
When Engelhardt's children were young, she searched for long-term summer camp solutions.
Schools with a summer camp worked well because they already have the necessary facilities and qualified educators in place. Also, her little ones usually knew some of the other campers.
Once her children reached adolescence, they filled their summers with a variety of weeklong camps — such as drama, sailing and sports camps. Local organizations like the Audubon Zoo, the Louisiana Children's Museum and the New Orleans Museum of Art offer fun programs, she said.
Show off a little
At many local camps, kids show off their paintings, sculptures, songs and plays at the end of the summer.
Country Day Creative Arts hosts a festival to cap off the session, showcasing thousands of works of art and 25 performances.
Camp director Gisleson said the festival captures something special and irreplaceable: a childhood summer.
"Summer is their time, and they do an extraordinary amount of growth in summer," she said.
"It's almost like a gift."