Actress Camille James Harman, a Louisiana native, is currently appearing as former Republican political strategist Mary Matalin in "Vice," which leads the pack with six nominations at this year's Golden Globes, airing Sunday on NBC. It's an irreverent look at the life of former Vice President Dick Cheney, for whom Matalin was a close aide until 2003.
The film, by director Adam McKay — best known for 2015's financial-crisis film "The Big Short" — came to Harman's attention when she noticed a casting call for an untitled feature film.
"My agent had disappeared," remembered Harman. "She had lost her SAG accreditation, so I was without representation, and decided to self-submit for what they were calling lookalike historical figures.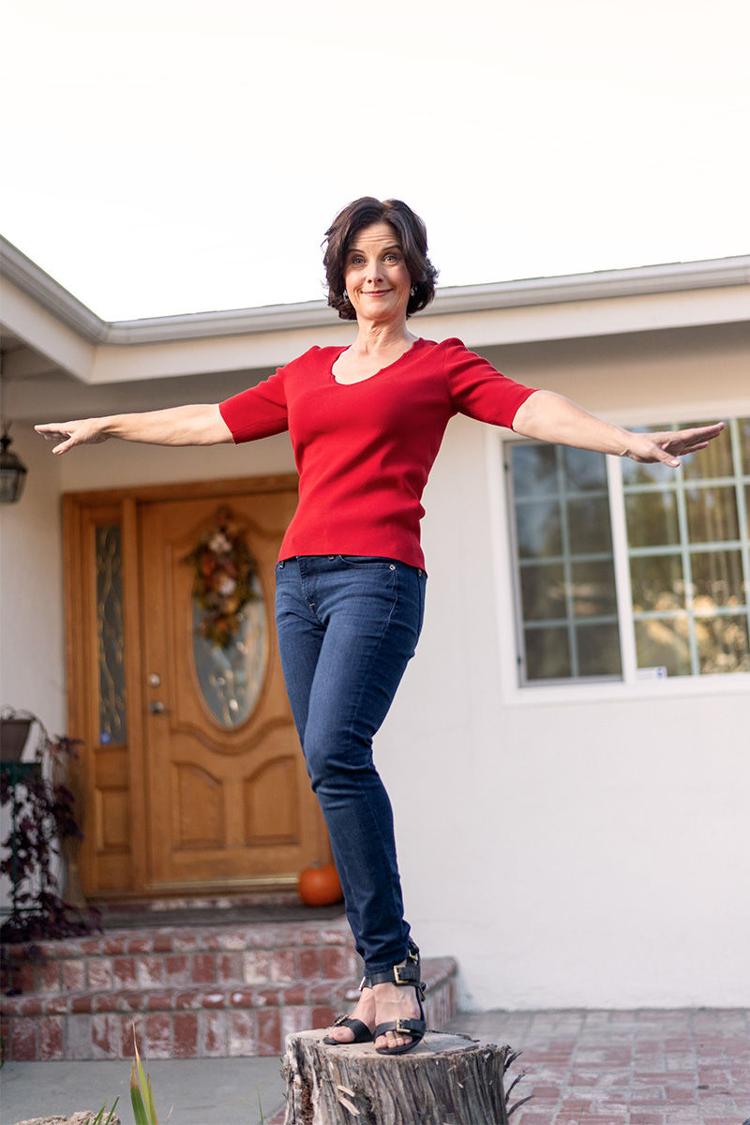 "I decided to audition for the role of Mary Matalin, not having any idea this was a film about Dick Cheney or that it had a well-known director who was a previous Academy Award winner."
She also had no idea that Christian Bale, Amy Adams, Sam Rockwell and Steve Carell had already been cast.
"Having never met (Matalin), I looked up old clips of her on C-Span and went into the audition dressed as she was around the time of 9/11, when she was doing a number of interviews about being taken to the bunker with Cheney as the terrorist acts were unfolding," she said.
It was a small part, but she got the role.
Not coincidentally, Harman bears a striking physical resemblance to Matalin. The women are about 13 years apart in age, but the film's flashback chronology puts Harman at just the right point in Matalin's life at that time.
When Harman found out she'd be portraying Matalin, she researched her extensively and found that her daughters attended the Academy of the Sacred Heart in New Orleans. Harman attended middle school at one of the network of Sacred Heart schools, in Grand Coteau, Louisiana. She later graduated from ULL with a bachelor's in humanities, but was never in any sort of theater production until her last year of college.
"I was a horse girl," explained Harman. "I had always wanted to be a riding instructor, but I kept falling off horses and eventually became frightened of really injuring myself."
A diversion into community theater paved the way for her career when she decided upon a post-graduate education and earned a master's of fine arts from UNO. A year after graduation in 1994, she moved to Los Angeles to pursue her acting career.
"After I got this role in 'Vice' I read Matalin's book, 'Love and War,' and really got the full details of what occurred on that day in the bunker with Cheney," said Harman. "She was stuck at the White House for five days and was very worried about her kids who went to school near the Pentagon. At one point, she was told she could leave, but when she hit the streets she described it as akin to a disaster movie… cars with the doors open and no one in them, with people running for their lives, when they thought the next terrorist plane was headed for the White House."
Harman was so impressed with Matalin's book that she dropped the strategist a note, explaining that she enjoyed portraying her and hoped Matalin would get a chance to see the film.
"I'm still not sure if the film's director chose me for the film because of my resemblance to Matalin, or whether he noticed I was from Louisiana and thought it was a good match," said Harman. "Whatever it was, I'm just glad to have been a part of this film, which I consider to be a pivotal point in my career."
"I was surrounded by award-winning actors, who are the best in the business," Harman noted. "When you think of what Christian Bale had to endure at 4 a.m. every morning, with four hours of make-up required to look like Dick Cheney, extremely uncomfortable blue contact lenses he had to wear which required constant eye drops, and a hairpiece that became dislodged every time he adjusted his glasses in a scene, the man was a consummate professional. He stayed in character on and off screen, despite a multitude of constant distractions. I wasn't at all surprised to see Bale, Adams and Rockwell all nominated for their acting roles."
And, with executive producer Brad Pitt, who previously shot "Twelve Years A Slave" in New Orleans, the Louisiana connection continues.
Harman can be seen next in a feature comedy called "Loqueesha," in which she plays a news anchor.
The Golden Globe awards will air Sunday (Jan. 6) at 7 p.m. Central time on NBC. "Vice" is currently in theaters nationwide.
__________________________
Leslie Cardé can be reached at lacarde@aol.com.