Ten years ago, Jeffery Vannor was a high school dropout with little hope for his future. But he mustered the will to apply to Café Reconcile, the nonprofit restaurant and training center. He became a waiter, and now he's the cafe's alumni coordinator, a job that helps him support his wife and three kids.
"I never would've applied at a restaurant to be a waiter," Vannor said. "But coming through the program, and getting so much good feedback, with people telling me I'll go far with my personality … I felt that was a position that I could be strong in and carry through my life."
On Friday, that path will bring Vannor to one of the city's most popular food events, Boudin, Bourbon & Beer, where he'll work beside a brigade of top New Orleans chefs and visiting culinary stars from around the country.
The event is a fundraiser for the Emeril Lagasse Foundation, the celebrity chef's New Orleans-based charitable organization. Café Reconcile is one of the programs the foundation supports. In turn, young people like Vannor who benefit directly from that support play an active role in the foundation's high-profile culinary events.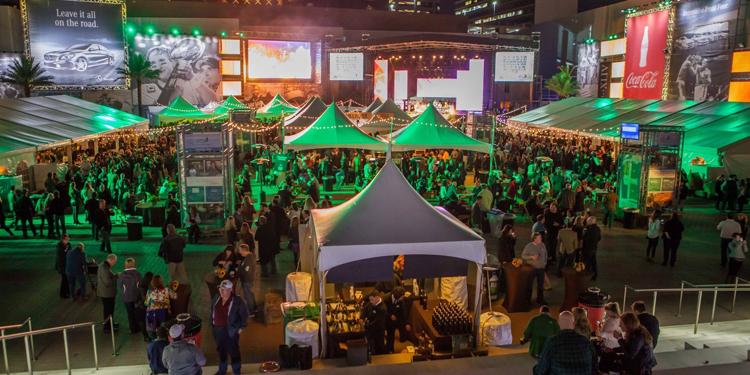 While bands perform, auction bidding heats up and attendees generally pig out, young beneficiaries from Café Reconcile and Liberty's Kitchen — a similar nonprofit cafe — and high school culinary students from the New Orleans Center for Creative Arts (NOCCA) will be hard at work behind the scenes, around the tasting tables and, at times, right alongside star chefs. 
"Our students are smart, funny and awkward, just like every young person 16 to 24 years old, but they have, in many cases, encountered significant barriers to success," said David Emond, executive director of Liberty's Kitchen.
"The fact that this event is all about supporting them, that helps them appreciate that there are so many people out there who care about them," he said. "Being there is a source of pride for them, and getting to tap into the wisdom and experience of high-profile chefs who have been successful in the field is the icing on the cake."
Just last spring, Brooklynn Duplessis felt she had nothing going on. The Algiers native, the…
Two events, one mission
The annual fundraising weekend begins at Champions Square on Friday, when chefs present dishes inspired by Cajun sausage at Boudin, Bourbon & Beer. The event is led by Lagasse, along with co-chairs Donald Link and Stephen Stryjewski, co-chefs of Cochon and other hot local restaurants, and John Currence, the New Orleans native behind a string of top eateries in Oxford, Mississippi.
Now in its sixth year, the outdoor extravaganza has beer from Abita Brewing, specialty bourbon cocktails from Buffalo Trace, a silent auction, cigar tastings hosted by Nat Sherman, national and regional bands on stage, and table after table of food from 60-plus chefs.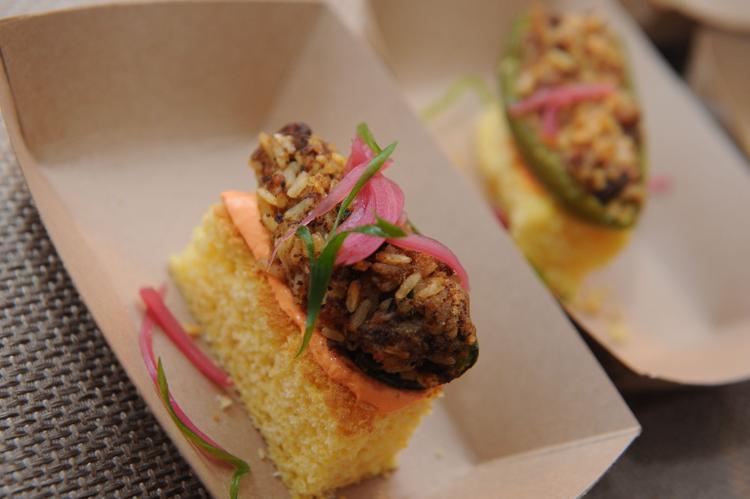 Boudin, Bourbon & Beer is followed on Saturday by Lagasse's high-dollar gala and wine auction, Carnivale du Vin, a black-tie function held at the Hyatt Regency.
Proceeds from both events benefit Lagasse's foundation, which focuses its grants on culinary, nutrition and arts programs for young people.
"All of the money that we raise, we give back to the youth in this community," said Brian Kish, president of the Emeril Lagasse Foundation. The foundation has donated more than $7.5 million to organizations throughout the region, like NOCCA, Café Hope and ProStart, among others.
They also extend real-world culinary experience at the highest level to program participants. Some grant recipients will host tasting stations at Boudin, Bourbon & Beer, in addition to helping chefs with their work through the weekend. The engagement starts long before the actual events, however, with restaurant managers and chefs from Lagasse's company helping to train them in advance.
"Instead of just raising money for the kids, we bring them in and allow them to interact with the chefs and also have the chefs interact with them, so they understand why they're volunteering their time and giving so much," Kish explained.
Celebrity chefs, student chefs
Culinary arts students from NOCCA will serve sweet and savory hand pies at Boudin, Bourbon & Beer and later collaborate with Lagasse and his staff during Carnivale du Vin, preparing and plating a five-course meal based on a menu they created in their kitchen classroom.
"This is one of their favorite events," said chef Dana Tuohy, chair of NOCCA's culinary department. "They embrace every aspect of the task that's in front of them. They're not star-struck, and if they are, they don't act on it."
These students see their participation as a chance to give back to the Emeril Lagasse Foundation, Tuohy said.
"We wouldn't exist without them," Tuohy said. "Being able to do what we do because of them, and to know that we're inspiring and preparing the future chefs of this city, and perhaps the world … that's an amazing thing."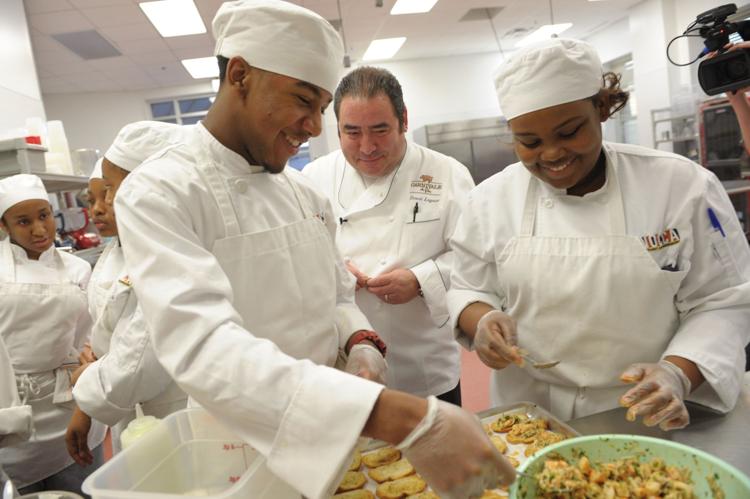 On Friday, Liberty's Kitchen will create a charcuterie display and bourbon pecan tarts and assist a chef with artisanal sausage dishes. Meanwhile, Café Reconcile will dish up Southern-style shrimp and sausage succotash, paired with roasted sweet potato, topped with crumbled pecans and a caramel glaze. Jeffrey Vannor describes the offerings as "little plates of happiness." He'll also be busy networking and telling people about Café Reconcile's mission, he said.
On Saturday, Vannor will be part of a crew from Café Reconcile serving dinner at Carnivale du Vin, delivering meals to well-heeled patrons who have dined at the finest restaurants in the world. That may sound like an intimidating assignment, but Vannor isn't fazed.
"Being in the front and being on the spot is something that I've embraced," Vannor said. "I want to give the best service that I can."
When: Friday, Nov. 4, 6-10:30 p.m.
Where: Champions Square (at the Superdome)
Tickets: $99 at boudinbourbonandbeer.com
When: Saturday, Nov. 5, from 5:30 p.m.
Where: Hyatt Regency
Tickets: $1,000 at carnivaleduvin.com
The ideas had been taking shape around the dinner table, at scheduled meetings or impromptu …
Cafe Reconcile has always been about more than a meal. The nonprofit cafe in Central City is…
Global flavors and new concepts have increasingly diversified the New Orleans dining scene. …