This month, two very different art installations in the CBD and Warehouse District take viewers on distinct but equally unsettling journeys: perfect viewing for this spookiest of months.
At the Gallery at Ace Hotel New Orleans, the "transmedia art project" known as Momma Tried has created an immersive installation entitled "Winona Forever," which according to artists Micah Learned and Theo Eliezer aims to "(examine) how the past is mythologized by the act of remembering."
Installed on the walls of a buzzing (and often noisy) laptop work space, you "enter" the exhibition by picking up a telephone handset on the left side of its main wall and listening to a story being told by someone on the other end of the line.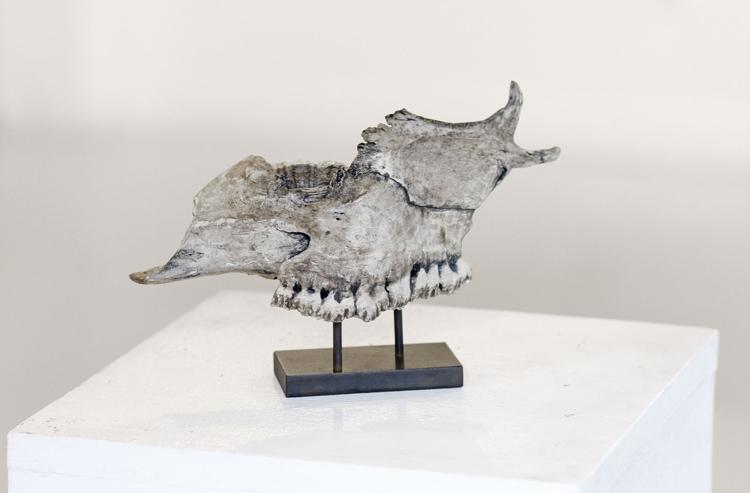 Certain details in the enormous collage of photographs and objects that sprawls along the walls of the space seem to give that story a semblance of veracity, like the meticulously typed circa 1997 list of phone numbers of vanished queer New Orleans businesses like Rubyfruit Jungle and Second Skin.
But then you start to see things the story doesn't mention, like concert ticket stubs and photos of David Duchovny and tabloid headlines about UFOs and vampires, along with a series of original photographs depicting mysterious figures in black bodysuits. And it all ends in another sound recording, this one via a vintage cassette tape.
The effect is like combing through a diary that's somehow been blasted open and refracted upon the walls. Images, objects and sounds create a mysterious and slightly ominous world which the viewer is asked to navigate and make sense of.
But only to a point: "Winona Forever" is about how memories less-than-perfectly create what we later come to identify as the "truth" of what we experienced.
So don't expect narrative cohesion or anything approaching a satisfying resolution, because memories don't work like that. (And don't expect to see any photos of Winona Ryder either, though her nostalgic presence hovers about "Winona Forever" like a benign but potent ghost.)
Several blocks away on Julia Street, Ashley Pridmore has created her own immersive environment in "Into the Thicket," her first solo show in New Orleans.
A large-scale installation in the back of the gallery consists of an atmospheric tangle of tree branches and wasps' nests and huge piles of oyster shells. (It's a smaller site-specific version of a piece Pridmore created in a church in Germany a few years ago.)
Impressive (and selfie-ready) as it is, it's Pridmore's smaller sculptural pieces that make the bigger impact.
Created from a variety of materials, the pieces first look like actual relics, perhaps piles of animal remains unearthed while collecting material for the larger installation and artfully arranged on small platforms.
That is, until you notice the barnacles clustering around a pile of mismatched animal bones in one piece, or the porcupine quills delicately emerging from the collar of what appears to be a sea horse skeleton in another.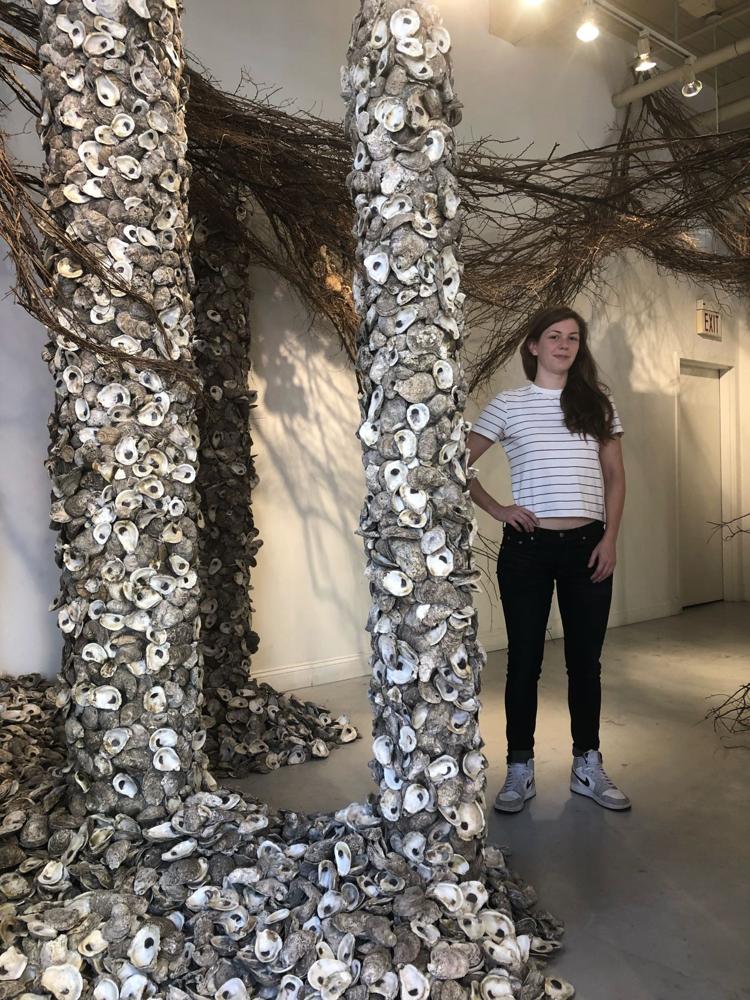 Far from being casts of actual specimens, Pridmore's extraordinary sculptures are instead elaborate assemblages in which materials like cast iron, beeswax and papier-mâché are used to recreate the textures of tooth, skin and bone, and recombined to create fictive remnants of creatures who never existed in that form in the first place. They're like evidence of beings that Pridmore is discovering and calling into being at the same time.
The pieces were created over the past seven years, which coincided with Pridmore discovering and eventually moving to New Orleans from New York City, and there's something of the fantastical natures of both the swamp and Carnival craft in her art.
But the world she creates and populates in "Into the Thicket" is completely and entrancingly her own. You won't always be able to identify the various formerly living parts of Pridmore's creations, and the effect when they combine can be discomfiting. But you're not likely to forget them either.
*****************
"Winona Forever" by Momma Tried at The Gallery at Ace Hotel New Orleans
WHERE: Ace Hotel New Orleans, 600 Carondelet St.
WHEN: Through Oct. 31
INFO: www.acehotel.com/neworleans or www.mommatriedmagazine.com
ADMISSION: Free
"Into the Thicket" by Ashley Pridmore
WHERE: Soren Christensen Gallery, 400 Julia St.
WHEN: Through Oct. 27
INFO: 504-569-9501, www.sorengallery.com
ADMISSION: Free