All five artists in "Beyond the Canvas: Contemporary Art from Puerto Rico" at the Newcomb Art Museum use the traditional medium referenced in the title as a starting point for work that transforms it — through "pulling, rubbing, folding, slashing, ripping, or warping," as described in exhibition notes.
But even that doesn't fully prepare you for the startling variety of work on display.
Things start off quietly enough with a selection of geometrically shaped pieces by Julio Suárez. In their monochrome uniformity, they recall the works of mid-century abstract and minimalist artists like Barnett Newman and Ellsworth Kelly.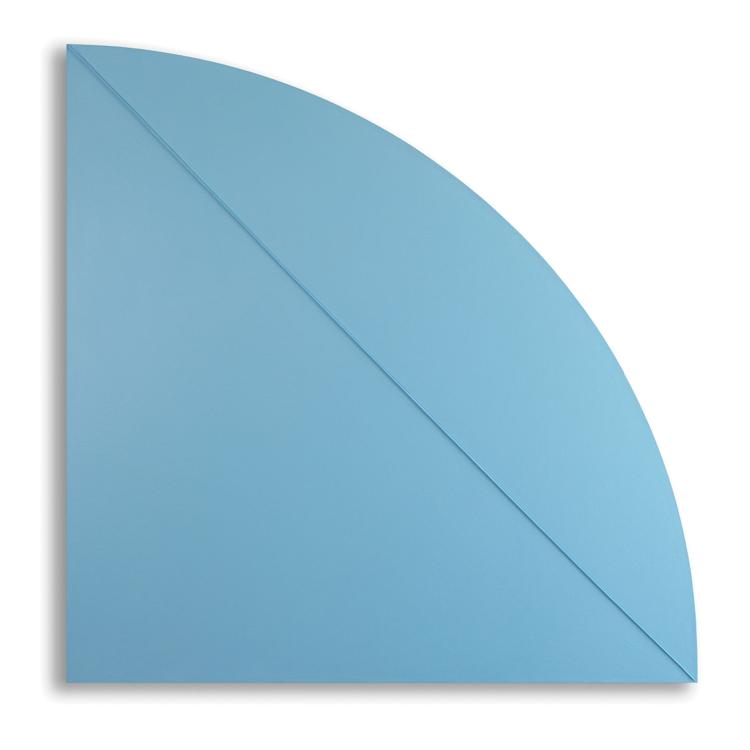 But a closer look reveals Suárez's subtle manipulation of his canvases into discrete sections through meticulous pinches and folds, which transforms them into a kind of two-dimensional sculpture. They're quietly cerebral works that set the stage for the larger and louder works in the main gallery of the show.
Entering the main gallery space, you're immediately confronted with three large-scale works on canvas by Arnaldo Roche Rabell. Here, canvas is transformed by a process of rubbing over objects to achieve a variety of textures.
There are hints of narrative, as in the sumptuously set table in one painting. But the intriguingly distorted and fragmentary human figures in "Liars and Deceivers" are subsumed to the overall texture and mood of the piece.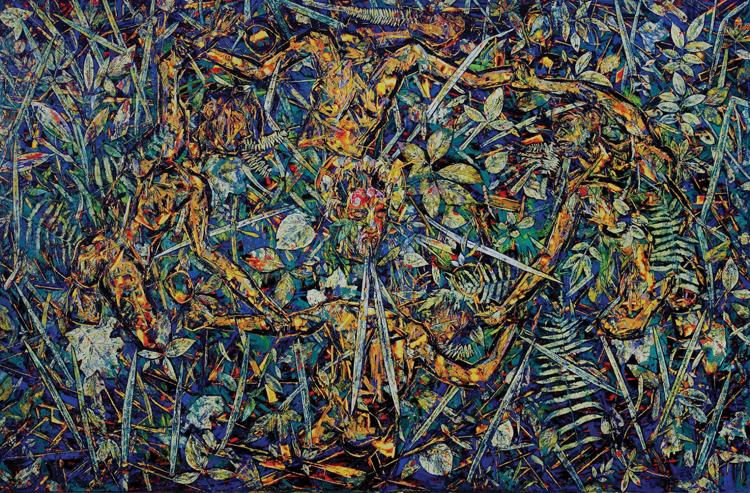 Despite their incorporation of canvas and printing techniques like intaglio, a nearby selection of boxed pieces by Elsa Maria Meléndez are less like paintings than dioramas — or more precisely puppet theaters, with their motley casts of characters waiting to spring to life. A pair of plastic-glass compositions consist of overlapping layers of semi-transparent figures, making each one a crowded and raucous world unto itself.
But it's two larger-scale installations by Meléndez that are the most striking works in the show.
Meléndez's "Las Flores del Mal," with its combination of brightly colored stuffed animals and more sinister painted ones, erupts from the wall like a whimsically grotesque tumor.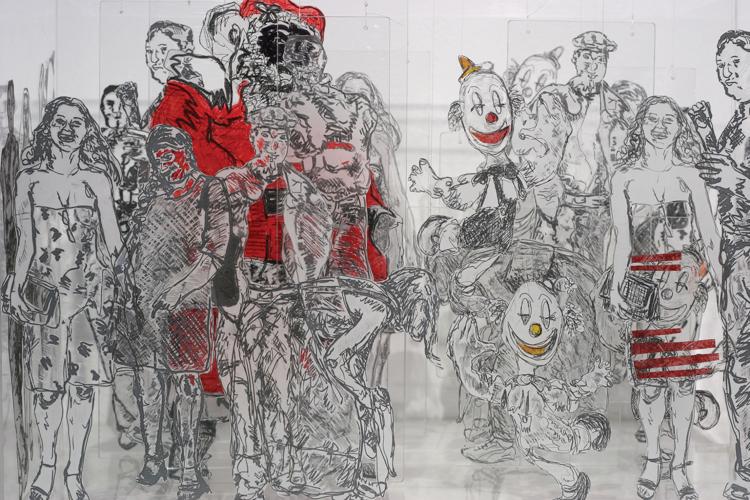 And her epically scaled "El Ingenio Colectivo o la Maldicion de la Cotorra," with its soft-white surfaces and tufts of toile and beadwork, is more immediately seductive — and even more disturbing once you start to parse its densely arranged layers of body parts, disembodied faces, half-finished bits of embroidery and empty articles of clothing.
Intended to commemorate a 2010 student uprising at the University of Puerto Rico, it's in the grand tradition of the art of social protest, like a Diego Rivera mural come to three-dimensional life. As such, it's the most overtly political piece in the show and one of the most powerful.
If there's a star in "Beyond the Canvas", however, it's Zilia Sánchez, a much-revered artist whose work also is part of one of the centerpiece exhibitions in the 2017 Venice Biennale.
Sánchez's "Amazonas" pieces reference the legendary female warriors via breastlike protuberances that poke out from the surface of the canvas, and resemble either grisly trophies appended to it or evidence of ghostly presences pressing through its surface from behind.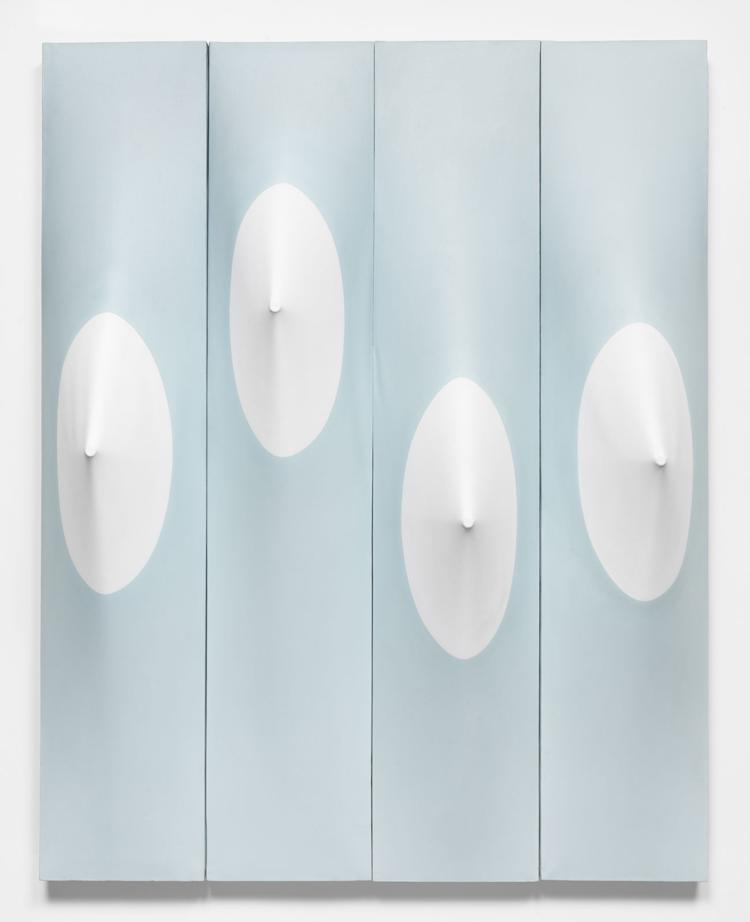 An accompanying video shows one of these pieces being tossed mercilessly by churning waves on a seashore, emphasizing their hauntingly vulnerable physicality.
In a separate gallery, Pedro Velez's assemblages are perhaps the most traditionally "painterly" objects in the show. His "Surrender Flags," with their faded pastels and ragged edges, are like artifacts from a hopeful but doomed struggle.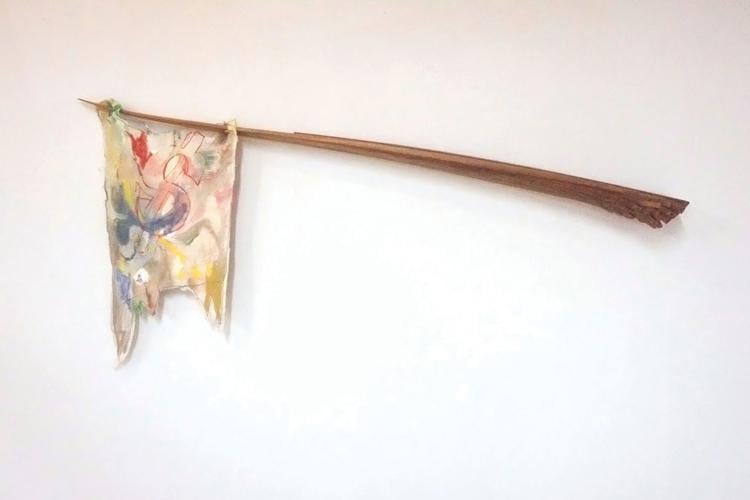 The torn surfaces of works like "I'm Sorry I Made You Cry" and the large-scale "Hardcore Rose" suggest the end result of an epic struggle with the very concept of abstract painting itself.
For exhibition co-curator Warren James, examining this art in context is essential to understanding Puerto Rico at this crucial juncture in its history. (It will be holding its latest referendum on U.S. statehood this month.)
"This is the perfect time to take the pulse of the island — to see what artists are saying with their work," said James.
**************************
"Beyond the Canvas: Contemporary Art from Puerto Rico"
WHEN: Through July 9
WHERE: Newcomb Art Museum
Woldenberg Art Center
Tulane University
INFO: (504) 865-5328; newcombartmuseum.tulane.edu
Free