While the spirit of frolicking support will imbue New Orleans Museum of Art's Love in the Garden presented by Hancock Whitney Bank on Friday night (Sept. 28), a more serious side of this annual event is the recognition of artists for their contributions and influence in the artistic community. The honorees are nominated by the event committee, then the museum's curatorial staff and Montine McDaniel Freeman Director Susan Taylor make the final decision.  
This year's honorees — John Alexander, Katrina Andry, Luis Cruz Azaceta and L. Kasimu Harris — are known for their boldness, introducing in-your-face or subtle political or social messages in their work, which are in private collections and museums worldwide. 
They have been featured in recent exhibitions at the museum: Alexander and Azaceta in "Pride of Place: The Making of Contemporary Art in New Orleans" (June 23-Sept. 3, 2017), which showcased the collection of gallery owner Arthur Roger; and Andry and Harris in "Changing Course: Reflections on New Orleans Histories" (June 29-Sept. 16, 2018).
So, while there will be much cocktailing, sampling food, dancing, and traipsing through the Sydney and Walda Besthoff Sculpture Garden – itself a masterpiece – it is the artists who make the event.
John Alexander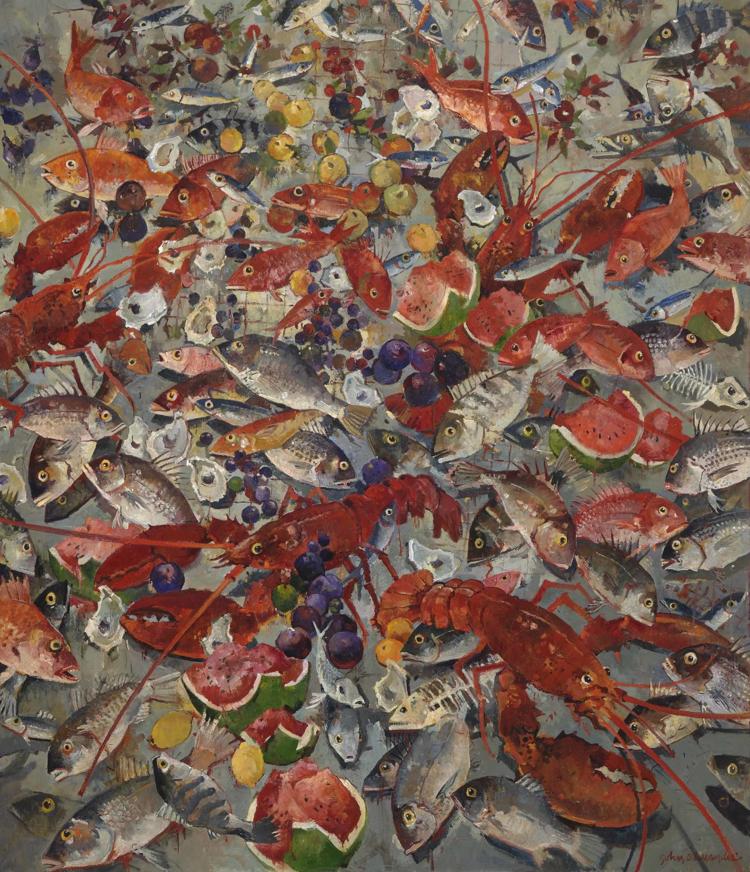 The glistening of a crab leg just out of the water, the fine hairs on a monkey, the texture of cotton balls in the fields: For John Alexander, it's the details in his paintings and drawings that make his work coveted among collectors.
Born in 1945 in the coastal town of Beaumont, Texas, Alexander's countryside and seafaring rambles nurtured his appreciation of nature. After completing an M.F.A. in 1970 from Southern Methodist University, he moved to Houston, where he established a studio. In the late '70s he moved to New York City, where he lives today, dividing his time between there and Amangassett, N.Y.
While nature, in its beauty and fierceness, is a continuous thread in Alexander's work, he is not one to to sit still artistically: He also creates allegorical paintings, casting a critical eye toward man's interference with nature, the American political climate and corporate culture. There is nothing dull about Alexander's work. One could say the devil is in the details.
Katrina Andry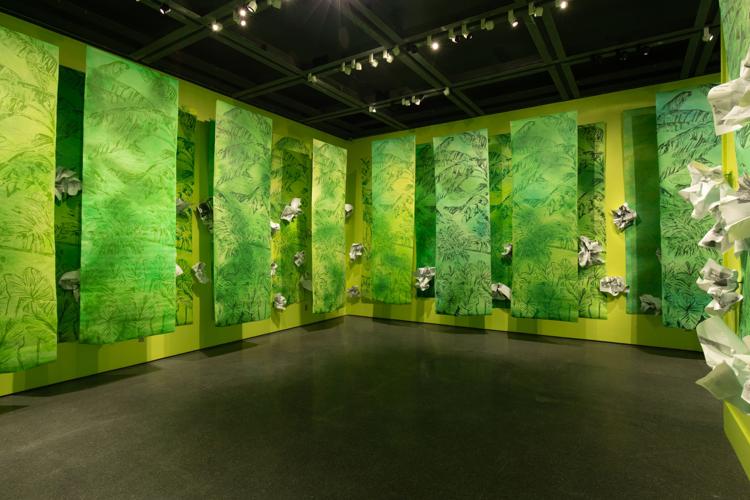 A native of New Orleans, Katrina Andry received an M.F.A. in printmaking from Louisiana State University in 2010, and was listed in the September 2012 issue of Art in Print magazine as one of the top 50 printmakers.
Andry uses her art as activism, in which she "explores the negative effects of stereotypes on the lives of black people and how these stereotypes give rise to biased law and ideology in our society," her artist's biography says.
About her work, D. Eric Bookhardt stated in The Gambit Weekly, "So much emphasis on one approach risks appearing redundant, but New Orleans native Katrina Andry's unusually large, briskly acerbic yet startlingly original woodblock prints are in a class by themselves."
Luis Cruz Azaceta
Born in 1942 in Cuba, Azaceta came to the U.S. as a teenager in 1960, where he lived in New York City, graduating from the School of Visual Arts.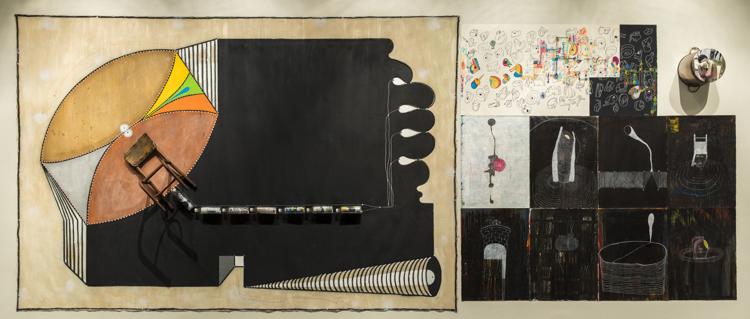 Azaceta's large-scale, multi-media works directly address the human condition. Early works focused on urban violence, the AIDS epidemic and racism, while more recent pieces spotlight the state of the world today: war, terrorism, displacement, identity and economies.
Azaceta is not afraid of addressing tragedies head-on in his art, including Hurricane Katrina, the Sandy Hook shootings and the Boston Marathon bombing.
L. Kasimu Harris
This New Orleans native tells his artistic story through photography and video, focusing on underrepresented communities in New Orleans and elsewhere. He is also writer, with his work being featured in the Oxford American Magazine and the Bitter Southerner.
"L. Kasimu Harris brings a lifetime of influences to his work and a desire to tell the stories of his city and his community. He considers significant issues, but also appreciates the beauty in life, makes him a unique and compelling artist," says Aline Smithson of Lenscratch.
He graduated with a B.B.A. in entrepreneurship from Middle Tennessee State, and earned an M.A. in journalism from University of Mississippi.
********
New Orleans Museum of Art Love in the Garden presented by Hancock Whitney 
at the Sydney and Walda Besthoff Garden
Friday, Sept. 28
7 p.m. patron party, garden party 8 p.m., late-night party 9 p.m.
* Entertainment: The Boogie Men, Storyville Stompers and DJ Otto
* Food from more than 60 purveyors
* Fifth annual Love Cocktail Challenge featuring 9 bartenders basing a craft cocktail on a variation of love
Tickets: $50 to $150;  www.noma.org/love-garden-2018 or (504) 658-4121