Comic book characters and their creators have become Hollywood's darlings, with superheroes from Iron Man to Wonder Woman starring in today's blockbuster films.
But how does a Haitian-born computer programmer who spent decades in New York create a hit comic book about the supernatural world of New Orleans?
For Newton Lilavois, it's been an odyssey.
It was 40 years ago that 5-year-old Newton migrated from Haiti to New York City with his family, which was searching for a better life in America and came to Brooklyn.
He spoke Haitian Creole, an offshoot of French. But, as he became proficient in English, he found himself enamored with comic books, specifically those in the superhero genre. Soon he was creating his own versions and selling them to his classmates.
Imagine that your heart is working at one-third capacity.
"I was writing and drawing comics when I was 11, and while I thought I was a great artist back then, in time I realized my strength was in writing," Lilavois said. " I never envisioned that I could make a living doing this, and over the years majored in computer programming, which I do to this day as a vocation. But, if you really love something, you eventually gravitate back toward your true passion."
That continual pull toward his dream manifested itself in a Kickstarter campaign, a crowdfunding quest for the seed money to write the first chapter of his newly minted webcomic, "Crescent City Monsters," a neo-noir action/horror story about a blues singer in 1963 New Orleans who is part sorcerer, part freedom fighter.
Lilavois' idea was born when he visited New Orleans and found the supernatural mythology of the city to be similar to his native Haiti. He next stumbled onto a potential illustrator when he pledged money for another comic called "The Last Days of Kevin," for which Gian Carlo Bernal was the graphic designer. Lilavois eventually reached out to Bernal, whom he calls an "amazing artist."
Many Americans of a certain age have memories of an amusement park at the beach — winning prizes on the midway, drawing close to a sweetheart …
"Newton shot me an email, said he was working on a story involving zombies, witches and monsters, and was looking for someone who could express a dark mood through illustrations," Bernal recalled. "I've always loved drawing monsters, so this was a dream project for me. I can take all of the darkness and aggression inside of me and cast it onto paper."
A long-time graphic designer at an ad agency in the Philippines, Bernal has worked on various magazine publications. However, after more than a decade he decided to strike out on his own, leaving the corporate world behind, to pursue his own dream of drawing comics. His renderings exhibit a great attention to detail, which continues to impress Lilavois, who has hired him as the collaborator for "Crescent City Monsters."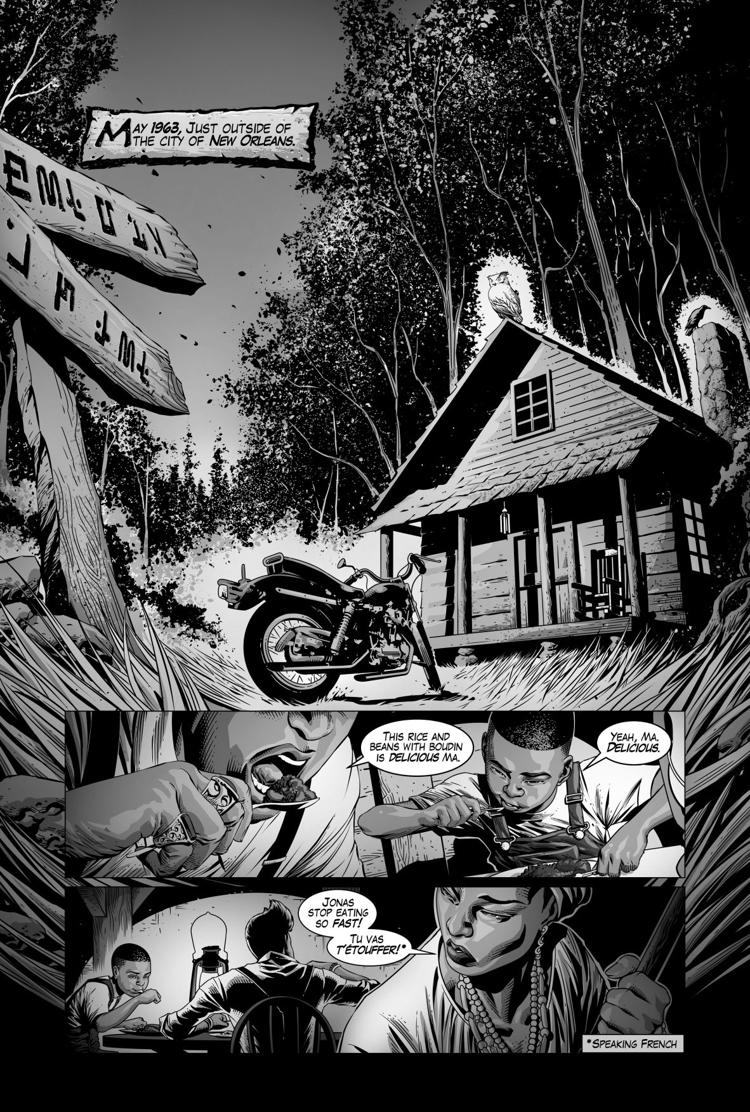 "I write the story like a movie script," Lilavois said. "There's a storyboard, dialogue, and even camera angles mentioned. Then Gian takes a look at everything panel by panel and interprets it in his own special artistic way. It's always interesting to see what he invents, as opposed to what I may have seen in my own mind's eye. It's turned out to be a wonderful collaboration."
The storyline revolves around Jonas, the lead singer in a blues band who has a bounty on his head that only the "supernaturals" of New Orleans, called the Grunch, know about. The reason for this bounty has not yet been revealed to readers, but what is revealed in Chapter 1 is that Jonas has a few superpowers of his own, and he's not afraid to use them when backed into a corner.
But it's not all zombies, motorcycles and mayhem. The dialogue can become a bit cerebral when Jonas encounters racial prejudice in the Deep South of the 1960s.
If you're not familiar yet with the 9-year-old acting sensation who jumps off the screen in the just-released movie "Halloween," get ready to …
"I didn't live through the '60s, but I know from reading about it (that) there was probably no more tumultuous time — even compared with what's currently going on with (President Donald Trump's) administration," Lilavois said.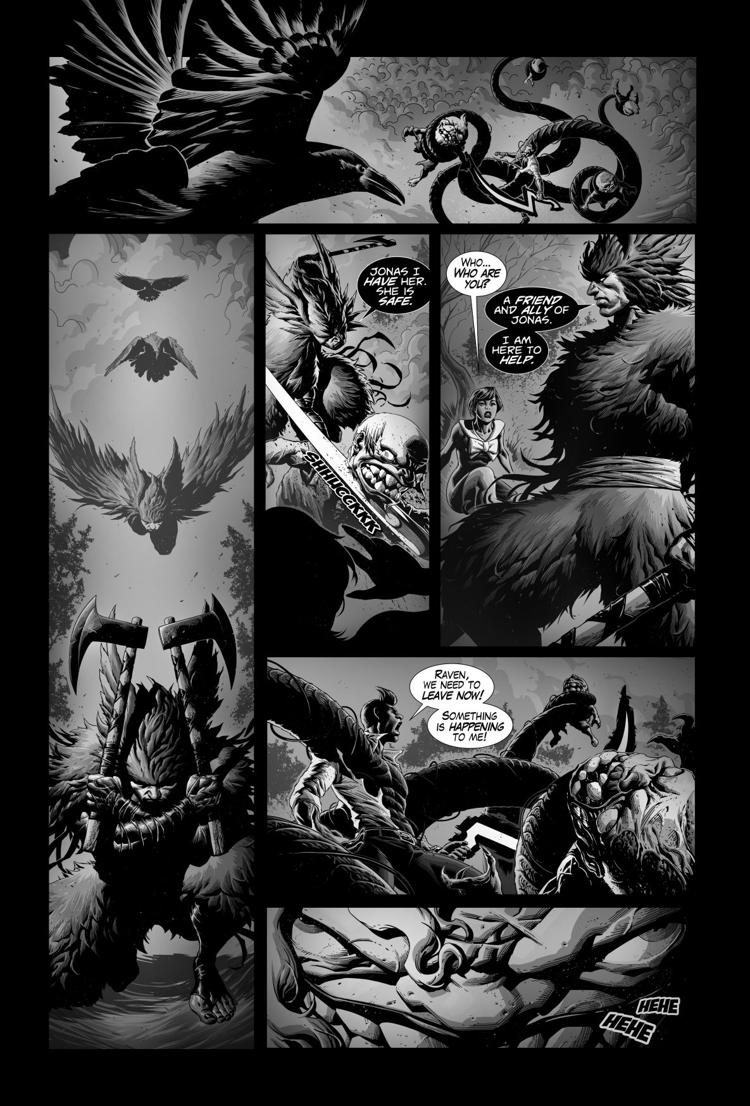 "And, amidst the chaos of three assassinations and the Vietnam war, racial discrimination was everywhere. I wanted to reflect on those times when African-Americans were being shot by police and explore the well-known idea that the more things change, the more they remain the same. I believe that you can entertain and enlighten at the same time."
Apparently, the reading public agrees. This project attracted a lot of attention initially on social media and then gained steam on Kickstarter. In fact, "Crescent City Monsters" was fully funded in just 48 hours. By the end of the 20-day campaign, three times the requested amount of money had been raised.
Lilavois launched the comic just two months ago, along with a publishing company, Dream Fury Comics. The first chapter is free online, and subsequent chapters will be behind a paywall, where access will be restricted to his subscribers … and yes, he already has fans.
In the meantime, a print edition is in the works. But Lilavois doesn't feel an urgent need to sell his print work to the behemoth in the industry, ComiXology (owned by Amazon) which distributes for Marvel and DC.
"Many comic book writers have stayed independent and have been enormously successful," he said. "Kevin Eastman created the 'Teenage Mutant Ninja Turtles,' and Robert Kirkman, 'The Walking Dead.' Both began as comics."
The next chapter of "Crescent City Monsters" is evolving, but as illustrator Bernal acknowledges, it's a slow process. One completed frame can take eight hours, between the sketch, the inks and the gray tones. As for future projects? Lilavois would like to do the Harriet Tubman story in comic form. A little bit of history, he said — but hold the zombies. 
Leslie Cardé can be reached at lacarde@aol.com.