"You can't race against the headlines here," Michael Allen Zell said. "You'll lose every time."
He should know. In his new novel, "Law & Desire," two of the major settings — the Club Desire and the Capri Motel — were torn down by the time he finished the book.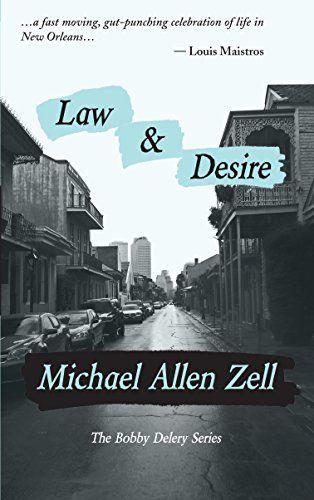 "I've lived here long enough to see the changes in the city," he said. "I wanted to bear witness, just as Chester Himes created Harlem and Dashiell Hammett created San Francisco. I wanted to create the New Orleans version of that."
Zell looks like the writer he is. There's the jaunty fedora, the dark clothes, the serious expression, the sense of quiet attention. It's not surprising that he turns out dark and funny noir novels about New Orleans. He can drop the names of noir figures — Himes, Hammett, Jim Thompson — with ease and familiarity, but ask about his literary loves and they are a pantheon of international greats — Borges, Saramago, Hrabal.
"I didn't take the traditional MFA route," he said. "I read a lot of books and I had a lot of jobs."
His is an old-school writer's resumé — substitute teacher, janitor, caterer, temp, mortgage writer and book-seller. That last occupation stuck. When he first came to New Orleans, he worked at Octavia Books; now he manages the antiquarian shop Crescent City Books, which recently moved to 124 Baronne St.
For two years, he hosted an amazing monthly salon that brought together writers and artists to the shop for conversation and inspiration. He's also known as the genial host of Bloomsday, that annual celebratory reading of James Joyce's "Ulysses."
"I always thought someday I'd be up for writing," he said. "I had the idea that once I hit 40, I'd have read enough and had enough experience that I might have something to say."
And now, he does.
He took his time writing about New Orleans, too.
"Katrina really brought things into focus," he said. "But it was a while before I felt competent to write about New Orleans. I started off with little short stories, which eventually became the novel 'Errata.' "
One thing led to another, and Zell is creating a wide ranging body of work, from the play "What Do you Say to a Shadow?" to a collaborative work with photographers Louviere + Vanessa called "The Oblivion Atlas."
Recently, he's been wowing readers with a new series featuring criminologist Bobby Delery, who's come back to New Orleans post-Katrina to unravel some family mysteries and make a new life teaching at Tulane University. Bobby is an engaging, complicated character who moves through the various layers of the city with ease and interest and curiosity. The first in the series was "Run Baby Run;" the second, just out, is "Law & Desire."
What really keeps us turning pages is Zell's authorial voice, his insights into human nature and the dark sense of humor that comes out of years of observing city life. From tap dancers on Bourbon St. to a roving bicycle gang, his New Orleans characters have the ring of authenticity and everybody has a hustle. Admit it: Don't we all know someone who is "a few outages short of a power grid?"
Musing on why we read crime fiction, Zell talks about the notion of chaos being resolved into order.
"I'm not sure that works for New Orleans," he said. "What's chaos in other places isn't chaos here. And sometimes chaos leads to order and sometimes it just leads to more chaos."
"New Orleans is such an open city," Zell said. "I'm fascinated with how people mix here. They mix more at various levels, have all different types of friends. But the underbelly's never far away."
The third book in the Bobby Delery series will be set in August (each book takes place during a different month) and Zell talks with ease about the qualities of that time — the heat, the humidity, the odors.
"Remember when we had that cold, cold winter a few years back and New Orleans didn't smell? When you can't smell New Orleans, it doesn't feel like New Orleans," he said.
That kind of attention to detail is what makes Zell a writer to watch, that and the heart he has for his characters.
Then, there are those headlines blaring news of crime and corruption and violence. "Ah, but the headlines," Zell said, "they never give us the human qualities."
Susan Larson hosts "The Reading Life" on WWNO-FM and is the author of "The Booklover's Guide to New Orleans."