The first Friday of the 2019 New Orleans Jazz Fest is topped off by a familiar name: Santana. 
Carlos Santana and his shape-shifting world music band have been a recurring presence at Jazz Fest for 30 years. Sometimes, he lets his guitar do the talking; other times, he does a lot of talking himself. Regardless, he wears his heart on his sleeve and, as might be expected from a veteran of the original Woodstock, he thrives in a festival environment. 
Homegrown New Orleans band the Revivalists played second fiddle to Cage the Elephant at the Gentilly Stage in 2018. This year, the Revivalists step up as a Gentilly headliner, with good reason. The band has built a national audience with hit songs and a strong live show; with a pedal steel guitarist and saxophonist, the seven-man ensemble is distinctive, but not too different. So, too, frontman David Shaw's voice. 
Other notable acts on the first Friday: The Head and the Heart, Aloe Blacc, Robert Cray, trumpeter Terence Blanchard's E-Collective, the subdudes, PJ Morton, and the Foundation of Funk featuring members of the Meters and Neville family.
— Keith Spera
Food @ Jazz Fest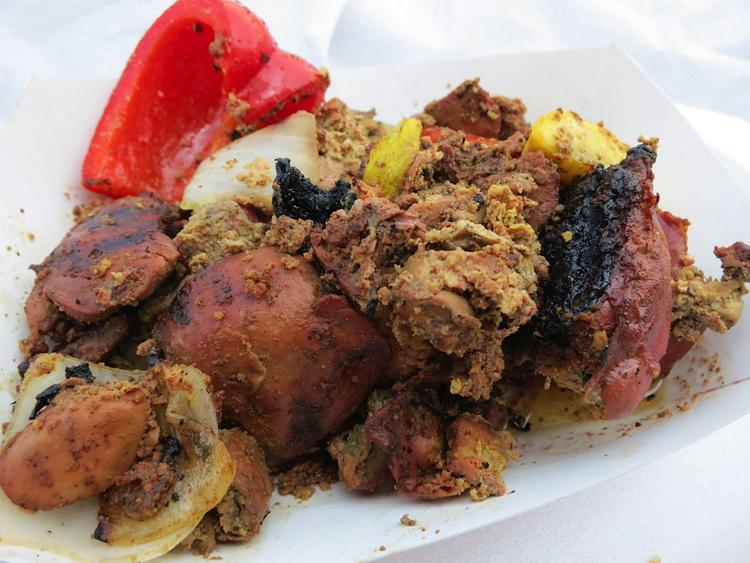 Grilled Chicken Livers, Food Area I
The Praline Connection's restaurant is at least temporarily closed, but the longtime purveyor of Creole soul flavors is back for Jazz Fest and so is this dish that brings the funk. Edged with grill char and dressed out with pepper jelly, the muscularly mineral taste of chicken livers remains strong, making this a choice for the bold.
— Ian McNulty