How many people attended the 2017 Essence Festival? That depends on how you define "festival," and who you ask.
On the closing night, Chance the Rapper stood on the main stage of the Mercedes-Benz Superdome and proclaimed that 60,000 fans were on hand.
His number was way off. The Dome's capacity for Essence is only about 45,000, and the building wasn't nearly full.
Afterward, producers announced that Essence "attracted more than 470,000 attendees to New Orleans this Fourth of July weekend."
Like Chance the Rapper's proclamation, that statement is also not entirely accurate. It's also been widely misinterpreted.
The wording implies that 470,000 individuals traveled to New Orleans for Essence. Such a mass of humanity would have more than doubled the population of Orleans Parish. Obviously, that didn't happen.
Many Essence attendees are locals. And most everyone goes to multiple events throughout Essence weekend, so they are counted multiple times.
More importantly, that 470,000 figure doesn't refer to just the Dome concerts. If so, the Superdome would have somehow squeezed 10 times its Essence capacity into only three nights of concerts.
To come up with that eye-popping total, Essence combines its nighttime concerts AND the free, daytime seminars at the Ernest N. Morial Convention Center. Both are, technically, part of the Essence Festival, which isn't just a music festival.
At the convention center, no tickets are issued, so, as with the French Quarter Festival, an accurate count is impossible. That allows for some rather generous estimating.
Nightly attendance at the Superdome, however, can be determined with some accuracy.
The Essence capacity of 45,000 is less than the 70,000 seats available for a Saints game because the massive stage blocks around 45 percent of the plaza-, loge- and terrace-level seats. An additional 10,000 seats are set up on the Dome floor, not nearly enough to make up for the lost bleacher seats.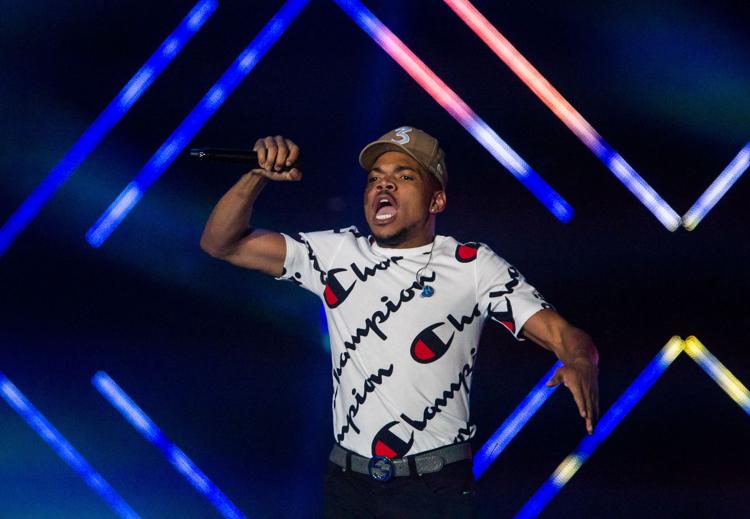 Based on the ratio of empty to full seats, as well as approximate numbers provided by a source familiar with ticket sales, nightly Essence attendance looked like this:
On Friday, June 30, the Dome was about half full, meaning attendance was just north of 20,000.
On Saturday, July 1, the much larger crowd numbered close to 40,000.
On Sunday, July 2, attendance was just below 30,000, or roughly half of what Chance the Rapper said it was.
Give or take a few thousand, that adds up to an overall attendance of approximately 90,000, an increase from 2016.
As Diana Ross and her band negotiated her disco-era hit "Upside Down" on the 2017 Essence Fe…
If only the Dome concerts — the "music festival" element of Essence — are compared with other New Orleans music festivals, Essence ranks fourth, size-wise. The most recent editions of the French Quarter Festival, the New Orleans Jazz and Heritage Festival, and the Voodoo Experience all drew much more than 90,000 attendees.
The variation in Essence crowd size from night to night neatly reflects the popularity of the headliners.
Diana Ross, John Legend and India.Arie headlined opening night. Ross is a legend, but her last hit was years ago. Her most recent stand-alone concert in New Orleans was at the Saenger Theatre, which has a capacity about 2,600. Legend and Arie are similar draws.
Even the three of them together doesn't add up to nearly enough ticket-selling star power to fill the Superdome. The loge and terrace balconies that night were mostly empty, as were back rows on the floor and sections of the plaza-level bleachers — and this despite ticket giveaways at the convention center that day.
What a difference Mary J. Blige and Saturday night made at the 2017 Essence Festival.
Saturday's headliner was Essence favorite Mary J. Blige. She didn't sell out the Superdome like Beyoncé in 2013 or Prince in 2014, but she did preside over this year's biggest night. That Blige's appearance fell on a Saturday also helped.
On closing Sunday, Chance the Rapper, progressive hip-hop's newest breakout star, and a reunion of Master P's classic No Limit Records roster drew a crowd mid-way between Friday's and Saturday's.
Early in its 23-year history, the Essence Festival benefited from a built-in, old-school audience that returned year after regardless of headliners. As long as Frankie Beverly & Maze closed it, Essence essentially sold itself.
That may no longer be the case. A superstar act, one that normally fills stadiums or at least arenas, is necessary to drive ticket sales. Unfortunately, there is only one Beyoncé, and she's been busy having babies. Prince is deceased.
"As a rapper," Chance the Rapper said during his Sunday night headlining set at the 2017 Ess…
Bruno Mars, Sade, Jay Z, The Weeknd, Rihanna, Drake, Kanye West — none of those A-listers found their way to Essence this year, either. Sade rarely tours. Who knows what's up with West, who has delivered powerful, hugely popular sets at past Essence Fests.
Many big names prefer to visit New Orleans on their own tours. Drake sold out the Smoothie King Center late in 2016. The Weeknd was here in May. Mars is headed to New Orleans in October. Jay Z is coming in November.
Such big-money tours often involve exclusive arrangements with national promoters Live Nation or AEG that prevent the artists from playing independent festivals like Essence.
The "urban" music market and the country music markets are both populated by a limited number of arena- and stadium-level headliners. If a genre-specific festival like Essence or the Bayou Country Superfest isn't able to book one or more of those headliners, attendance suffers.
The 23-year-old Essence may also be caught in a generation gap. Early supporters have aged out of festival attendance.
Essence is obviously trying to cultivate a younger audience by booking the likes of Chance the Rapper and, in 2015 and 2016, Kendrick Lamar.
Will those fans eventually embrace Essence as a whole? Like the festival's attendance numbers, that is open to interpretation.