Ahead of the 50th anniversary New Orleans Jazz and Heritage Festival, I read stacks of newspaper articles from the early years of the festival.
One thing that stood out? The chatter hasn't changed.
Consider the following Jazz Fest critique, which ran in the April 24, 1977, edition of The Times-Picayune:
"Last year, the festival started importing 'name' talent to supplement the program – and, of course, to attract more people," reviewer John Alan Simon wrote. "But the point at which the national performers begin to replace Louisiana music is the appropriate time for a 'heritage' festival to re-evaluate its priorities."
That's right — as early as the eighth Jazz Fest, some people thought it had already strayed too far from its supposed roots as a "heritage" festival.
Forty-two years later, some folks still say the same thing. But Jazz Fest has featured national acts alongside locals for essentially its entire history. That's what it is.
The recently completed 50th Jazz Fest was the 30th that I've covered. I've spent around 200 days — more than half a year — at the Fair Grounds roaming the festival.
This year, Jazz Fest felt as familiar as it always has. Sure, some things have changed. Back in the day, all the stages were still on the Fair Grounds infield. Tickets were cheaper. The mud tended to stick around longer after a rain.
But by and large, Jazz Fest is still Jazz Fest.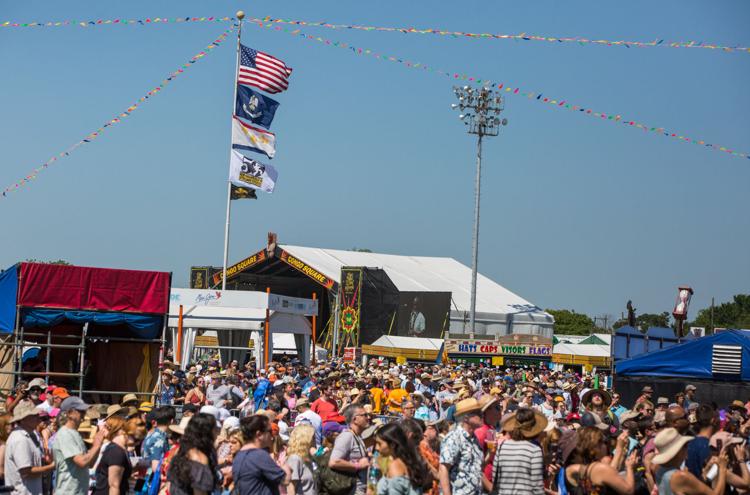 Had "Rolling Stones Thursday" actually happened this year, that would have felt different. But thanks to Mick Jagger's heart surgery, the second Thursday was a normal "Locals Thursday" with the added bonus of a pretty great set by Tom Jones.
Make no mistake: The abundance of local talent and culture-bearers, from the musicians to the social aid and pleasure club marchers to the folks who cook, grill and fry, is what defines Jazz Fest and sets it apart from every other major music festival in the world.
But the national artists are an important element as well. They inevitably supply some of the festival's most memorable "big" moments.
The national performer who prompted Simon, the Picayune reviewer, to question Jazz Fest's character way back in 1977? Bonnie Raitt. She made her Jazz Fest debut that year, as did a 9-year-old Harry Connick Jr.
In 1977, Raitt was still a dozen years away from her breakthrough "Nick of Time" album. Her fan base didn't extend much beyond blues circles. She had already cultivated a connection with New Orleans musicians; Allen Toussaint joined her onstage that year at Jazz Fest to perform his "What Do You Want the Boy to Do?"
But Simon objected to Raitt receiving more time onstage than local favorites the Wild Magnolias. The Magnolias' set had been trimmed to carve out time for acts rained out the previous day.
In the 42 years since her controversial Jazz Fest debut, Raitt has returned many times. She was back again this year, playing her own show and joining her pals Irma Thomas and Jon Cleary for a Fats Domino tribute. She is a part of Jazz Fest.
The very first New Orleans Jazz and Heritage Festival and Louisiana Heritage Fair, produced by George Wein in the Municipal Auditorium and what is now Armstrong Park in April 1970, included funk band the Meters, zydeco bandleader Clifton Chenier and other non-jazz artists, including New Orleans native and gospel star Mahalia Jackson.
The big national act that first year, in addition to Jackson, was Duke Ellington, who premiered his "New Orleans Suite," a new composition Wein commissioned specifically for the festival.
A half-century later, pop superstar Katy Perry presided over her own kind of customized Jazz Fest show, one that featured local favorites the Soul Rebels and the Gospel Soul Children.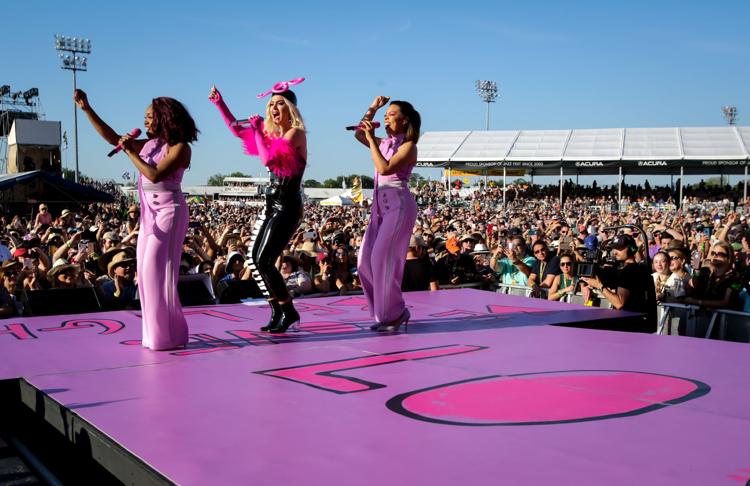 The continuity of the festival's booking philosophy was evident elsewhere. In 1974, Gladys Knight & the Pips, Herbie Hancock and jazz organist Jimmy Smith starred in the first Jazz Fest evening concert to sell out the Municipal Auditorium.
Knight and Hancock were back this year, at the Congo Square Stage and WWOZ Jazz Tent, respectively.
As far back as 1976, the year Jazz Fest added a second weekend at the Fair Grounds, the festival featured a rock act with no discernible connection to New Orleans heritage. Violinist Scarlet Rivera had achieved a measure of pop culture cachet by contributing to Bob Dylan's "Desire" album and his Rolling Thunder Revue.
At Jazz Fest, Rivera fronted a rock-fusion band called Mammoth — and triggered what may have been Jazz Fest's first stage rush. Rivera and Mammoth "brought a huge majority of the festival-goers together in the small confines of the Stage 1 area," The Times-Picayune reported. "Police had to hold the crowd back at a few points during her performance — probably a first for the usually genteel gathering at the Fair Grounds."
Again, this was 1976 — only the seventh Jazz Fest.
There was a lot of talk this year about whether the festival should shift its emphasis to younger artists. That talk intensified after three ailing 70-somethings — Mick Jagger, Stevie Nicks and John Prine — plus 80-something Jerry Lee Lewis canceled.
But there's no guarantee a young artist will make the gig either.
Rapper Lil Uzi Vert bailed on the 2018 Buku festival at Mardi Gras World, after deciding, for no real reason, not to get on the plane to New Orleans. He was 23. Rapper/actor Childish Gambino canceled his 2018 Voodoo festival headlining show after injuring his foot. He's 35.
And four legacy acts — Tom Jones, Diana Ross, Irma Thomas and John Fogerty, all of whom are in their 70s — delivered four of this year's strongest, most well-received Jazz Fest performances.
Moving forward into its second half-century, Jazz Fest should continue to book quality artists regardless of age or genre — just like always.