Sunday was a day of gratitude and tribute at the New Orleans Jazz and Heritage Festival.
Bonnie Raitt thanked festival producer Quint Davis for the many times he's booked her since 1977.
The Indigo Girls gave Jazz Fest a 50th anniversary shout-out.
And at a jam-packed WWOZ Jazz Tent, Delfeayo Marsalis, on behalf of his assembled brothers, thanked their father Ellis, and their late mother, Dolores, for their existence and ongoing musical camaraderie: "It's a credit to them that we're up here."
The Marsalis family reunion capped off a day of old favorites at Jazz Fest, including Raitt, Al Green, Van Morrison and the O'Jays, alongside such relative newcomers as Bleachers and J Balvin.
Midway through her Acura Stage set, Irma Thomas clarified that "Time On My Side" wasn't a Rolling Stones cover. She released her version first in 1964, months ahead of the Stones. "For all you youngsters out there," she said, "I'm singing Irma Thomas."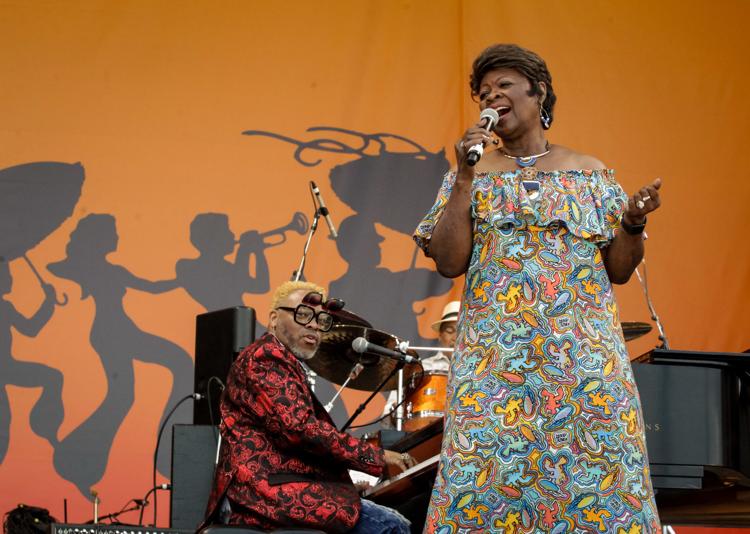 She then sent good wishes to Mick Jagger, still recovering from the heart surgery that forced his band to cancel its Jazz Fest show. "I'd like to take a moment to wish Mick Jagger a speedy recovery. I know he enjoys singing that song, 'cause time is on his side, too. ... But I did it first. You can go home and do your research. You'll find it."
History lesson complete, she sang more Irma Thomas in the form of "Ruler of My Heart," "I Done Got Over" and what she described as the "New Orleans national anthem," "It's Raining" (but not on Sunday). At 78, Thomas' voice is as rich as ever, and more than up to the task of savoring a ballad like "Even Now."
And when "I Done Got Over" detoured into "Hey Pocky Way" and "Jock-a-Mo" — also potential New Orleans national anthems — she presided over a mass audience handkerchief and hat-waving celebration.
In an addendum to her usual riff about New Orleanians celebrating alligators, mosquitoes, divorce, separation and "when your pregnancy test comes back negative," she noted that we're also celebrating the 50th anniversary Jazz Fest.
The New Orleans Jazz Orchestra, under the direction of Adonis Rose, filled the Congo Square Stage for a tribute to Aretha Franklin. Vocalist Kiki Chapman sang Franklin's "Day Dreaming" and the ballad "Ain't No Way." On the latter, lush horns swelled and ebbed over Victor Atkins' piano. Ed "Sweetbread" Petersen let the air out of a tenor sax solo that underscored the easy, Sunday afternoon vibe of NOJO's richly textured arrangement. Erica Falls took over vocals for the Franklin obscurity "Sweetest Smile and the Funkiest Style." This Jazz Orchestra can also be funky, as "Sweetest Smile" and Michael Watson's trombone solo demonstrated.
---
---
NOJO's fresh spin on Franklin's classic catalog was the perfect lead-in to the O'Jays. With the crowd filling the Congo Square field all the way to the Ancestors area, founding O'Jays Eddie Levert and Walter Williams, looking sharp in sky-blue ensembles, opened with what could be their statement of purpose: "Give the People What They Want." The subsequent "Living for the Weekend," with coordinated kicks and spins, continued that mindset.
For trombonist Delfeayo, saxophonist Branford, trumpeter Wynton and drummer Jason Marsalis to share a stage with their father is a rare occurrence; hence, the Jazz Tent overflowed at the end of the day. But this set was not about spotlighting the sons. It was about saluting their father by showcasing his elegant compositions.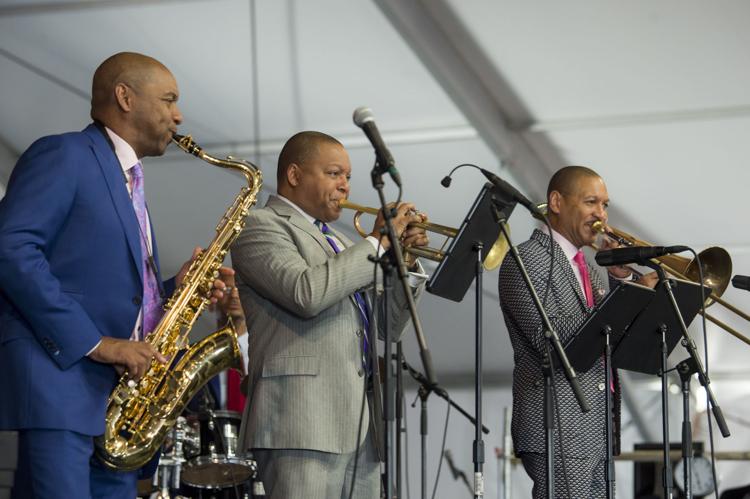 On the opening "Crescent City Strut," their solos — first Delfeayo, then Branford, Wynton, Ellis and finally Jason — were in keeping with the song's spry, stately nature. Branford and Wynton were more adventurous on "Tell Me." The family settled back down for the romantic vibe of "Orchid Blue." Harmonies abounded.
Branford also made note of his and buddy Harry Connick's Jr. post-Hurricane Katrina project, the Musicians' Village in the Upper 9th Ward, a partnership with Habitat for Humanity that has provided housing for dozens of musicians and others. The centerpiece of the Village is the Ellis Marsalis Center for Music, a performance and educational space.
As an extension of the salute to Ellis, a trio of young students from the center that bears his name took center stage for "When the Saints Go Marching In." A 13-year-old visually impaired student vocalist named Jayla Raymond earned a roar of approval for her rendition of "When You're Smiling (The Whole World Smiles With You)."
With that, the stage was back in the hands of the Marsalis family and bassist Eric Revis, a longtime member of Branford's band (and a former student of Ellis' at the University of New Orleans). Branford introduced "After" as "a beautiful ballad (Ellis) wrote before we were born." Wynton's muted trumpet was all burnished gold.
The set, to this point, was enjoyable, but could have benefited from more fireworks. With the clock winding down, those fireworks finally arrived. Wynton uncorked the razzed trumpet opening of the Mardi Gras anthem "Second Line, Pt. 1." Delfeayo pumped his fists, the audience rose as one, and it was on.
Delfeayo, Branford and Wynton marched offstage, still playing, into the densely packed crowd in front of the barricades. They made their way across the width of the tent, finally returning to the stage at the opposite side, as drummers Herlin Riley and Shannon Powell joined in.
It was the exclamation point the Marsalis reunion, and the first weekend of the 50th anniversary Jazz Fest, needed.
---
Local attorney Chris Mann and his family were strolling the grounds of the New Orleans Jazz and Heritage Festival on its first Friday when he …