The New Orleans Jazz and Heritage Festival will celebrate its 50th anniversary in 2019. But on the closing day of the 2018 festival, the Radiators were already feeling nostalgic.
Prior to their 40th anniversary reunion show Sunday, the five musicians sat with interviewer John Swenson at the Allison Miner Music Heritage Stage inside the Fair Grounds grandstand. They recalled the looser, more low-key Jazz Fests of the 1970s, when attendees could sit on the corner of the stage, the likes of B.B. King might roll up and plug in, and New Orleans piano patron saint Professor Longhair was at the height of his powers.
"They pretty much closed the rest of the fest down and drove everybody to the Fess stage," recalled bassist Reggie Scanlan, who backed Longhair at the 1977 festival on what is now the Gentilly Stage. "To see all those people … it was powerful stuff."
Longhair is long gone and sitting on stages is no longer allowed. But Jazz Fest can still inspire powerful stuff, even on a hot, cloudless day like Sunday.
For those fortunate enough to be at the Lagniappe Stage in the grandstand's paddock, The War and Treaty was likely their favorite discovery of the festival's closing Sunday. Michael Trotter Jr. started singing while serving in the Iraq War. After his discharge, he met Tonya Blount, a singer whose influences include Mahalia Jackson, Dolly Parton and Aretha Franklin.
Married for eight years now, they are the core of The War and Treaty. They turned the paddock into a revival tent Sunday with an alternately furious and smoldering medley of gospel shouts and blues and soul belting, backed by an ace band.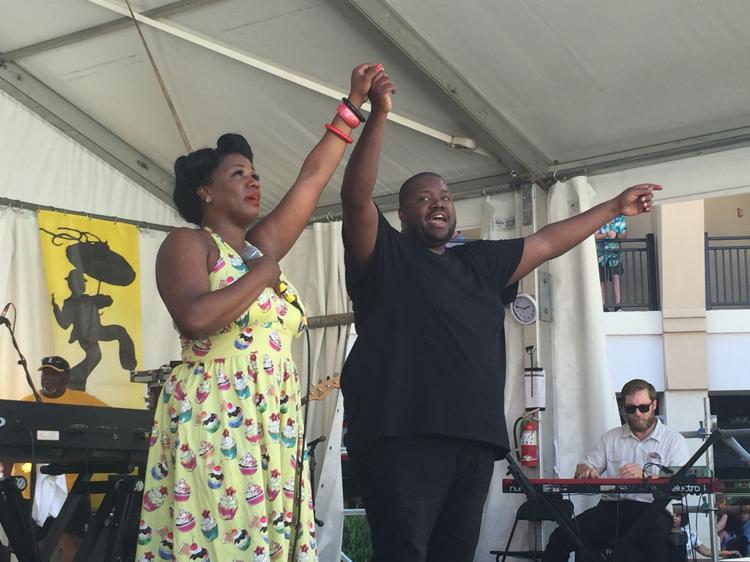 In "Jeep Cherokee Laredo," they asserted that it "ain't none of your business what we were doing in the back of our Jeep Cherokee Laredo."
"I know it's Jazz Fest and you don't want to hear no blues," Trotter joked. "I promise we won't play anything that sounds remotely like this right here." No one objected to the churning, grinding blues romp that followed.
They did deliver something jazzier, as their young bassist switched to an upright for the church organ-infused refrain of "your love set my soul on fire."
They squared off with one another to ask, "Are You Ready to Love Me, Baby?" They dove into "Take Me Down to the River," way into it, and each other, a private moment shared with an appreciative public. Their ovation was well-deserved.
Contemporary guitar hero Jack White, a man of many sonic personalities, acknowledged at the Acura Stage what his vampire-like countenance already revealed: "I haven't played in the daylight in a long time." 
That daylight ruled out the lighting element that is normally crucial to his presentation. But he still found a way to be visually distinct at Jazz Fest: At his request, his show was broadcast in black-and-white on the large video screens flanking the Acura Stage.
His 90-minute time allotment, the longest of the fest, was enough for him and his hard-hitting quartet to touch on various phases of his career, from the White Stripes to his recent "Boarding House Reach." He strummed an acoustic for "Love Interrupted." He bore down on an electric guitar for squalling hard rock. He tore off Jimmy Page-esque blues-rock riffs.
New Orleans country-folk singer Esther Rose joined him for the country duet "What's Done Is Done." (White is based in Nashville and produced a record for Loretta Lynn, so he comes by his country leanings honestly.)
After a final stomp through the White Stripes favorite "Seven Nation Army," a beaming White called it a day. "You've been incredible," he told the crowd, "and I've been Jack White."
At the same time, Motown legend Smokey Robinson was singing his hits and telling stories to a large crowd at the Congo Square Stage that extended into the "Ancestors" area at the back of the field. In a white shirt and gold pants, he breezed through "My Girl," one of many songs he wrote for the Temptations. Even people squeezing through the crowd on the dirt track couldn't resist singing along.
The festival's closing act in the WWOZ Jazz Tent was not a jazz artist per se. Savion Glover is widely regarded as the world's foremost tap dancer; he was the Tony Award-winning choreographer of the 1990s Broadway musical "Bring in da Noise, Bring in da Funk."
His crew installed a customized riser, equipped with built-in microphones, on the Jazz Tent stage. Several minutes behind schedule, Glover went to work, backed by a jazz drummer, bassist and saxophonist. He seemed to levitate, so fast and efficient was the movement of his feet.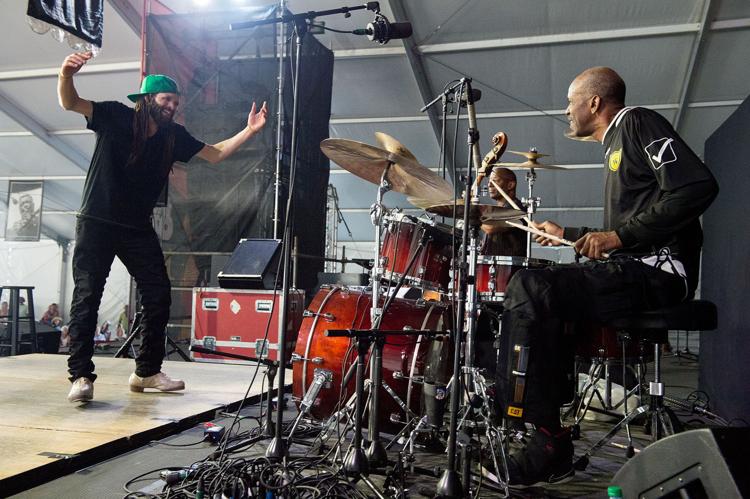 In fact, his feet seemed to operate independently as the rest of him dealt with a technical issue. He gestured to the sound crew at the side of the stage; apparently the monitor facing his platform wasn't working properly. He thunked his microphone several times in frustration, not realizing that the sound was going out over the P.A. system. "Nothing!" he exclaimed.
And still, his feet kept moving. For a time, the drummer seemed to keep time for Glover, before Glover's taps kept time for the saxophonist. Finally, after 20 non-stop minutes, he took a break and let the trio take over.
Every year since 2013, Troy "Trombone Shorty" Andrews and his funk-rock band, Orleans Avenue, have shut down the Acura Stage on Jazz Fest's closing Sunday. This year, he honored the act from which he inherited that slot.
He recalled how, when he was a boy, the Neville Brothers invited him to join them on that stage. The day before the 2018 festival started, Nevilles saxophonist Charles Neville — "Uncle Charlie," to Andrews — died.
To pay tribute, Andrews called out Charles' brother Cyril and his nephews Ivan and Ian. Backed by Orleans Avenue, Cyril sang lead, Ian played guitar and Ivan worked a keyboard for the Meters' "No More Okey Doke" and "Fire on the Bayou," both of which were staples of Neville Brothers sets.
In that moment, the continuity of New Orleans music, and Jazz Fest, was on display for all to see, as Shorty returned the courtesy once extended to him.
The Neville Brothers and Trombone Shorty, New Orleans music then and now, all of it represented at Jazz Fest.