Early childhood exposure to New Orleans can have permanent consequences. Just ask Old Crow Medicine Show frontman Ketch Secor.
Secor moved to New Orleans as a toddler, after his father became vice-principal at St. George's Episcopal School. After a few years, the family moved away. Secor eventually founded Old Crow Medicine Show while attending college in upstate New York. The fledgling Americana string band later relocated to North Carolina, then Nashville.
But his New Orleans memories remain vivid. "Child of the Mississippi," a song on the band's new "Volunteer" album, was directly inspired by his childhood fascination with the Mississippi River.
"I didn't know what God was, but I lived next to a very God-like body of water," Secor recalled during a recent phone interview. "And so the river became a kind of image of God for me that was accessible.
"I didn't know where it came from or where it was going, but I knew that it was in constant motion, and that it was a creator and destroyer and sustainer, and that it was alive. I was in love with that river, and still am."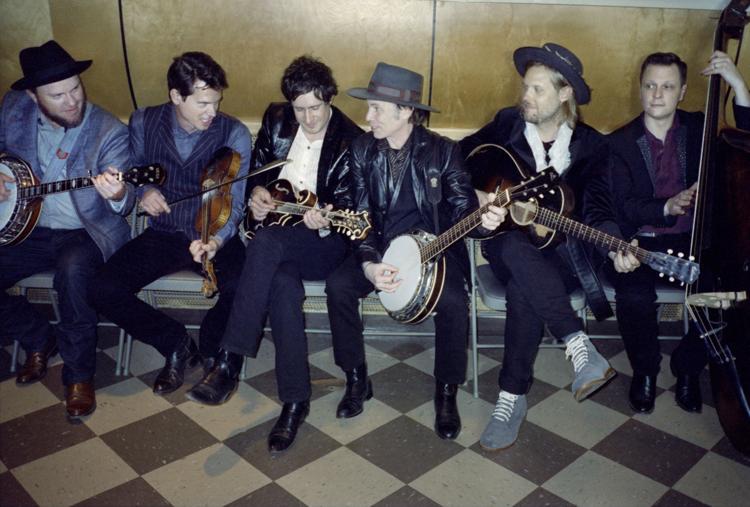 He'll have a chance to reconnect with the Mississippi while Old Crow Medicine Show is in town to perform Thursday at 3:50 p.m. on the New Orleans Jazz and Heritage Festival's Gentilly Stage. Secor and guitarist Critter Fuqua will also be interviewed at 1 p.m. Thursday at the festival's Allison Miner Music Heritage Stage in the Fair Grounds grandstand. (Full disclosure: I'll be conducting the interview.)
Secor's parents brought him to Jazz Fest as a child. When he returned many years later as a performer, "it felt so familiar.
"That's one of the things about having had a childhood in a place as rich as New Orleans. Your memories fade, but when you get back in it, these memories come back to you and they're really colorful, because it's New Orleans."
Over the years, Old Crow has returned numerous times to Secor's childhood home. In the band's early years, the musicians earned more money busking in the French Quarter than playing formal club shows. They made their Jazz Fest debut in 2005, then returned to the fest in 2010.
In 2011, Old Crow Medicine Show joined Mumford & Sons and Edward Sharpe & the Magnetic Zero for the Railroad Revival Tour. The three bands traveled by vintage train car from California to a final show at Woldenberg Riverfront Park in New Orleans.
At the vanguard of a string band revival in popular music that also includes Mumford & Sons, the Lumineers and the Avett Brothers, Old Crow Medicine Show is very much rooted in tradition. Secor is fond of re-purposing traditional, pre-World War II folk and blues songs, as well as Bob Dylan songs.
To create the chorus of "Wagon Wheel," Old Crow's biggest hit to date, Secor borrowed the line "rock me, Mama" from an old Dylan outtake. Hootie & the Blowfish singer turned country star Darius Rucker scored an even bigger hit with his version of "Wagon Wheel."
Secor and his bandmates recorded "Volunteer" on the heels of "50 Years of Blonde on Blonde," their 2017 project that revisited Dylan's classic 1966 album.
"When we got into the studio, we were all still humming the tunes from 'Blonde on Blonde,' cause we had worked so hard on that," Secor said. "So it was like spring training in a different sport.
"When you play like we do, we call it 'getting greased up.' You get out on the road and the first couple shows kind of suck. Then the third and fourth shows are the ones you're getting greased up for. Then you can get real greased up, so that you don't even notice the calluses on your fingers. Your muscles have remembered that what they're there to do is saw fiddles and beat banjos. Your vocal cords submit to your nightly request of them.
"When that happens, you can really do anything, and play any kind of music. You can sing any of your old songs, or write new ones. We got really greased up before this record on a different record."
The rave-up "Flicker & Shine" opens "Volunteer" on a high note. "Look Away," which takes its title from a lyric in the traditional "I Wish I Was in Dixie," was inspired by the debate over the fate of Confederate monuments.
Secor says Mayor Mitch Landrieu's speech about taking down Confederate statues in New Orleans "was really helpful to me. I wasn't sure what I thought about it. I thought maybe that they should stay. Reading the transcript of the speech helped me to change my mind. And I shared it with a lot of other people who I thought were on the fence."
That he used a traditional song — and specifically "Dixie" — to address the issue was deliberate.
"I always like going into the deep, dark catalog of American music and pulling out a song and retooling and refurbishing it. I figured I would do it with probably the greatest song that was ever written about the American South. That's a real powerful song. It's stood the test of time. It's a song that's come to mean other things.
"I liked being able to write a new song about the South that evokes 'Dixie,' but creates a wider access point to other people who have been historically disenfranchised."
Serious subject matter aside, "Look Away" clocks in at more than five minutes. Could he get away with playing "Look Away" if he were still busking?
"If you make those goo-goo eyes and gesticulate a bunch," he said, "you can get away with anything."