"The sunshine feels good!" enthused Revivalists singer David Shaw as it bore down on him and his bandmates Friday at the New Orleans Jazz and Heritage Festival.
It was the sort of brilliant sun that might burn, but not necessarily melt, the tens of thousands of fans who streamed onto the Fair Grounds. After Thursday's stormy opening, a full day of sunshine fueled a festival that was hitting on all cylinders.
Mayor LaToya Cantrell raised her hands in the air down front at the Congo Square Stage as New Orleans native and Maroon 5 keyboardist PJ Morton, leading his own R&B band, assured the audience that "everything's gonna be all right."
Even the Rolling Stones showed up, sort of, at Dwayne D. Conrad's art booth near the Congo Square Stage. As Morton sang about a "New Orleans Girl," Conrad filled in the details of an airbrushed portrait of Mick Jagger, Keith Richards, Ronnie Wood and Charlie Watts.
Conrad specializes in musicians and historic scenes; his booth also boasted portraits of Dr. John, Professor Longhair and early bluesman Robert Johnson.
He started the 6-foot-tall rendering of the Rolling Stones back when the band was still on the Jazz Fest schedule. After the Stones canceled their appearance, Conrad said, "I decided to finish it at the festival, so they'd be here in spirit. And it's comforting for the fans that they're here."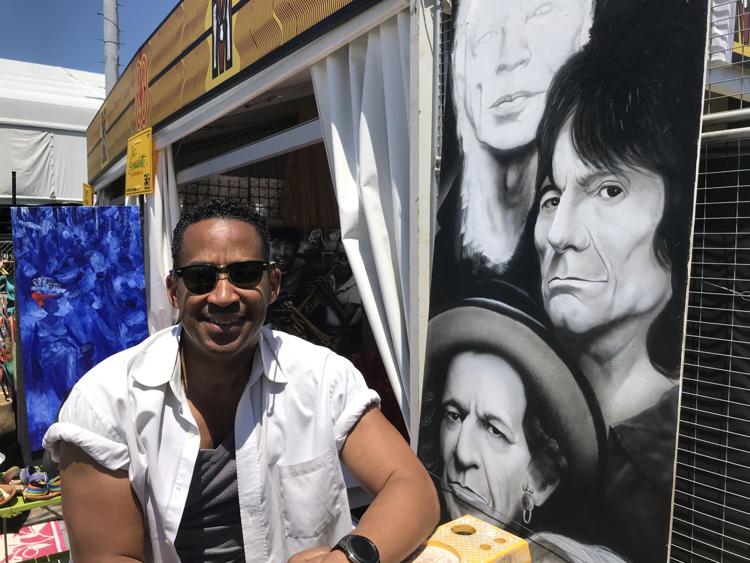 Perhaps no one was more appreciative of Friday's flawless weather than Jason Blais and Vanessa Peter, as they were scheduled to get married at the festival's Gospel Tent. They'd been keeping close tabs on the forecast.
"A week out, it wasn't looking good," she said. "But on Thursday at 4 o'clock, we said, 'We got this.' "
This was the couple's fifth Jazz Fest together. They live and met in Los Angeles, but Vanessa previously lived in New Orleans. Jason became a Jazz Fest convert following his first one.
"After that, everybody started calling me the Fest Monster, because I enjoyed it so much," he said. "I fell in love."
With Jazz Fest, or Vanessa?
"Both."
He proposed at the festival in 2018 just before Sheryl Crow performed on the Gentilly Stage. A year later, they returned to get married.
Jazz Fest permits a limited number of weddings per weekend at the Gospel Tent; the Blais-Peter ceremony was the second of the day.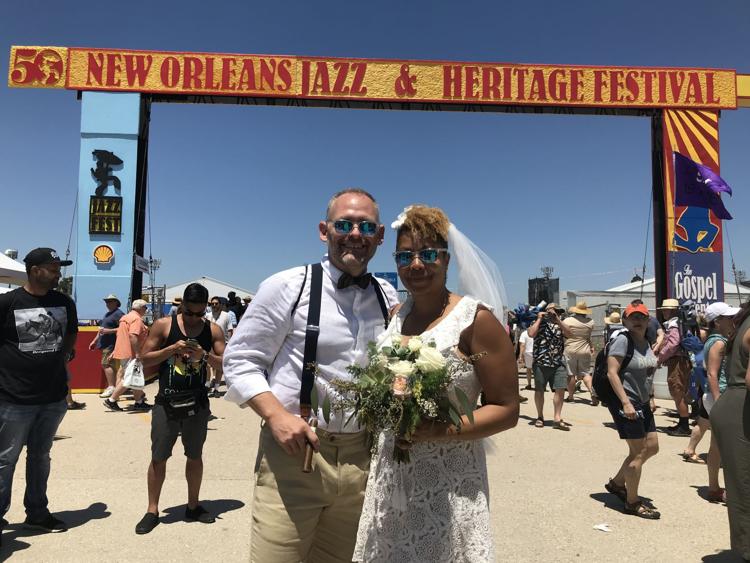 Why did Peter want to get hitched in the Gospel Tent?
"All the love and light and happiness is in one place," she said. "We couldn't think of a better place to get married."
Good vibes abounded Friday at the Fair Grounds. The Foundation of Funk, featuring the Meters' rhythm section, served up "Hey Pocky Way," self-described as "feel good music, good for your body, good for your soul."
The Revivalists felt good to find themselves headlining the Gentilly Stage for the first time. "I can't tell you how huge an honor it is to be up here on this stage in front of all of you beautiful, smiling faces," Shaw exclaimed. "This is our hometown!"
Indeed it is. The band was born here, and its members have paid their dues at Jazz Fest, on and off the stages. Drummer Andrew Campanelli, keyboardist/trumpeter Michael Girardot and bassist George Gekas, all Loyola University students at the time, worked at the festival's on-site record tent in 2006 during the first Jazz Fest after Hurricane Katrina; Campanelli spent the next five years as the operations director at Basin Street Records.
As the Revivalists, they worked their way up from the 11:15 a.m. slot on the Gentilly Stage, to the penultimate position last year, and now the closing slot.
They deserved it. On Friday, in front of a full field, they showed what makes them different — Ed Williams' pedal steel guitar and Rob Ingraham's sax, for starters — as well as the inherent pop sense that makes them sound so good on the radio.
Williams' swooping pedal steel dressed up "All My Friends." They dedicated "Got Love" to the crowd and the folks who put on the festival. The extended "na, na, na" refrain of "Celebration" blossomed into a communal moment.
They pressed the pedal down even harder as "Catching Fireflies" built to a huge crescendo, with Ingraham up on Campanelli's drum riser and Girardot rocking his keyboard rig back and forth.
"Wish I Knew You," their platinum-certified breakthrough hit, seemed like the finale. Its easy groove, greased by Zack Feinberg's Chic-like guitar riff, was fully intact, even as the band subtly altered the arrangement. It would have been a great ending.
But they sprang a surprise that was even better. As Carlos Santana teased out his own finale across the Fair Grounds with help from Troy "Trombone Shorty" Andrews, the Revivalists dialed up "Time Is on My Side." 
It was a smart choice on multiple levels. Both the Rolling Stones and Irma Thomas, the beloved Soul Queen of New Orleans, released the song as a single in 1964. By covering it, the Revivalists gave a subtle nod to the Rolling Stones and, as Shaw's introduction made clear, paid tribute to Thomas. Shaw, the band and their backing vocalists gave "Time" a satisfying gospel tinge.
If it wasn't clear before, it was now: The Revivalists are a New Orleans band, and a worthy headliner on a sunny day at Jazz Fest.