Katy Perry fully realized she was an unconventional New Orleans Jazz and Heritage Festival headliner.
"I'm just a lil ol' pop star," she said at the Acura Stage on Saturday. "What am I doing here? I know that's what some of you thought."
Perry, who moonlights as an "American Idol" judge, is not currently on tour. When she does tour, she presides over extravagant, eye-popping productions.
Such a production was not possible at Jazz Fest, in the daylight. But Perry made the stage her own anyway, converting it to a huge pink box decorated with Cleo Wade affirmations: "You want love? Be love. You want light? Be light."
Wade, the New Orleanian poet anointed the "millennial Oprah," is close pals with Perry. The pop star attended Wade's birthday celebration at Latrobe's in the French Quarter in October. On Saturday, Perry credited Wade with being her guide to New Orleans.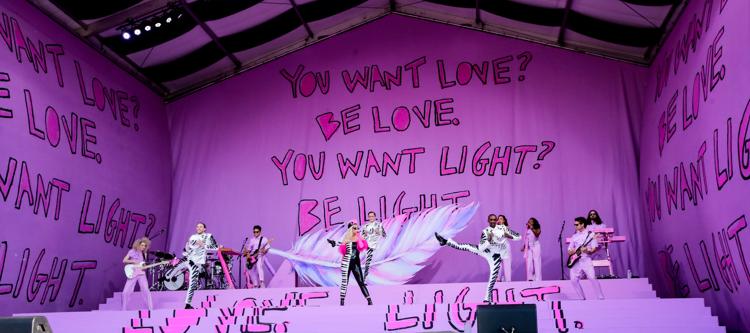 "I put things in my mouth that I should not," she said of hanging out with Wade. "And you can quote me on it."
Consider it done.
Perry clearly did her Jazz Fest homework. She made the effort to design an entirely customized, one-time-only, utterly unique show for the festival. It won't soon be forgotten.
Ten minutes behind schedule, Perry emerged from behind an oversized prop feather. Her piano-themed "gown" turned out to be a cluster of three dancers. As her pink-clad musicians played pink instruments on "Teenage Dream," Perry pranced in a shiny black bodysuit with a piano motif, topped by a pink treble clef atop her head.
She threw out Jazz Fest references early and often. Given the heat, she said ahead of "Hot N Cold," she'd rather be "in the Gospel Tent getting misted."
Out on the stage runway – also pink – she shouted, "I see you, Left Shark!" at a guy in a latex reproduction of Perry's infamously out-of-sync dancing prop from her 2015 Super Bowl halftime show.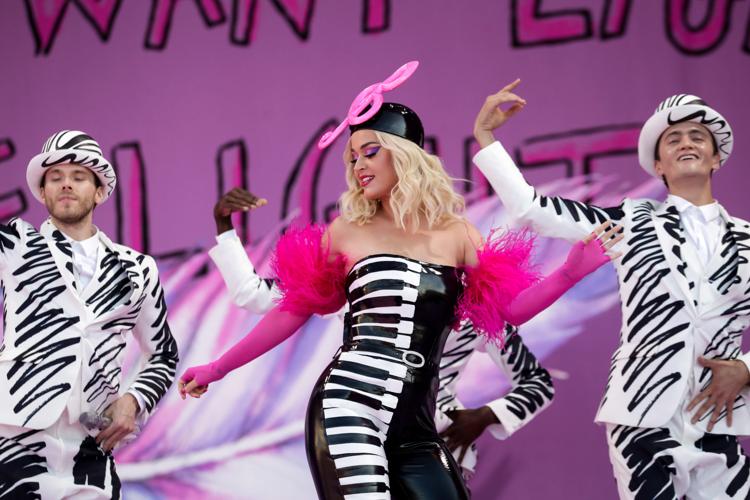 Even in the bright sunshine, with no props, "California Gurls" retained all of its pep, drive and pop sense. During "I Kissed A Girl," Perry sarcastically commanded her female guitarist to "play guitar like a girl!" Perry strummed an acoustic guitar for "The One That Got Away." "Swish Swish," by contrast, pulsed with a club beat.
She brought out New Orleans' Soul Rebels for "Chained to the Rhythm" and "Dark Horse," fully integrating the brass band into fresh arrangements.
While she disappeared to slip into a silver and lilac space-princess/Carnival queen costume, her band and dancers vamped to the Dixie Cups' "Iko Iko."
Her banter benefited from her wit and comic timing. Her tale about watching a "porcelain" girl "get a third-degree sunburn in real time" the previous day at the festival was deadpan perfection.
She'd previously planned to attend Jazz Fest to eat and drink as a civilian, she said, before being asked to perform. She loves playing music, "but I love fried okra (too).
"I want to let it be known that I am not pregnant," she said, indicating her okra-filled midsection. "This is (from) yesterday. And I'm proud of it."
She undoubtedly worked some of that okra off during her 70 minutes onstage. Whatever shiny black fabric her first costume was made of, it wasn't breathable.
The set's finale was over the top in the best possible sense. As a huge "Roar" wrapped up, the white-robed members of the Gospel Soul Children choir arrayed themselves on the pink stage risers to elevate a mash-up of Perry's biggest anthem, "Firework" with the gospel standard "Oh Happy Day."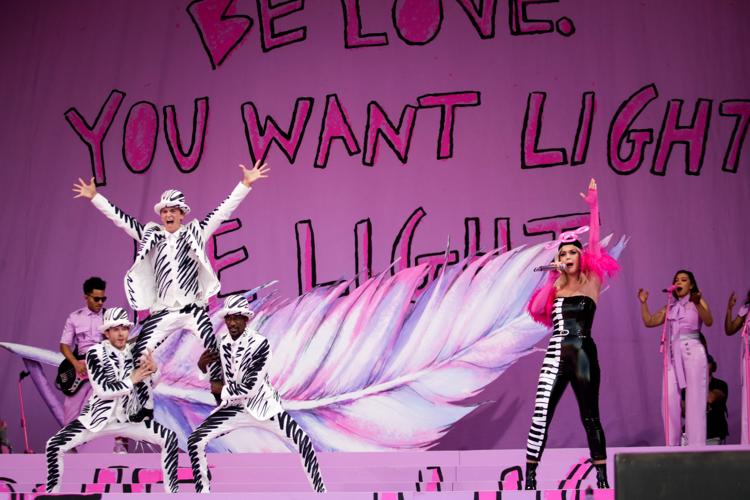 Arranging and rehearsing that mash-up was no simple thing, but again, Perry put in the effort. The confetti cannons and jumbo pink beach balls made the moment even bigger.
Earlier, Perry thanked the audience "for letting me come and be the odd one at your show."
With a show like this, she's welcome back any time.
Earlier on Saturday at the Gentilly Stage, Lauren Daigle decked out her band and herself in the sort of tie-dye ensemble that local bassist George Porter Jr. might appreciate. Daigle, a Lafayette native and LSU graduate, is, on paper at least, a contemporary Christian singer-songwriter.
But her songs, not to mention her sense of joy and omnipresent smile, lend themselves to either spiritual or secular interpretations.
With her hair piled up in twists and her eyes framed by glitter and gems, she cut a playful figure. The credible reggae lilt of her "Your Wings," greased by a three-piece horn section, segued into Bob Marley's "One Love." She altered the lyrics to serve a higher purpose: "Give thanks and praise to the Lord and I'll feel alright," followed by "let's pray together and feel alright."
That was her most overtly religious reference. When she sang, "You say I am loved when I can't feel a thing, you say I am strong when I think I am weak" in "You Say," she could have been addressing a lover, her mother or the Lord.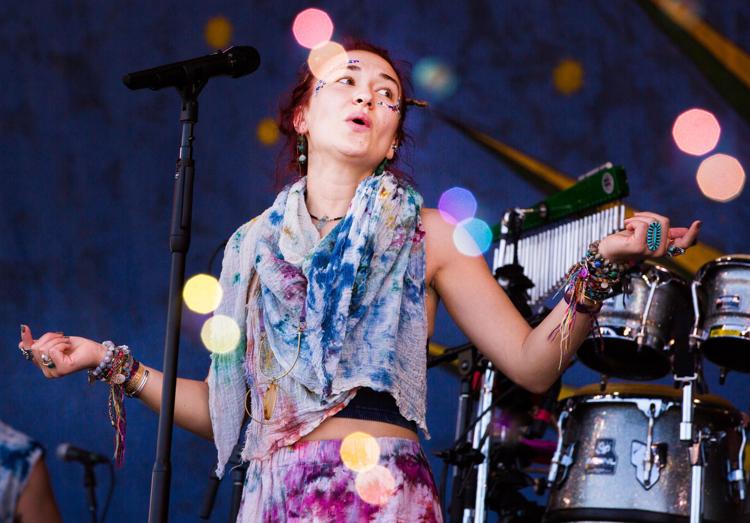 Her "Losing My Religion" – not to be confused with the R.E.M. song of the same name – seems to be about forgoing religious dogma in favor of a more direct relationship with a deity. Or about abandoning religion entirely.
Her voice is just smoky enough to give it the sort of soul that can cut either way. A cover of Crowded House's "Don't Dream It's Over" concluded with her savoring the last line – "we know they won't win" – without mentioning who the "they" is.
She showed off her richly textured band during Curtis Mayfield's "Move On Up." Her trombonist, trumpeter and saxophonist soloed in turn; the groove laid down by her percussionist, drummer and bassist was undeniably deep.
"That's some movement!" she enthused, as the song supplied an epiphany all its own.