The daily schedule for the 2018 Voodoo Experience has been unveiled. 
The 20th anniversary Voodoo Fest takes over City Park's Festival Grounds Oct. 26-28, the weekend before Halloween.
Daily tickets are now available, along with three-day weekend passes at various prices points.
Mumford & Sons will headline on Friday, Oct. 26. 
On Saturday, Childish Gambino, will be the headliner. 
Arctic Monkeys will close out the weekend as the Sunday headliner. 
Scroll below for the full day-by-day list. 
Voodoo will once again feature four stages, positioned throughout City Park's Festival Grounds as they were in 2017. The Le Plur stage will once again be devoted to electronic dance music. The other three stages will feature a mix of everything else.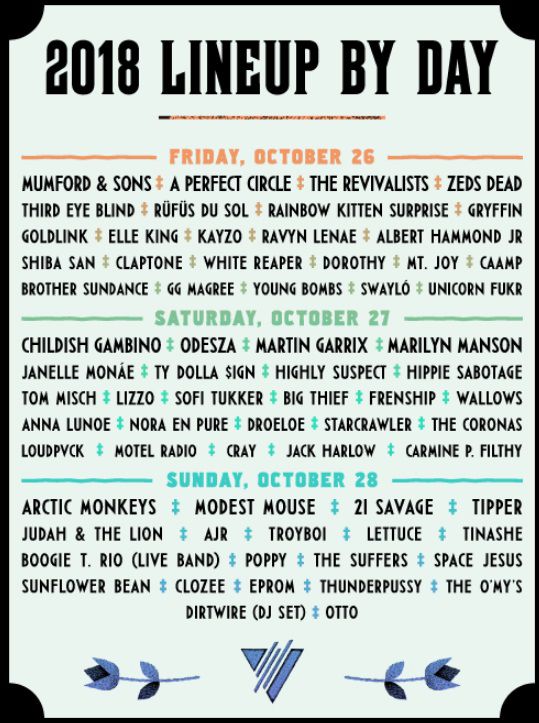 Mumford & Sons, the folk band turned arena rock powerhouse, last performed in the New Orleans area in April 2016 for the first major concert at what was then Zephyr Field. 
Childish Gambino is the hip-hop alter ego of actor Donald Glover, whose TV acting credits range from the sitcom "Community" to "Atlanta." He also portrays a young Lando Calrissian in the movie "Solo: A Star Wars Story."
As Childish Gambino, he released a single and video called "This Is America" on May 5 that went to No. 1 on Billboard's Hot 100 singles chart, with a music video whose hypnotic choreography and political overtones have attracted more than 390 million views on YouTube.
Several acts on this year's schedule are Voodoo veterans, including Arctic Monkeys, Janelle Monae, A Perfect Circle, Marilyn Manson and Third Eye Blind.
Third Eye Blind headlined the very first Voodoo, staged in Tad Gormley Stadium — one of several sites in City Park the festival used before it settled into the permanent Festival Grounds site. The band was slated to return in 2015 but was rained out, along with that entire day's roster.
This will be the third Voodoo staged under the auspices of C3 Presents, the Austin-based concert and festival producer that oversees some of the most popular and acclaimed festivals in the country, including Austin City Limits and Lollapalooza.
Live Nation Entertainment bought a majority stake in Voodoo from founder Steve Rehage in 2013. Following the 2015 Voodoo, he and Live Nation parted ways. The company subsequently assigned management of Voodoo to C3 Presents, another of its acquisitions.
What makes for a 20th anniversary Voodoo Music + Arts Experience? Pretty much the same thing as the festival's 18th and 19th editions.
C3 retained and promoted longtime Rehage lieutenants Sig Greenebaum and Don Kelly as co-directors of Voodoo. Under their stewardship, total attendance in 2016 hit 150,000, up significantly over previous years. The festival also earned high marks for improving the overall customer experience by redesigning the layout, look and logistics of the site.
Greenebaum resigned in 2017 to oversee global live events for Overwatch League, a professional e-sports league. Kelly is now Voodoo's director.
Childish Gambino, Mumford & Sons, Arctic Monkeys, Janelle Monae, A Perfect Circle, Modest Mouse and Marilyn Manson are among the artists h…