When blues guitarist Little Freddie King sang Guitar Slim's "The Things That I Used to Do" on Sunday at the New Orleans Jazz and Heritage Festival, he could have changed the lyric to, "The Things That I Still Do."
King played at the very first Jazz Fest, in 1970. And he's still doing it 49 years later.
Continuity and inter-connectivity were common themes on the 2019 Jazz Fest's final day, a brilliantly sunny afternoon that saw large crowds pooling on the Fair Grounds' infield pathways and at the food booths.
King, backed by drums, bass and harmonica, looked sharp in a coat of many colors, sleek hat and omnipresent sunglasses. He and his band locked into one groove after another, sometimes like a driving train, sometimes like a train just pulling out of the station.
King spun a tale about how, as a boy, his father made him feed chickens that, up until that point, had been his friends. These newly designated "bad chickens," many years later, inspired a song.
Speaking of connections, the Congo Square Stage hosted Jupiter & Okwess, a combo from the Democratic Republic of the Congo. A squalling electric guitar sparked over a fast rhythm before they concluded with a more traditional set of harmonies.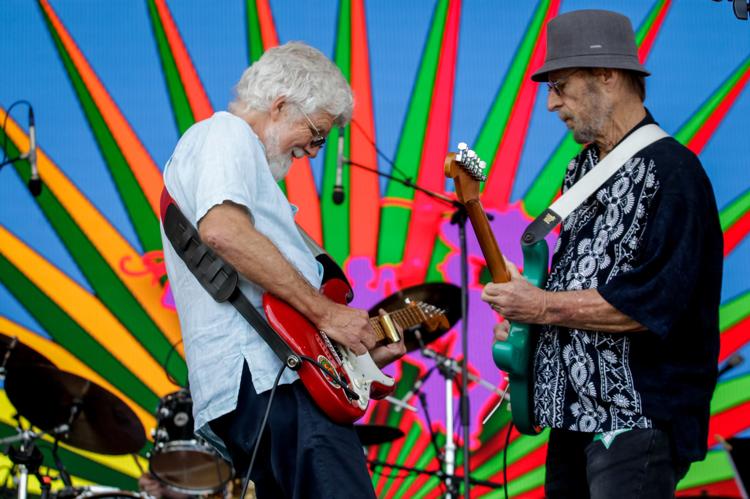 Little Feat, the 1970s Southern California hybrid band that took many of its cues from New Orleans, is, like Jazz Fest, celebrating a 50th anniversary. "Fifty years ago, this band started because of this song," guitarist Paul Barrere said at the Gentilly Stage, introducing the ballad "Willin'." "It's a story about a truck driver who's got the blues."
Fred Tackett stretched out on a long mandolin solo. Bill Payne tossed in a keyboard flourish. "I think we got it!" Barrere declared.
"Don't Bogart That Joint," a 1970s time capsule if there ever was one, inspired smiles and singalongs in the audience. Little Feat percussionist Sam Clayton and drummer Gabe Ford joined forces on the syncopated intro to "Fat Man in the Bathtub" before Barrere and Tackett squared off on an electric guitar exchange.
Local keyboardist John "Papa" Gros joined Payne at an adjacent keyboard rig for "Dixie Chicken." Payne went way out, detonating a sort of keyboard bomb, before the rest of the band locked in again.
Jimmy Buffett, a Gulf Coast native who cut his teeth as a performer in the French Quarter, is a longtime friend of the festival and fan of the New Orleans Saints. He made that point, to comic effect, at the Acura Stage. He made his way onstage costumed as a blind referee complete with white cane, a reference to the blown call in the NFC championship game that cost the Saints a trip to the Super Bowl. A couple of Saintsations tore off the costume to reveal a Jimmy Buffett that, like Jazz Fest, is still spry.