In 2015, the Preservation Hall Jazz Band performed in Cuba at the Havana Jazz Festival. The musicians eventually left Cuba, but Cuba never really left them.
That is apparent on Preservation Hall's new "So It Is," only the second album of all-original material in the band's 56-year history, and the first to feature the latest reconfiguration of its roster.
From the clave beat of "La Malanga" to the hot horns of "Santiago," what jazz pioneer Jelly Roll Morton referred to as the "Spanish tinge" is apparent.
"Our history of New Orleans music begins long before there was a New Orleans," Preservation Hall creative director and tuba player Ben Jaffe said this week. "Part of understanding where we come from is taking that journey back to the roots of this music.
"That exploration, that investigation, that discovery of ourselves and our history, is really what this album is part of."
The Preservation Hall Jazz Band, or PHJB, will showcase songs from "So It Is" at the 2017 New Orleans Jazz and Heritage Festival's Gentilly Stage on Sunday from 1:55 p.m. to 3 p.m.
Since Jaffe's late father, Allan, founded Preservation Hall in 1961, the band's roster has evolved. Membership changes are "a hindrance but also part of our history," Jaffe said. "I'm used to seeing it as this amorphous thing that would grow and change and take on a new sound and identity every few years."
Only Jaffe, saxophonist/clarinetist Charlie Gabriel, Ronell Johnson — who has switched from tuba to trombone — and saxophonist/vocalist Clint Maedgen remain from the making of 2013's acclaimed "That's It!," the PHJB's first all-original album.
Trombonist Freddie Lonzo, pianist Rickie Monie and drummer Joe Lastie Jr. have shifted to the Preservation Legacy Band, an "elder statesmen" ensemble that performs regularly at the Hall but doesn't tour. Trumpeter Mark Braud has returned to Harry Connick Jr.'s band. (Now that Connick's "Harry" daytime TV show has finished taping its first season in New York, Braud is back in New Orleans for the summer, gigging at the Hall.)
The PHJB's newest members include keyboardist Kyle Roussel, trumpeter Branden Lewis and drummer Walter Harris. They're young, Jaffe noted, but have years of experience, often in church bands.
"It's a natural progression for us to introduce new members into the band," Jaffe said. "And 'new' probably isn't the right word. These are young, veteran musicians who have been playing music in New Orleans for a very long time. They're not high school kids who are jumping into pro ball."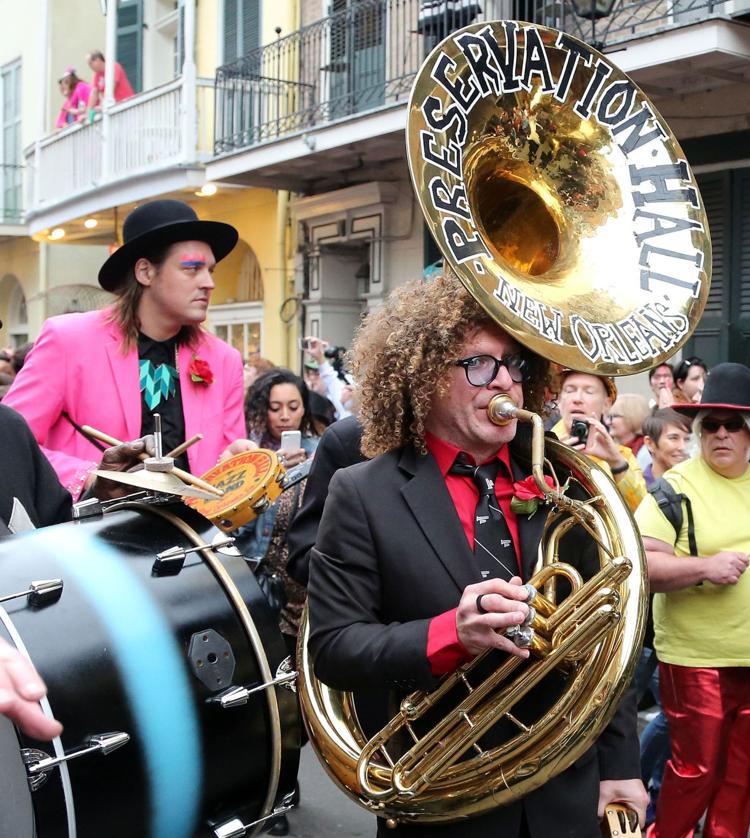 The new players assert themselves throughout the 35 minutes of music on "So It Is." But it was Charlie Gabriel — at 84, the band's senior member — and Jaffe who spearheaded the Cuban exploration.
In Havana, they picked up on musical strands connected to New Orleans, from Moorish influences on Spanish music and enslaved Africans transported directly to the New World.
"The African influence, you can smell it in New Orleans music, taste it, feel it, see it," Jaffe said. "What's a little harder to see is the Spanish influence. You hear it in the music of Louis Moreau Gottschalk in the 1850s, and Jelly Roll Morton and the early jazz bands.
"What we're doing is not an entirely new journey. But every generation has to take a journey to its roots. When an artist gets to go through this profound of a discovery, you create an album like 'So It Is.'"
The Wurlitzer electric keyboard Roussel employs on the new song "Innocence" and elsewhere may sound like modern jazz to some listeners, but electric keyboards have been part of gospel music for decades.
"It doesn't sound modern to me," Jaffe said. "It sounds timeless and classic the same way a Steinway does."
"La Malanga" rides on Cuban rhythms, including Jaffe's "beating up" a woodblock. Thanks in part to an infamous "more cowbell" skit on "Saturday Night Live," American audiences aren't impressed with such hand-held percussion instruments.
"But if you pick up a cowbell in Cuba, you had better be the baddest dude in the band," Jaffe said. "It's what holds it all together. It keeps the music propelling forward. When we heard that in Cuba, we wanted to incorporate some of those concepts."
But that doesn't make "So It Is" a "Cuban album."
"We didn't want to make an album that was overtly Cuban, because we can't. We would have to spend a lifetime living in Cuba to think that we could even come close to playing like that. We feel the same way about New Orleans music — you can identify people who are either from here or who have spent a lifetime here."
"So It Is" was produced by David Andrew Sitek of the New York-based experimental rock band TV On the Radio. Sitek suggested they record the album at Sonic Ranch, a remote studio on a pecan farm outside El Paso, Texas.
"Bands come to Preservation Hall and have this precious, magical experience," Jaffe said. "We, on the other hand, are there every day. That's not to take anything away from the Hall, or how we feel about it. But if you eat caviar every day …
"David said, 'This band deserves to go to a magical place, just as other bands come to Preservation Hall.' I really appreciated that observation."
The past month has been especially frenetic for Jaffe and his bandmates. In April, they performed twice on the main stage of the Coachella festival in southern California, around other West Coast tour dates.
On April 26, they sat in with Jon Batiste & Stay Human on "The Late Show with Stephen Colbert;" their old pal Dave Grohl, of the Foo Fighters, helped out on "Santiago." Two nights later, the PHJB hosted Batiste and company at the Hall.
During Jazz Fest's first weekend, they also joined Troy "Trombone Shorty" Andrews onstage during his Tremé Threauxdown at the Saenger Theatre, recorded two songs with Nathaniel Rateliff and collaborated with Amos Lee at the Hall.
"It's been one week, but a lifetime of music," Jaffe said.
That the band released a Cuba-inspired album during a Jazz Fest highlighting the music and culture of Cuba was pure coincidence. Or not.
"I used to say that something like that was a coincidence. I don't anymore. I feel like the universe is telling us something when things like this happen." Jaffe said. "We didn't plot this with Jazz Fest, but it all makes sense. Sometimes things just have a way of coming together when it's meant to be."