On the final night of the 2016 New Orleans Jazz and Heritage Festival, trumpeter Irvin Mayfield stood triumphantly on the House of Blues stage with the New Orleans Jazz Orchestra and a very special guest: Stevie Wonder.
For 14 years, Mayfield had tirelessly pursued his vision of building a permanent, world-class jazz orchestra in the city of the music's birth. Sharing the stage with Wonder, whose own concert at the Fair Grounds had been rained out earlier, was a manifestation of Mayfield's vision.
It also turned out to be his farewell.
Weeks later, Mayfield resigned in the wake of a controversy over his financial dealings with the New Orleans Public Library Foundation and the construction of the Peoples Health New Orleans Jazz Market, the orchestra's home base in Central City.
More than two years after details first came to light in a series of reports on WWL-TV, Mayfield has not been charged with a crime and may never be. But in the court of public opinion, he was convicted almost immediately.
The Jazz Orchestra, which toured the globe and won a Grammy under Mayfield's stewardship, suffered extensive collateral damage. It has not performed publicly since that night with Wonder exactly a year ago.
Pianist Ronald Markham, Mayfield's childhood friend and right-hand man, who also figured prominently in the scandal, resigned from his executive position with the orchestra. Ron Forman, president of the Audubon Nature Institute, recently stepped down as chairman of the Jazz Orchestra board.
Leaving the New Orleans Jazz Orchestra, or NOJO, wasn't Mayfield's only professional upheaval of the past year. He and the Royal Sonesta Hotel dissolved the partnership that launched Irvin Mayfield's Jazz Playhouse, the sleek lounge where he played most Wednesday nights (and where Wonder also popped up after his 2016 Jazz Fest rain-out).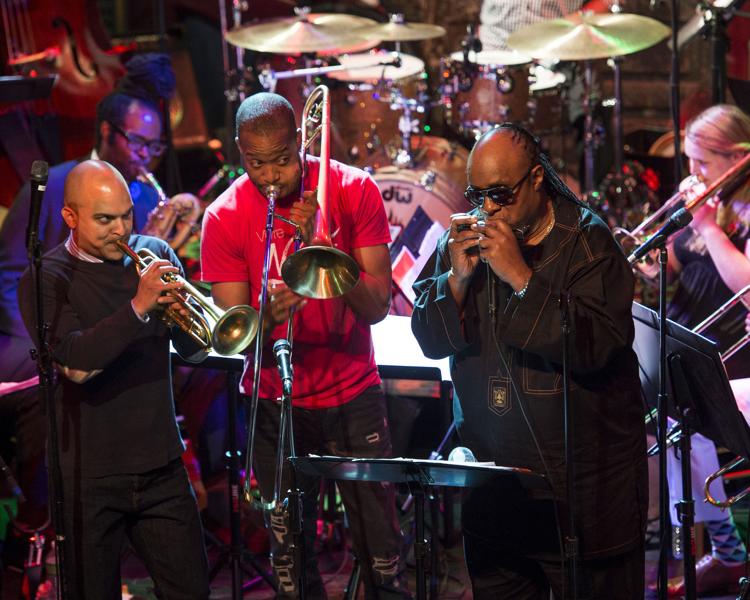 The 39-year-old Mayfield has never publicly addressed the particulars of the controversy. He declined to speak on the record for this story.
He has, however, continued to do what he's always done: stay busy making music.
He and Markham recently debuted an experimental trio called Cirque du Freak. With its synthesizers, heavily processed vocals, electronic drum pads and other gadgets, Cirque du Freak is about as far removed from an acoustic 16-piece jazz orchestra as it could possibly be.
More conventionally, he sat in with fellow trumpeter Kermit Ruffins on the 2017 Jazz Fest's opening day. He'll return for his own set at the Acura Stage on Thursday. On Friday, he'll join Ruffins, Henry Butler, Davell Crawford, Jason Marsalis and Dr. Michael White at the Little Gem Saloon to kick off the 20th anniversary of Basin Street Records, the label he has worked with his entire career.
And on May 7, he'll once again close out Jazz Fest at the House of Blues, on a bill with Ruffins, the funk/rock band Flow Tribe and other guests.
Meanwhile, though, the Jazz Orchestra has remained dormant.
"There are a lot of people who would like to keep it going," said Ed "Sweetbread" Petersen, the University of New Orleans music professor who was NOJO's featured saxophonist for more than a decade. "It was a beautiful thing. We had a lot invested in it. A lot of us are very sad that it's in this hibernated state.
"We're trying to make people realize that we're just a bunch of musicians who love to play this awesome music. Things got so crazy and so negative. Hopefully, we can repair that image and get this thing going again."
*****
Irvin Mayfield Jr. took up the trumpet in grade school. He honed his craft at the New Orleans Center for Creative Arts and cut his teeth professionally with the Algiers Brass Band.
In 1998, he and school friend Jason Marsalis co-founded the Latin jazz band Los Hombres Calientes with renowned percussionist Bill Summers. The band's five albums for Basin Street Records sold well and earned national acclaim.
Mayfield branched off to record solo albums of elegant modern jazz. Still in his 20s, he was not shy about flaunting his success. Cocky and brash, his ego, from early on, was robust.
In 2002, at age 25, he founded the New Orleans Jazz Orchestra as a nonprofit modeled in part after his friend and mentor Wynton Marsalis' Jazz at Lincoln Center Orchestra in New York.
The intention was to build an administrative and financial infrastructure around an institution devoted to performing and promoting jazz in New Orleans and beyond. Eventually constructing a dedicated concert hall was part of the plan.
On Nov. 17, 2005, less than three months after Hurricane Katrina, the Jazz Orchestra performed at Christ Church Cathedral on St. Charles Avenue. A crowd of 1,200 filled the sanctuary to hear "All the Saints," a commissioned piece of grief and resolve.
With Mayfield on lead trumpet and Markham on piano, the performance was, for many of those in attendance, a cathartic experience.
The body of Mayfield's father, missing since Katrina, was found several days later.
After the storm, NOJO came into its own. The band's 2009 CD "Book One" won a Grammy for best large jazz ensemble album.
Logistically and financially, keeping a 16-piece band on the road is not easy. But NOJO performed at arts centers and festivals around the country, and it toured Europe multiple times. It performed in Brazil, Australia and New Zealand and at the Capetown Jazz Festival in South Africa. During a residency in Moscow, it served as the house band on a Russian jazz version of "American Idol."
In recent years, the orchestra more openly emphasized its roots, deploying a tuba and New Orleans street beats.
"We worked very hard to create a sound that was unique," said Victor Atkins, NOJO's pianist and, like Petersen, a UNO music professor. "It was a big band, but it played with a small-band concept.
"Not everything was perfect, but it was a family of musicians who dedicated a lot of time, energy, sweat and blood. I've toured for 30 years. These were some of the most special gigs I've done in my life. I always assumed I'd grow old with it."
*****
After Katrina, Mayfield's already busy schedule intensified. He conducted workshops for children. He taught at local universities. He wrote music, recorded, performed and toured. He served as artistic director of jazz for the Minnesota Orchestra and as Mayor Ray Nagin's official "cultural ambassador" for New Orleans. He forged an alliance with the Apollo Theater in New York.
President George W. Bush nominated him to the National Council on the Arts; President Barack Obama made the appointment official in 2010.
He became the face of modern New Orleans jazz — or, as one of his numerous OffBeat magazine cover stories proclaimed, "The Face of Power."
He moved with ease among the rich and powerful. During the 2013 funeral of his close friend, famed "blue dog" artist George Rodrigue, Mayfield sat in the front pew of St. Louis Cathedral alongside then-Gov. Bobby Jindal, former Gov. Kathleen Blanco and Mayor Mitch Landrieu.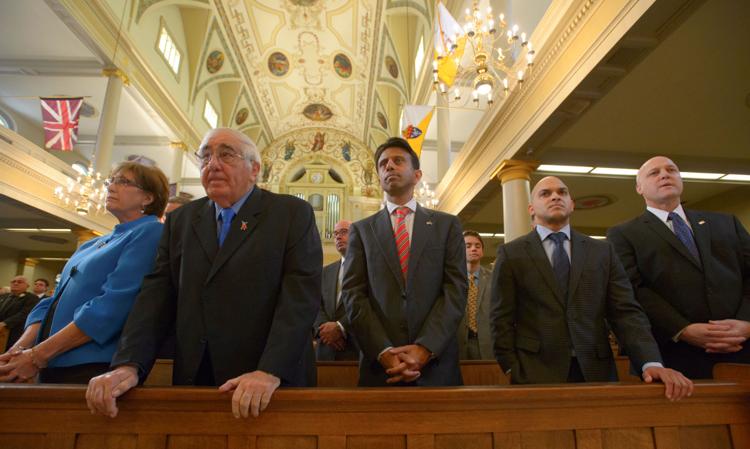 He parlayed his connections into positions on numerous boards, including the New Orleans Public Library Foundation, a private nonprofit group that raises money for the city's libraries.
As president of the Library Foundation, and with Markham on its board, Mayfield steered more than $1 million of library donations toward the $10 million cost of constructing the Peoples Health New Orleans Jazz Market in a former department store on a rebounding corner of Oretha Castle Haley Boulevard.
From early in the process, there was talk of using part of the Jazz Market as a de facto library branch, offering library services to the underserved Central City community. But when the transfer of money became public, the perceived conflict of interest caused an uproar. Adding fuel to the fire were memories of Mayfield's association with Nagin, the disgraced former mayor. Mayfield and Markham resigned from the Library Foundation. 
Throughout the firestorm, Mayfield continued to front the orchestra at home and abroad. Shows sometimes featured original, big jazz band arrangements of songs by Queen, Led Zeppelin, Nirvana and other rock bands.
At the 2016 Jazz Fest, Mayfield led the orchestra at the Congo Square Stage on a program inspired by the Black Lives Matter movement. NOJO was already slated to play a set of Stevie Wonder songs at the House of Blues on the night Wonder showed up and joined in.
Sharing a stage with Wonder was a "deeply moving experience," guitarist Davy Mooney recalled. "That wouldn't have happened if Irvin and that organization hadn't made it happen."
Afterward, Mooney said, "we were flying high, on top of the world."
But it wouldn't last.
*****
On June 22, WWL-TV revealed details of invoices Mayfield billed to the Library Foundation for an expensive 2012 stay at the Ritz-Carlton in New York.
Thirteen days later, on July 5, Mayfield announced his resignation from NOJO with a statement that read in part, "The last few months have been a trying and difficult period for many I care about deeply, for the city I love, and for myself personally.
"What was meant to benefit our community and to be a positive move for the city has evolved into a sequence of unfortunate misunderstandings of intent and purpose. For any role I have played in this directly or indirectly, I am truly sorry. At this juncture in my life ... I will turn my focus to my first love — music."
The NOJO board, led at the time by Forman, issued its own statement, praising Mayfield's accomplishments while announcing that an A-list "artistic committee" would "support the organization while it was in transition."
Indicative of the controversy's staying power and lingering animosity, Mayfield has been spoofed at two Carnival seasons in a row. Last year, the Krewe of Muses' candy-themed parade mocked "Irvin's Heavenly Cash." This year, Krewe d'Etat labeled him a "Bookworm," and the Knights of Chaos depicted him in prison stripes.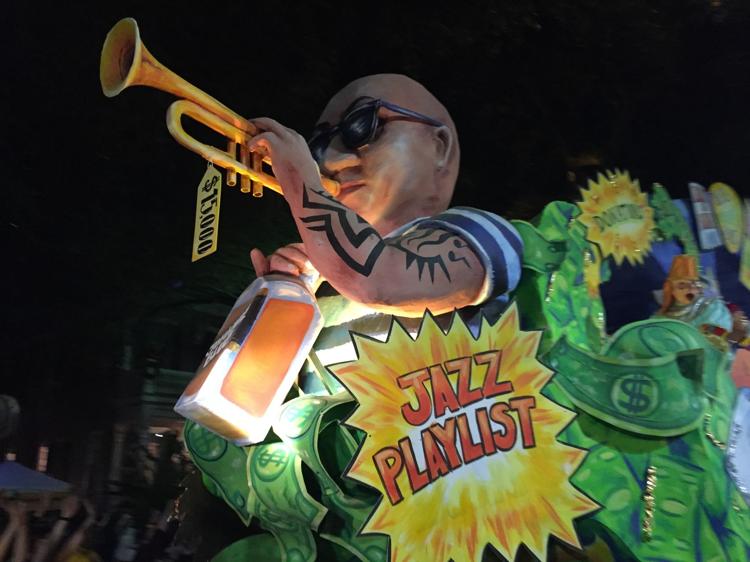 As some detractors continue to hammer away, others are content to judge Mayfield by what he does onstage.
"Irvin Mayfield is one of the most accomplished New Orleans musicians of his generation," Jazz Fest producer Quint Davis said. "That has to be enough for us. We have 5,000 New Orleans musicians. We don't look at their personal and legal lives. We want to have the best of them, musically speaking. Irvin's resumé speaks for itself."
Not booking Mayfield "because of something going on in his life outside of music wasn't something that we would have or should have done," Davis said. "If he couldn't play anymore, or he got up there with one of those plastic soccer-fan horns, then we'd have a problem."
Basin Street Records founder Mark Samuels has collaborated with Mayfield for almost 20 years, since the first Los Hombres Calientes album. He compares Mayfield's creativity, work ethic and business acumen to those of Wynton Marsalis.
Samuels believes Mayfield's legacy will ultimately be defined by his creative output, which so far tallies nearly 20 albums plus two coffee-table books, including a 300-page, seven-CD project titled "New Orleans Jazz Playhouse."
"It's a real shame to me to see what has happened as a result of a story that I'm sure has only partially been told," Samuels said. "People should take a look at the love he put into 'New Orleans Jazz Playhouse.' "
Samuels has enlisted Mayfield to produce an ambitious recording with dozens of musicians that is due out this fall to commemorate Basin Street Records' anniversary.
"When I have meetings with Irvin, the ideas he brings to the table, and the way he conducts himself, rival anybody that I've ever done business with, extending to multinational companies, in the energy business, and 20 years in the music business," Samuels said.
"Those who choose to hate, they hate. Those who choose to understand how much he's created ... I focus my attention on his art and his ability. We'll happily continue to support his art."
*****
Basin Street has just released what is essentially a posthumous album by Irvin Mayfield & the New Orleans Jazz Orchestra. "Live at Newport" was recorded during a performance at Rhode Island's famed Newport Jazz Festival in August 2015.
"Live at Newport" illustrate his outsized role with NOJO. He is the only musician pictured in the CD packaging. Throughout the recorded concert, he introduces songs and exhorts other musicians. He wrote six of the 10 songs, including "May His Soul Rest in Peace," a eulogy for his father.
Mayfield was just as effective in the boardroom as on the bandstand. Sustaining an orchestra, either jazz or classical, is neither easy nor cheap. Grants and philanthropic contributions were critical to balancing the books.
As NOJO's founder, Mayfield built a network of corporate and philanthropic benefactors from scratch.
"I won't use the word 'everything,' but it was his vision," Atkins said. "It was his drive. He didn't ever wake up on the wrong side of the bed, nor does he sweat. In a leadership position, that's a good thing. He created the concept of what we did.
"He's a planner. He didn't go day to day, or gig to gig. He's thinking five years out. He would get up in the morning and brainstorm on ways to make jazz important to people, and to make New Orleans important to people, and to make New Orleanians realize what we have and how great it is."
Atkins has, over the past few months, found himself mourning NOJO's demise.
"Everybody can find other gigs, but this was our baby," he said. "We nurtured this thing. When we're on the bandstand, we're about the music and representing New Orleans around the world. People loved it."
NOJO may yet revive itself, as the Jazz Market has. The building hasn't hosted a show by NOJO, its intended primary tenant, in more than a year. But the main concert hall, with its flexible floor plan, has found fresh life as a space for meetings, conferences, workshops and school functions.
The Jazz Market's front-lobby Bolden Bar will host several bands this week, including Cool Nasty on Wednesday, the Treme Brass Band and saxophonist Khris Royal on Thursday, Nayo Jones on Friday, and the Swamp Donkeys and New Breed Brass Band on Saturday.
A small NOJO executive staff led by Sarah Bell, in conjunction with the revamped board, is "working hard every day to ensure that our organization is fulfilling its mission," Bell said in an email. "We currently have a slate of ongoing artistic, education and community programs."
Adonis Rose, NOJO's drummer since its inception, is now the music director, a different title from Mayfield's "artistic director." Whether he will play as large a role offstage as Mayfield did is unclear; Rose said he couldn't comment on plans.
Whether any one person can fill the void left by Mayfield, who was not only the orchestra's founder but the force that shaped and sustained it, remains to be seen.
Gregory Davis, the Dirty Dozen Brass Band's trumpeter, books the jazz acts for the New Orleans Jazz Fest. He wanted to hire NOJO for the 2017 festival, only to discover the orchestra wasn't active. He hopes it finds a way back.
"To not have it functioning, we're missing a piece, an opportunity, not just for young guys but for seasoned musicians," he said. "It presented an opportunity for cats who wanted to keep up with reading music in a big-band situation. NOJO kept musicians on their toes.
"I hope there is an opportunity for redemption. For Irvin, too. I hope whatever happened, it isn't so fractured that it can't be repaired."
*****
Whatever happens with NOJO, it likely won't involve Mayfield. He has moved on.
On a recent Saturday night, he and Markham road-tested their new Cirque du Freak trio with a free show at the Blue Nile club on Frenchmen Street.
As bachelorettes pirouetted up and down the sidewalk outside, Mayfield played trumpet only intermittently. When he did, he was as fluent as when he fronted NOJO. Silvery extended passages gave way to flurries of precisely placed notes.
But mostly he manipulated a Seaboard, a radically redesigned "piano of the future" that reinvents the keyboard as a soft, continuous surface, allowing the user to adjust pitch and modulate timbre and volume.
He also DJ'd from a laptop and ran his voice through a synthesizer, making it sound like an Auto-Tuned robot.
At the rear of the stage, Markham plucked an electric bass and tapped out rhythms on an electronic drum pad. John Diaz-Cortes, a former NOJO staffer, blew into an ewi, an electric wind instrument that resembles a soprano saxophone crossed with a synthesizer.
Their collective sound was far removed not only from NOJO but from pretty much anything else being played on Frenchmen Street that night.
The audience ebbed and flowed. Saturday night revelers weren't much interested in Mayfield's robot-voice version of the Beatles ballad "Yesterday." A similarly altered take on Phil Collins' "In the Air Tonight" was received more enthusiastically, as was a spry stab at Herbie Hancock's "Watermelon Man."
A couple of dudes with beers, oblivious to the back story of the musicians onstage, shouted for "Freebird," the Southern rock epic that has devolved into a cliched joke of a song request.
Mayfield ignored them. Eyes closed, head down, he focused on the music and tuned out the noise.