Exiting City Park on Sunday night at the conclusion of the 2017 Voodoo Experience, I encountered three young women in their early 20s. Two were recent transplants to New Orleans; the third was here visiting her sister.
They were lost, with no idea how they'd get home to Mid-City. They were also tripping on acid, purchased from a stranger during rapper Post Malone's show.
Thus, they had managed two simultaneous poor decisions: dropping acid and wasting time on Post Malone.
The enormous crowd that swamped the secondary Wisner Stage for Post Malone was many times larger than the audiences for either Andrew McMahon in the Wilderness or Prophets of Rage at the same stage.
Post Malone has profited from considerable social media buzz. His year-old, drowsy breakup rumination "I Fall Apart" has surged up the charts recently in the wake of a viral performance video. "Rockstar," the lead single from his forthcoming second studio album, hit No. 1 on the Billboard Hot 100.
Rather than seize the moment and capitalize on his momentum, he wasted an opportunity at Voodoo. Like Kendrick Lamar on Friday, his music was mostly prerecorded. Unlike Lamar, Post Malone lacked the charisma and mic skills to make for a compelling presentation.
The first 30 minutes of his set were an exercise in laziness. That one track didn't require him to sing much, he noted happily, gave him more time to smoke. He invited his fans, many of whom skewed young, to smoke whatever they might have available, including meth and PCP.
The sheer irresponsibility of such public pronouncements aside, Post Malone shouldn't be smoking anything. His voice was a tuneless, craggy, two-packs-a-day croak on "I Fall Apart," which he prefaced by leading a charming chant of "f---- that b----."
Fortunately, Sunday offered cures for the Post Malone malaise in the form of The Head and the Heart and, especially, the Killers, who more than lived up to their name.
Peering into a blinding late-afternoon sun from Voodoo's main Altar Stage, the members of Seattle folk-rock ensemble The Head and the Heart grafted muscle and sweat onto their acoustic songcraft. Singer Jonathan Russell, dressed as Queen's Freddie Mercury for the Halloween weekend gig, gushed about how inspired he was by the abundance of artists in New Orleans.
He and his bandmates dug into "Rhythm & Blues" and a robust "Lost In My Mind." Their "Another Story," written after the Sandy Hook elementary school shooting, managed to convey emotion without being maudlin. Charity Rose Thielen's violin graced "Let's Be Still." They beefed up a rockin' "Lost In My Mind" and faithfully covered Crowded House's "Don't Dream It's Over."
A final, surging "Rivers and Roads," like the rest of the set, felt like flesh-and-blood music played by flesh-and-blood musicians.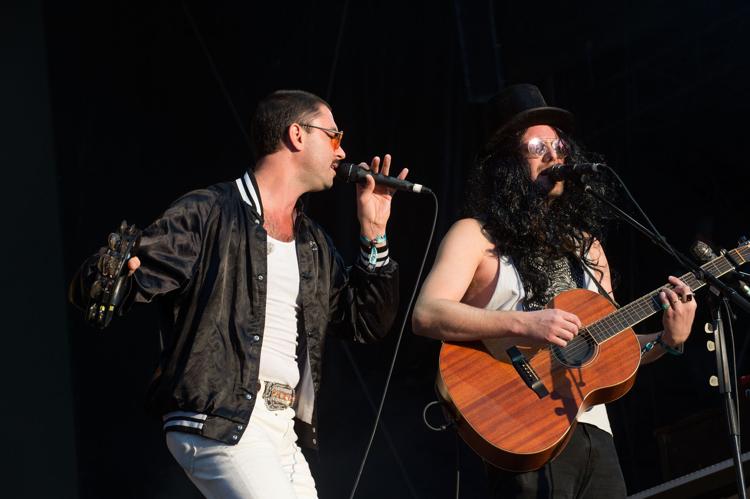 Later, The Killers arrived on the Altar Stage to a recording of Fats Domino's "Walking to New Orleans" booming over the P.A. system. What a classy gesture, I thought, for them to salute the recently departed New Orleans rock 'n' roll legend.
As it turned out, they had another, more elaborate tribute planned.
Prior to Sunday, The Killers had not performed in New Orleans since an early afternoon set at the 2004 Voodoo, months after the release of their debut album, "Hot Fuss." They finally returned as arena-level headliners supporting their fifth album, "Wonderful Wonderful."
Coming back to Voodoo after a 13-year absence was "like a family reunion," singer Brandon Flowers declared. "It could go two ways. We hope we leave a good taste in your mouth."
Cutting a sharp figure in a powder blue tuxedo jacket, Flowers was the anti-Post Malone: Engaged, animated, witty, effortlessly charismatic, playing various instruments and deploying a strong, clear voice that soared above the music.
From the opening "Mr. Brightside," he and his bandmates proceeded as if they had something to prove. There was an urgency in the chiming guitars and driving rhythms, but also depth and dynamics. The influence of '80s rock was apparent, but the Killers also sounded thoroughly modern, especially on the shimmering, funk-tinged single "The Man" and the confetti cannons that detonated with it.
Augmented at times by a trio of female backing vocalists, they teed up and burned through "Somebody Told Me," "The Way It Was," "Smile Like You Mean It" and "Human." A lean and muscular "Run For Cover," from "Wonderful Wonderful," inspired pogoing throughout the crowd. The transitions within "Read My Mind" were even more of a thrill live than on record.
A grand "Runaways" dissolved into the dirty guitar riffs of "All These Things That I've Done," with its "I've got soul but I'm not a soldier" refrain. Drummer Ronnie Vannucci Jr. returned for the encore in a gorilla costume. He powered a furious "When You Were Young," stamping an exclamation point on their efficient, cohesive and energized, 17-song set, one of the strongest I've ever seen at Voodoo.
Earlier, Flowers recalled a favorite childhood memory of his father turning up the radio in the family's cream-colored '49 Buick whenever Fats Domino came on. The Killers then broke into a faithful cover of a signature Domino single, "Ain't That a Shame," augmented by the Dirty Dozen Brass Band's horn section.
They not only learned the song on short notice — news of Domino's death became public only four days before the Killers' Voodoo show — but arranged for a New Orleans horn section to give their version even more authenticity.
In short, the Killers gave a damn. And it showed.
The 2017 Voodoo Experience opened at City Park's Festival Grounds on Friday to picture-perfe…
Dave Grohl made a guy cry Saturday night at the Voodoo Experience.