Don't write Aerosmith's obituary just yet.
The classic rock band's Saturday appearance at the New Orleans Jazz & Heritage Festival was its first show in seven months and, so far, its only announced show for all of 2018.
But like an over-eager Fair Grounds thoroughbred bursting out of the starting gate prematurely, Aerosmith plugged in and fired up at the Acura Stage 15 minutes early. For the next hour-and-half, they shook off the rust on a greatest-hits set interspersed with obscurities.
Meanwhile, contemporary R&B singer Anita Baker offered her own, more elegant farewell nearby at the Congo Square Stage.
Earlier, weather threatened to spoil the day. A light sprinkle briefly dusted the Fair Grounds. But the clouds that lingered for the remainder of the afternoon mainly kept the heat at bay, providing welcome relief for what felt like the 2018 festival's biggest crowd so far.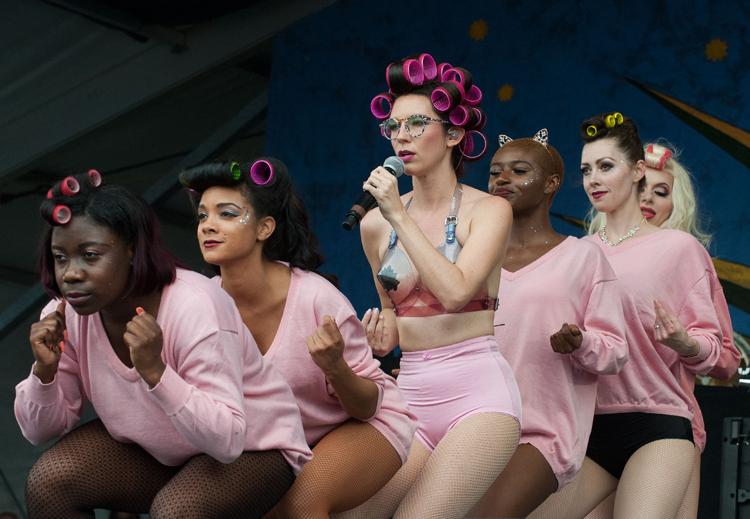 New Orleans singer/rapper/performance artist Boyfriend's act has been referred to as everything from "rap cabaret" to "nerd burlesque." Her entertaining set at the Gentilly Stage on Saturday was all that and more.
She made her entrance in an elaborate wedding dress and voluminous veil. As always, she wore large-frame eyeglasses (hence the "nerd" descriptive) and comically oversized curlers. As a drummer, keyboardist, guitarist and two-piece horn section wailed behind her, she and her troupe of dancers busted out choreographed moves in a succession of modest undergarments.
They wielded large prop hair-dryers and lipsticks during "Beauty Is Pain," a song with shades of both Lady Gaga and OutKast. Her ironic girl power manifesto included a faithful rendition of Rick James' ode to groupies, "Superfreak," which segued into MC Hammer's "Can't Touch This." Toward the end of the set, Big Freedia, with whom Boyfriend shares dancers, made a surprise appearance.
Veteran blues-rock guitarist Walter Trout fronted a loud, squalling band at the Acura Stage. His son, John, was on second guitar; the band's keyboardist and bassist were also a father/son duo. Trout concluded his set with a plug for organ donation. Prior to a liver transplant three years ago, he said, he was nearly dead. "Now look at me! I'm living proof of what a miracle organ donation is."
Jupiter & Okwess, from the Democratic Republic of the Congo, made their long trip to New Orleans worth it: They performed a total of four times at the Fair Grounds on Friday and Saturday. During a mid-afternoon stop at the Jazz & Heritage Stage, they showed no signs of fatigue. A steady rhythm, curlicue Afro-pop guitar licks and the drummer's monster mask kept the large audience engaged and moving. A final bout of deep, five-part harmonies capped off the set with a flourish.
A massive crowd swamped the Gentilly Stage field for the Revivalists, the latest New Orleans band to gain a substantial national following. The group, already seven members strong, added a percussionist, two backing vocalists and the Naughty Professor Horns for their big Jazz Fest show.
Years of steady touring have sharpened the musicians' skills; they offered a lot to listen to, but the arrangements never felt cluttered. Guitarist Zack Feinberg and pedal steel guitarist Ed Williams traded riffs and solos. Frontman David Shaw ranged across the stage as the visual focal point. The beefed-up lineup punched up a final romp through Joe Cocker's "With a Little Help From My Friends."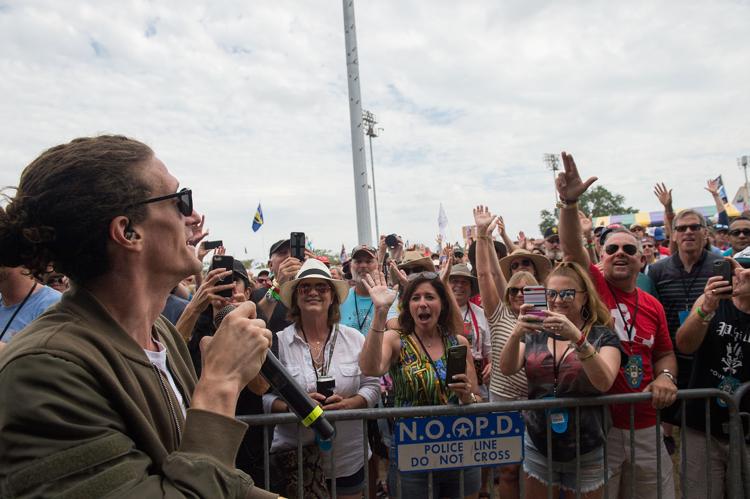 The idea of an open-ended "farewell" Aerosmith tour has been discussed since at least 2016, but the band currently has no concerts on its schedule. Singer Steven Tyler, however, will be hitting the road this summer to promote his 2016 country-flavored album. Aerosmith's most recent performance was in September in Brazil. Remaining dates on a South American tour were canceled when Tyler flew back to the U.S. to deal with a medical issue.
Tyler, guitarists Joe Perry and Brad Whitford, bassist Tom Hamilton and drummer Joey Kramer reportedly arrived in New Orleans early this week to rehearse following their seven-month layoff. On Thursday night, Tyler moved the rehearsal to Bourbon Street. He popped into the Famous Door as the cover band Dysfunction cranked up the Aerosmith oldie "Walk This Way." He couldn't resist getting onstage.
At the Fair Grounds, Tyler and company banged out "Toys in the Attic," "Same Old Song and Dance" and "Love in an Elevator" before their official start time of 5:30. They caught their collective breath with the ballad "Cryin'." "I love this daytime (expletive)!" Tyler exclaimed.
At 70, he is still very much Steven Tyler, from his beanpole physique to the scarves that decorate his microphone stand to his living-on-the-edge persona and presence, alternately salacious and testy. He draped a brotherly arm over the shoulders of both Kramer and Perry, the latter his partner in crime and sparring partner for nearly 50 years.
The licks of "Last Child" were as greasy as ever; Whitford wailed the solo. After a discombobulated opening to "Rag Doll," they found the groove.
Perry handled lead vocals on the first-edition Fleetwood Mac chestnut "Stop Messin' Around." A second Mac oldie, "Oh Well," followed "Janie's Got a Gun." They exhumed "Adam's Apple," a deep cut from Aerosmith's 1975 album "Toys in the Attic."
The rest of the 16-song set consisted of crowd favorites: the ballad "I Don't Want to Miss a Thing," the dirty boogie of "Sweet Emotion," ushered in by Hamilton's signature bass line, and a home-run "Dude (Looks Like a Lady)."
Tyler opened the encores at a white grand piano for "Dream On." By the end, he was atop the piano as geysers of smoke erupted around him. A final strut through "Walk This Way" was followed by an awkward bout of musician introductions. Tyler and Perry seemed to be at odds; it was one of the few parts of the show that didn't seem well-rehearsed.
Ending 10 minutes early left listeners enough time to sample Anita Baker's conclusion at the Congo Square Stage. She breezed through a lavish "Giving You the Best That I Got," her voice as lush as it was for the original recording. She returned for a funkier, celebratory "Fairy Tales," as the sun finally shone brightly to conclude a big day at Jazz Fest.