The Pythian Building rises to nine ornate stories, has a history reaching back 110 years and was once heralded as a beacon of black achievement in the depths of the Jim Crow era.
But in more recent times, it was all but invisible. That impressive façade was hidden under midcentury cladding. Its floors stood empty amid a particularly desolate block in downtown New Orleans.
Now the Pythian Building has been revived, and food is a big part of the plan to put the historic structure back on the map. 
The building has been recast as a mix of apartments and offices, and its ground floor is anchored by the Pythian Market, a multivendor food hall. The market officially opens Thursday after a few trial runs. It brings a collection of 13 walk-up eateries and a full bar to a corner of the Central Business District where years of slow redevelopment is finally hitting stride.
"We wanted a place that shows what our culture does," said Will Bradshaw, president of Green Coast Enterprises, which led the Pythian Building project in partnership with the Crescent City Community Land Trust and local investment company ERG Enterprises.
"It's about food and drink, the history and architecture, places where people meet and come together," Bradshaw said. "We wanted to create a space with a really diverse group of food vendors, who are diverse in every sense of the word."
Can't see video below? Click here.
Around the hall
Food halls like the Pythian Market have been cropping up in many cities, sometimes in sleek new developments, sometimes in revamped historic spaces. Their boosters often pitch them as lower-risk start-up vehicles for new chefs and food brands. That's how the trend has played out so far in New Orleans at the St. Roch Market, which opened in 2015, and its related Auction House Market, which debuted in the Warehouse District in March.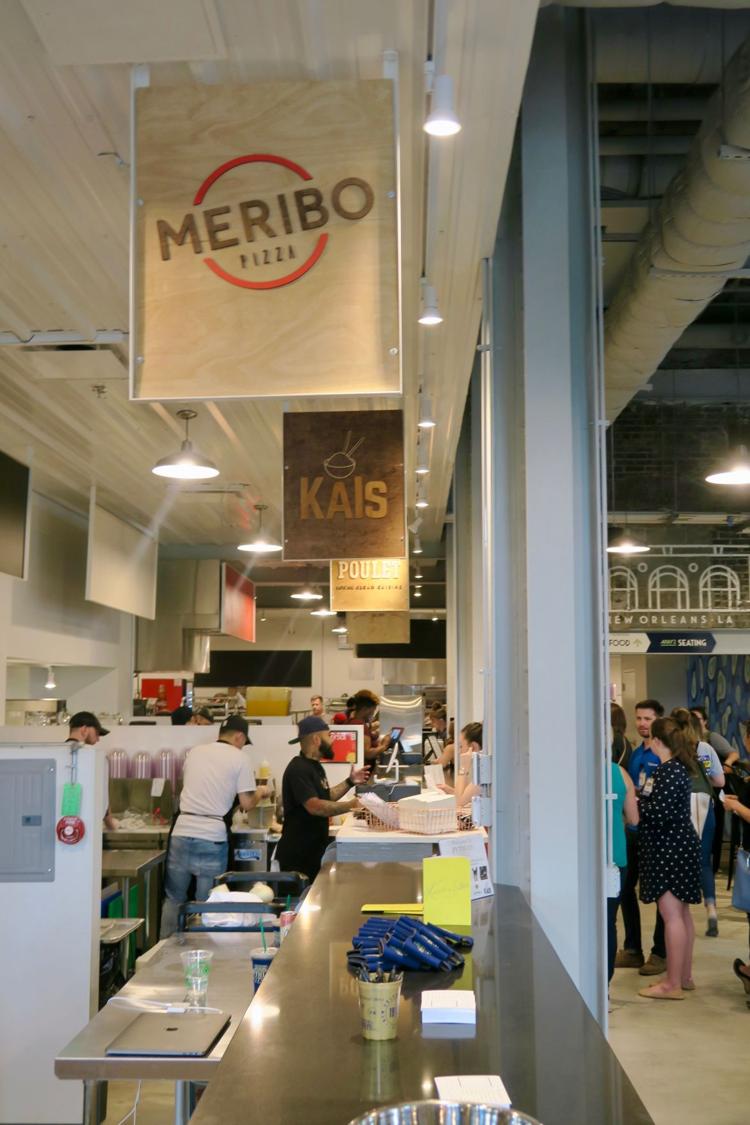 At Pythian Market, though, the vendor mix is a little different. While some of the booths introduce new concepts, others are downtown expansions for established restaurants or permanent spots for well-traveled food truck operators.
"We took an intentional approach to the mix," said Lisa Brefere, a partner in the food hall. "You need your staples, your anchors, and then there's the opportunity for others to take that next step here."
All of the vendors are local, and some are even neighbors.
For instance, the lineup includes satellite locations for two restaurants from nearby Central City — 14 Parishes Jamaican Restaurant and Central City BBQ, which also runs the food hall's espresso bar, Roustabout Coffee Co.
The Pythian Market represents a next-generation shift for the family behind Eat Well, a corner store in Mid-City with a lunch counter mixing Vietnamese dishes and New Orleans staples. At the food hall, the focus is on offbeat and modern Vietnamese flavors, like their "pho-rito" (think beef noodle soup rendered as a wrap).
On the new side of the ledger are the seafood bar Cru and the rotisserie chicken specialist Poulet (both from the same operator, chef Marlon Alexander), the poke bowl bar Kais, and the juice bar and vegan eatery Squeezed.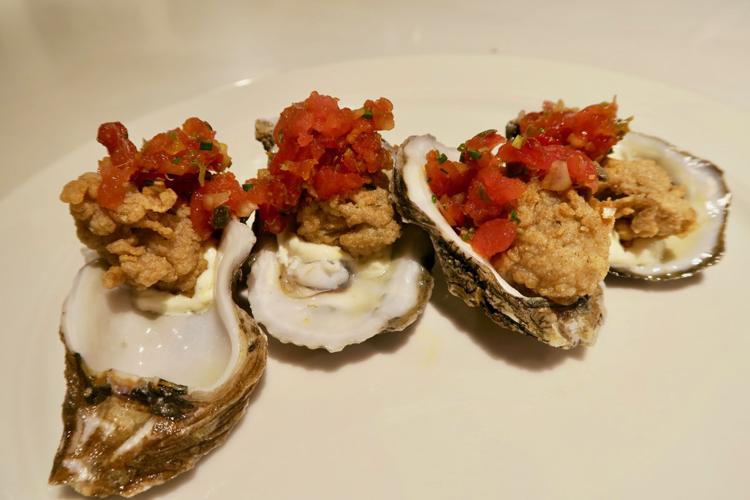 The food trucks La Cocinita (for South American street food), Frencheeze (for grilled cheese sandwiches) and Fete au Fete (Creole and Cajun comfort food) have all added nonwheeled locations at Pythian Market.
Meribo, an Italian restaurant in Covington, cooks crisp-crusted pies in a wood-fire pizza oven at Pythian Market. And the Mid-City restaurant 1000 Figs developed its own spin-off here called Little Fig, which is a Middle Eastern-style deli and hummus bar.
The market has a dedicated bar, dubbed 1908, while the vendors are able to serve their own beer, wine or cocktails as well. Cru, for instance, will double as a "bubbly bar" with sparking wines.
Nine floors, many stories
The Pythian Market angles around the ground-level corner of Loyola Avenue and Gravier Street with a modern, refurbished industrial design of wood, tile and iron. Broad windows wrap around the corner and look out to a crossroads of the CBD and the medical district.
The building itself joins a growing number of long-dormant structures in this part of town recently brought back to life. The Troubadour Hotel, built in the former Rault Center, is just next door, and NOPSI Hotel, in the former home of New Orleans Public Service Inc., is a few blocks away.
The Pythian Building's own history is rich. Opened in 1908, it originally was dedicated as the Pythian Temple and was built for a black fraternal organization called the Grand Lodge Colored Knights of Pythias. It was hailed as a triumph for black business in the segregated South by newspapers of the day. It was home to black-owned businesses, unions and other groups, including a local office of the NAACP. It had a theater, where a performance in believed to have inspired the name for the Zulu Social Aid & Pleasure Club, and it had a rooftop garden where concerts features New Orleans jazz greats.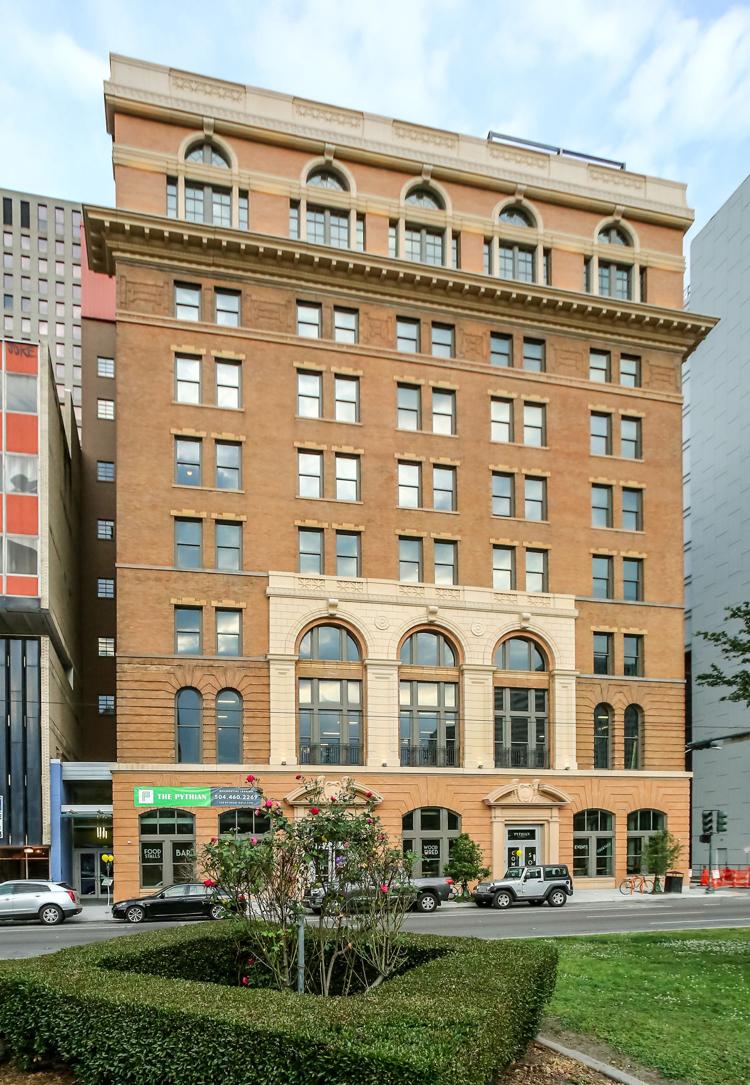 The Knights of Pythias later sold the building and during World War II it became offices for Higgins Industries, an important wartime boat builder known for the landing craft its New Orleans workers sent around the world.
As New Orleans City Hall was taking shape across Duncan Plaza in the 1950s, the old temple was renamed the Civic Center Building, and its exterior was paneled over to match the style of the day. After Hurricane Katrina, it sat vacant until its redevelopment as the Pythian Building.
The building will soon open an events space on the second floor called the Laurenia and a music venue and bar called 2Three4 (after its address on Loyola Avenue).
Bradshaw, the developer, said the ground floor is where the property will make its first impressions, and he believes the food hall idea syncs with a larger vision for bringing the Pythian Building back.
"It's an opportunity to combine a lot of the things we talk about when we talk about community," he said. "That's what this building was originally about."
Note: this story has been edited to update vendors that opened after the market's debut.
B-Mike Odums was surrounded by admirers and those eager to see the mural he had painted for the Pythian Market.
Before Hurricane Katrina shut it down, the name Barrow's Shady Inn meant one thing to many in New Orleans: fried catfish.
Sometimes traveling can inspire you to live a little differently back home. And sometimes, a visitor can help you see your own home in a new w…
Plenty of vegan recipes aim to replicate traditional comfort food. That's the specialty at Sweet Soulfood too.