Never the bashful type, Lucy's Retired Surfers Bar has been under wraps for much of the summer. But now Lucy's is ready for its close up.
The popular Warehouse District bar and restaurant has fully reopened after an extensive renovation. That work doubled the size of its bar, cleared the way to a second floor dining room and remodeled the kitchen and back-of-house areas.
Along the way, Lucy's got a new menu. It mixes the old staples like fish tacos, queso dip and jerk chicken with an expanded range, to the tune of avocado fries, rib eye steaks and mussels with capers and sausage.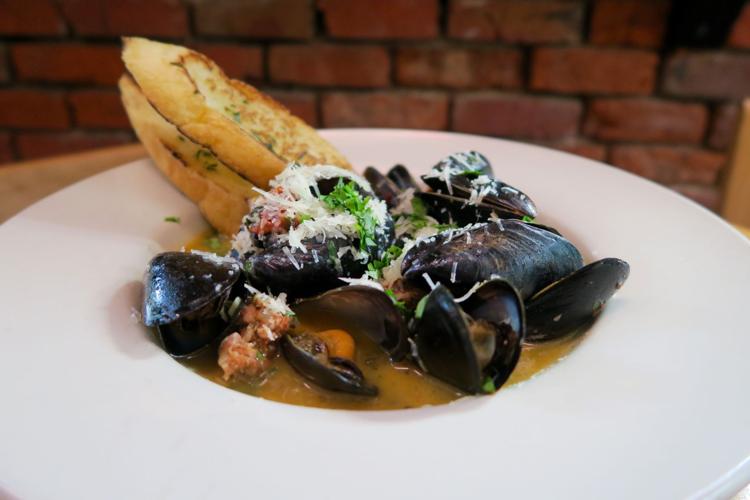 "The goal was to bring Lucy's up a level, but not lose where we came from and what people love about this place," said Jorge Henriquez, who runs the restaurant division for Kirkendoll Management, the company behind Lucy's revamp.
Lucy's will show it all off on Saturday, Aug. 20, with a surfing-themed party dubbed the "Tchoup Hop" (after the chop hop surfing move), starting at noon.
Doubling the bar
Known for its beach shack theme and tropical drinks as colorful as a corral reef, Lucy's was an early anchor in the Warehouse District, first opening in 1992. The new renovations, which closed various portions of the property through the summer, are part of a larger overhaul for Lucy's that will continue with a second round of work later this year and new locations in other cities.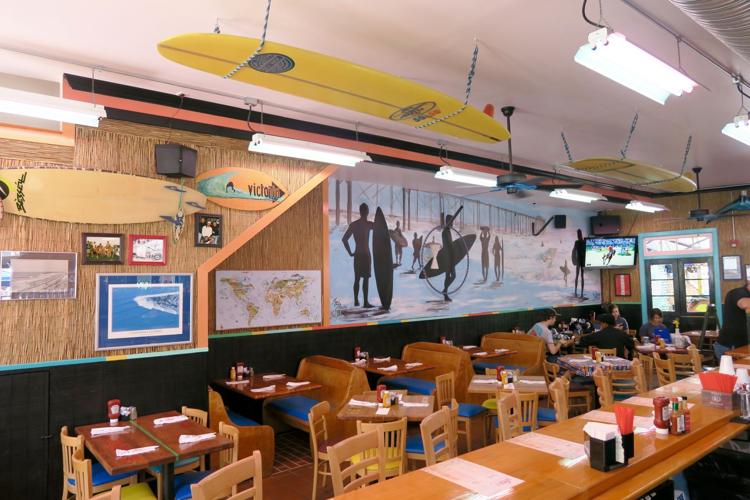 The first thing Lucy's fans are likely to notice at the Warehouse District spot is the greatly enlarged bar. A wall that previously divided Lucy's into a bar and a separate dining room was removed. The bar itself, a sandy-colored slab polished up like a surfboard, now extends across the opposite side. There's room for twice as many bartenders to serve up margaritas, scorpion shots and shark attacks, a drink mixed with a fistful of liquors and festooned with a toy shark.
"We wanted to accentuate the fun of the bar, where people are hanging out, but also keep this a restaurant," Henriquez said.
There are tables and a row of booths for dining downstairs, while the second floor, once used mainly for private events, is now a full-fledged dining room, with seating for about 80 and its own bar.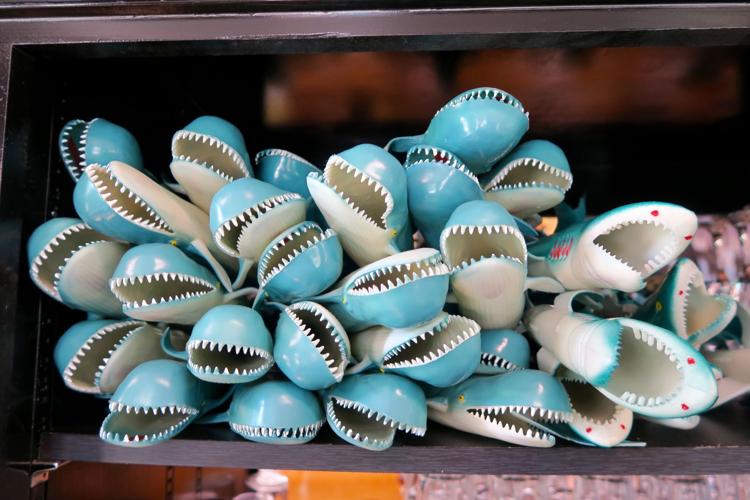 Across it all, walls are covered in surfer décor, island kitsch and memorabilia from the bar and grill's decades in business. Lucy's has along drawn a clientele of downtown denizens, visiting conventioneers, post-shift waiters from other restaurants and, on game days, throngs of Saints fans.
"Lucy's has always been a place where all those people feel comfortable, and that's what we needed to keep," Henriquez explained. "It's casual, it's the staff, it's what the patrons bring to the experience, it's all of it."
Expansion on the horizon
Saturday's party, and the official reveal of the changes here, follow an eventful year for Lucy's.
In January, the name Lucy's had disappeared entirely from the property, stemming from a dispute between founders Susan and Bruce Rampick and their former business partner, who was then operating the restaurant.
At lunchtime on Wednesday (Jan. 27), the sign over the Warehouse District eatery at the corn…
The sign outside was changed to 701 Bar & Restaurant and some of the beach shack décor was removed, all part of a court injunction involving the Lucy's trade name and designs. The era of 701 proved short-lived, however.
By March, the Rampicks were back at the helm at Lucy's with a new partner, Kirkendoll Management, which has licensed the Lucy's name. This New Orleans-based company got its start with strip clubs around Louisiana and has more recently formed a restaurant division to diversify.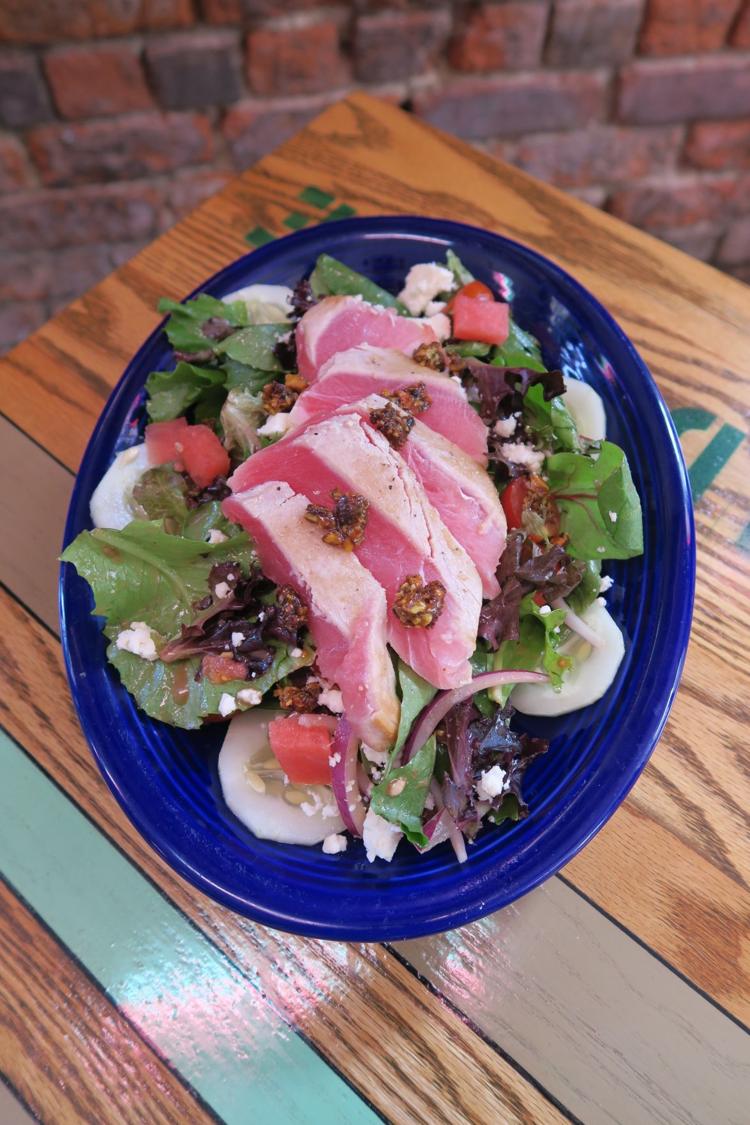 That includes an expansion of the Lucy's brand itself. This fall, the company plans to open a new Lucy's Retired Surfers Bar in Key West, Florida. It has another restaurant called Bonhomie slated for Austin, Texas as well.
"It's always been our dream to expand and grow like this, so we feel blessed," said Susan Rampick. "Our flagship (in New Orleans), that's always going to be our baby."
Back home, further renovations in the works for Lucy's. For instance, before the end of the year, the restaurant should have a new iron-rail gallery overhanging its Tchoupitoulas Street side, adding second floor outdoor seating and casting some shade down on the sidewalk tables.
Though long affiliated with New Orleans, Lucy's Retired Surfers Bar actually got its start in New York. Bruce Rampick, a California native and construction worker, opened the first edition in 1985 on the Upper West Side. After Bruce and Susan married, they relocated to her hometown of New Orleans and opened their bar in the Warehouse District in 1992.
Today, there's a location of Lucy's Retired Surfers Bar in Baton Rouge, though it was formed under a different partnership and is now a separate company from the New Orleans Lucy's.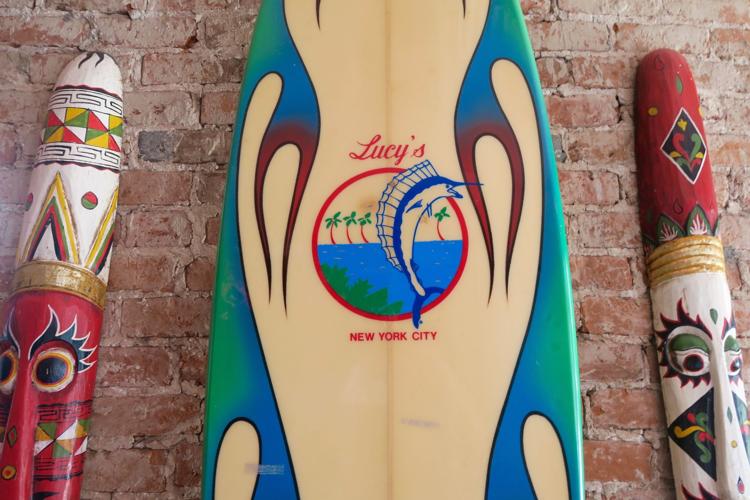 701 Tchoupitoulas St., 504-523-8995
Lunch and dinner daily, brunch Sun.