From booths at the Oak Street Po-Boy Festival last month, New Orleans restaurants served some head-turning po-boys, from alligator fricassee to fried lobster. But it was the wild boar from the downtown cafe Carmo that raised a few eyebrows.
"Is that even legal?" asked one woman as Carmo chef Dana Honn packed a French bread loaf with smoked boar sausage and braised boar meat. He assured her it was.
"Most people have an idea of what boar is, but they're not used to seeing it on menus," Honn explained later. "But that's changing."
In October, Carmo replaced all the domesticated pork on its menu with wild boar. Honn now smokes boar for his signature open-faced Rico sandwich and for a recent special he cooked down a mix of meat to make a Louisiana wild boar barbecue platter.
"It's like a lot of what we do to serve tasty things that are more sustainable," said Honn. "The issue with any true wild food is whether it's consistently available so you can keep it on your menu and that's what we're getting to now."
That change is part of a new response to the old problem of a rampant boar population in Louisiana. It's a confluence of trappers pursuing their game, a new state inspection program to certify the meat and a local food brand, Two Run Farm, with a tiny rural slaughterhouse and a growing reach into restaurants in New Orleans and Baton Rouge.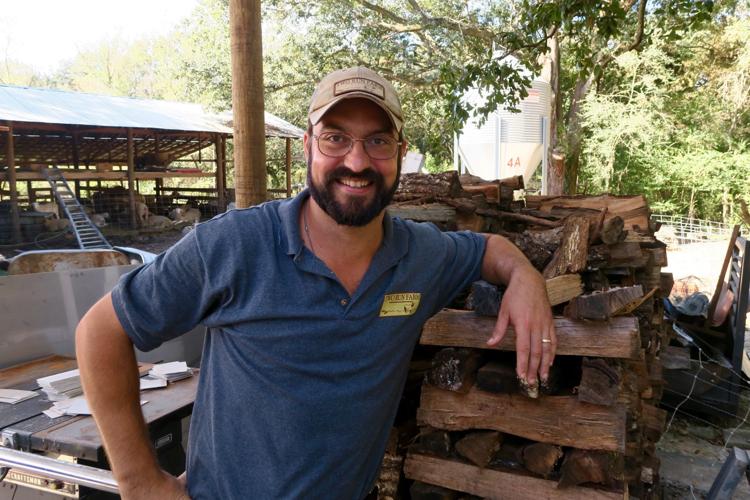 Over the past year, Louisiana boar from Two Run Farm has been turning up on more menus in the two cities that the company supplies, and more recently its wild boar sausage has gained a foothold in local groceries.
"We are trying to bring as many of these animals as we can to the marketplace," said Two Run Farm president Charlie Munford. "We want to use as much of the animal as we can and find ways for more people to use it."
Scourge to resource
In Baton Rouge, at City Pork Brasserie & Bar, chef Ryan André gets a whole Louisiana boar each week primarily to supply a dish that has become his bestseller – wild boar flautas.
"The main thing for me is that it was local and wild-caught," said André. "That's what I've been looking for, so that made it a no brainer."
Wild boar gives meat that is darker, leaner and more complex and varied in flavor than pork from domesticated hogs. Thriving on forage and roaming widely, these voracious omnivores are the epitome of free range.
The animals also ransack crops and as they root for underground food their burly snouts can damage farmland, delicate coastal marshland and even levees. Boar were blamed for an estimated $74 million in damage to Louisiana farms in 2013, according to a LSU AgCenter study.
State officials have long drawn on Louisiana's sportsman culture to help cull their numbers, progressively loosening restrictions for hunting wild boar. But the rapidly-reproducing boar population always rebounds.
This new effort is now also tapping Louisiana's food culture to turn a scourge into a resource.
"The idea is to help build an industry that will also help drive demand for boar," said Louisiana Agriculture Commissioner Mike Strain, who pushed for the program.
When it winds up in the wrong net, it's called bycatch. To frustrated anglers hoping to hook…
Some other Southern states have similar initiatives, and these have been supplying boar to restaurants here as a niche product. With a Louisiana inspection system in place, there is now a bridge for local boar to local restaurants and markets. Two Run Farm is the first supplier, and Strain said more could follow as the program expands.
"The key was using a state inspected facility so the meat could be used in commerce and having a partner that could make that work," Strain said.
Old ways, new markets
Two Run Farm was well-positioned to nurture the program.
Munford started the company ten years ago when he was 25. His plan was to raise sheep on his family's farm in Yazoo County, Mississippi, just north of Jackson, and supply restaurant clients in nearby cities.
As demand from chefs grew, his business evolved from ranch to butcher, using an old fashioned approach to serve a modern culinary scene hungry for more local food.
"The basic concept is nose-to-tail butchering, using all of it, and custom butchering these animals for what chefs want on their menus," Munford said.
The company now buys cattle, pigs, lamb and goat from a network of other farms and processes them at its own facility to have the most control over the finished product.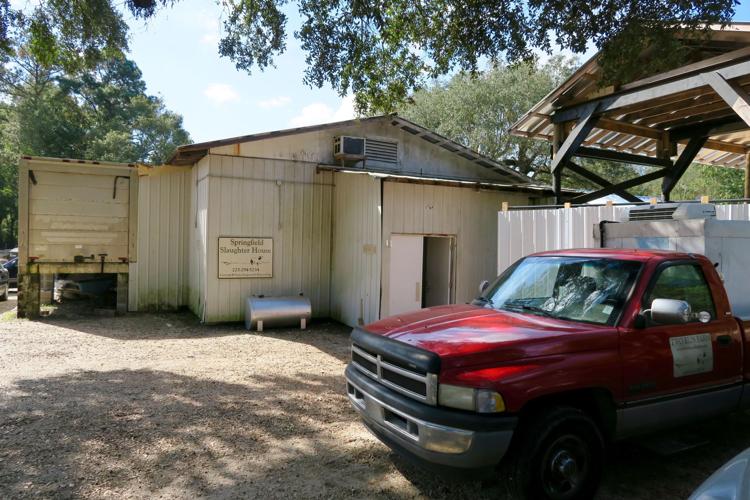 In 2014, Munford bought the Springfield Slaughter House, a facility tucked away between stands of pine in Livingston Parish. It was first built in 1973 at a time when small town slaughterhouses were a more common facet of the rural economy.
"It was basically an obsolete business. It's a small slaughterhouse and that doesn't work anymore in the commodity meat market," Munford said. "The cost of building a new slaughterhouse is way, way out of our league. But this place was built for the purpose that we want to use it for, so we got very lucky."
From the outside, the facility looks like a small, somewhat ramshackle collection of barns and metal-sided buildings. Inside, the progression for an animal delivered live on a truck to meat shipped back out is clear, comprehensible and short.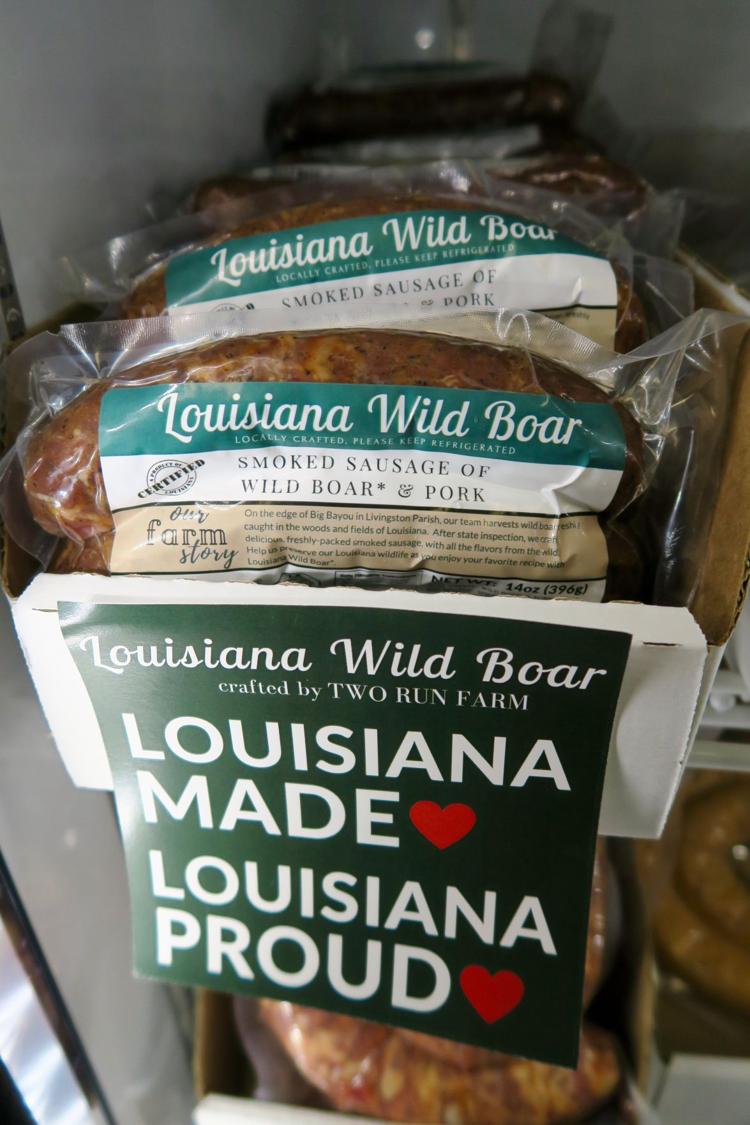 That process now applies to boar, too. Two Run buys its boar from Louisiana trappers, who deliver them one at a time or in small groups. They come from as far away as Alexandria and sometimes as close as Two Run's backyard in Livingston Parish.
"In the past year, we've gone through about 400 boar, and I hope we can double that," said Munford.
As a butcher who now draws from a wild source, Munford has lately become the go-between for two worlds. Trappers send him cell phone videos of their latest catch from the woods; chefs send pictures of new dishes taking shape in their kitchens.
Over the summer, Munford's slaughterhouse crew fabricated a hardwood smoker at the Springfield facility and the company has now added wild boar sausage to its product list, selling packaged links at groceries in Louisiana. Blended with pork for a little more succulence, the sausage is a deep burnished brown with a mild smoky flavor and a seam of peppery spice. If a federal inspection process comes through for their boar, the product could be distributed out of state and possibly overseas.
Boar for brunch
As is often the case for a new food product, though, chefs are taking the lead to showcase the potential of wild boar.
For instance, at Vessel, a new eatery built in an old New Orleans church, chef Nick Vella makes a wild boar pâté and across town at the Italian restaurant Mariza, chef Ian Schnoebelen replaced pork with boar shoulder for a tagliatelle pasta. Clams with wild boar sausage is now a standby at Angeline, chef Alex Harrell's modern Southern restaurant in the French Quarter.
At Table Kitchen and Bar in Baton Rouge, chef Dane Barbera uses boar on his dinner menu and also for brunch, grinding boar meat into breakfast sausage and using it in his gravy and biscuits dish.
"It's new for people and that's a selling point," said Barbera. "But I wouldn't continue using it just because it's different. It's the bigger flavor you get from it."
Wild boar is nothing new for Rene Bajeux, the French chef who oversees charcuterie for the four Dickie Brennan & Co. restaurants. It was a staple ingredient at the traditional restaurants back in his native Lorraine, France, and when Bajeux starting out as a young apprentice in their kitchens, one of his tasks was the break down boar brought in by hunters.
From his home base in the charcuterie room upstairs at Palace Café, Bajeux bathes boar meat in red wine with green peppercorns before turning it into salami and pate. As the weather cools, he plans to make boar bratwurst and use the meat in chili and stew.
"I'm looking for a darker flavor, strong, leaner," he said. "When I want pork, I want pork. But when I want boar, I want boar."
This spring, Inglewood Farm brought in the first commercial harvest of organic wheat that Lo…