A local hospitality company known for blending modern culinary style with classic New Orleans settings has a new project underway in the city's oldest neighborhood.
Longway Tavern is slated to open in early 2018 at 719 Toulouse St., in the French Quarter. It will be a casual restaurant with a large courtyard and a menu aiming for an accessible, anytime appeal.
It's the latest from LeBlanc + Smith, which also runs the restaurants Sylvain and Meauxbar, both in the French Quarter, the Uptown restaurant Cavan and the bar Barrel Proof in the Lower Garden District.
Longway Tavern will be just a few doors off a raucous stretch of Bourbon Street, but Robert LeBlanc, founder of LeBlanc + Smith, said the new addition will be designed to cultivate a different pace.
The name Longway Tavern was inspired by the notion that a visit to the French Quarter is better with a few unscripted stops along the way, he explained.
"We want it to be another spot on your map to enjoy the French Quarter in a little more culturally significant way, a home base for exploring the art galleries or going to a show or even going to another restaurant nearby," he said.
The address is a Creole cottage that was most recently the gelataria and café Little Vic's, though its history reaches back to 1794. Longway Tavern will occupy the ground floor and extend out to a courtyard cloistered between the high flanks of adjacent townhouses.
John Sinclair, who runs the kitchen at Barrel Proof, will oversee a menu running through steak sandwiches, fried calamari and chicken thighs with root vegetable hash.
"It's a restaurant first and foremost, but one designed for drop-in meals and drinking," said LeBlanc.
Modern Mexican coming to Old Metairie
There's a new restaurant in the works in Old Metairie for the former home of Vega Tapas Café, and it's coming from a pair of local restaurateurs with a growing profile in the area.
Chef Edgar Caro and Antonio Mata, partners in Brasa Churrasqueria just down the block, plan to open a new modern Mexican restaurant. It is slated to open in March at 2051 Metairie Road, and renovations are now underway.
The new restaurant does not yet have a name, but its concept is taking shape around regional Mexican flavors.
"We'll get into the tacos and street food of Mexico City, which is amazing, then go to Oaxaca and get into those flavors, give it an authentic feel and refine it a bit," said Caro.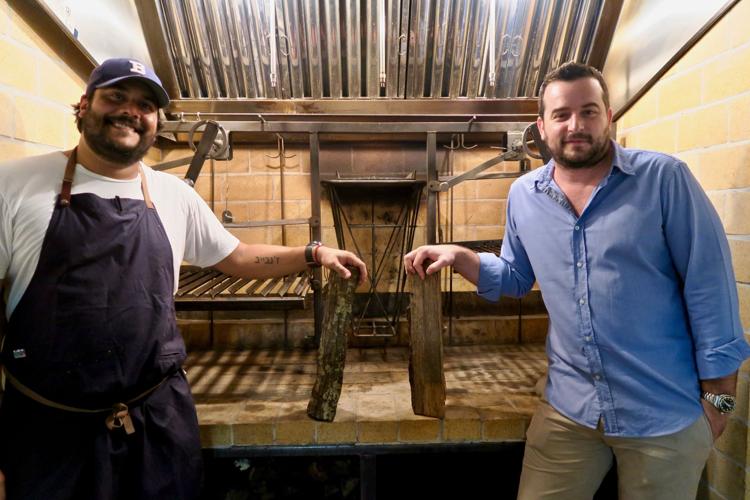 The new Mexican concept will be the third restaurant from Caro and Mata. They have the Louisiana-style Basin Seafood & Spirits, Uptown on Magazine Street. In June, they opened Brasa on Metairie Road, in the former home of the French bistro Chateau du Lac. Brasa is a steakhouse based on the wood-fire traditions of the South American parrillada.
With its location and focus, the new Mexican restaurant may also be aiming for a niche left open when Mizado closed earlier this year. That restaurant, which took a modern approach to a broad range of Latin traditions, was redeveloped as Zea Rotisserie & Bar and kept a few Mizado specialties at the bar and in the kitchen.
Vega Tapas Café closed over the summer after 21 years in business. It was the restaurant that introduced many locals to Spanish tapas.
It was founded, and named for, Alison Vega, who sold it in 2003. Vega returned to the local restaurant scene last year when she and husband Drew Knoll opened the modern seafood eatery Station 6 in Bucktown.
The renovation that turned a stately 19th-century residence into the modern Uptown restaurant Cavan left the imprint of time intact.
Our great neighborhood restaurants have menus that are approachable and familiar but are still full of back stories, quirks and distinguishing…
A local name that's practically synonymous with boiled seafood in Bucktown is taking over a two-story Uptown restaurant space on the edge of t…