The natural habitat for boudin is Cajun country, and across its range, you find the delicious pork and rice sausage everywhere from butcher shops to bait shops. But for a long time, where you didn't find boudin was New Orleans.
Well, those dark days are done. Boudin has found a second home in the Crescent City.
It appears on menus at restaurants grand and humble. It's worked into dishes (boudin-stuffed quail at Commander's Palace), presented on charcuterie platters (see Toups' Meatery) and plated up as stand-alone appetizers (as at High Hat Cafe, for example).
But for boudin fans, what's most promising is the way hot links now turn up around New Orleans as a takeaway snack that needs nothing around it except a few napkins.
This is the hand-to-mouth, instant gratification that first introduced and endeared boudin to many of us. The deep cravings were set on the road while traveling around Acadiana, and whole road trips have been rationalized around filling an ice chest with link after link — to compare, to share, to hoard.
As the drama of Triple Crown contention riveted the nation earlier this month, horseracing's…
Now, in New Orleans, it is possible to conduct an in-town boudin road trip thanks to a new circuit of butcher shops and casual eateries with hot links.
This aligns with trends for country cooking in the city, with rising awareness of our regional flavors and simply with the market dynamic of supply and demand. There's a clear business opportunity in saving people a trip over the Atchafalaya Basin.
Great boudin will always be worth a journey, like any particular and compelling pleasure. But now, in New Orleans, some of those journeys might lead right down the street.
Here's a guide for New Orleans butcher shops for hot boudin links on the go. All are recommended, and I've ranked them using a combination of flavor, cost and grab-and-go potential.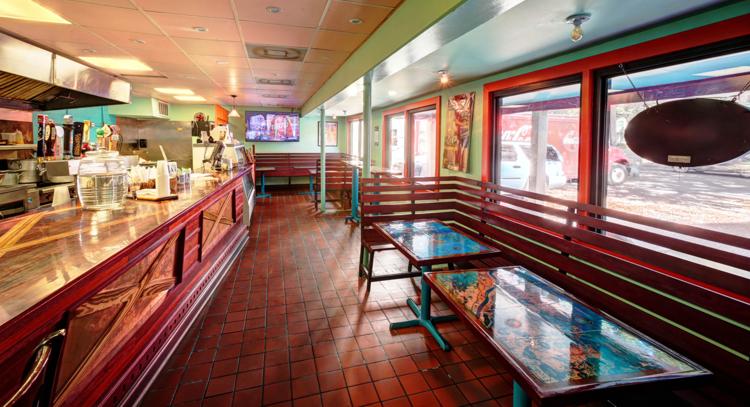 1510 S. Carrollton Ave., (504) 510-4040
Though better known for chicken wings, boudin has always been part of the butcher shop and snack shack that chef Nathanial Zimet opened next to his restaurant Boucherie. Over the past year, his crew has developed a menu of different boudin links that are both consistent and distinctive. They're all smoked, which adds another ripple of flavor and gives the casing a crisp texture. There's pork, spicy pork and chicken ($3 per link) and shrimp boudin ($4), cooked with crab fat. They're all served up fast next to the daiquiris and draft beer.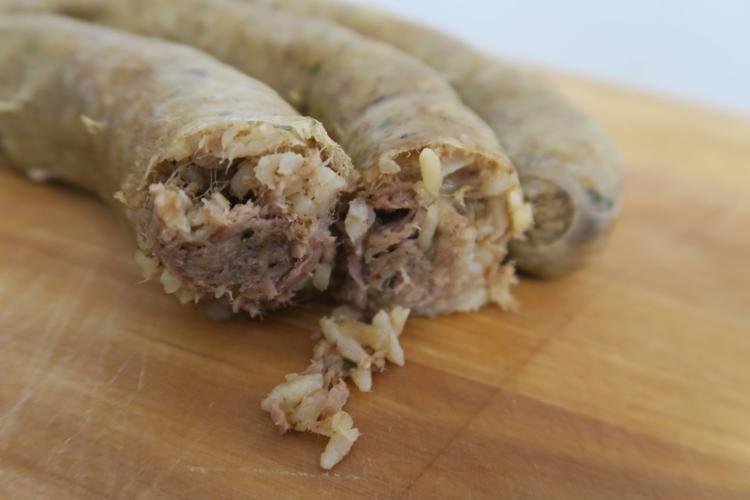 6521 West End Blvd., (504) 309-0010
This Lakeview shop is the local offshoot of a brand with locations in Baton Rouge and Prairieville and family roots in Vermilion Parish, the heart of boudin country. Like other meats here, the boudin is prepared in Baton Rouge and trucked down (though you'll often find proprietor Rich Graham cooking up the cracklin' on site). Hot boudin ($2.50 per link) is an excellent example of the form — peppery, meaty, with a little snap to the steamed casing and a steady flow of flavor throughout the link. Shoppers often buy a link to munch on in-store while they fill baskets with meats for home.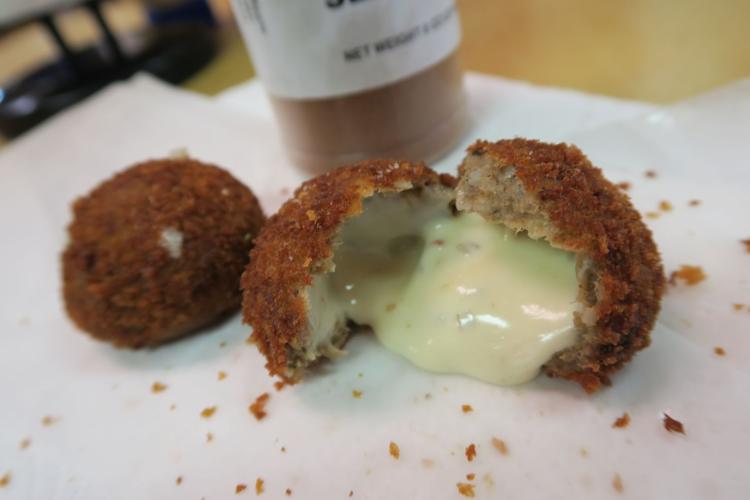 10316 Jefferson Highway, (504) 405-5355
A new addition in River Ridge, Très Bon is, indeed, very good. It feels like a country store, with house-made sausages and stuffed meats in the cooler cases, dry goods and cookware on the shelves, and a hot lunch counter in back. Billy Newton prepares smoked pork boudin ($2.99 per link) and crawfish boudin ($3.99). For his boudin balls, he takes a page from Cajun country by offering them both regular and stuffed with pepper Jack cheese, which oozes between the spicy filling and the crisp shell.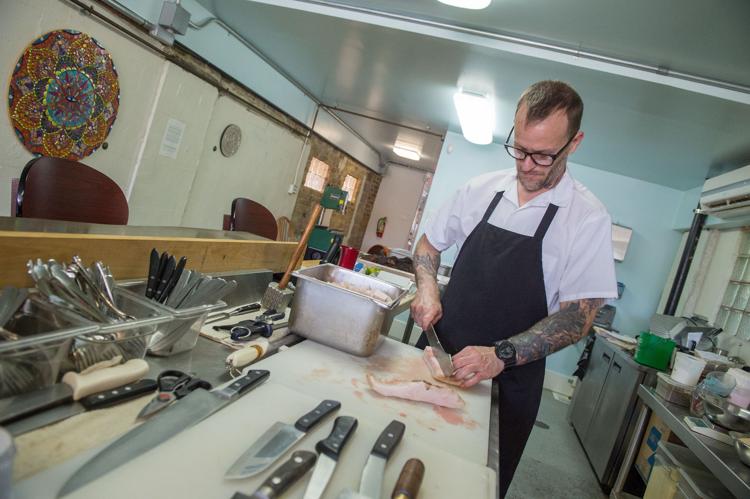 2352 St. Claude Ave., (504) 218-5281
Shank Charcuterie is a new neighborhood butcher shop and lunch counter with an old soul. Veteran local butcher and charcuterie maker Kris Doll runs the show, cutting the meat and doing all the cooking just beyond the dining counter. He usually has boudin in rotation, a plump, robustly seasoned link with the fragrance of fresh herbs between the rice and spice. It's plated up two links per order ($10) with mustard for a dine-in snack or popped into plastic bags for a take-out treat. Look for boudin noir (blood boudin) as a periodic special.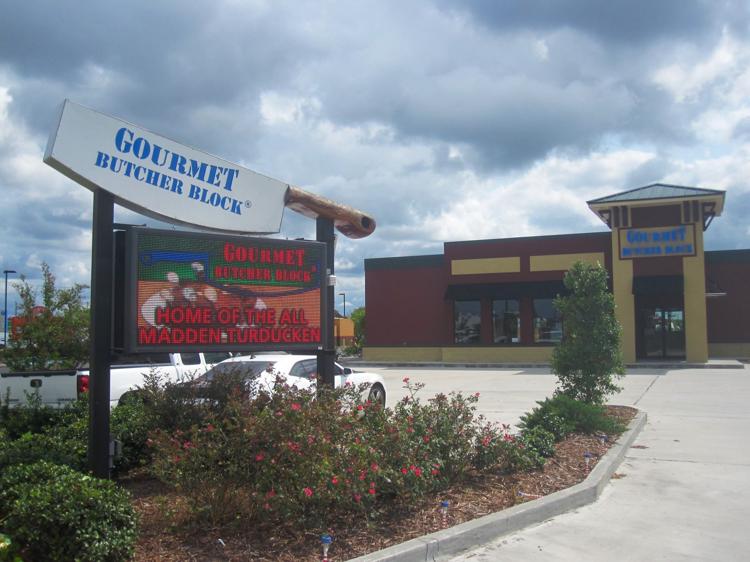 2144 Belle Chasse Highway, Gretna, (504) 392-5700
The great granddaddy of Cajun butcher shops in New Orleans, dating to 1984, Gourmet Butcher Block is known for turduckens, and it produces massive flocks of these hybrid birds as the holidays approach. It isn't an eatery, but, following proper Cajun butcher shop procedure, it does serve hot boudin links to go ($2 each, the best value on this list), tightly wrapped and heady with spice. If you're like me, you'll finish yours before you hit Lapalco Boulevard a few blocks away.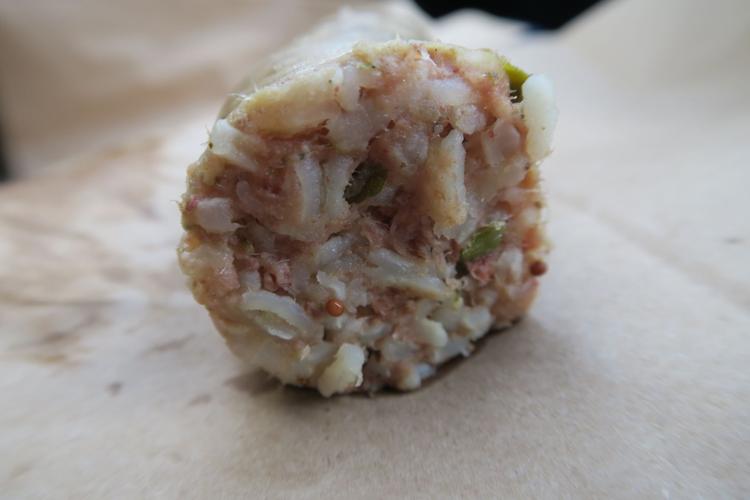 930 Tchoupitoulas St., (504) 588-7675
Chef Donald Link's combination sandwich shop/meat market did much for the New Orleans fluency in boudin, and it has a place in any conversation on the topic here. This boudin resides on the restaurant side of the equation, however. It's priced ($6 per link) and served (with pickles and mustard) as a dine-in dish, and that doesn't change if you order it to go. It is very good boudin, well-spiced and meaty with a light liver flavor and clear links (pun intended) to the boudin that the chef's family makes out in the rice country of Acadia Parish.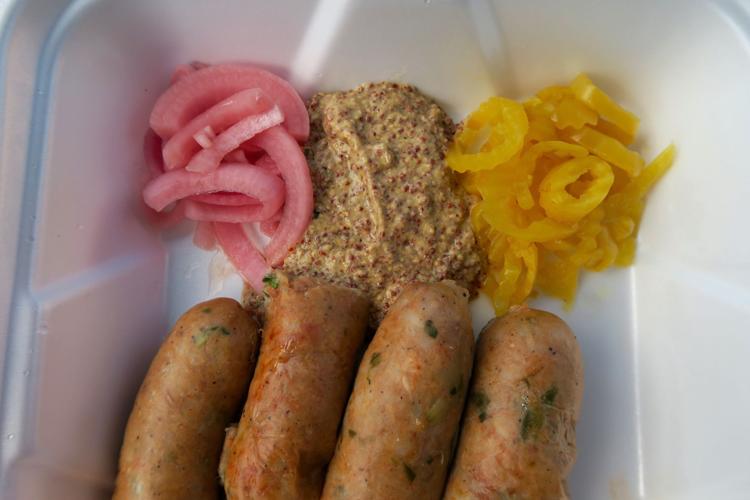 3325 St. Claude Ave., (504) 265-0045
The Cheezy Cajun is the unlikely mash-up of Cajun butcher shop, neighborhood eatery and Wisconsin cheese store, all in the 9th Ward. If you can get behind the idea of fried cheese curds, boudin burgers (think: giant boudin ball with pimento cheese) and a side of cracklin' sharing your table, then you'll like it here. Kevin Fruits recently took over the kitchen, and his boudin ($4 per link) has a mild start with a nice peppery finish and a smooth, almost creamy consistency to the rice. It's plated with mustard, pickled onions and pickled peppers and boxed with all of these extras when you get it to go.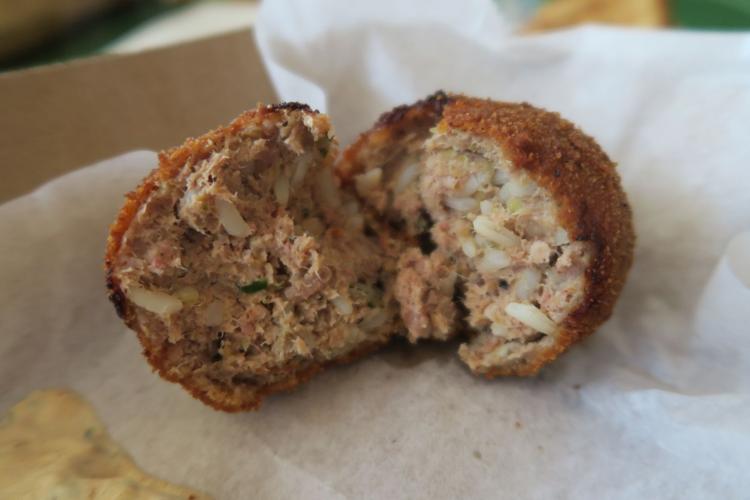 3917 Baronne St., (504) 227-3830
This whole animal butcher shop recently revamped its hot food selection, adding a short menu of sandwiches. It's more of a modern, urban butcher shop than traditional Cajun, but it does add hot boudin links ($3), boudin balls and cracklin' to the mix on Fridays and Saturdays. That schedule is limiting, but this is a good call when you want a snack between your weekend errands around Uptown. Bonus: Cleaver & Co. will grill your boudin link if you prefer a crisper edge to the casing.
The whole hogs come to chef Nathanial Zimet one at a time, but they go back out many differe…
Rice and pork took center stage at Parc Sans Souci Saturday, as boudin purveyors from across…