All through the spring, a familiar face from the New Orleans restaurant scene has been cooking up crawfish in a less-than-familiar way.
Ian Schnoebelen, who co-owned the since-shuttered restaurants Mariza and Iris, has been keeping a low profile of late. He's busy enough with his own ad hoc neighborhood taco stand in the Bywater, Rosalita's (3319 N. Rampart St.).
On Wednesdays, though, he sets up shop in the beer garden of Bourree (1510 S. Carrollton Ave., 504-510-4040) to cook up a few sacks of crawfish. He starts with a technique commonly called "the ice chest method" and works in his own customization.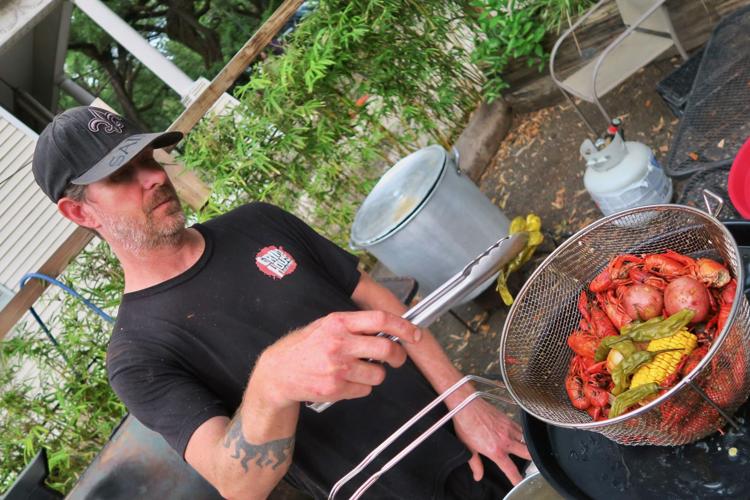 His goals are simple: avoid overcooking, the bane of so many a boil, and pack flavor into those red shells.
If you think that there is only one way to boil crawfish and there's nothing else to say on the matter, you can just stop reading now.
Now that it's just those of us with an open mind and a curious palate, let's dig in and see how crawfish taste after a few different steps and with a chef's own lens on the subject.
These days Schnoebelen eschews the term chef. He no longer runs a restaurant or has a staff. Even in the old days, he was more of an apron-and-ball-cap kind of guy in the kitchen than the type to have his name embroidered on chef whites.
Still, Schnoebelen and his partner (and now spouse) Laurie Casebonne created some of the best restaurants of their time in New Orleans when Iris and Mariza were rolling.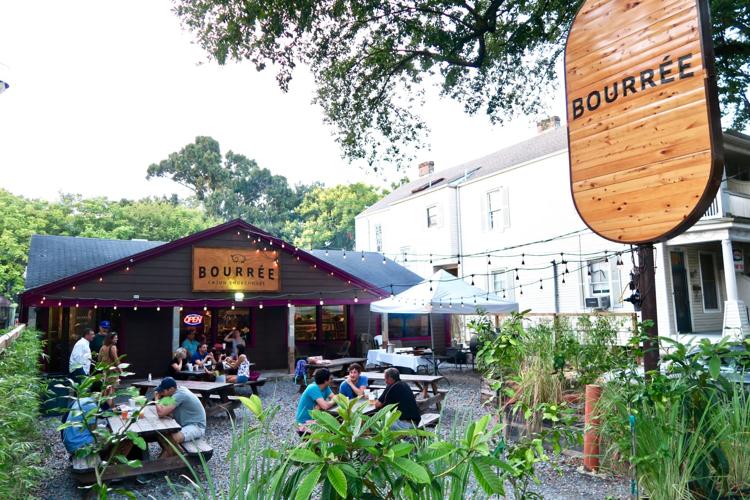 Iris got its start just around the corner from Bourree, at 8115 Jeannette St., a rambling cottage that the related restaurant Boucherie now calls home.
They opened it in the iffy era right after Hurricane Katrina. Under a storm damaged roof that leaked into the kitchen and across a tiny dining room of uneven lines, they contributed to the new pulse for the city's resurgent dining scene when it mattered most. In 2007, Food+Wine Magazine named Schnoebelen to its annual list of top new chefs.
Iris later relocated, and by the time it closed in 2014, Schnoebelen and Casebonne had cultivated a loyal following at Mariza in the Bywater. In 2018, they sold the restaurant (it became the now ultra-buzzy Bywater American Bistro).
There have been no restaurants from this couple since, but they have been cooking, running that taco stand three days a week (Friday, Saturday and, naturally Tuesday).
You can love crawfish, you can be obsessed with them and you can post your social media pictures of all their red shell glory until your phone dies.
Schnoebelen, the recovering chef, has been cooking crawfish too, and the approach he brings to the Bourree took shape in his own backyard while cooking for friends and playing around with technique.
He starts by boiling the crawfish in plain water, with no seasoning. They go direct and dripping wet into an ice chest where he adds the seasoning. In this chamber they steam and soak in the residual liquid they brought along with them.
The master touch is a bit of fat added to the liquid. The type varies. It might be duck fat, chicken fat or butter. It does not coat the crawfish, in the manner of the butter-drenched Viet-Cajun style, and there's not enough to make it greasy. Instead, it adds a subtle, savory layer between the crawfish, the seasoning and the lemon and ginger bobbing in each batch.
I had my doubts. Could the post-boil seasoning method really deliver enough flavor? After giving these mudbugs a spin, the answer is unequivocally yes.
The clutch difference, though, is the texture. The crawfish tails were plump and full, moist, and not just wet from the boil, giving a burst of flavor
I was glad I tried them. I was glad to see an ace of New Orleans food enjoying his calling on his own terms. I'm glad to sit back in the Bourree beer garden, watch the streetcars cruise under the oaks and have another ale while contemplating a few more pounds of his crawfish.
Crawfish boils at Bourree continue Wednesdays through the end of May, beginning at 5 p.m., with live music. 
1510 S. Carrollton Ave., (504) 510-4040
Lunch and dinner daily
Outdoor food schedule is: Fridays, chargrilled oysters (from 6 p.m.) with gypsy jazz (from 7 p.m.); Saturdays, barbecue plates (from 2 p.m.) with live music (from 5 p.m.); Sundays, whole hog plates and sides with live Cajun music (5 p.m. to 8:30 p.m.)
You may have heard of Viet-Cajun crawfish, and perhaps you've tasted these boiled mudbugs tossed in garlic butter. It's all over food media th…
It starts with spicy boiled crawfish, the pride of Louisiana, but it was born elsewhere.
Note: Try This Dish is a periodic series on interesting dishes around the New Orleans area and the stories, restaurants and people about them.