When someone asked me what I was excited to see at Jazz Fest this year, he probably meant bands. But I just blurted out what was really on my mind: Vaucresson sausage po-boy, a calas trio and some Cuban food.
They were the new dishes for Jazz Fest this year. I had them circled on my schedule and had a plan in hand.
People have their own priorities at Jazz Fest. For me, it's the food, and as soon as I stepped foot in the Fair Grounds I was hoofing it over to the food booths, on a mission to sample every new dish on this year's menu. Here's how it played out: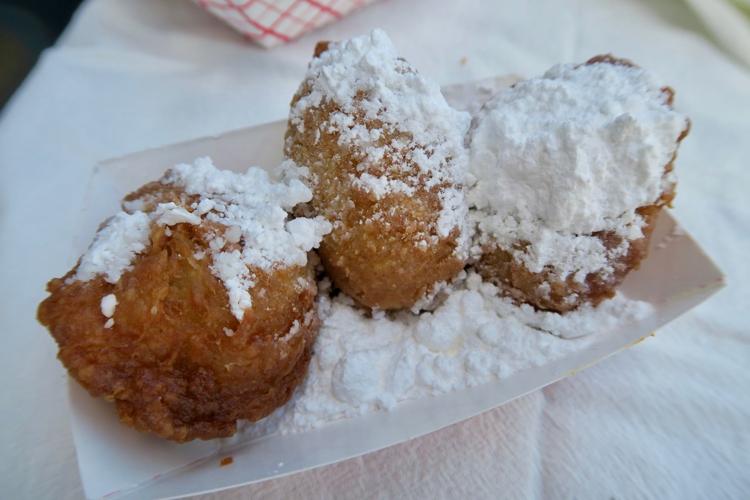 Calas, traditional, sweet potato and shrimp; chocolate-stuffed beignet, Loretta's Authentic Pralines, Cultural Exchange Pavilion
You know beignets. Calas were once as common around New Orleans, though today they're much harder to find. Whenever they turn up it feels like a revival.
Made from rice and flour, these fritters were once a thrifty way to make a new meal from leftover rice, that cornerstone of so many New Orleans dishes. Through history, they were linked to the African American women who sold them on the city streets.
Calas are new at Jazz Fest this year, cooked up by Loretta's Authentic Pralines at the food stand by the Cultural Exchange Pavilion. This year that pavilion isn't an exchange so much as a tribute, with its tricentennial tribute to New Orleans itself. Loretta's stand matches the theme with heritage foods, including pralines and beignets.
However, proprietress Loretta Harrison does not simply stick with the traditional. In addition to the conventional calas topped with powdered sugar, she has sweet potato and savory shrimp versions.
Her sweet potato calas have a texture like bread pudding shot through with rice, and they're topped with a thick, sweet syrup with hunks of sweet potato.
Shrimp calas are thinner and more dense, with a subtle seafood sweetness worked into the batter.
My favorite of the bunch was still the traditional, with its crinkly-crisp shell and soft inner texture. At $4 for three calas, it's also a good deal among the Jazz Fest snacks.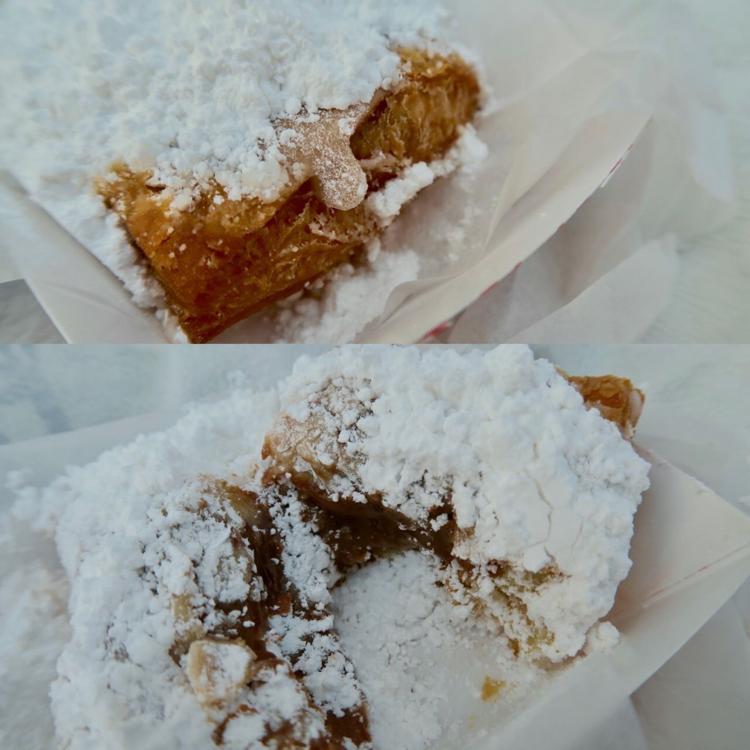 One more new item here is a chocolate-stuffed beignet. It's small, though ultra-rich, with the hot beignet encasing a dollop of chocolate, all under powdered sugar. At $6 it feels a bit steep for a five-bite dessert, though it certainly will satisfy any chocolately sweet craving out here. 
Can't see video below? Click here.
Alligator sausage and sausage sampler, Vaucresson Sausage Co., Food Area 1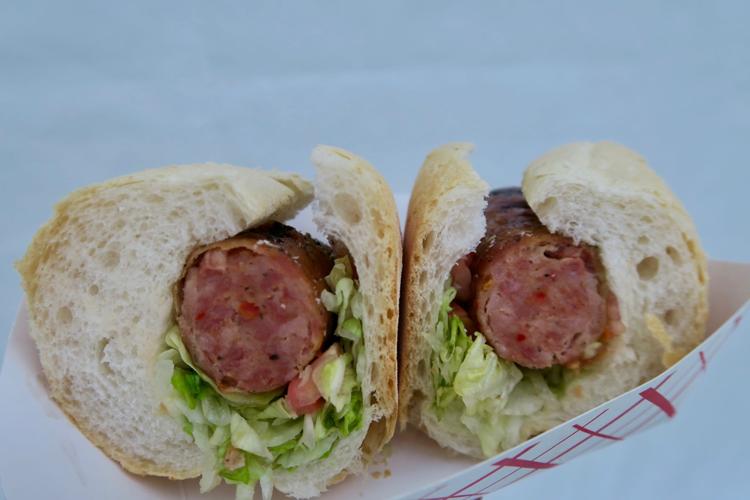 The Vaucresson family has been feeding Jazz Fest since the first year back in Louis Armstrong Park. Through the years, they have periodically introduced new types of sausage here, and this year that's an alligator sausage.
It's blended with pork and has a mild flavor, more seasoned than spiced. The key is the texture the alligator meat brings to the link, with just a little more snap and bounce to its chew.
They serve it as a po-boy, and it also goes into another new addition for Vaucresson this year – the sampler plate.
It's a tasting platter of three sausages – alligator, crawfish ad traditional Creole hot sausage – and it answers the call for low-carb, gluten-free dish. It's also the closest thing I've seen to a charcuterie plate at Jazz Fest, albeit an all-Creole one.
Can't see video below? Click here.
Adobo de pescado frito, ropa vieja, frijoles negros, Congreso Cubano, Food Area 1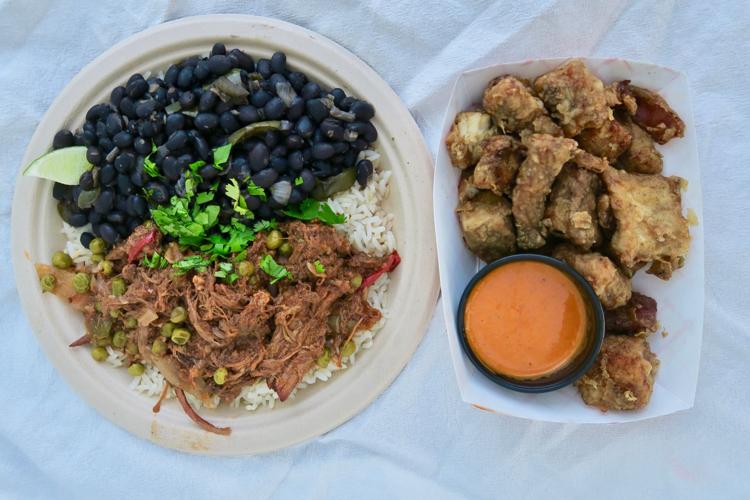 Congreso Cubano got a preview of sorts last year with a stand by the Cultural Exchange Pavilion, which was focused on Cuba in 2017.
This year it's back in the main food line up, and it has a mix of flavors from last year and new additions.
So the ropa vieja and black beans (separate dishes or a hefty combo plate) aren't exactly new, but I tried them again to see how they came together in year two.
Ropa vieja translates as "old clothes," referring to the tattered appearance of slow-cooked beef and peppers and onions, piled up like so many rags. The glory of this dish is the way the flavor of garlic and onion and pepper combines and gushes through the satisfying chew of the beef. It's like a fork-ready stew over rice.
The black beans are straightforward and primarily serve to make the combo dish a full meal. They're also a reminder of the ties between rice-and-bean-loving Louisiana and the Caribbean.
The new addition is adobo de pescado frito con salmorejo, a fried fish dish with Caribbean and Spanish roots. It's redfish, marinated in vinegar, which gives a strong, assertive flavor. I like fish that tastes like fish, so I liked this dish. The key to it all, though, is the salmorejo, which is a sauce derived from a smoother cousin to gazpacho. It's creamy, a little nutty, and a fantastic foil to the tangy savor of the fish.
Congreso Cubano has also brought back its paletas de cafe con leche, frozen treats with mellow sweetness and a potent espresso kick. They're ice pops with attitude that can serve the same purpose as a frozen coffee.
Can't see video below? Click here.
---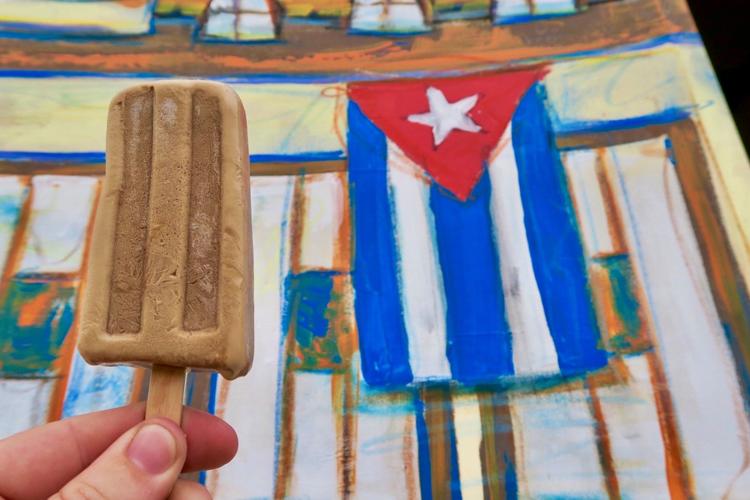 Some dishes rock the Jazz Fest food world like Acura stage headliners. Others are more like that delightful, lesser-known act that got the nod…
Jazz Fest is teeming with flavors — some from classic Louisiana tradition, some from more recent immigrant communities, some that are unique t…
Jazz Fest is teeming with flavors - some from classic Louisiana tradition, some from more recent immigrant communities to call this place home…
The New Orleans Jazz and Heritage Festival is teeming with flavors — some from classic Louisiana tradition, some from more recent immigrant co…
Jazz Fest is teeming with flavors - some from classic Louisiana tradition, some from more recent immigrant communities to call this place home…