Each year, the Oak Street Po-Boy Festival extends along an Uptown stretch that feels like the quintessential American Main Street. This year, however, the festival itself has arrived at a crossroads.
As usual, Sunday's event will turn this historic, low-rise corridor of shops and businesses into an open air food court in honor of its namesake sandwich, while bands play on four stages. Now in its 11th year (and rescheduled from its initial October date due to weather concerns), it typically draws big crowds and stokes the festive air of a neighborhood street fair with open admission and head-turning takes on the po-boy from both upscale and down home restaurants (see menu below).
Behind the scenes, though, organizers have been grappling with how to keep admission free while the costs to produce the event keep rising. Their answer this year is a wristband.
While admission remains free, to buy a po-boy from any of the vendors you need to first buy a $5 wristband.
Min Yang, an architect and co-president of Oak Street Merchants, Residents and Property Owners, the group behind the festival, framed the move as an effort to keep the festival afloat.
"We faced a quandary," he said. "We had to find a creative way to keep it free, so people could still come, kick back and enjoy some music and beer, but also have people kick in money to support this too."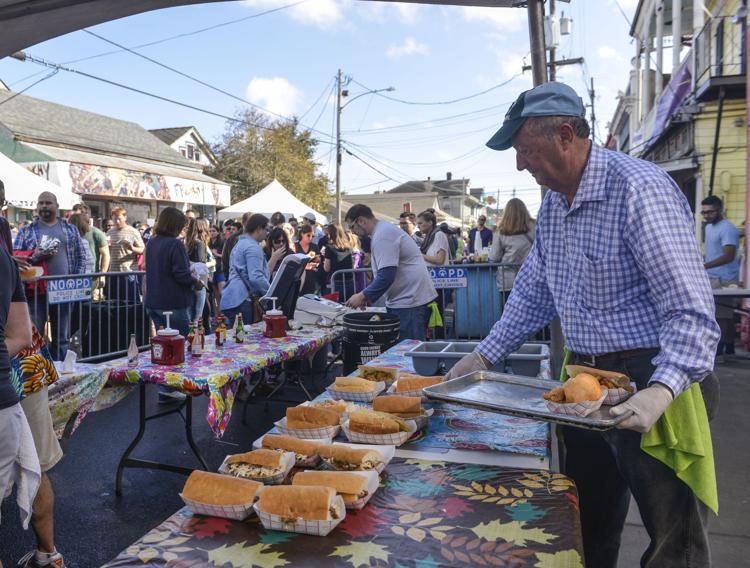 The large crowds the festival draws have not ensured longevity. In fact, the dynamic works the other way.
"It seems like a good problem to have, but at the same time our fees increase based on attendance. Security, sanitation, insurance, that all goes up based on head count," said Yang. "If the numbers don't add up, then eventually you have to fold the tent."
Free festivals are typically funded through vendor fees and sponsorship, and they rely on attendees to buy beverages from the festival itself. The wristband tactic is new, and its introduction this year may be a test case for other events.
It is essentially a fee, but not for admission. It's required to get a taste of the festival's main draw – po-boys – but it's not required for everyone.
Only people buying food at the event need wristbands, Yang pointed out. That means if a family or group of friends assigns a designated buyer, they need only one wristband.
The festival has pledged $1 from each wristband sold to Son of a Saint, a nonprofit mentoring and development program for fatherless young men.
Po-boy possibilities
The event began in 2007 as the Po-Boy Preservation Festival, with the subtext of saving the city's most famous sandwich from the well-marketed competition of chain sub shops. Organizers soon dropped the "preservation" part of the title, however, and in the years since the pursuit of one of the festival's awards and the competition among New Orleans restaurants has continuously raised the bar for the sandwiches served throughout the day.
Some have become perennial attractions, like "the Godfather," an all-star Italian banquet of sausage, meatballs and brisket under mozzarella and red sauce introduced in 2011 by Vincent's Italian Cuisine. Redfish Grill is bringing back its BBQ oyster po-boy and also adding a fried catfish/hot sausage combo.
And some restaurants keep pushing the limits, like Seither's Seafood, which this year brings its kung fu po-boy, made with seared tuna and a sushi bar worth of toppings.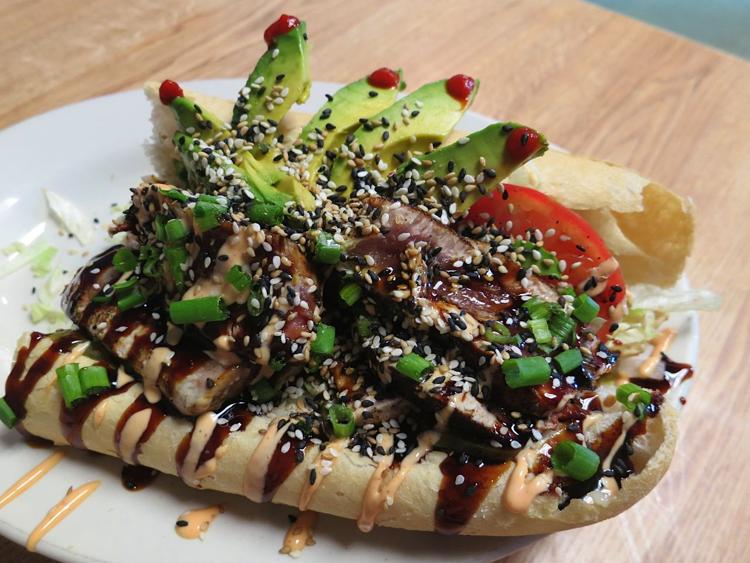 Some of the restaurants that have proven to be big draws are taking this year off though. That includes Parkway Bakery & Tavern, which instead of having its own stand has thrown its support behind Silence of the da Hams, a charitable cooking team again making its annual appearance at Po-Boy Festival.
GW Fins, which has drawn the longest lines at the festival for its fried lobster po-boy, also won't be there this year, citing staffing conflicts. Instead, the French Quarter restaurant is adding the po-boy to its menu for one day only -- the same day as the festival (Voleo's will serve a lobster po-boy at the festival, next to its rabbit and fried oyster "Cajun surf and turf" po-boy).
There are some notable new additions too, including the upscale Uptown restaurant Kenton's (with a fried chicken po-boy) and Bienvenue Bar & Grill, which last year took over the longtime CBD deli FredRick's (look for the prime rib French dip).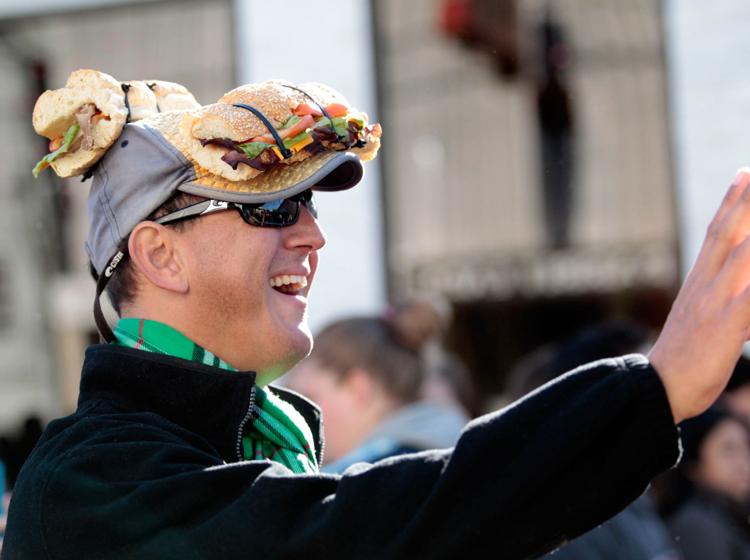 For another new vendor, Dunbar's Creole Cuisine, the festival represents one very extended full circle. Dunbar's reopened in a new location on Earhart Boulevard last spring after more than a decade of post-Katrina limbo. It was best known for its years on Freret Street, but proprietress Celestine Dunbar started her first restaurant on Oak Street, back in the early 1980s.
"We'll be right down the block from where we started," she said.
For the Po-Boy Festival she has recast some of her old standby recipes as po-boys. Look for a crawfish bisque po-boy with remoulade and the "crazy chicken po-boy" with fried dark meat boneless chicken, red bean sauce and purple cabbage slaw.
"We figured it's time to bring something different to the table," Dunbar said.
When: Nov. 12, 10 a.m.-7 p.m.
Where: Oak Street at S. Carrollton Avenue
What: creative and traditional po-boys, four music stages, art and crafts. Free admission, $5 wristband required to buy po-boys. 
See menu below (click link to see full list)
The teams that convene at Hogs for the Cause each spring cook for a festival crowd and raise…
In deepest summer, there is a certain mindset in New Orleans that regards the outdoors as en…
Gemütlichkeit is a German term for conviviality, social warmth and good feelings between fol…