Any given year will bring a tally of restaurants that made their debut and a list of those that closed. But there's always more happening in a restaurant scene than arrivals and departures.
Looking back at another year of food stories from New Orleans can reveal clues of what's to come, patterns for what endures and questions about what might change. Here are my takeaways from a busy, sometimes tumultuous 2017.
First revelations, then conversations, next up ... change?
Facing allegations of sexual harassment, John Besh quickly stepped down from his restaurant company. But scrutiny of the same issues in the broader hospitality business has not gone away, and it has only widened as more scandals erupt around the industry.
It's not hard to find service industry veterans who say the nature of the accusations directed at Besh's company echo their own experiences elsewhere in the field, and some point to a blend of cultural and institutional factors behind the prevalence.
Many are now discussing issues that were ignored or remained submerged in the past. The exasperated explanation of "that's just the way it is" in the business has lost its currency.
Scandal roiled another name in New Orleans hospitality, Tales of the Cocktail, after a racially charged social media post made the rounds at carnival time. It led to resignations from the founders of the annual drinks conference, Ann and Paul Tuennerman, and has spurred more questions about diversity and inclusion in the industry.
This feels like the time when what comes next is taking shape. Who will emerge as new leaders in the hospitality field? How will progressive companies handle issues that have been hauled into the open?
These questions are especially vital to New Orleans, which counts hospitality as central to its economy, its draw and its own identity.
For me, one inescapable conclusion from the conversation is how much the so-called norms of the business may have held the business back.
If the talents and contributions of some are muted, if people are driven from the field or feel they don't have a home in it, then what have we been missing, what potential has gone unrealized?
Beyond the basic question of decency, it brings up the question of an industry's growth and it doesn't feel constrained to issues of gender. Who do we hold up for acclaim? How do we calibrate success and showcase opportunity? I'm looking forward to 2018 to explore more answers.
Any given year will bring a tally of restaurants that made their debut and a list of those that closed. But there's always more happening in a…
Chasing flavor, new, global and our own
A dining scene that doesn't change is dead, or at least dead boring. One that reflexively jumps on every trend without a sense of its own place and self has no anchor, and nothing worthwhile to pass along.
Fortunately, in New Orleans with do not have either problem. What's really exciting about dining in our city right now is a blend that continues to grow and evolve and energize the restaurant scene.
We have access to chefs pursuing original, contemporary cuisine, increasingly diverse representations of cooking from around the world and restaurants that are resilient and unmistakably of New Orleans — and crucially, that includes some new restaurants too.
This is a city that loves its own food but also loves food period. We love talking about our restaurants, finding new ones, reuniting with old flames and digging into what makes the flavors of our home feel like our own.
Noteworthy new additions in 2017 show this dynamic in robust fashion.
For instance, the most impressive debut this year was Saffron NOLA, which combines traditional Indian flavor with modern regional dining. In the process has created something altogether new for New Orleans.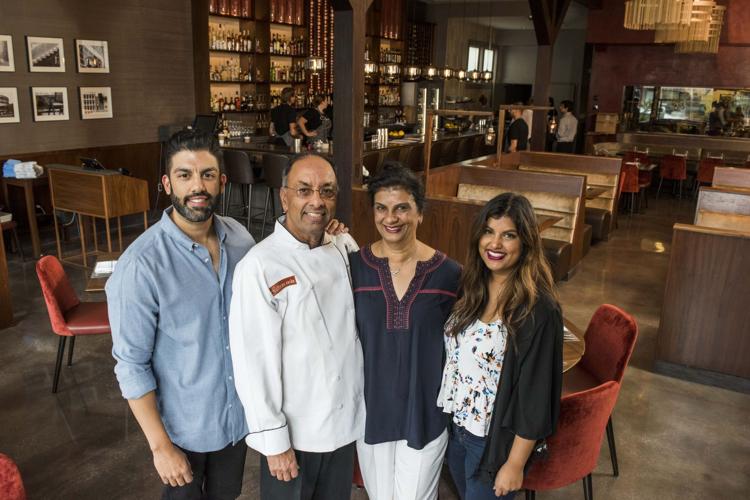 Saffron NOLA was the creation of the Vilkhu family, who had developed the concept for years as a combination pop-up/supper club in Gretna. The full-fledged restaurant that opened Uptown was the realization of a multi-generational effort, and it has been a hit, packing the house with locals coming for tamarind shrimp, broiled oysters with naan and rum-soaked lamb chops.
Two very different additions also each did their part to give fusion a good name this year.
Maypop is the upscale/casual restaurant in the CBD from the chefs behind MoPho, and Marjie's Grill is a bootstrap/casual eatery from a young couple setting up shop on South Broad Street (each technically opened at this time last year, but only got rolling as 2017 progressed).
Both combine elements of southeast Asia and southeast Louisiana. Maypop makes this into modern fine dining, through an approach that is ambitious, complex but still affable.
Marjie's Grill, meanwhile, functions like a neighborhood joint where Gulf seafood, smoky meats, crisp greens and chiles and fish sauce get worked into plate lunches, family-style platters and happy hour snacks.
Both Maypop and Marjie's Grill feel at home in New Orleans right now, as the region recognizes that global flavors are part of the modern South's identity and part of its culinary vocabulary.
Some other new additions this year stood out with flavors, approach and even location. There's DTB, where deep-running Louisiana flavor gets creative new vigor, and Central City BBQ, which established an outpost for low-and-slow barbecue and keeps growing into its huge, campus-like property.
The Stokehold (within Port Orleans Brewing) and Freret Beer Room (another very late 2016 debut) each pursue the culinary possibilities of the city's expanding beer culture.
Brasa Churrasqueria brought South American-style steak — and wood-cooked flavors of many types — to a stylish setting in Old Metairie. And Tavolino gave its Algiers Point neighbors a new den for pizza, salumi and drinks and all of us another reason to ride the ferry over for a visit.
Amid all the new additions, however, some of the most welcome debuts this year brought back familiar names, beloved dishes and even entire restaurants that we thought we'd lost.
Dunbar's Creole Cuisine and Gabrielle Restaurant were both on the Hurricane Katrina casualty list, closed since 2005 despite their respective proprietors' efforts to rekindle them elsewhere.
Dunbar's had been a fixture on Freret Street long before that Uptown corridor became a restaurant row. It was a cultural crossroads for people from all walks of New Orleans life who shared a taste for its down-home Creole cooking. In April, a new Dunbar's opened its doors in Gert Town, with a different look but deeply evocative flavors running through its gumbo and fried chicken, red beans and turkey necks.
Gabrielle was an acclaimed restaurant at its original home on Esplanade Avenue and it was part of a new read on regional Louisiana flavors that emerged a generation ago. It returned this summer in a different location along Orleans Avenue, bringing back its roasted duck with orange-sherry sauce, barbecue shrimp pie and oysters Gabie.
The theme of return and renewal also runs strong at Ted Brennan's Decatur. This is the ambitious next chapter from the branch of the family that previously ran Brennan's Restaurant on Royal Street, before that storied landmark's own transformation in 2014.
Initially planned as a comeback for its namesake, after Ted Brennan's untimely death the restaurant was recast as a tribute from his family. It opened in August with aromas of turtle soup and garlic bread, the sound of Champagne corks popping, a reminiscent shade of pink on the walls and familiar faces around the room.
Any given year will bring a tally of restaurants that made their debut and a list of those that closed. But there's always more happening in a…
A different path through craft 
Terms like "artisan" and "craft" can sometimes feel like trigger words. Mention them in the realm of food and drink and some people declare gentrification, elitism or frou frou indulgence. Sometimes that fits, but it's hardly the only narrative.
In New Orleans, craft and artisan approaches have been vehicles for new talent, brands and even industries. Playing to modern tastes, they're building back a niche of commerce that once filled New Orleans neighborhoods with distinctive brands from small producers with locally-vested owners. 
Craft brewing has been one focal point for the trend, and 2017 showed it doesn't have to follow one model. Port Orleans Brewing in Uptown and Royal Brewery in New Orleans East each opened as production breweries, making beer primarily destined for distribution (plus more specialized brews for their taprooms). Across the spectrum, two tiny, taproom-only beer makers bubbled up at Parleaux Beer Lab in the Bywater and Brieux Carre in the Marigny.
Dixie Beer got a major boost when Tom Benson bought the brand, and while this beer is still produced out of state his company has pledged to develop a new brewery here. The influx of marketing money has put the Dixie name all over the city again, and with a revamped recipe, said to be based on the original, the brew is now pitched to a new generation.
The ranks of local breweries took a hit, however, when 40 Arpent Brewing, a pioneer of the current trend, closed up shop in Arabi.
Another story this year showed how small local producers have a new ally in a unique and growing New Orleans company. My House Social has lately developed a niche connecting food trucks, pop-ups, specialty caterers and other producers with the corporate events, conferences and functions that course through New Orleans.
It's helping new players access a cornerstone of the city's tourism economy. As tastes change, they are also bringing more to the table that comes from New Orleans but doesn't necessarily follow the same script.
Another story this year looked at how a hub of new craft brands developed together near the Broadmoor end of South Broad Street. The rum-maker Roulaison Distilling, Piety and Desire Chocolate, Broad Street Cider & Ale, Laurel Street Bakery and Wayward Owl Brewing all now constitute their own district of artisan production. Some connect the dots by using each other's ingredients and together their counters and tasting rooms make an easy walking tour of distinctive local flavors.
None of this compares to landing the new Amazon headquarters. But bit by bit, these new businesses are building back a slice of the city's life and economy by dialing directly into one abundant natural resource — the New Orleans appetite.
Any given year will bring a tally of restaurants that made their debut and a list of those that closed. But there's always more happening in a…
---
MORE COVERAGE:
After all these years working in the New Orleans entertainment business, Elray "Chef Ray Boom Boom" Holmes knows music, he knows gumbo and he …
For plenty of bartenders, fielding visitor questions about what else to check out in the neighborhood is part of the job. When Jon Moore is wo…
Standing behind the marble counter at Felix's Oyster Bar, Paul Dinet once opened 26 dozen oysters for one customer.