Last year the crowds came to the Fried Chicken Festival hungry for its namesake dish. This year some may be coming with a little curiosity, too, as the festival marks its second year with an ambitious expansion.
Now called the National Fried Chicken Festival, the event returns this weekend, Sept. 23 and 24. Its schedule has doubled to two days, its venue has shifted to the much larger riverfront grounds of Woldenberg Park, and the number of vendors serving different riffs on fried chicken has grown, with some contenders from across the country joining the local talent. Admission is free.
The revamped name signals broader aspirations for the event. The larger scale reflects the unexpectedly intense response the event drew last year and the efforts by its producers ever since to harness it.
"It's growing into what we thought it could be," said Cleveland Spears, the festival founder and CEO of the Spears Group, the company producing it. "When we take on an event, we want one that can grow and be impactful, from an economic development level, from a philanthropic level, and that's what this is."
The walls at We Dat's Chicken & Shrimp are emblazoned with murals of New Orleans notable…
Though predicting attendance for free events can be a tricky business, producers and vendors are preparing for a target of 100,000 people at this weekend's National Fried Chicken Festival.
Buzz and rebound
The idea for a fried chicken fest immediately struck a chord in New Orleans. Many different restaurants signed up to participate last year, and when the event day rolled around, the blocks surrounding the original festival grounds in Lafayette Square had the buzzing energy of a Carnival parade.
Not everyone who turned out for the event ended up eating fried chicken, however. Lines stretched so far back from the chicken vendors that it was sometimes hard to discern where they actually began.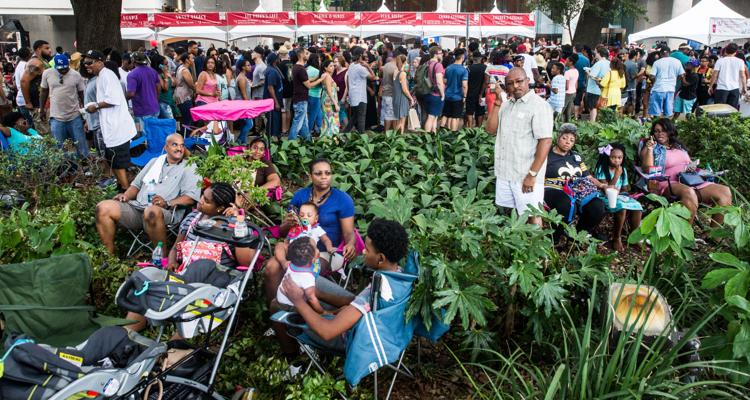 But where some saw dysfunction, Spears saw validation of the concept behind the Fried Chicken Festival, and also a mandate to grow it further. The day after the event, even as complaints percolated on social media about the lines and the crowds, Spears doubled down, announcing that the next edition would be bigger and better.
He's been steadfast in his optimism and dogged in his pursuit of what he sees as national potential for an event in New Orleans around the broad appeal of a classic Southern dish.
"Our goal is to create a major food festival for the country," Spears said. "I want people to think of Fried Chicken Festival the way they think of Taste of Chicago or South Beach Wine & Food, events that draw foodies from around the country. If we can execute it well, we can keep growing. There's demand there."
New year, new plan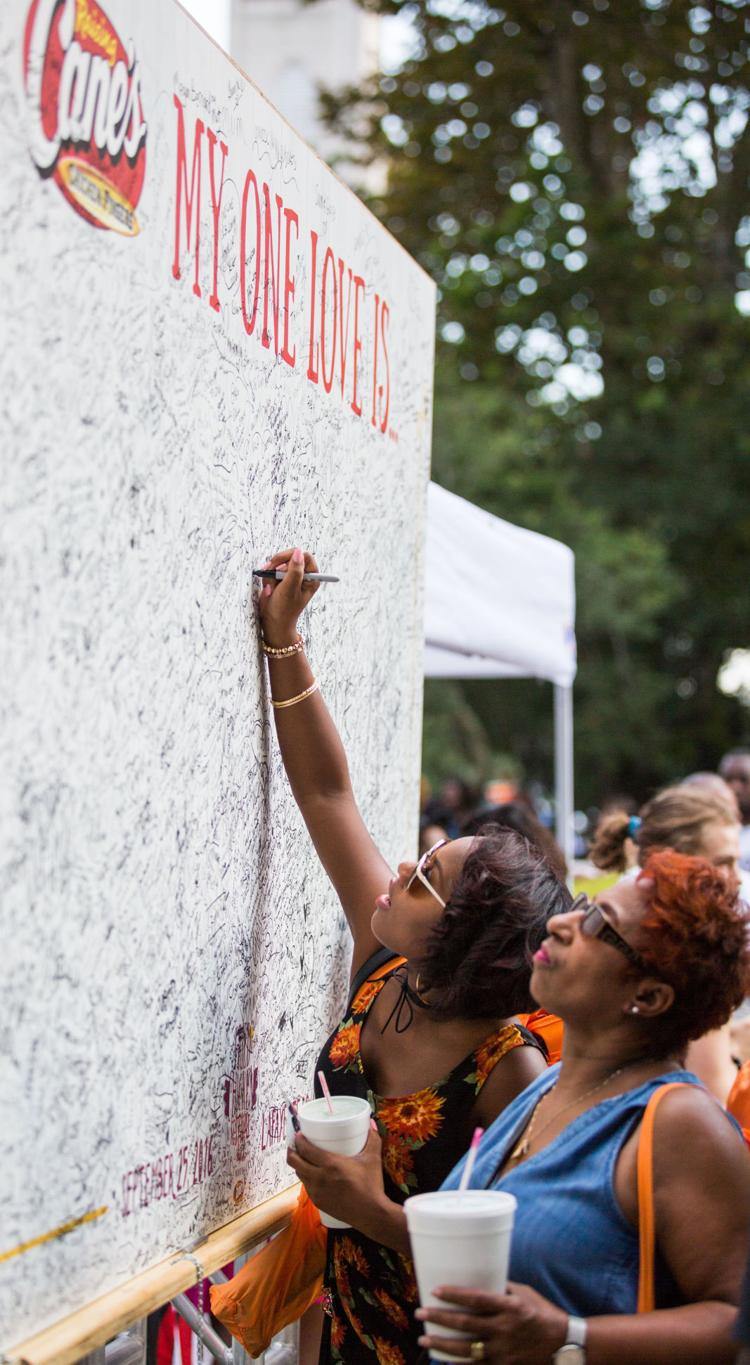 The two-day schedule and much larger festival grounds are intended to spread that demand around more this year.
Vendors will be arrayed around the riverfront park in smaller clusters, and booths will be bigger this year too, giving vendors more "back of the house" room to operate.
Fried chicken can be a demanding dish, one that takes time and has to be cooked on the spot to be legit. This year, the festival has higher minimum requirements for equipment and staffing for its vendors, which is intended to keep the chicken coming faster and more consistently.
The festival this year is packing in more activities to entertain the crowd between their chicken runs. There's a stage for live music, another for DJs and a third for cooking demonstrations, led by the chef and food media personality Jeff Henderson. Event sponsors AT&T and Best Buy will set up their Football Fan Zone, with widescreen TVs showing college and pro games. There's a children's area (the "kids' coop") and a downtown bicycle tour (perhaps to justify another round of chicken). The Moët Chicken & Champagne VIP Lounge is back this year, too.
The festival will also have the Pay It Forward tent, with information about community organizations working in areas hard hit by Hurricanes Harvey and Irma and details on how festival attendees can contribute. Spears said his goal is to raise $100,000 for these groups. Locally, festival producers have pledged a portion of event proceeds to the Tipitina's Foundation. 
While the event's expanded format and location are new this year, Spears said his company is committed to building the Fried Chicken Festival at the riverfront, staking out the fourth weekend of September for future editions in the years to come.  
"We're making a big step this year, and if it goes according to plan we'll grow next year," Spears said. "The enthusiasm is there. We want to make this a major fall event on the New Orleans calendar."
Fried chicken gets people fired up, and so did the news that New Orleans would have a new fe…
There's gumbo in the pot whenever the Tremé restaurant Li'l Dizzy's Café is open, and that i…
It almost seems that every crossroads in Louisiana has some sort of festival.