The wood-burning oven at the Uptown eatery Pizza Domenica turns out Neapolitan-style pies that are thin-crusted, char-marked and round. Now, the same oven is also producing bigger, thicker square-shaped pizzas.
They look distinctive, spreading a terrain of sauce and cheese and darkened ridges across the length of a baking pan. But the shape represents just the tip of the slice for what makes these pizzas different.
The dough is made using organic, fresh-milled flour, produced on a stone mill at Bellegarde Bakery, an all-but-hidden artisan bakery three miles away in Broadmoor. The flour arrives at Pizza Domenica fresh, fragrant and often still warm from the mill, and it's used within days of its production.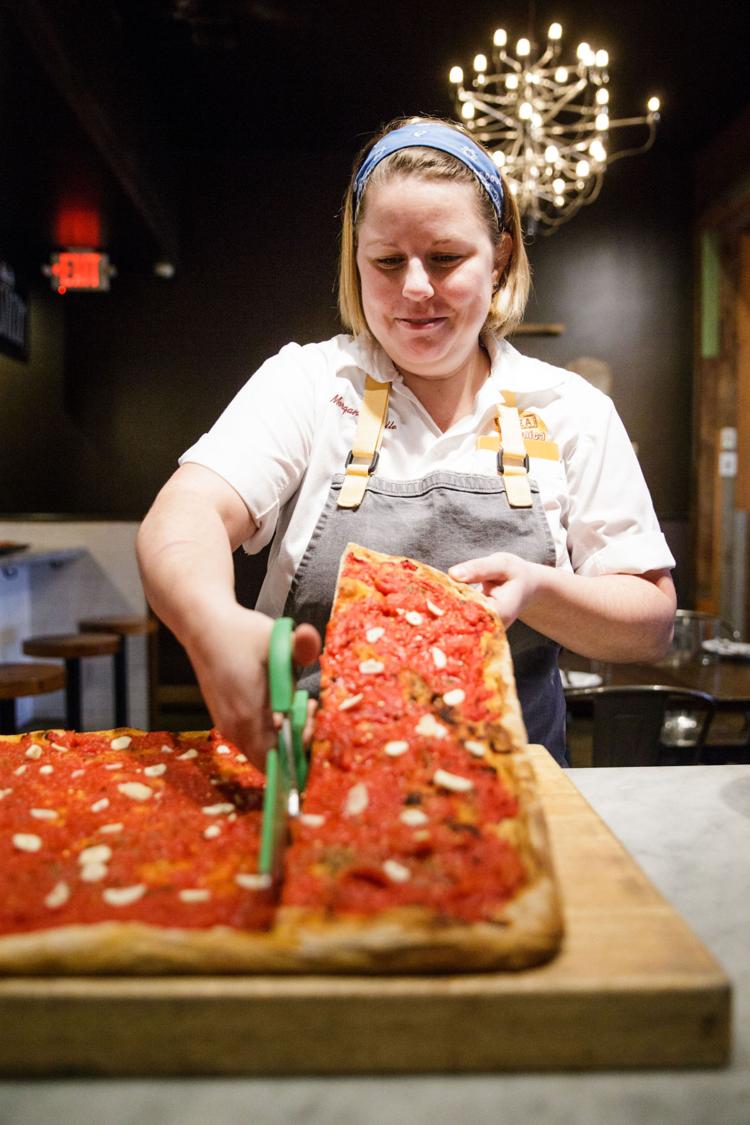 For chef de cuisine Morgan Angelle, it's a new ingredient that has transformed a cornerstone of her craft.
"I think the pizza we make is fantastic, but you can only change so much with toppings," she said. "Working with this, it's made me fall in love with pizza making all over again."
This pizza is also the most visible example of a much broader new approach to wheat and other grains that has been slowly fermenting at Pizza Domenica and its related restaurants — the upscale Italian eatery Domenica and the modern Israeli restaurant Shaya.
All are run by chef Alon Shaya as part of the Besh Restaurant Group. For many months now, he's been working closely with Bellegarde Bakery and its founder, Graison Gill, to fold more fresh-milled flour into his menus.
"When I pick up a fish, I smell it, I look at its eyes and its gills; I ask myself if this is what I want to cook tonight," Shaya said. "We never looked at flour that way before, but we should. It goes into so many things we cook and serve."
A mill and a mission
Talk like that is music to Gill's ears. The baker has been fervently pushing the message that the source of grain and the freshness of flour mean as much as the quality of farm-to-table meats and heirloom produce.
That has sometimes been a lonely quest. Conventional modern flour is a commodity, shipped and stored with all the reverence of sand bags. Gill is asking people to take a new look at something so commonplace it's practically invisible — and to pay a much higher price for it. His fresh-milled flour can be up to four times the cost of standard white flour brands.
This spring, Inglewood Farm brought in the first commercial harvest of organic wheat that Lo…
But Gill has an ardent following among New Orleans chefs. Many showcase his breads on their menus. As more begin to use his flour, he's now picking up some high-profile ambassadors.
None are more prominent than Shaya, a multiple James Beard Award winner and partner in a top New Orleans restaurant company. And none have embraced the potential of fresh-milled flour so extensively as him.
"It's a huge cost and expense to us because so much of what we use is wheat, but that's also the reason why we should be doing this," said Shaya. "If we can find an avenue to be better and push the envelope, we'll take it."
Can't see the video below? Click here. 
Knead to know
Last fall, the chef hosted a special grain dinner with Bellegarde at the restaurant Shaya. Each of five courses on the one-night menu included different grains from farms across the region. Naturally, the meal started with Bellegarde bread.
"I was ruined for all other bread once I tasted how this great grain could be made into flour for bread, for pasta, for pizza," Shaya told his guests during the dinner. "It's exciting to take what we've been doing for years and find a way to make it better."
Shaya and his chefs have gradually been recalibrating different recipes to use Bellegarde's flour, and it's a process that continues to unfold.
Pastries at the restaurant Shaya use fresh-milled flour now, and soon so will the pita bread that is the foundation for the menu's many Middle Eastern dips and spreads.
At Domenica in the CBD, all of the pastas now use fresh-milled flour. The bread, once made in-house, is now made by Bellegarde Bakery. It's a ciabatta loaf that Shaya and Gill devised together. It's also now a menu item, at $6 per order. Shaya acknowledged some customer complaints about charging for what was once a freebie, but he is unapologetic.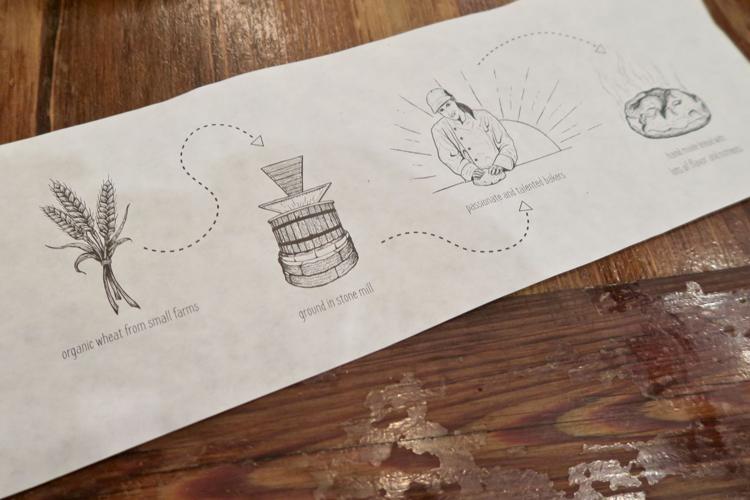 He wants people to pay attention to the bread, to notice what makes it different. Served on a wood plank with butter and oil, it's presented with the sort of care that goes into a salumi platter. Underneath, an illustrated paper liner shows the step-by-step process of bread making, from farm to mill to baker.
"To make this work, we need a great wheat grower, a great miller, great chefs and we need to communicate all that to our customers," Shaya said.
Hip to be square
Angelle and Gill are now reconfiguring the recipe for the round, Neapolitan pizzas to use fresh-milled flour, following the lead of the big square pizzas that are now turning heads at Pizza Domenica. The restaurant introduced them just this month, along with calzones prepared with fresh flour. Pizza Domenica also began delivering them around its Uptown neighborhood in January through the delivery service UberEATS.
The new pizza follows a traditional style that goes by several different names — pizza al taglio or pizza al trancio in Italy, Sicilian pizza or sometimes Roman pizza in the U.S. On the Pizza Domenica menu it goes by square pizza.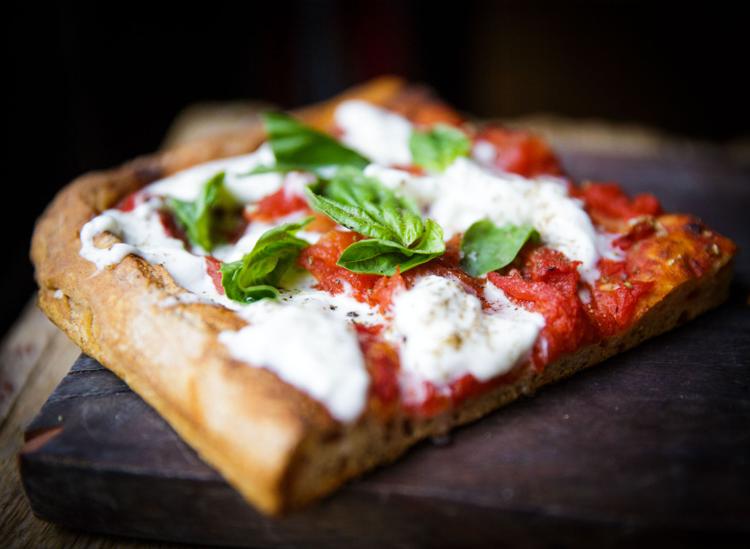 Toppings are minimal — marinara and shaved garlic; sausage with broccoli and pecorino; gooey burrata cheese with basil and red sauce. The crust is the star, and it keeps giving flavor the more you chew, and as air pockets within release little aromatic gusts. This crust has finish.
Those qualities start on the farm. Bellegarde sources organic wheat, corn and other crops from farmers dedicated to maintaining and improving their land through natural practices. At the bakery, they're fed into a mill that runs on electricity but otherwise follows a design principle reaching back thousands of years.
The spinning stone breaks the grain and mashes together each of its elements — all the fats and acids, the protein and minerals. The finished flour is velvety and sticky with the full nutritional punch of the entire wheat berry. Even visually, it offers a stark contrast to many standard commercial flour brands, where the oily, perishable components are removed to make a shelf-stable product.
"We're presenting the whole grain with nothing taken out of it, something that comes direct from the land and the farmer," said K.C. Watt, head miller at Bellegarde Bakery.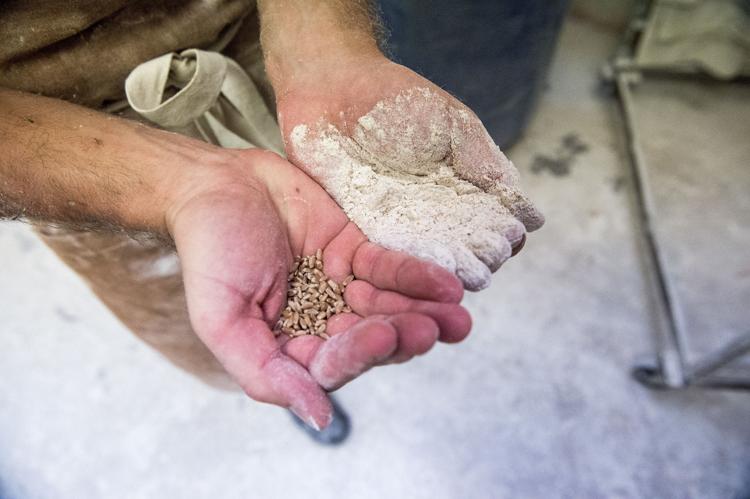 In most uses — the pizza, pasta and bread — Bellegarde's fresh-milled flour is blended with other flours. That's the way Bellegarde produces its own breads, too. That makes it easier to use in some recipes and makes it more affordable overall. For Gill, it's also a starting point, an introduction to using fresh-milled flour.
"What I hope is that as we do more it becomes more accessible and then we can pry open the whole situation for more people," Gill said.
'A flavorful ingredient'
Michael Gulotta, another New Orleans chef who has been working with Bellegarde's flours, credits Gill's efforts with creating a local source for what was once a staple.
"For a lot of us who trained in Europe, it harks back to that experience," Gulotta said. "It was more of an American thing that we lost milling and that flour became this huge manufactured product. So to hear that someone's doing that here? We just jumped on it."
Gulotta uses Bellegarde's flours for a variety of house-made noodles and tart crusts at his new modern Asian restaurant, Maypop, and at his Italian eatery, Tana. He praises the texture, flavor and even fragrance they can bring to a dish.
"Graison has made flour a flavorful ingredient instead of just a means to an end," Gulotta said.
On busy afternoons this fall, Michael Gulotta and his chefs turned a circuit of Mid-City res…
Chefs have access to fresh-milled flours from other suppliers. For instance, South Carolina-based Anson Mills is a prominent brand.
But Angelle, at Pizza Domenica, said having a local source makes the prospect more affordable for her restaurant, and that the collaboration with the miller on recipe development has been key.
"We can do it because Graison is here," Angelle said. "He's right down the street when we need him, and we're lucky he's here."
4933 Magazine St., 504-301-4908
Sun.-Thu., noon-9 p.m., Fri. and Sat., noon-10 p.m. 
At MoPho, chef Michael Gulotta built a following on rice noodles, aromatic broth and origina…