This is the time of year when New Orleanians would love to harvest every minute of lingering nice weather and bottle it for emergency use in the months ahead.
For outdoor dining and socializing in particular, this shoulder season between late spring and true Louisiana summer is traditionally the last gasp of the good times before the swelter settles in.
But that has been changing. Across New Orleans, a growing number of restaurants and bars are banking on the year-round appeal of the outdoors.
Every business here must contend with severe weather and, increasingly it seems, the city's propensity for flooding.
But the spread of patios, beer gardens and decks presents a different kind of wager against the everyday heat and humidity of the long summer. No mere adjuncts to the dining rooms, in some cases these outdoor areas are the basis of the business.
It marks a sharp change from the New Orleans norm of just a few years ago, borrowing design styles from cities like Los Angeles or Austin. Some look like they belong on a beach.
More examples keep coming, from the Mid-City bar Wrong Iron, with a beer garden the size of an orchard, to the Uptown taco stand Barracuda, where every table is in a large open yard or on a small covered patio.
Another summer means another test of outdoor viability as temperatures rise from bake to broil.
But today, some operators say outdoor space is responding to a need beyond creature comforts.
Changing weather, and expectations
Consider Pagoda Café, about to enter its sixth summer on Bayou Road. The kitchen takes up most of its tiny, pagoda-shaped building, a historic, former laundry. Customers eat their sandwiches, breakfast tacos and coffees outside on a series of open and covered decks.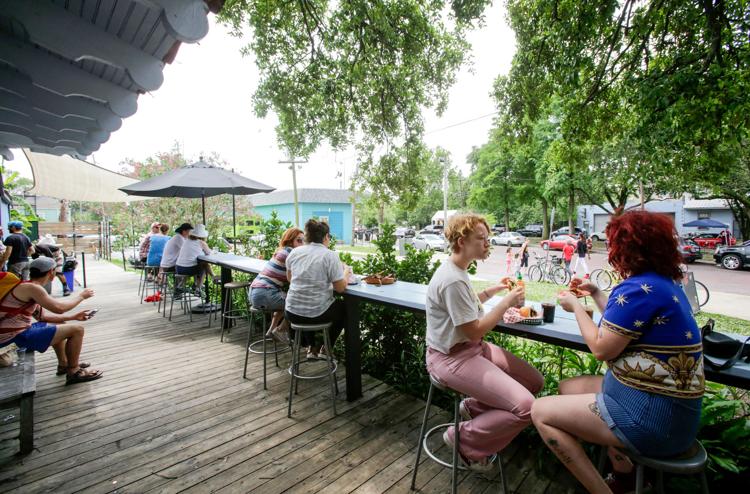 "I won't lie, sometimes I wish we had that indoor option, but there is something about being an all outdoor café that also brings people together in a really natural way," said proprietor Shana Sassoon.
"I think there's more awareness of living with nature now, there's more awareness about climate change from what we've all seen in just a few years," she said. "We have our regular loyal customers who want to be here and bring this 'let's just deal' attitude."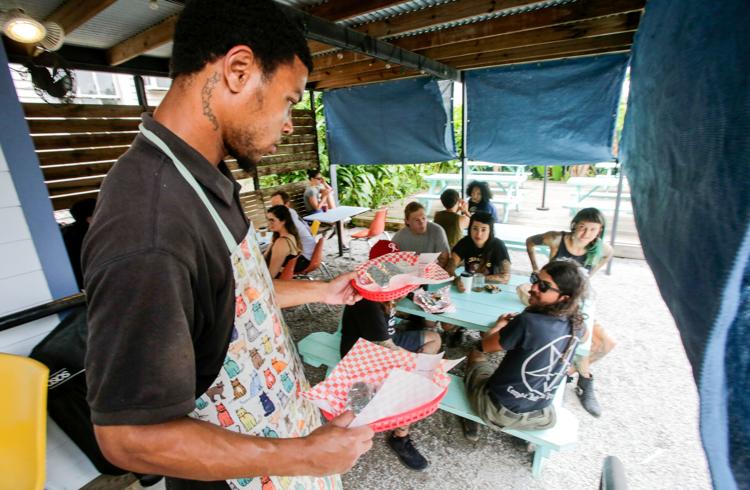 Making this possible, though, means managing every part of the operation for the outdoors. That includes staffing.
"We have to have a really good vibe because we don't have a lot of amenities and we need our employees to make that vibe," said Sassoon, who counts above-market-rate pay as one way Pagoda Café cultivates a happy staff.
The Uptown patio bar the Tchoup Yard sees all the vagaries of New Orleans weather play out across its own open-air space, which resembles a small park fitted out with umbrellas, fire pits and yard games.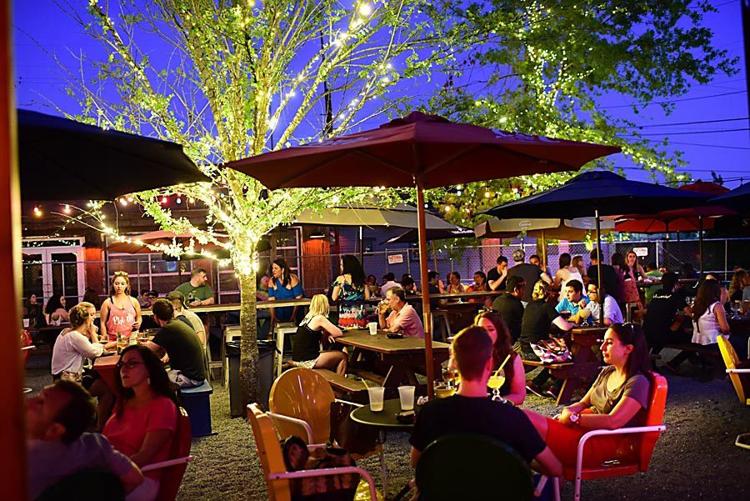 "When this place first opened, it reminded me of a bar New Orleans people would go to when they're out of town, down at the beach somewhere," said Pat White, kitchen manager at the Tchoup Yard.
But he believes the city's bar culture overall has changed from the days of dark, smoky dives to the pursuit of that indoor/outdoor blend. Cold winter days typically dampen turnout here more than summer heat.
"New Orleans people won't go anywhere when it's cold, but there are people who just like to drink outside no matter how hot it gets," White said. "Blue collar people who have been working outside all day want to drink inside. But white collar people who have been in air conditioning all day, they want to get outside at some point."
Reining things in
It's not just the blazing heat and creeping humidity. There's New Orleans summer rain, when the sky seems to crack in half and pour its contents down into this bowl of a city. Even when it drains away quickly, these deluges can wreak havoc on an outdoor sojourn.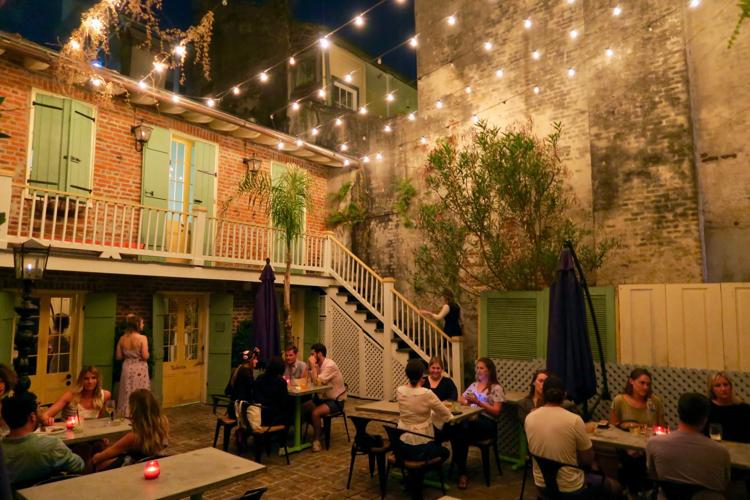 In the French Quarter, the year-old Longway Tavern fits snugly between the walls of an 18th century Creole cottage and counts on a cloistered courtyard for half its seating.
Liam Deegan, proprietor and co-owner, said the lessons from Longway Tavern's sister spot Sylvain, just two blocks away, help them manage the space.
"You know it's going to rain, so you have to be real careful with reservations," he said. "It's something you have to watch minute by minute. It's fine if it's happy hour when it starts coming down, but if you're on the appetizer of a three-course meal you've got a problem."
Still, he said, the historic building and ambiance dictated the courtyard approach.
"We knew we were putting half the restaurant at the mercy of the weather, but it's such a cool courtyard it's worth having to figure it out," he said.
Playing defense
In Bucktown, Station 6 has evolved into more of an outdoor endeavor simply to meet demand. With a modern read on the New Orleans seafood joint, and a menu of pompano with curried brown butter, sizzling shrimp and oysters with caviar, it has drawn throngs of locals.
With room for just 30 seats inside, however, Station 6 has gradually grown to add 70 more around an ever-evolving, covered patio.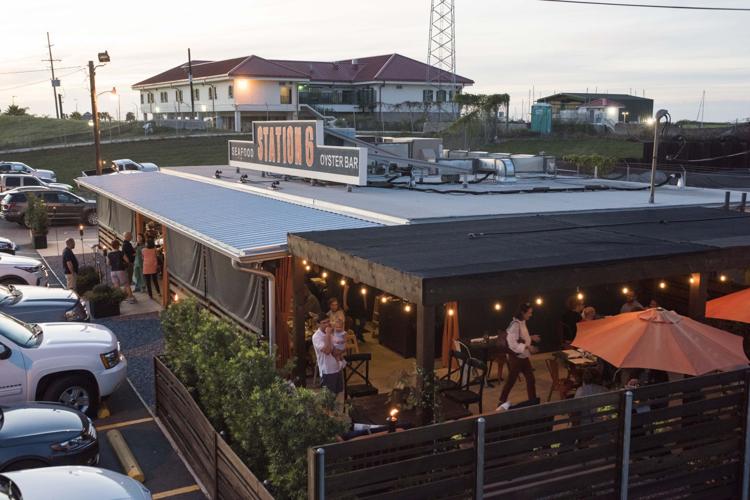 "People are more casual now," said chef and co-owner Alison Vega Knoll. "It used to be everyone would dress up to go to dinner. Now, people tell us they love coming here because they can get white tablecloth food but wear shorts and flip-flops."
Still, each summer sees Station 6 tackle an ongoing engineering project of fans, fold-down flaps and portable air conditioners to keep outdoor seating in play.
At Bayou Beer Garden and Bayou Wine Garden, a pair of interconnected bars in Mid-City, David Demarest and his managers are forever trying new combinations of fans, misting systems, shade canopies and portable air conditioners.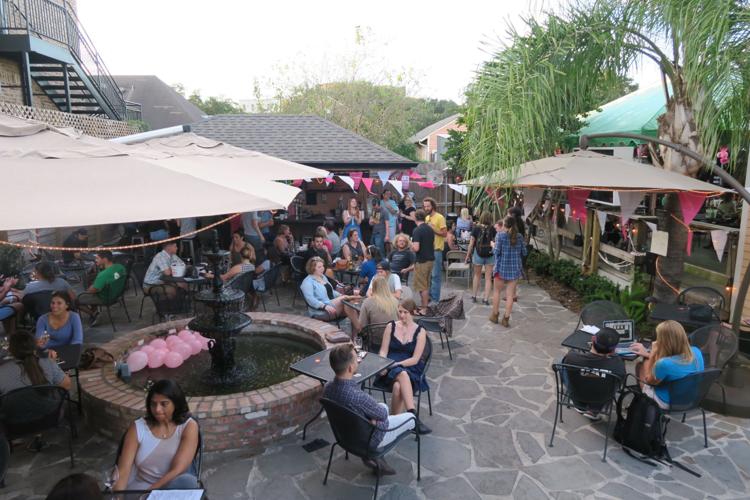 Everything has some drawback. Fire up all the fans, and cash tips, bar napkins and hair are all prone to go flying. A misting system with the wrong trajectory can turn a hot night into a swampy one. So season after season, the strategy deepens.
"How well we prepare for people to be able to sit outside is a major focus in the summer," Demarest said. "We don't just watch the weather, we study it. The elements for us are everything. It affects staffing, how many bars we open. Summer is a different life here for sure."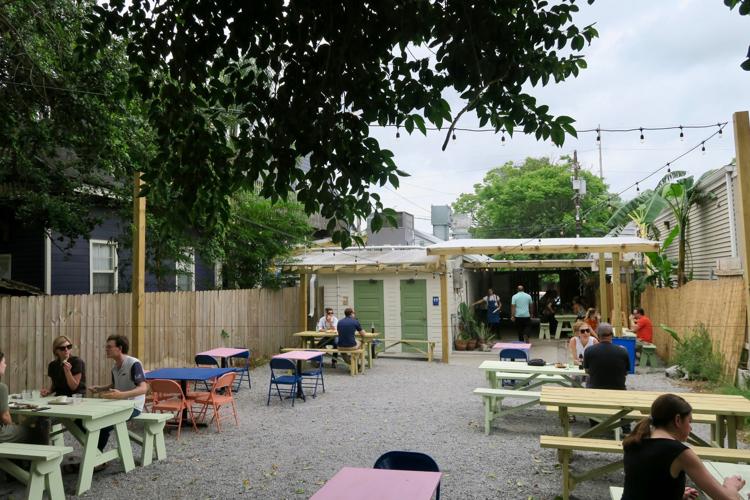 Brett Jones developed his taco stand Barracuda with the kitchen in a shed-sized building and all the seating outside. 
"We see it as an advantage, not a hindrance," said Jones. "You want to be outside at some point in the summer, so we tried to make this a place for that."
The menu of quick tacos on house-made tortillas, the spicy salsas, the fresh herbs, the tart margaritas on draft — all of it is synced to a casual, tropical sensibility, Jones said. He's confident in the space but still pragmatic.
"Honestly, I'm more afraid of what cold and wet weather will do here than hot summer," Jones said. "That said, we're getting more fans."
The food of Honduras, Colombia and the Dominican Republic hold down different corners of the Latin American culinary map.
All through the spring, a familiar face from the New Orleans restaurant scene has been cooking up crawfish in a less-than-familiar way.
When the lunch special is a salad built around bread at a cafe built around a bakery, you say yes.