To inspire new dishes, chef might turn to the classics, dig into family history or stretch their imagination.
For a marquee dish on his new menu at Atchafalaya, chef Jacob Cureton thought about a natural phenomenon near his hometown down the Gulf coast, one that creates a smorgasbord of easy pickings for the fishermen.
The black drum jubilee at Atchafalaya is a seafood stew based on cioppino. It is synced to the flavors of a Southern summer, with corn and okra in the thin, flavorful tomato broth. There's a well-peppered fillet of black drum in the center.
The "jubilee" part riffs on everything else that goes in, and it's a lot: shell-on shrimp, oysters and clams, lumps of crab meat and even some crab roe butter on the bread over the top.
The all-hands-on-deck approach references the periodic and unpredictable occurrence in Mobile Bay known as the jubilee. It happens when a combination of environmental causes push fish and shellfish together in great numbers in the shallows of the bay, and it results in prodigious catches that are the joy of fishermen who appreciate stacked odds.
As a dish, it's a swarm of seafood in one bowl, and Cureton's rendition is delicious, distinctive and indicative of the new, modern Southern style he's working across Atchafalaya's menus.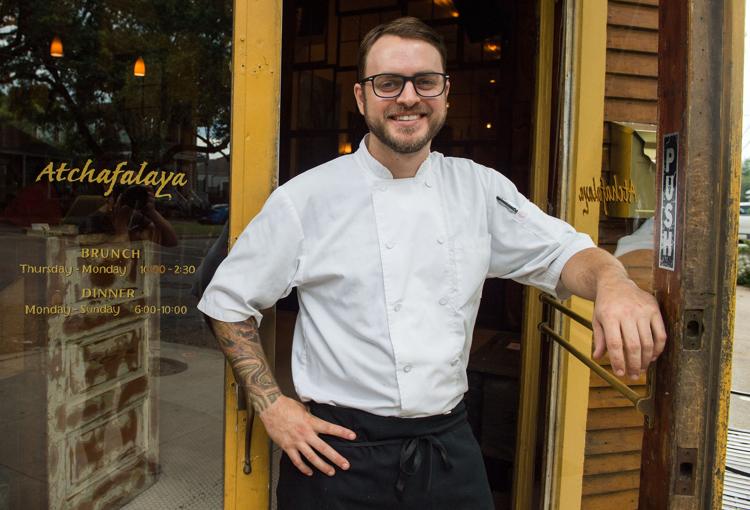 "I want to pull us into the South more," said Cureton, who grew up "south of I-10" in coastal Alabama. "It's about dishes that have a connection to this place and showcase what we can do with the ingredients from here."
Cureton's approach to modern regional cuisine is not a radical departure for Atchafalaya, but it does signal the next phase for a long-lived Uptown restaurant that has been through a few different incarnations over the years.
Long roots under the oaks
There's been a restaurant under the oaks at this address on the corner of Louisiana Avenue and Laurel Street going back to the 1920s. It was long the home of Petrossi's, a seafood joint for raw oysters, boiled crawfish and a crab gumbo that was acclaimed by the early New Orleans restaurant critic Richard Collin.
In 1985, the sisters Beth James and Laurie Ricchiuti bought the restaurant and renamed it Cafe Atchafalaya. In an early example of farm-to-table sourcing, James said they turned to their family's crawfish and rice farm in Prairie Ronde, near Ville Platte, as a supplier (today that farm produces the Prairie Ronde rice brand sold at local markets).
In the 1990s, the restaurant was run by Mississippi native Iler Pope, who turned it into a rare local find for Deep South comfort food, to the tune of fried chicken livers, grits, greens and cornbread. It would later evolve, through different owners and renovations, into a more upscale contemporary Creole restaurant.
Today's proprietors, Tony Tocco and Rachael Jaffe-Tocco, bought it in 2009 and began gradually remaking the place, and changing the name simply to Atchafalaya. When they brought on Chris Lynch in 2013, a former chef de cuisine of Emeril's, it put Atchafalaya on the map for worldly, inventive New Orleans cuisine in a convivial, neighborhood setting. They also made a rollicking brunch part of the package, with a bloody Mary bar and bands drawn from the city's club circuit.
Lynch departed earlier this year for Commander's Palace. Since taking the helm, Cureton began putting his stamp on Atchafalaya slowly and now changes are beginning to reveal the new Southern-looking direction for his kitchen.
Cureton was most recently chef at the Warehouse District restaurant Annunciation, and his career wends through many familiar stops in New Orleans fine dining, starting with La Cote Brasserie under chefs Chuck Subra and Rene Bajeux.
If Lynch's menus started in Louisiana and went around the globe, Cureton's are more likely to head down the coast.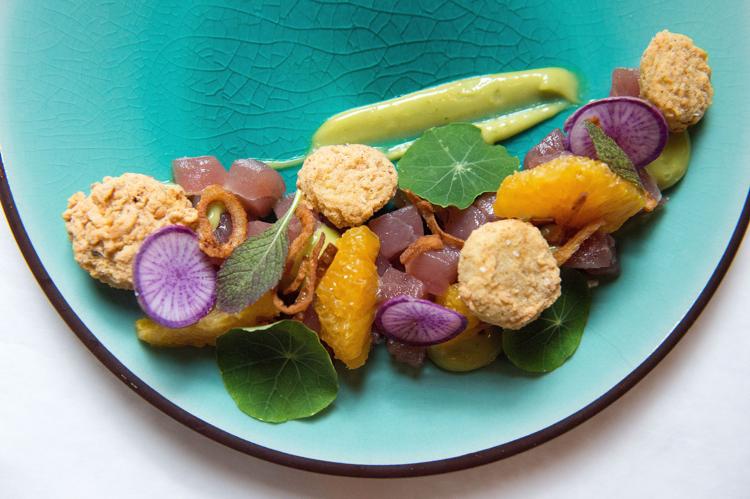 A recent dinner here brought dishes across a gamut from contemporary high style to rustic roots. It started with a particularly beautiful crudo, formed into a multicolored reef of raw tuna, fresh herbs, crunchy radish, citrus segments and fried green tomato in thin, small slices the size of pickles. Across the spectrum, an Alabama peach cobbler served in a hot skillet was a picture of simplicity.
Some dishes that have been mainstays of the Atchafalaya menu for many years remain, though with makeovers. The "free form crab ravioli," basically a rich crab dip draped with a broad sheet of pasta, now has house-made pasta and a blast of citrus zest in the sauce.
At brunch, a shrimp remoulade po-boy is finished with those tiny fried green tomato slices, and the smoked salmon BLT has been amended with a local catch, now smoked drum.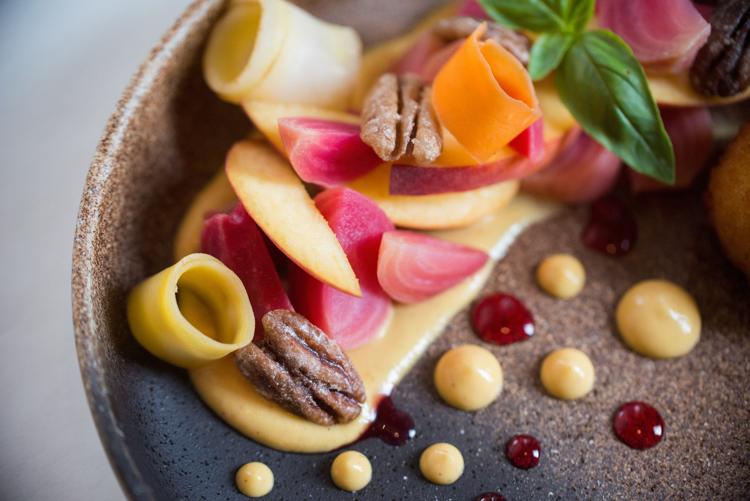 Cureton's "Bama beet salad" is another highly contemporary presentation of regional flavors, finished with candied pecans and fried goat cheese. It netted Atchafalaya a gold medal in the food competition at this year's New Orleans Wine & Food Experience, though you have to assume LSU fans will have some fun with the name ("beat 'Bama" being something of an aspirational football mantra around here).
But that's to be expected. When you start delving into the particulars of our regions in the South, strong feelings just come with the territory.
901 Louisiana Ave., 504-891-9626
Dinner nightly, brunch Thu.-Mon.
Reservations recommended
Note: this story has been edited to include information about the founders of Cafe Atchafalaya.
Can a restaurant based on fusion also be authentic? After eating at Maypop more or less cons…
On paper, the appetizer reads like a checklist of Southern staples — smoked pork, cornbread,…
From booths at the Oak Street Po-Boy Festival last month, New Orleans restaurants served som…