Standing behind the marble counter at Felix's Oyster Bar, Paul Dinet once opened 26 dozen oysters for one customer.
"He was trying to break a record," Dinet recalls, shaking his head at a memory now about 30 years gone.
Dinet isn't trying to break any records, and anyway there aren't any big awards out there for what he does. "Mr. Paul," as he's known around Felix's, is a man who shows up and does his job, opening oysters to supply the kitchen and keep the iced trays of raw dozens moving.
His story, though, is a testament to the deep seams of character running through this city's food culture, and how the wheels of a world-famous restaurant scene are often kept turning in quiet, unheralded, steadfast ways.
Dinet turned 84 in November, and he remains among the most productive oyster shuckers at one of the French Quarter's bustling oyster bars.
"I've never been the fastest shucker, but that's not what I'm about," Dinet said. "The thing is you got to keep it steady and keep going, keep opening them and make sure you do it right, keep those oysters clean."
Dinet was born among the oysters. A midwife helped him into the world aboard his parents' houseboat on Grand Bayou, around the oyster harvest areas of Plaquemines Parish. His father was a Houma Indian, he said, and his mother was Spanish. He was raised speaking French and working the oyster grounds.
"My daddy taught me to open oysters, banging on them with a hammer, I was 8 years old," Dinet said. "I'd take my pirogue out and pick them by hand off the reef."
By the time he was a teenager in the 1940s, Dinet was working at an oyster processing plant, earning about $7 a day. He had a stint overseas in the Army, stationed in Germany, and he's been back in New Orleans ever since.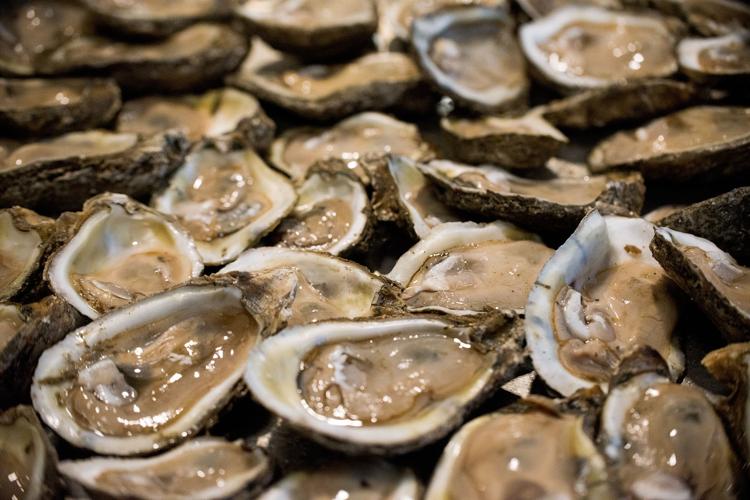 The job at Felix's came much later in life. Dinet started working here in 1984, when Felix's was hiring extra staff for the World's Fair crowds and when he was looking for a side gig. He was 51 at the time and working full time at the American Can Co. in Mid-City, where he'd already logged more than 30 years on the manufacturing floor.
That's where he lost three fingers on his left hand. They were cut off when he reached into a die press, trying to fix a jam in the machine. Today he describes the grievous injury almost like a lucky break. When he came back to work at American Can he got a desk job for a few months and then was moved up to driving a lift truck.
"I never saw myself as handicapped, because I had my thumb," Dinet said, giving the digit a wiggle to demonstrate. "I still had my right hand too."
He "retired" when the can factory closed in 1987. The company offered him another job up north, but Dinet didn't want to leave, and he still had his oyster shucking job.
At the oyster bar, his left hand is usually covered by a thick rubber glove. Beneath it, he uses his flat run of short knuckles to keep the bivalve in place against the curve of the oyster lead. He gives a stout, quick twist with his knife, wipes the blade to remove any grit and repeats the process, usually about 800 times a day.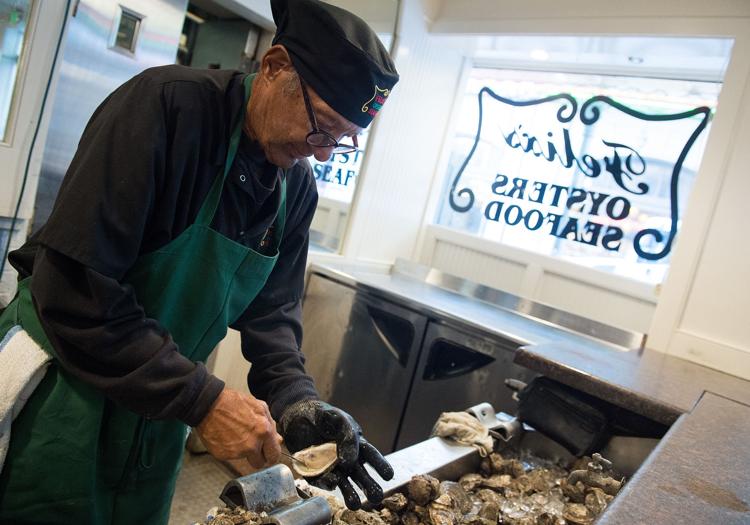 A widower, Dinet lives in the 8th Ward with his son and grandson. He rides his bicycle to work, hitching it to an RTA bus rack and pedaling to and from the bus stops. He doesn't smoke and counts his main indulgence as Bud Light.
He admits to some aches and has to spend more time now warming up his hands and arms before a shift at the shucking station. Mostly, though, he wants to keep moving and keep working.
What might stop him is anyone's guess. A recent round of hip surgery couldn't hold him back very long. Neither did the motorist who knocked him off his bicycle en route to work one day earlier this year.
"It's like with the oysters," Dinet said, shrugging at the suggestion that others would have called it a career by now. "You just keep it steady and keep it clean."
We live in an era full of celebrity chefs that you probably have never heard of. Just think about that for second — people can be celebrities …
Behind the bar at the Uptown bistro La Petite Grocery, Julia Wineski mixes a six-ingredient cocktail, waves sprightly through the window to ne…
I was in a Kenner restaurant that had clearly once been a Pizza Hut but now is called Little Chinatown. I was eating lamb stir-fried with leek…